You need to have something to look forward to
Plus 2020 races in Portland, Montana's Big Sky, Brooklyn, Valencia + the Dipsea Race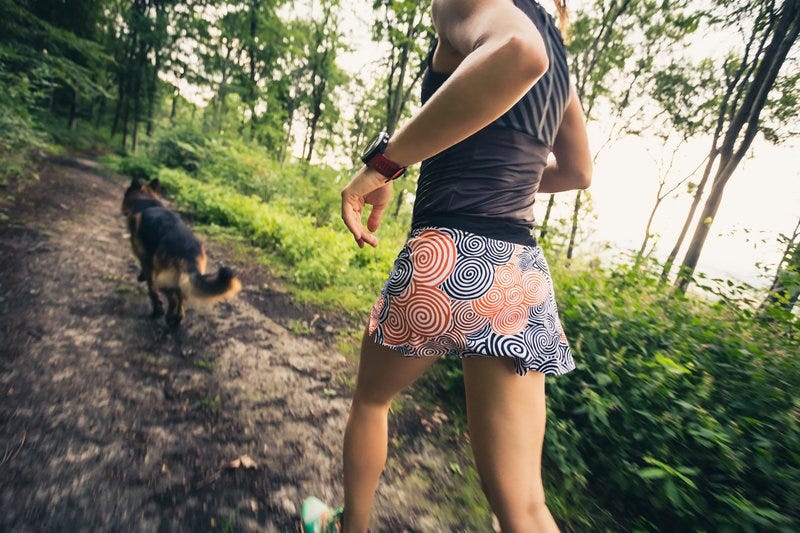 "Run with your heart instead of your mind. When you think with your mind, you think of the things you can and can't do. But when you run with your heart you forget about what you can't do, and you just go out and do it." — Gerry Lindgren
All of us love the feeling of crossing the finish line in a race, or even just being done with a daily training run. I don't know about you, but my body loves the opportunity to do nothing, and will jump at the chance to to do it, any chance I get. 😊
But, as my mind is all too aware, I won't have the chance of getting anywhere near the finish line of any race if I don't show up for my training runs in all those weeks before race day.
So, I do my best to keep showing up.
Even after weekends like this weekend, when I took my son to see his grandparents and didn't get any runs in, and after days like this morning, when I had to shorten my run so I could get to work on time. (Tapping the snooze button a few times because you're not ready to get out of bed will do that to you.)
A few days ago, I was thumbing through a copy of James Clear's 2018 book Atomic Habits, when I came across a chapter that caught my eye, all about what Clear calls "The Goldilocks Rule."
In a nutshell, Clear says when we're trying something we haven't before — like taking up running, golf, tennis, cooking, sudoku, etc. — we'll get engaged (and stay engaged) only when it's not too easy and not too difficult:
"Improvement requires a delicate balance. You need to regularly search for challenges that push you to your edge while continuing to make enough progress to stay motivated. Behaviors need to remain novel in order for them to stay attractive and satisfying. Without variety, we get bored. And boredom is perhaps the greatest villain in the quest for self-improvement."
Training for the past seven weeks or so for next month's New York City Half Marathon has been great in so many ways. It feels really good to run consistently again for the first time in years, it really does!
But I have to be honest: sometimes, I get really bored with it too.
Clear suggests that only finding a way to push through the boredom (of a workout, a run, etc.) leads to success — "professionals stick to the schedule, amateurs let life get in the way," he writes.
Sounds great, right? Maybe, but it's not exactly the inspiration I need to keep me going.
In the back of my mind, I keep coming around to a line from Shadowlands, the famous biographical play (and movie) about the life of famed author C.S. Lewis:
"We live in the shadowlands. The sun is always shining somewhere else... around the bend in the road, over the brow of a hill."
What Lewis describes is the feeling we all have about the sun shining somewhere else than where we are at the moment — somewhere life is better, where we feel more alive, more free, more ourselves.
Now, I get why that feels melancholy. When you hear it the first time, it can feel like a huge bummer.
But, I prefer to turn it around and look at it another way — every step I take as a runner gets me a little closer on that road where the sun in shining a little brighter, where life feels a little bit better.
Whether that's a place where I'm in better shape, where I feel healthier and more alive, or where I'm just a better version of myself — I feel like running helps me take strides toward getting to that place.
Maybe I'm crazy, maybe I'm just waxing a little too poetic. I don't know. But when I have something out there that I want to get to — like a trip to New York for the half marathon in March, for example — that's what helps motivate me.
Now, let me ask you — what helps motivate you? I'd love to know in the comments below (which are turned on for everyone today).
Your friend,
— Terrell
---
Become a member and save $15
If you've signed up for a paid membership to The Half Marathoner so far, thank you SO much — you help make this whole thing possible (and keep it ad-free!).
If you haven't yet, sign up today and save $15 for your first year, and get more of everything we do.
---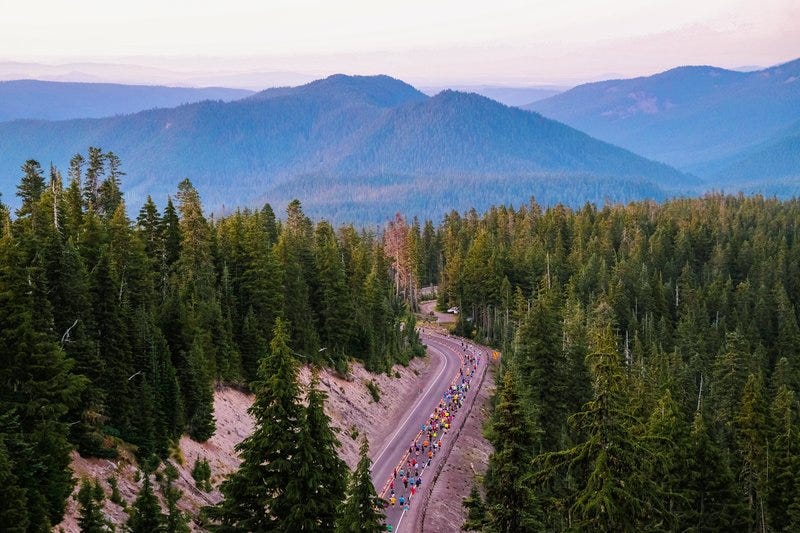 Portland, Ore. | Saturday, June 27, 2020
Set for its second annual running this year, this race starts in the shadow of nearby Mount Hood, along a road that parallels the Sandy River at about 1,759 feet. From there, the course runs roughly alongside the river for the next several miles, unfolding entirely on paved roads (and all downhill) within the Mount Hood National Forest, serving up towering pine trees and occasional wildlife as you descend nearly 900 feet past farms and rural cottages to the finish line at the Rainbow Trout Farm, a famous fishing spot with 30 acres of meadows and forest and 10 ponds for fishing filled with rainbow trout.
$89.99 | Sign up here
---
Mill Valley, Calif. | Sunday, June 14, 2020
If there ever were a bucket list race, this jaw-droppingly beautiful yet treacherously grueling race through the forests of Mt. Tamalpais State Park just across the Golden Gate Bridge from San Francisco — which the New York Times called a "topographically schizophrenic romp" — is it. At just 7.4 miles, the distance is misleading; from the starting line in Mill Valley, you'll climb dizzyling steep trails through the woods, only to make a dramatic plunge toward the Pacific later in the race. The winners, too, are head-scratching — everyone from an 8-year-old girl to a 72-year-old man have been crowned its champion over the years. (Think I'm exaggerating? Read this profile of the race and then tell me what you think.)
$90 | How to enter
---
Ennis, Mont. | Sunday, July 19, 2020
Some of the most beautiful, awe-inspiring and jaw-dropping scenery you can imagine is on display at this mid-summer race, which runs through the Beaverhead Deerlodge National Forest in Montana's southwestern corner. The Big Sky race is the second of a two-day event — the first is Saturday's Madison Marathon & Half — and organizers say it's the second-longest downhill marathon in the world. Both the 13.1- and the 26.2-milers at Sunday's Big Sky race start above 9,000 feet above sea level, and the half marathon drops by about 3,400 feet by the time you reach the finish line, at the half-way point of the full marathon. When you're out on the course, be sure to watch out for sheep-herding Great Pyrenees guard dogs — which aren't pets, organizers emphasize, and will chase you if you run.
TBA | Sign up here
---
Tiburon, Calif. | Sunday, Sept. 27, 2020
Most of this beautifully scenic route in the hills of Marin County just outside San Francisco unfolds along a long stretch of Richardson Bay, at a time of year when temperatures on race day usually fall between the low 50s and the upper 70s. Plentiful stretches near sea level are interrupted by a few hills, especially in the stretch that takes runners around Harbor Point overlooking the bay, where you'll run past the grounds of the Golden Gate Baptist Theological Seminary. Expect plentiful stretches along beaches, park trails, and many beautiful waterfront homes along the way.
$85 and up | Sign up here
---
Brooklyn, N.Y. | Saturday, Oct. 3, 2020
You'll get to take in the view of the Verrazano-Narrows Bridge for virtually the entire race at this double-loop, out-and-back race that starts and finishes at the 69th Street Pier in Brooklyn's Bay Ridge neighborhood. Considered an excellent race both for recording a PR as well as a tune-up for the New York City Marathon the following month, the Bay Ridge Half keeps runners on the Shore Road Promenade for the entire race, from the starting line to the turnaround point, located at about 3.25 miles from the start. From there, you'll run back to the start, and then do it again a second time to complete your 13.1 miles.
$60 and up | Sign up here
---
Valencia, Spain | Sunday, Oct. 25, 2020
When both the men's and women's world record times have been set on your course in the past couple of years, you know it's a fast one. Here in this port city overlooking the Mediterranean along Spain's western coast, you'll run long, flat stretches alongside the gorgeously scenic Turia Gardens, the famous gardens and parks that line both banks of the Turia River on its winding route through Valencia. You'll also get to see some of its world-famous museums and galleries, from the Ciutat de les Arts i les Ciències along the Turia to the famed cobalt blue dome of the Museo de Bellas Artes.
$43 and up | Sign up here
---
A song to run to today
"Lose Yourself" from the album 8 Mile: Soundtrack by Eminem.
Want to hear all the songs we include in our newsletter? Listen to our full playlist on Spotify here.