Discover more from The Half Marathoner
A running newsletter that isn't (just) about running
Over 42,000 subscribers
Will the races we love survive Covid-19?
I wanted to find out, so I spoke with Doug Thurston, the race director of the Big Sur Marathon, to learn how they're coping.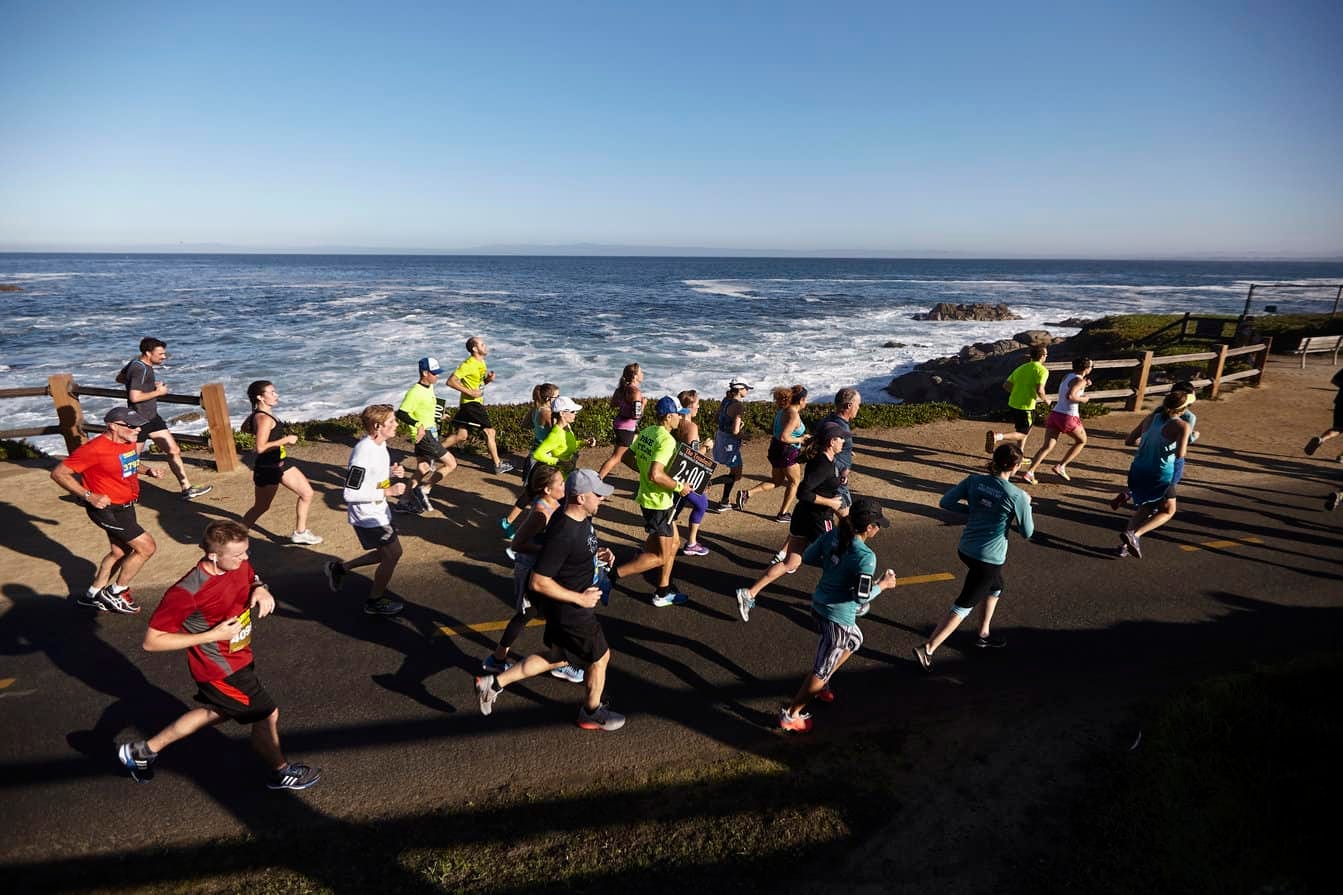 "I've always felt running is a form of meditation. Running enables us to stop our lives, to go out and find a safe place for ourselves."
Earlier this week, I spoke by Zoom with Doug Thurston, the race director and executive director of the Big Sur Marathon Foundation, which hosts the iconic Big Sur International Marathon along the Central California coast each April and the Monterey Bay Half Marathon in November.
Like you, I've been reading about the difficulties races are facing right now when most of them are cancelling or postponing their events until fall (or even pushing them back into 2021).
But I know these events are much more than just statistics in an article; real people who care a great deal about runners and the communities that host their events are being affected in a big way. So I wanted to know what this is actually like for them.
Here are some highlights from our conversation, which covered how they're handling the financial challenges many runners are facing, why they're not offering a virtual race, and how to figure out what social distancing at a mass participation sporting event can look like:
'The only thing that is certain is the uncertainty'
"Right now, we are following the postponement road rather than the cancellation road. At the same time, we are being realistic about what happens if even a November race can't happen.
For a race director, it is a challenge to devote energy towards planning a race on the one hand and not planning a race on the other hand. Even if you go down the planning road — which is something we're very good at and very experienced at — then how do you plan for a different kind of race based on applicable social distancing?"
Thurston said he empathizes with everyone who requests a refund, and understands the financial difficulties so many of us face right now:
"We handle plenty of inquiries and people will say, 'I understand you're a nonprofit. I understand you give money back in the community. I understand you have some baseline administrative expenses. [But] I still need my money back. I'm broke. I lost my job, you know, and I understand you have a no-refund policy that I agreed to. I understand, [but] I lost my job.'"
'How do you keep your organization viable for the future, but also be sensitive to individual needs?'
Striking the right balance isn't easy, he added, noting that his organization provided full refunds after cancelling a 5K race on its calendar that had been scheduled for June.
"[You're] trying to take care of everyone, but also maintain the viability of your organization. We've been around for 35 years, and we'd like to be around for at least 35 more. I think it's safe to say there's a lot of race organizations that won't survive this situation."
Particularly hard-hit will be smaller events, he added.
"If you're a smaller operation, you know, working out of your spare bedroom and maybe you do 12 to 15, 20 races a year — you know, 500 to 1,500 person races — if all of those are gone, then where's your income? How do you pay your mortgage and your contractors, your warehouse and all your health insurance and all those kinds of things?"
It's one thing to lay off and furlough some staff and you know, take pay cuts for executives and things like that. But it's another to say, I have to get out of that business because I can't survive a year in my life without income."
How do you do social distancing with over 10,000 people?
"Most people bring two to two and a half to three [people with them to a race]. So, for a 10 or 11,000-runner race, you're talking about roughly 25 to 30,000 people that would go through the expo and be at the finish line at various times of the day.
A few ideas that I've heard and that we've shared is the whole packet pickup expo experience — that's a mass gathering in itself. So maybe you mail bibs instead of having a packet pickup process [and] have shirts at the finish line, where you might have a larger square footage than you might have inside a conference room or a hotel ballroom.
A big part of the experience is just being there — to go restaurants and be at the hotel and find some pasta go get some gelato after the race. [We have to remember] why do people pay to run a race at all? Much of it to do it with other people, to share a common thing... that's the thrill of something with new people and experiencing this common bond in the sport we love."
A virtual race didn't make sense for Big Sur
"We did [give thought to it], but the virtual just didn't really kind of fit in with our brand because our brand is about the scenery, the unique opportunity to run on this amazing stretch of Highway 1 in the central coast of California. We respect the people that are doing that and some races are doing it very well.
We're recording this interview on Monday and of course yesterday was our race date. We're seeing social media posts from the people who replicated [our race] — they did the training. They kept it up and they did it in their neighborhood, but [it's] not like what they wanted to come experience here, which was the hills, the scenery, the wind and the camaraderie of their fellow runners from all over the world."
'Please be patient with your race directors'
At the end of our conversation, Thurston asked for runners to be patient right now, as they're struggling to find a way through this just like we all are:
"Please be patient with your race directors," he asked. "We're not stealing your money, we're not scamming — we're trying to survive. And most of us are small mom and pop businesses. And we're trying to figure out a way that we can stay around so that when we are allowed to have races, we can go back to putting on the experience that you deserve."
Some social media comments are pretty rough out there, he acknowledged.
"People are angry and they're frustrated and they're hurt, and we understand that," he added. "You know, we'll all get through this together... this is a time to show a lot of empathy and support each other."
I couldn't agree more.
As always, keep in touch my friends and let me know what's going on with you — don't be a stranger! I'd love to hear how you're running through this time we're all living through.
Your friend,
— Terrell
---
A 1-minute survey
A couple of days ago, I was talking with Hollie, an amazing writer (and friend), about a potential podcast for subscribers. She had a great question — where are our readers in their running journey, and what do they want to learn?
So, I thought I'd ask you. Click/tap the button below to fill out a quick survey — it only takes a minute, and will really help us out. Thanks! 😀
---
Virtual races you (might!) love

The Virtual Swiss Alps 800 Race. Timed to coincide with the day you'd cross the finish line if you were running the Swiss Alps 100 Endurance Run in person, this virtual event will have you run an average of 8.6 kilometers (about 5.3 miles) every day between May 16 and August 16. "You can either walk, run, jog, or sprint outdoors on trails, street, sidewalks or indoors on your treadmill," the organizers note, adding that they're fine if you run 20 kilometers one day and two the next — as long as you get in 800K by the last day.
East Coast vs. West Coast. All through the month of May, you can participate in this virtual race, which will organize all who sign up into two teams based on everyone's location (if you're west of the Mississippi, you're on the "West Coast" team). Choose among a 50K, half marathon or 10K, and run any day between May 1 - 31; note that you can spread it over two days, but the clock doesn't stop if you do.
Bigfoot: The Social Distancing Champion's Running Challenge. Who's better at social distancing than a sasquatch? You can choose among a full marathon, half marathon, 10K or 5K for this virtual race, proceeds from which will support food banks across the U.S.
Singleton Race Series. Technically speaking, this isn't a virtual race — you need to run it in person along the route the organizers (Virginia-based Old Dominion Racing). But it is an interesting twist on how we're all adapting to running without races; you run the routes laid out along trails in Virginia the organizers specify (for May, you'll run the Fairfax County Cross County Trail, for example). But you run it at the day and time you choose between May 1 - 31, and send in your results.
---
Great running reads
The New Rules of Running During Coronavirus. Right now, it can be better to slow down with your training, especially given that so many of us have so much more time to do it — because you don't want to overdo it. And did you know you should always wash your hands before you leave the house? If you're asymptomatic and touch anything when you're out, it helps reduce the chances of you transmitting the virus.
"Running on a trail in the middle of nowhere definitely brings about a different set of risks versus running in a city... Where you're running alters your risk profile greatly."
Eliud Kipchoge: The Humble Home Life in Rural Kenya Behind Remarkable Athletic Success. A beautifully admiring profile of the world's greatest marathoner right now, the man who broke the two-hour barrier in the 26.2-mile distance last year. Known as running's philosopher king, Kipchoge today maintains the same training regimen and lifestyle he knew before anyone had ever heard of him.
"When you become a boss, you don't think straight. It's better to be a leader than a boss. That is why I do my share of the cleaning. That is how to show the way to young people. I am trusting that I am leading them in a good way."
How Your Race Experience Will Change in the Near Future. Race expos, starting corrals, water stations, swag bags, shuttle buses to and from starting lines — all may be headed for big changes the next time you actually line up for an in-person road or trail race. It will be really interesting to see the degree to which so many things that have been added to running in the past couple of decades are allowed to remain.
"There was a time when races were much more low key, devoid of all the extra perks and swag. An accurate course and timing system were all runners expected. For the foreseeable future, everything old may be new again."
Let the Sunshine In. More than half of Americans don't produce enough vitamin D in their bodies naturally because we all spend so much time indoors, scientists say. That's why it's imperative that we take advantage of the opportunity so many of us have now to spend more time outdoors, according to this report, which dives into a study from last year on the wide range of benefits from being outside.
"While few scientists believe that the sun will prove to be a magic bullet against the pandemic, medical research already amply demonstrates that exposure to sunlight can help to make us happier and healthier at a time when we are in need of both."
---
A song to run to today
"Hold On" from the album Boys & Girls by the Alabama Shakes.
Want to hear all the songs we include in our newsletters?