What I do when running gets boring
Plus races in Reykjavik, the Berkshires, Andorra, Canaan Valley, Encinitas + Fruita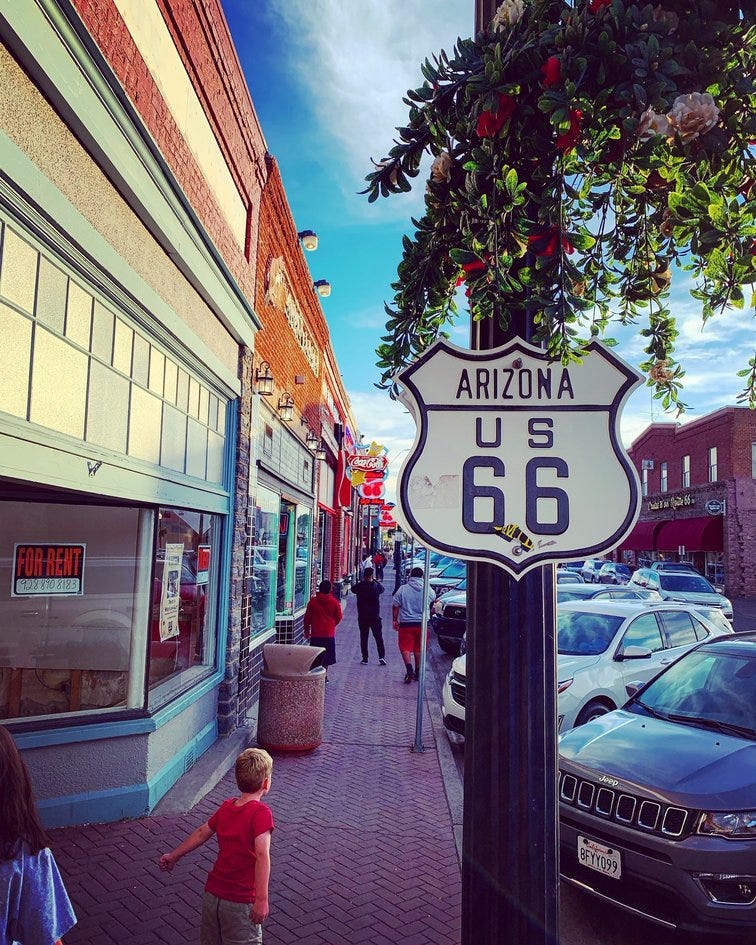 That's my son, in a photo I took along the historic Route 66 during our trip to Arizona last summer. Just a little reminder to myself that the road to getting better at anything is rarely a straight one.
---
For the past few weeks, I've been pretty faithful to my training schedule. I've been on my treadmill by a few minutes after 7 a.m. each day I'm scheduled to run, and getting in all my miles. About that, I'm feeling great — especially as I ran seven miles for the first time in a looooong time this weekend.
But you know what? This morning, after I woke up and my wife and I put our son on the school bus, I was dreading getting on the treadmill. In my mind, I'm committed to my training plan; but today, I just did not want to do it.
Now, I was able to muster the self-discipline to finally do my run this morning. But I didn't have as much fun with it as I normally do. In fact, I didn't have that much fun at all with it.
And you know what? That's okay, it's totally normal. In fact, it's to be expected.
There's a concept from the business world I learned about a while ago called "the Dip," from a book of the same name by Seth Godin, the famous marketing expert.
In the book, Godin explains the Dip is an inevitable part of the process of getting better at anything — and it's not only inevitable, it's necessary.
"At the beginning, when you first start something, it's fun. You could be taking up golf or acupuncture or piloting a plane or doing chemistry — doesn't matter; it's interesting, and you get plenty of good feedback from the people around you.

Over the next few days and weeks, the rapid learning you experience keeps you going. Whatever your new thing is, it's easy to stay engaged in it.

And then the Dip happens.

The Dip is the long slog between starting and mastery. A long slog that's actually a shortcut, because it gets you where you want to go faster than any other path.

The Dip is the combination of bureaucracy and busywork you must deal with in order to get certified in scuba diving.

The Dip is the difference between the easy 'beginner' technique and the more useful 'expert' approach in skiing or fashion design.

The Dip is the long stretch between beginner's luck and real accomplishment.

The Dip is the set of artificial screens set up to keep people like you out.

If you took organic chemistry in college, you've experienced the Dip. Academia doesn't want too many unmotivated people to attempt medical school, so they set up a screen. Organic chemistry is the killer class, the screen that separates the doctors from the psychologists. If you can't handle organic chemistry, well, then, you can't go to med school.

At the beginning, when you announce that you're premed, you get all sorts of positive feedback and support. Your grandmother can't believe her good fortune! But soon, the incredible grind of organic chemistry kicks in, and you realize you're doomed.
Now, I don't want you to get too down about what Godin is saying here. (He's describing things a little more harshly than I would, to be honest.)
But he alights on a really interesting idea here that I think applies to running as well. It's so easy to get excited by a goal — like I am about my upcoming New York City Half Marathon this March! — at first.
You're pumped by the cool place you're going to go run your race, and the friends/family/significant other you're going to take with you. It's all sparkly in your mind (as it should be!).
But sooner or later, you hit a point in your training when it becomes a slog. You'll ask yourself, "do I really want to do this?" Do I really want to have to wash my running clothes every night so they're not stinky the next morning when I run with my friends? Do I really want to slather on vaseline so I don't get horrendous chafing every time I run?
Podcasts, music + friends
Sometimes, the answer is going to be an emphatic no — and that's fine. You're human, and you're just going to have an off day from time to time.
But when you understand that these low moments are a natural, predictable part of the whole running thing — that the Dip that Godin describes is something we all go through — then you can see why there's no need to beat yourself up over them. They're part of the process. If you didn't experience them, then that's what would be abnormal.
Last Friday, I visited my son's kindergarten class to be the "mystery" reader. (He didn't know I was coming, so that's what the "mystery" was.) I read three books, including Marcel the Shell With Shoes On.
Well, I couldn't do the voice of Marcel very well, and I could tell the kids were getting a little squirrely. (They're 5- and 6-year-olds — it's not reasonable to expect them to sit there like accountants at an insurance seminar!)
Anyway, what happened when they did get riled up was their teacher didn't yell. She didn't get agitated or bent out of shape. She asked the kids to touch their knees, then touch their shoulders, then touch their ears, then raise their hands.
Why did she ask them to do this? I have no idea. But when things start to go off the rails in class, my son's teacher didn't react emotionally — she simply reached for a tool that she knew would work.
I think we can do that too, as runners.
Things are going to go off the rails from time to time, that's for sure. But we can put tools in our toolbox — mine are podcasts (Dax Shepard's Armchair Expert, Tommy Tomlinson's SouthBound and Michael Lewis's Against the Rules are some of my recent favorites) and music that pumps me up, which we've discussed before.
My favorite, of course, is to go running with friends on weekends when I can here in Atlanta — and it's also something I hope to do with as many of you guys as possible in New York before the half marathon in March! (We'll plan a time and place in the next few weeks.)
What's in your toolbox? I'd love to know!
Your friend,
— Terrell
---
Become a member and save $10
If you've signed up for a paid membership to The Half Marathoner so far, thank you SO much — you help make this whole thing possible. If you haven't yet, sign up today and save $10 for your first year, and get more of everything we do.
---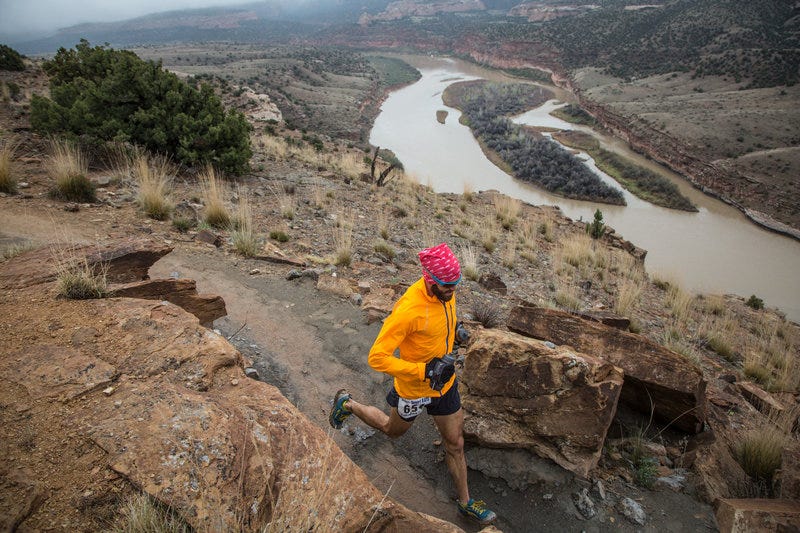 Fruita, Colo. | Sunday, April 19, 2020
A stunningly beautiful run through the high desert country of western Colorado, along parts of the 142-mile-long Kokopelli Trail, a mecca for backpackers and mountain bikers that stretches between Fruita and Moab, Utah. You'll run at elevations between about 4,000 and 5,400 feet above sea level during the half marathon, which starts near the northern edge of the McInnis Canyons National Conservation Area, and from there heads up onto the Kokopelli, offering up panoramic views of canyons and mesas as well as the winding Colorado River below.
$95 and up | Sign up here
---
Encinitas, Calif. | Sunday, March 29, 2020
A gorgeous run along Southern California's Pacific coastline near San Diego, along a course that runs through Encinitas and the nearby towns of Cardiff and Solana Beach. From the starting line overlooking Moonlight State Beach, you'll run into old town Encinitas and then head toward Swami's State Beach, considered one of the world's best places to surf — it was even mentioned in a Beach Boys 1963 song "Surfin' USA." After the turnaround at Solana Beach, you'll head north for a brief out-and-back along Highway 101, and then back to where you started.
$105 and up | Sign up here
---
Davis, W.V. | Sunday, April 26, 2020
Run along the edge of the Canaan Valley National Wildlife Refuge, whose 16,000 acres span roughly 70 percent of West Virginia's Canaan Valley region, and where you'll run past the sounds of water running through protected streams and bogs that fill the meadows beyond. Despite its location in the hills of eastern West Virginia, the race organizers say the route for the half marathon is both beautiful and "surprisingly flat," which means you'll need to "get ready to set a new PR." And, they add, it's "only a half day's drive from major metropolitan areas [like] Washington D.C., Pittsburgh, Northern Virginia, Richmond, and Columbus, Ohio."
$80 and up | Sign up here
---
Lanesborough, Mass. | Sunday, May 17, 2020
A run through the gorgeous, tree-covered hills and woodlands of Berkshire County in western Massachusetts, along a point-to-point route that starts in the small town of Lanesborough and finishes 13.1 miles later in nearby Adams. The course features just three turns and a net downhill drop of about 200 feet between the start and the finish line, and unfolds along the Ashuwillticook Rail Trail, which brings runners alongside the banks of Cheshire Lake and features views of the state's highest peak, Mount Greylock, off in the distance as you run.
$70 and up | Sign up here
---
La Massana, Andorra | Sunday, July 26, 2020
Nestled in the eastern Pyrenees Mountains between France to the north and Spain to the south, the tiny country of Andorra plays host to this "skyrunning" race every summer, a very challenging run with more than 7,500 feet of elevation change over a pair of big climbs inside Valls del Comapedrosa Nature Park. The views from the tops of the Andorra Mountains, however, are absolutely spectacular; there's a reason they call it "skyrunning." That said, don't underestimate the challenge of this race — organizers say it is "very technical" and "very demanding." Next year, both the 21-kilometer (half marathon) and 15-kilometer (9-mile) distances will be offered.
$48 and up | Sign up here
---
Reykjavik, Iceland | Saturday, Aug. 22, 2020
From the starting line on the banks of Tjörnin, the small lake in downtown Reykjavik, you'll follow an out-and-back loop around Iceland's capital city, including long stretches along the shoreline of Faxaflói Bay. The route will feature panoramic views of the natural beauty that surrounds the city, including the flat-topped Esjan mountain and Snæfellsjökull glacier, which lies on the top of a volcano. (By the way, it remains an active volcano even though its last eruption occurred more than 1,800 years ago.)
---
A song to run to today
"Rare" from the album Rare by Selena Gomez.
Want to hear all the songs we include in our newsletter? Listen to our full playlist on Spotify here.
---
Until next time...
"Running unites us and brings us together because, in the words of the great Bill Rogers, 'We sweat the same. We struggle the same.' Running is a simple, primitive act, and therein lays its power. for it is one of the few commonalities left between us as a human race. Toeing the starting line of a marathon, regardless of the language you speak, the God you worship or the color of your skin, we all stand as equal. Perhaps the world would be a better place if more people ran." — Dean Karnazes, author of "Ultramarathon Man"