Discover more from The Half Marathoner
A newsletter about where running can take us
Over 42,000 subscribers
Virtual races, running streaks + more: What you can do while races take a timeout
Plus: Open thread on how you're running while sheltering in place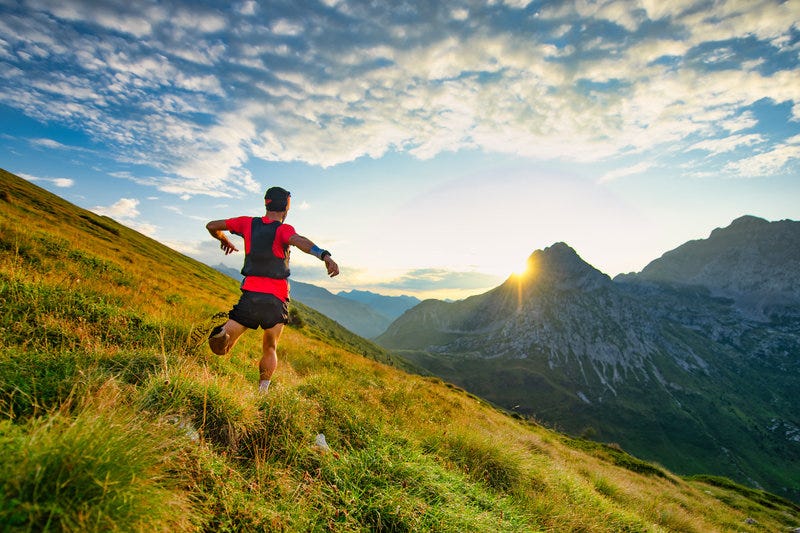 "And once the storm is over, you won't remember how you made it through, how you managed to survive. You won't even be sure, whether the storm is really over. But one thing is certain. When you come out of the storm, you won't be the same person who walked in. That's what this storm's all about." — Haruki Murakami
Have you ever seen "Charlie Wilson's War"? The 2007 movie, starring Tom Hanks as Texas Congressman Charlie Wilson and Philip Seymour Hoffman as CIA officer Gust Avrakotos, features a scene that I can't get out of my mind.
In the scene, which occurs near the end of the movie after Wilson has helped Avrakotos secure funding in Congress to fight against the Soviets in Afghanistan back in the 1980s, the two have a conversation on the deck of Wilson's apartment in Washington, D.C.
Leaning against the rail, Hanks's Wilson appears in a celebratory mood, enjoying what he believed to be a significant (albeit secret) victory in the long-running Cold War.
Hoffman's Avrakotos, however, cautions him not to get too satisfied:
Gust Avrakotos: "Do you know the story of the Zen master and the little boy?

There's a little boy and on his 14th birthday he gets a horse... and everybody in the village says, 'how wonderful. The boy got a horse.'

And the Zen master says, 'we'll see.'

Two years later, the boy falls off the horse, breaks his leg, and everybody in the village says, 'how terrible!'

And the Zen master says, 'we'll see.'

Then, a war breaks out and all the young men have to go off and fight — except the boy can't, cause his leg's all messed up. And everybody in the village says, 'how wonderful...'

Charlie Wilson: And the Zen master says, 'we'll see.'"
I realize this may seem like a strange story to share in a newsletter about running, but it comes to mind for me because I've been hearing a fair amount of talk about when we might be able to participate in races in large numbers again.
Many spring races have rescheduled their events for the fall — which would make for a blockbuster season crammed with events — while some commentators aren't so sure we'll be racing at all:
The truth is, nobody knows at this point. We just have to wait and, like the Zen master, "we'll see." However, there are things we can do to keep up our running and stay connected in the meantime.
Virtual races
Over the past few years, options for virtual racing — events in which you "participate" from home, running a route you choose at a time you choose — have exploded in popularity in recent years, as this New York Times article from last fall shows.
You receive a bib, a finisher's medal and a sense of being part of something bigger than yourself — it's not the same as running with thousands of other runners in person, to be sure, but it can help ease some of the disappointment of a canceled event.
Running streaks
If you've ever wanted to attempt a running streak, there's no time like the present, when so many of us are holed up at home. I began one two weeks ago; today will be day 14 for me running at least 5K a day. I never thought of myself as someone who would do this before — but like Walt Whitman, I am large, I contain multitudes, right?
Online running groups
There's a good chance you're already part of one of these — smartphone apps like Strava and Nike have offered them for years — but if you're not, it can be a lot of fun to have a group of runners to connect with, even if it's only virtually.
I've started a virtual running group for readers of this newsletter on Instagram, where we chat in the comments, offer support and cheer each other on, and share photos of our own runs using the hashtag #myruntoday.
Interested? Join us here.
As always, I hope each and every one of you are doing well and staying with your running through this challenging and unprecedented time. My heart goes out to all those on the front lines of this crisis, as I'm sure yours does — and that we're all thinking of them every day.
Keep in touch and stay safe — and a safe distance from one another, always!
Your friend,
— Terrell
---
Open Thread: How are you running while 'sheltering in place'?
How are you keeping up your fitness while also staying home from work/school? How are you staying in touch with people you run with, if you're not able to see (and run with) them regularly? What's working for you, or what would you like to share?
---
Saturday, April 25, 2020 (or whenever)
"This is a challenging course but also easy, we're not exactly sure what it'll look like for you. Could go either way." That's how the organizers at Vacation Races describe their first ever (and, they hope, last ever) virtual event — which you can run on the roads or trails, or even the carpet inside your home, depending on what's allowed in your community as shelter-in-place orders go out across the country. Proceeds from the race go to support the Wander Project.
$29.95 | Sign up here
---
Friday, May 15, 2020
The organizers of this virtual race — Runtastic Events, which put on nearly a dozen events in Texas and Utah — urge you to make this run "part of your healthy, immune-boosting, self-quarantining, online social interactive routine." You'll receive a bib which you can print out and wear wherever you run this race between now and May 15 — choose among a full marathon, half marathon, 10K or 5K — and you'll receive a finisher medal later in the mail, after you complete the race.
$28 | Sign up here
---
One of the nation's best virtual race event series, the New York Road Runners hosts virtual races for its spring United Airlines NYC Half Marathon and its annual fall TCS New York City Marathon — just track your run via the Strava app and share it with NYRR. Last year, the group also hosted a "Virtual Halfway There" race, for which you could follow one of their training plans and run a half marathon anytime between Sept. 7 and Oct. 19. It's unclear if it will be offered this year, but check this page for details as the year progresses.
---
April 2020
This completely free virtual race series is designed for runners who want to take a little control back for their lives during this unprecedented time, the organizers at Run the Edge say. "It's about moving our bodies, focusing on the positive, and celebrating the things that make us the most human." Sign up and you can run any distance from a 5K to an ultra, each week during the month.
---
Virtual Races for Cancelled & Postponed Events
Virtual Race Series
---
A song to run to today
"Everyday Is a Winding Road" from the album Sheryl Crow by Sheryl Crow.
Want to hear all the songs we include in our newsletters? Listen to the full playlist on Spotify here.