'The pain then is part of the happiness now. That's the deal.'
Plus races in Vietnam, Omaha, Sparta, Boulder City + Singer Island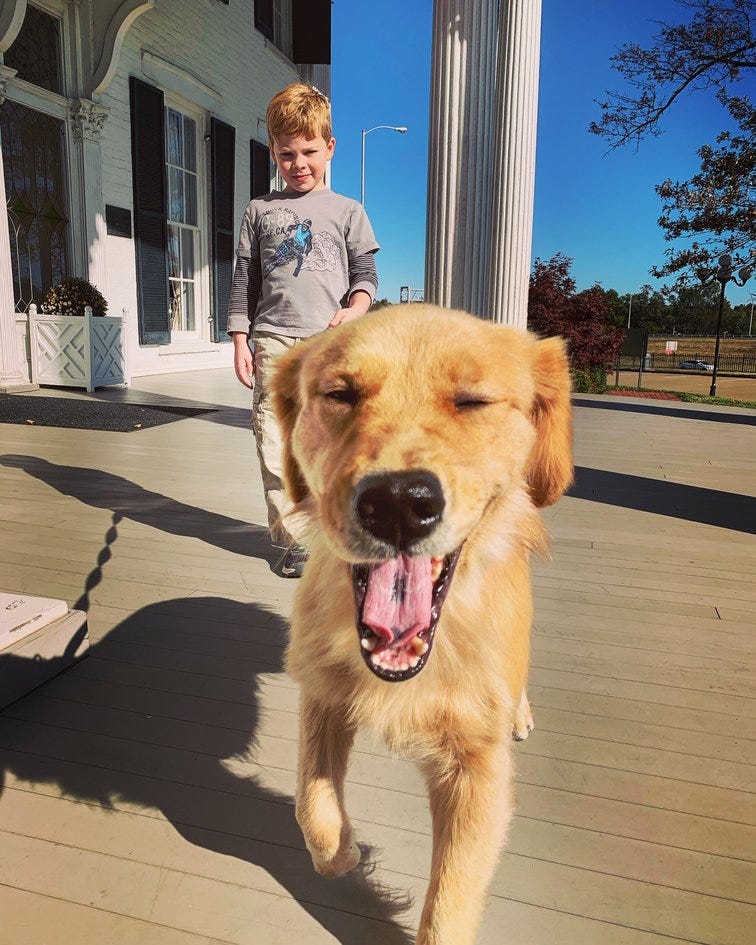 "Never slow down, never look back, live each day with adolescent verve and spunk and curiosity and playfulness. If you think you're still a young pup, then maybe you are, no matter what the calendar says." — John Grogan, author of Marley & Me
Last weekend, my wife, my stepdaughter, my son and I piled into a rented minivan to drive from Atlanta to just outside St. Louis — yes, the one in Missouri! — where we picked up our family's new pet, a three-year-old golden retriever named Twix.
(That's who you see smiling at you in the photo above, trailed just behind by my son, who's now completely in love with this sweet, sweet dog.)
Even though it doesn't have much to do with running, I thought I'd share this news with you because you guys were so incredibly supportive this past spring, when I shared that our beloved golden Murphy had passed away, after a sudden (but short) battle with cancer.
With any luck — once this blast of cold Arctic air here in the eastern U.S. blows through and brings us closer-to-seasonal temperatures — Twix and I will soon start running together, kicking off what I hope will be a long relationship that will take us on as many runs as possible, for as many years as possible.
To be honest, it took several months for me to be okay with us getting a new dog. I resisted it without even realizing I was, even though it became clear after a while that the kids were longing for a new pet. Not to replace what we'd lost when Murphy died, but to start filling the hole that had opened up since he left us.
My wife found Twix after bumping into someone on the street who walking what turned out to be their new puppy, training him on how to walk on a leash. When my wife asked where she got the puppy, she shared the name of the breeder, whom we got in touch with that same weekend.
One thing led to another, and it turns out Twix was a mother herself, having just given birth to ten brand-new puppies this summer. But she'd suffered some setbacks after giving birth, and the woman who bred her didn't want to risk Twix having any more complications, and wanted to find her a home with kids who'd play with her.
So, that's where we come in. The breeder sent us photos of Twix over the late summer and fall; when I looked at them, I found myself getting really emotional. Why? Because the face looking back at me wasn't Murphy.
It took more time, but finally I came around to the idea of bringing a new dog home. As it happened, over the past few weeks I got to watch an old movie I've loved for a long time, 1993's "Shadowlands."
In the film, Anthony Hopkins plays C.S. Lewis, who by the time the story begins has achieved worldwide fame as the author of the Chronicles of Narnia books. He meets Joy Gresham, an aspiring American poet and mother of two who is in the process of separating from her philandering husband.
To make a long story short, Lewis and Gresham discover in one another a relationship they didn't expect to find, and later marry. Their joy is short-lived, however, as Gresham is diagnosed with an incurable form of cancer. It's really only then that Lewis, a man who had lived for decades as a bachelor, discovers how deeply in love with her he really is.
There's a wonderful, touching scene late in the movie when Gresham's cancer takes a temporary reprieve, allowing her and Lewis to take a vacation together to the English countryside. It's there Lewis realizes how happy he is with her, which prompts her to say this to him:
Joy: It's not going to last, Jack.

Jack: We shouldn't think about that now. Let's not spoil the time we have together.

Joy: It doesn't spoil it. It makes it real. Let me just say it before this rain stops, and we go back.

Jack: What's there to say?

Joy: That I'm going to die and I want to... talk to you about it now.

Jack: I'll manage somehow. Don't worry about me.

Joy: No... I think it can be better than just managing. What I am trying to say is that the pain then is part of the happiness now. That's the deal.
I can't get that scene and this movie out of my mind as we've experienced the joy of having a new pet as part of our lives. Even though it's wonderful, I still miss Murph. (And let me acknowledge that I realize many, many people suffer tragedies far greater than the loss of a pet, like C.S. Lewis. I get it, I really do.)
One of the things that has helped us all move forward is something my wife said to me the weekend we went to pick up Twix.
"You know, it's as if Murphy helped guide us to find Twix," she said. "He showed us the way to her, and now he's ready to pass the baton to her, to tell us she's got this now."
I think so too. When you take in a pet, you know it won't have nearly as long a life as you, but still we do it. Why? Honestly I don't have an answer that makes any sense. But one thing I know for sure: I'm going to keep bringing home pets as long as I can.
Your friend,
— Terrell
---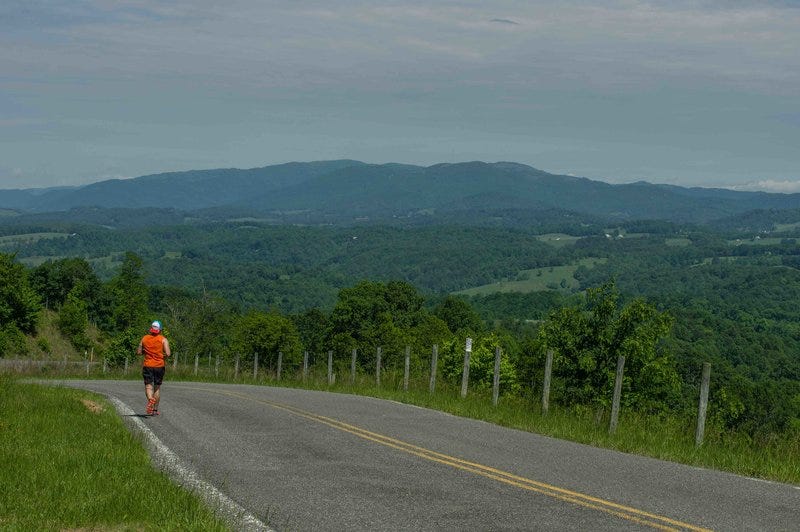 Sparta, N.C. | Saturday, June 5 - Sunday, June 6, 2020
A two-day, 104-mile-long loop run among the mountains, hills and valleys of North Carolina's Alleghany County, which lies roughly 100 miles north of Charlotte. One of the best parts of this race is that after you find 12 (crazy!) friends to run it with you, you don't have to worry about the logistics of getting around the course — the race organizers ferry you from place to place. That gives you "the maximum amount of time for relaxing, sleeping, and hanging out with teammates between runs, without spending up to 30 hours in vans," they add.
$150 and up | Sign up here
---
Omaha, Neb. | Saturday, May 16, 2020
Your four-legged friend is welcome to run the 13.1-mile, 10K or 5K distance with you at this race along the wide trails that circle Omaha's 1,100-acre Chalco Hills Recreation Area. While a few of them are paved, most of the trails you'll run are dirt surface with some gravel — they're used by local schools' cross-country teams for training, so they're challenging but fun. Plus, proceeds from the race go to benefit local animal rescue groups and shelters.
$45 and up | Sign up here
---
Boulder City, Nev. | Saturday, March 28, 2020
Known for its maze of more than 30 miles of mountain biking trails in the hills that look out onto Lake Mead and the Las Vegas Valley below, Nevada's Bootleg Canyon is where you'll run this challenging trail race that features more than 1,600 feet of vertical climb over your 14.1 miles — this "half" marathon is actually a mile longer than most. Expect plenty of steep climbs and descents along trails that wind along the sides of sandy, rocky hills, with the mountains surrounding Boulder City over your shoulder and the glitz of Las Vegas off in the distance.
$60 and up | Sign up here
---
Pu Luong Nature Reserve, Vietnam | Saturday, May 23, 2020
The second in a three-race series of trail marathons that feature once-in-a-lifetime, jaw-dropping running tours of the mountains and jungles of Vietnam, this race unfolds along the challenging hills of Pu Luong Nature Reserve, which lies just over 100 miles from Hanoi. Filled with waterfalls, old-growth jungles, dramatic limestone cliffs and views of rice paddies in the valleys below the trails, the 43,000-acre preserve offers runners several race distances to choose from — a 25K (slightly longer than a half marathon) in addition to a 10K, 42K, 55K and 70K ultra. You may sign up for the race only or sign up for a 3-day travel package that includes overnight stays in a stilt house in one of the villages inside the reserve.
$109 and up | Sign up here
---
Singer Island, Fla. | Saturday, April 11, 2020
Just down the shoreline from West Palm Beach, Singer Island — actually a peninsula, not an island — is known for its miles of beaches and beachfront hotels that tower over the ocean below. You'll run long stretches along A1A, the scenic coastal highway that stretches all the way from Key West to the coast of Georgia, and inside John D. MacArthur Beach State Park, a barrier island nature preserve whose 348 acres protect endangered native tropical flora and provide nesting grounds for loggerhead, green and leatherback sea turtles. The race offers up a mix of nature trails through the park and stretches through the (much more) developed areas at the end of the peninsula, including a run across the bridge over the intracoastal waterway.
$75 and up | Sign up here
---
A song to run to today
"Can't Stop The Feeling!" from the album Trolls (Original Motion Picture Soundtrack) by Justin Timberlake.
Want to hear all the songs we include in our newsletters? Listen to our full playlist on Spotify here.
---
Become a member and save $15
To everyone who's signed up for a paid membership to The Half Marathoner so far, thank you SO much — you help make this whole thing possible. If you haven't yet, sign up today and save $15 for your first year, and get more of everything we do.
---