The hard thing about hard things
'The answer to the big questions in running is the same as the answer to the big questions in life: Do the best with what you've got.'
One of the things I've always loved about running is, whether I'm in the middle of a training season or if I come back to it after straying for a while (sometimes for a long while), when I do it I always feel stronger, more capable, and able to dream bigger in general.
And when I lay off from it for a while, I tend to settle back at my own mental set point — meaning, reaching for any big goal feels like a really heavy lift, whether in running or anything else.
Earlier this week, my family and I had dinner at a little Italian restaurant down the street from our house. We were all catching up on each other's day when my stepdaughter told us about an audition at school for the chorus group, for a spot she didn't end up getting.
She's 15 years old, and dreams more than anything of a career in musical theater. The people she aspires to be like were standouts at a young age, and she's starting to feel like not getting the spots she's hoping for may be a sign that she doesn't have what it takes.
(Let me take a moment to say, I know that losing out in an audition like this isn't exactly the greatest tragedy that can befall someone. But each of us can relate to what it's like to dream big, especially when you're really young — to dream really big dreams, before you learn just how hard they are to achieve. Remember?)
I've been thinking a lot about what she said ever since. Even though I feel so differently now, at age 49 — I know the meaning of the phrase, "this too shall pass," and I know what it's like to move on and be okay — I remember feeling the way she feels. To want something so badly, it occupies your mind every waking moment.
To be honest, I don't know what to tell her. I've learned the hard way not to make promises I can't keep. (On the day our dog Murphy died last year, before I became fully aware of the condition he was in, I assured her "everything's gonna be okay, he's gonna be fine.")
None of us know when we start training if we'll actually make it to the finish line of the race we've set our sights on. We might get injured. We might get sick. We might find we're not really up for this after all.
But sometimes, our bodies show us that we really can do this. That we can make this happen after all. This post I found on Twitter today put it perfectly:
To be honest, I don't feel the same way about reaching for a big running goal today that I did the first time I ran a marathon, when I was in my mid-twenties. Back then, I wanted to prove something to myself, to find a part of myself I didn't yet know.
Now, things are different. I don't feel the same need to prove myself, so I allow myself to take things easier.
But still, I lace up my shoes and get out there. Because there might be a little flash of inspiration, a feeling or a thought, that I didn't yet realize I needed to know.
What's it like for you?
Your friend,
— Terrell
---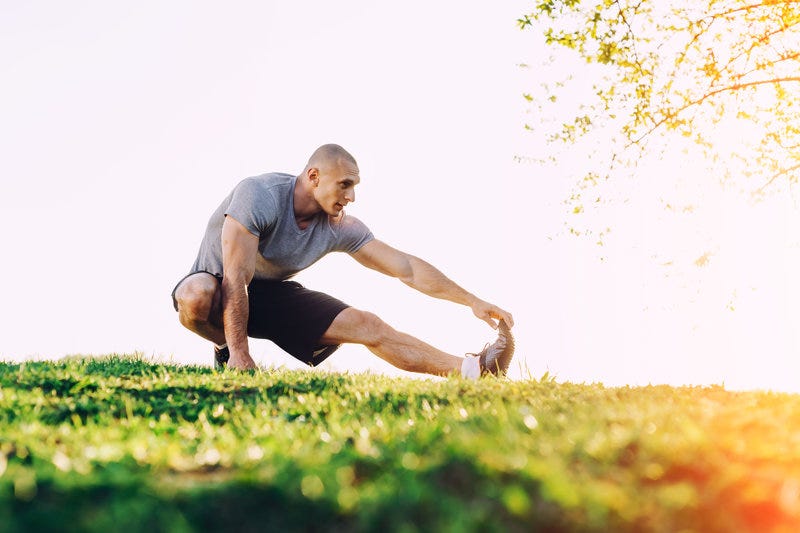 The Case Against Stretching. Do you stretch before (or after) you run? There was a time when I did so religiously, but now I don't even bother. As this article and a number of others in recent years shows, static stretching does little to nothing for your overall physical fitness, and may even be counterproductive. (Alex Hutchinson, the writer of this article, notes: "the important point isn't whether stretching is a tiny bit good, a tiny bit bad, or neutral — it's that any benefits, at least on a population level, are pretty much invisible.") What's interesting to me, too, is how hard it can be to stop stretching if we've formed the habit of doing so, even when we know it doesn't really do us any good.
I Am 35 and Running Faster Than I Ever Thought Possible. I love this wonderful article, by a writer who discovered she was capable of doing things she was almost certian she couldn't: "We don't have many opportunities later in life to change who we are, without worrying about what other people think or upending wherever we've landed in our lives. We especially don't have a lot of ways to do that physically. I had internalized a narrative about my body — that once I turned 30, there might not be much to look forward to. I didn't know the opposite could be true."
7 Podcasts for a Healthier Mind and Body. I'm a fan of the first podcast mentioned in this article — Emily Abbate's "Hurdle" — and love that the episode they feature is about how to get started and remain a consistent runner. There are some others in here that sound intriguing, like Outside Magazine's podcast, which featured Running With Sherman author Christopher McDougall in an episode last year. Worth a listen.
She's 75, And a Step Ahead of Her Competition. Marsha O'Loughlin lives in a Dallas retirement community and didn't start running until she was in her 30s. By the time she reached her 40s, she started looking for a new challenge, and stumbled across something you wouldn't think is a sport, but actually is a big one: tower running. Now she's one of the best in the world at it: "I never take an elevator up a building unless it's the only way up."
Cool Running: Jamaica's Kingston Marathon. Adharanand Finn, the author of last year's The Rise of the Ultra Runner, travels to the Jamaican capital for a race that's off the beaten path in more ways than one. While it probably won't match the experience you'll have at bigger, more popular races — Finn reports that just 45 runners competed in the full marathon when he ran it — there's much more to the Kingston Marathon weekend than the marathon itself.
---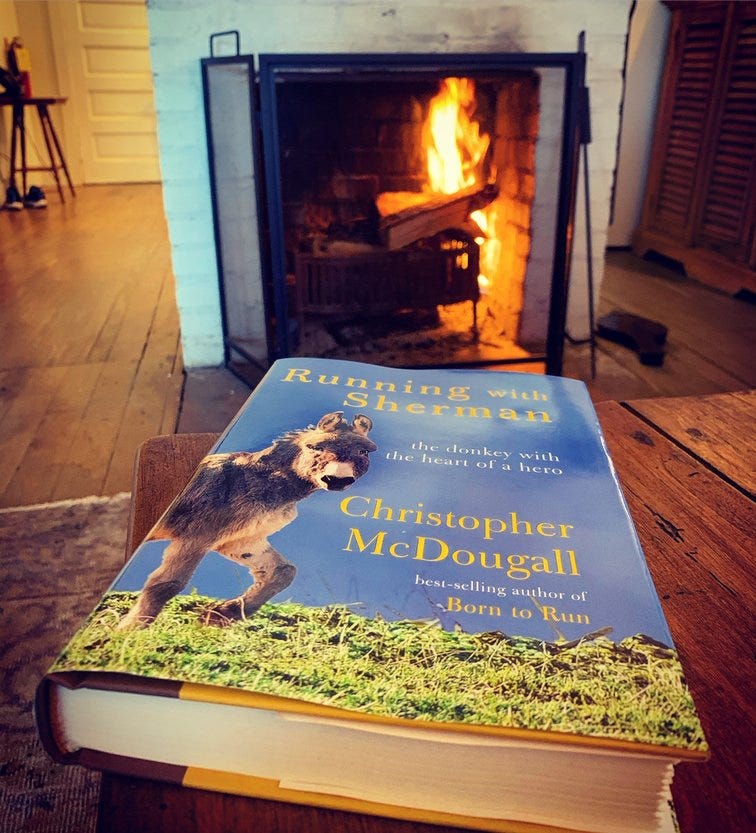 I hope you guys all enjoyed this month's book club pick, Running With Sherman. I've loved the book, and have loved discussing it with you in our book club threads over the past month.
A couple of things I've learned for our next book club pick, I think, are to allow more time to read our next book, and to schedule a single live discussion that we can all participate in together, rather than separating the discussions up by chapter groupings, the way I did this month.
That will make the discussion richer and more interesting, I believe, as we can all chime in to a single thread rather than multiple threads. And of course, I'm open to your suggestions on our next book club pick — have any ideas you think the group would love? Let me know!
— T.J.