Discover more from The Half Marathoner
A newsletter about where running can take us
Over 42,000 subscribers
Scenes from our first subscriber meet-up
Running the Richmond Half Marathon together was (I hope!) just the beginning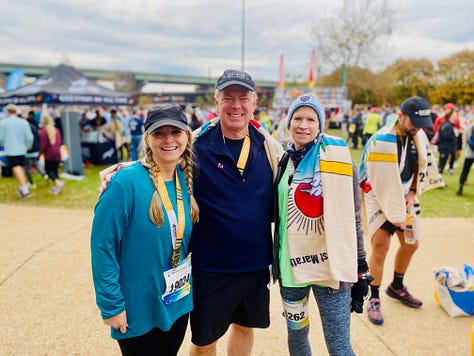 Thirteen (plus a little extra) miles are now in the books!
That's as of this weekend, when a group of nearly a dozen subscribers and I ran the Richmond Half Marathon, taking to the Virginia capital's streets on a chilly, overcast Saturday morning.
Waves of people were out on the streets almost everywhere along the route, which weaved through leafy, tree-lined neighborhood streets as well as making a big loop around Richmond's Bryan Park, before heading downtown for a (very!) steep downhill finish in front of the James River.
At various points, people handed out cups of Coca-Cola, pickle juice, beer, even shots of bourbon; I tried a sip of Coke when I was running through one stop, then switched back to water at the next. (Believe me, one sip of syrupy, carbonated soda was enough!)
The most fun part of the weekend, though, was getting together for dinner the night before the race with most of the group who'd come to town to run — including Bobbi Jo, David, Derrick, Helena, Jen, Stacy, Wendy and a few friends and spouses. And right after the race at the post-finish festival, where we met up with Becky, John (and his wife and friend), and a few others.
Hearing your stories and getting to know each of you a little bit better was the highlight of the trip for me — we all laughed together when someone said, "it's great to know there's a real person on the other end when I write in — that you're not a bot!"
The funny thing about running the half was, I wasn't even sure I could do it. I came into the weekend having been pretty faithful to my training plan for the first three months, but the last three weeks, I slacked off considerably. Life just got in the way.
That meant I knew I couldn't run 13.1 miles straight, that I'd need to use Jeff Galloway's run-walk-run method. So I did, running 3 minutes followed by walking one, and then repeating that throughout. It worked better than I expected; around mile 9 or 10, I still felt fresh. And by the time I crossed the finish line, I felt like I could run at least a mile or two more.
That tells me that I have more energy, more potential left in my tank than I thought — who knows, maybe a lot more? That if I push myself a little more, and expect a little more from myself, then who knows what's possible?
I hope you had a blast wherever you were in the world this weekend, and that maybe you can join us next time. Because this weekend showed me also how much fun it is when we're able to build connections through this newsletter — and that you can be a part of it too.
Next year, I'd like to do at least two more running events together. We've talked informally about next April's Eugene Half; I'd love to know any suggestions you might have of races and places we could meet up.
I will do some brainstorming on my own, and we can do more brainstorming in a thread discussion later this week.
Until then, I hope you've had a great fall season of running — we'll wind down a little here over the next couple of weeks as we head into Thanksgiving, and then pick it back up again in December for one of our monthly challenges.
As always, keep in touch and let me know how your running/life is going!
Your friend,
— Terrell