How You Can Run 500 Miles Along the California Coast (Virtually)
Plus: Something fun we're doing this Friday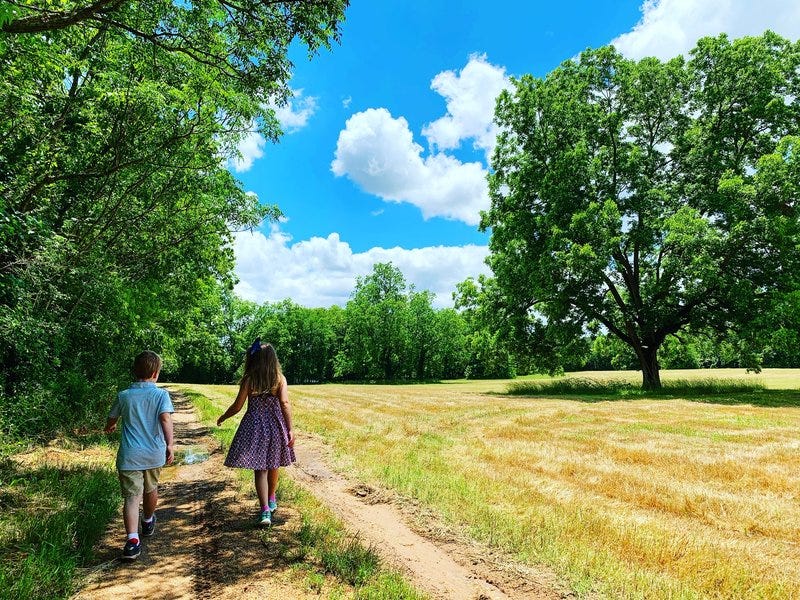 "For every runner who tours the world running marathons, there are thousands who run to hear leaves and listen to rain and look to the day when it all is suddenly as easy as a bird in flight."

— George A. Sheehan
Yesterday afternoon, I put my son in the car and we drove two hours from our home in Atlanta to the tiny town of Sparta, Ga., where my father grew up and several of his cousins still live today.
The occasion was a last supper of sorts, as two of my father's cousins (now both in their 80s) had sold the farm they were raised on to man who owns a pecan grove just down the road.
He plans to plant pecan trees throughout the hundred or so acres we used to romp around in the summer as kids, so this was our last chance to say goodbye — and a last chance for my son to see it, and have a memory (I hope) he'll hold forever.
That's what you see in the photo above, which I took as we walked around the trails of the farm, my cousins and I showing it to our kids.
Going there is like going back in time. Few businesses remain open along its mostly-shuttered downtown streets. My cell phone gets a signal in only a handful of spots around town.
But, it's still a part of us.
I share this with you, I think, because so much is being swept away right now. The way our world was "before" seems like it was in the distant past now, doesn't it?
Yesterday didn't last long, but it was nice to stop time and exhale — even if just for a little while. We're back today in our "real" world, which moves much faster.
Am I the only one who's finding it important to pause for moments like this right now? How are you hitting the pause button, so you can take it all in?
As always, my friends, let me know how your running is going and what's new in your life — and keep in touch.
Your friend,
— Terrell
P.S. We practiced safety when we visited yesterday — wearing masks, using hand sanitizer frequently and mostly staying outdoors. Just wanted you guys to know. 😊
---
☕️ Coffee with Coach
This Friday, we'll have a very special guest for our live discussion — Rogelio Quintanar, a running coach whose work with our Carissa Liebowitz has helped her get in shape for the Boston Marathon and many other races.
Rogelio joined us for our weekly podcast last week, when he shared lots of great advice on how to train when we can't race.
He'll join us online Friday to answer any and all questions you have about running, training, staying fit and challenging ourselves until races come back. I hope you'll be there!
👉 Join us for the live chat this Friday, May 22 at 9:00 am ET
---
Virtual races you might love running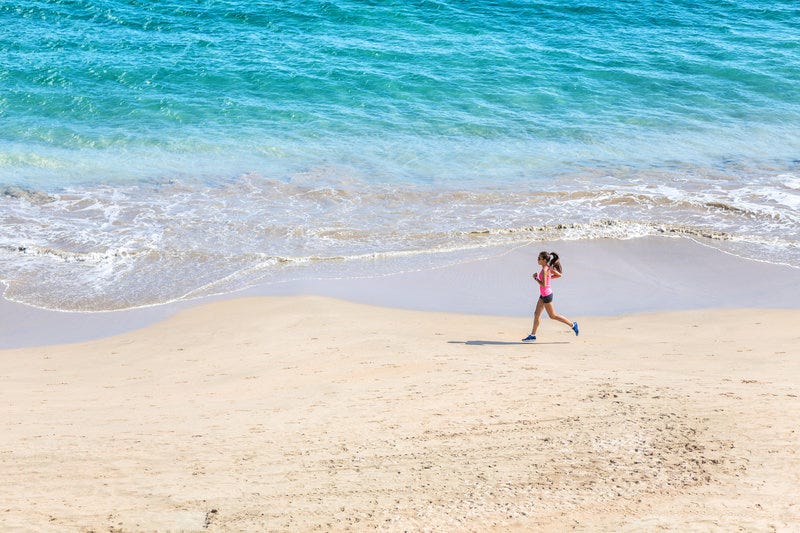 Virtual Aruba Run. Through Global Running Day — Wednesday, June 3 — you can participate in the virtual version of October's annual KLM Aruba Marathon, and choose from a 5K, 10K or half marathon distance. Fifty percent of the proceeds from the virtual race will be donated to Aruba's National Center For Social Development, which "helps to stock the Aruba food bank and supports the most vulnerable groups, such as the elderly and children in vulnerable situations," organizers note.
$10 | Sign up here
Pick Your Path Challenge. Choose a 5K, 10K or 25K route in any park near you, or choose from the routes the organizers of this virtual run have created where they live, near Washington's Mount Spokane State Park. The race will take place on the first weekend of summer (June 19-21), so you can register until then.
$17.50 | Sign up here
Sigma Chi/Huntsman Virtual Run. Organized to help raise funds for the Huntsman Cancer Institute, this race actually requires no registration — though they encourage runners to donate between $25 - $40 to receive a finisher's medal and race t-shirt. As Chris Hicks, a longtime friend of and subscriber to The Half Marathoner put it, "You pick your distance and you pick how to complete that distance (walk, skip, hop, crawl, bike or run). It will be on the honor system."
$25 | Donate here
Race the Comrades Legends. A virtual version of South Africa's legendary Comrades Marathon, which bills itself as the world's largest ultra-marathon, in June will host a race in which anyone in the world can compete in a 5K, 10K, 21K, 45K or 90K. You have to upload your results by 11:59 pm on June 14 in order to have your time officially counted and receive a medal.
$25 | Sign up here
'Run The One' California Coast 500. Up for running 500 miles (virtually) along California's famed Highway 1? Registration opens May 26 for this race that runs from June 8 through Sept. 6, which means you'll have 91 days to finish 500 miles — about 5 1/2 miles per day.
$60 | Sign up here
---
Great running reads
Marathon Racing Brings Big Money to Cities Across America. Some Races May Not Survive the Pandemic. More than 17 million people crossed the finish line in some 35,000 races across the U.S. last year. To bring all those runners back out, organizers are considering a range of safety precautions; some see a return to shorter, smaller events happening more quickly than larger-scale events.
"What I see is more runners coming into the sport," said Bart Yasso. "Probably could be the biggest influx of runners we've ever had because during this quarantine people had so much free time."
Trail Running Is a Genius Way to Boost Your Fitness and Avoid the Exercise Crowds. Keeping six (or nine, or 15) feet apart from other runners when you're in a big city isn't always easy — and may even be impossible at times. That's why more are giving trail running a try, according to ultramarathoner Kellie Emmerson, who says a big factor is the relative lack of pressure runners feel on the trails vs. the roads.
"Pace is not important because every run is different, depending on the weather and the terrain. You are allowed to walk and so people of all ages, of all body types, can be a trail runner and enjoy doing so."
How Much Running Is Necessary to Maintain Fitness? One of the big reasons so many of us have been so disappointed with the lack of races isn't just the experience themselves — it's the fitness levels we'd achieved training for them. This should worry us less than we think, according to the physiologist interviewed here.
"The moral of the story: even if you've ditched structured training, as long as you're getting out for runs consistently, your fitness will be just fine."
---
A song to run to today
"Small Talk" by Katy Perry
Want to hear all the songs we include in our newsletters? Listen to the full playlist on Spotify here.