How to start (or re-start) running when you're just not feeling it
Like, say, during a pandemic. Also: in-person races in Cape Cod, Pennsylvania + Virginia, and a virtual race for a cause that'll warm your heart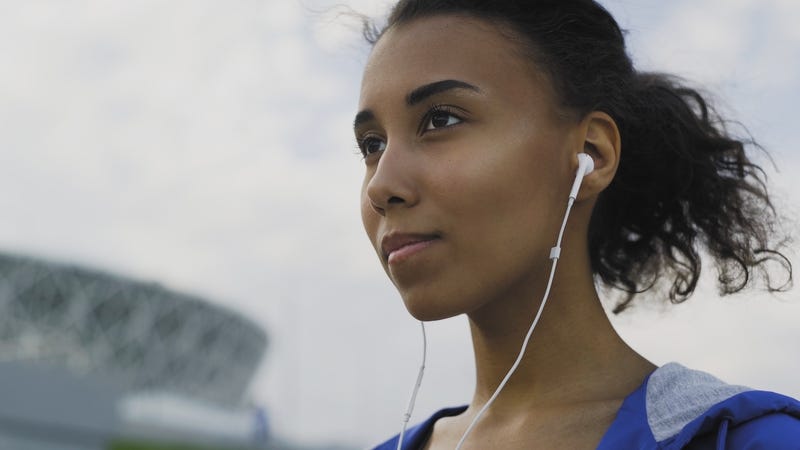 "It's very hard in the beginning to understand that the whole idea is not to beat the other runners. Eventually you learn that the competition is against the little voice inside you that wants you to quit."

— George A. Sheehan
---
Right now, as I write these words to you, my 6-year-old son is building a worm farm.
YouTube, apparently, has inspired him to go deep into the world of vermiculture — there really is such a thing, and it's huge! — so he can help the family create compost for our garden.
He really, really wants me to come and take a look at it. He's incredibly proud of what he's built, after working with our sitter yesterday to drill holes in Rubbermaid buckets so the worms won't die of asphyxiation once he puts them inside.
(And I'm incredibly proud of him for building it. I'm honestly blown away by the creativity and stick-to-it-iveness he's shown with it.)
Meanwhile, my boss and a few of my co-workers are pinging me on Skype — no kidding, right now — asking me questions that I'm trying to get them answers to.
And at the same time, my wife and I trying to have a conversation about when we're going to pick up my stepdaughter from her dad's later today. So who's going to be where, when?
And keep the house in a semblance of cleanliness. And answer text messages from my cousin about the election. And keep our 4-year-old golden retriever and our son reasonably entertained, while we're all at home for the time being thanks to Covid-19.
My wife and I laugh that our lives are a LOT like the mound visit scene from Bull Durham, when Kevin Costner's Crash Davis tries to work out among the players how to get the curse off one player's glove, what to pitch to the next batter, and what to get another player for a wedding gift.
In other words, Costner says, "we're dealing with a lot of sh*t here."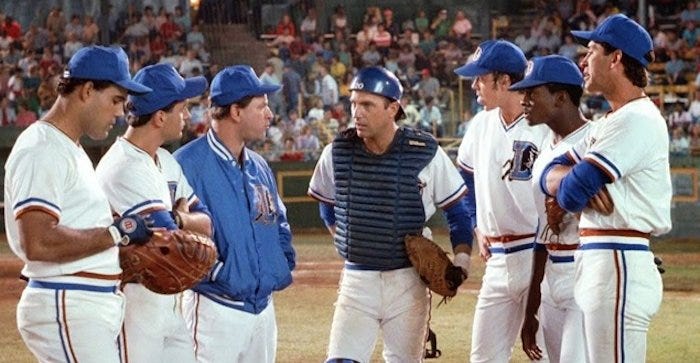 My point in telling you this isn't to complain. At all.
In case it isn't already obvious from previous issues, I love, love, love being a part of my family. I finally understand what it means to hold people thisclose to your heart, and never want to let them go.
No, my reason for telling you all this is to let you know: I get it. We're ALL Kevin Costner on the mound these days, and we're ALL dealing with a lot of sh*t!
So, I completely understand why you might need to let some of your running slide. Even if you've been following, or intending to follow, a training plan for a virtual race or a running challenge.
In fact, I'm supposed to run 5 miles today as part of our member training program. But I haven't yet, and I have other kinds of miles to go before I get them in. (Though I'm still planning on getting them in as I write this!)
The way I see it, right now is a time to pause and take stock. Of all that's important in life, to be sure, but also of how we're spending our time, and where we're focusing our attention.
And, perhaps most importantly, on what truly brings us joy. Because I have many reasons why I can't get my 5 miles in today. And those reasons are all good reasons. They are.
But, I still want to run them. Not only because they're on my training plan, but because they help me feel alive. They're a kind of antidote to the things in life that drag us down.
If you'll allow me, running is a little bit erotic.
(Believe me, I know how strange that sounds! But just bear with me here.)
My friend Polina Marinova Pompliano put it much better than I can in her amazing newsletter The Profile, when she described the work of the therapist Esther Perel:
Eroticism is an antidote to death. 

That's the biggest lesson psychotherapist and renowned couples therapist Esther Perel learned from her parents who were concentration camp survivors. They were both the sole survivors of their entire families.

As a child, Perel grew up in a community in Antwerp, Belgium, in which the majority of the residents were Holocaust survivors. "In this community, I always saw two groups of people — those who did not die and those who came back to life," she says.

The people she refers to as the group "who did not die" lived life distrustful of others, saw the world as a dangerous place, and felt guilt about experiencing pleasure. The group who "came back to life," she says, were those who understood "eroticism as a life force." 

Today, the word "erotic" is typically used in the context of sexual desire, but Perel offers a more nuanced definition. She views "the erotic" as an energy, a vitality, and an aliveness that couples exude even after undergoing a traumatic event. Perel credits her parents for showing her how to live with purpose, playfulness, and connection to herself and others.
I added the emphasis in that last sentence above, and that, to me, is my "why" when it comes to running. That's the reason I do it, that's the reason I lace up my shoes, and that's why it feels good to me when I do it.
It's not about competing, with myself or anyone else. Running connects me with that part of myself, especially at a time when it is so easy to lose sight of it. Very easily, in fact.
To me, if you want to figure out a reason to run right now, it's good to know your "why." Because if you start without some idea of what that is, you'll give it up when it gets hard. Or when there's a day when you just don't want to do it.
And then one day becomes two days, which becomes three days, and that becomes four days, and so on. And then you've given it up all together.
(Not that your "why" needs to be big or important or lofty. It could be as simple as, there's someone I'm attracted to — or married to — that I want to look good for, or be healthy for. And, that person could be you! 😃 )
All I care is that you figure out what it is for you. Because I want you to be here with us running for a long time to come, and to share your journey with us along the way.
There will be a normal time again — at some point — on the other end of all of this. (I hope!)
And we'll all be grateful that we kept running through it all, so we are ready for all the amazing races, events, and experiences that will be there waiting for us on the other side.
Don't you think so? I think so. We'll find out, won't we? 🤷‍♂️
Hope all is well with you, my friends — as always, keep in touch and let me know how your journey is going.
Your friend,
— Terrell
---
Races you might love running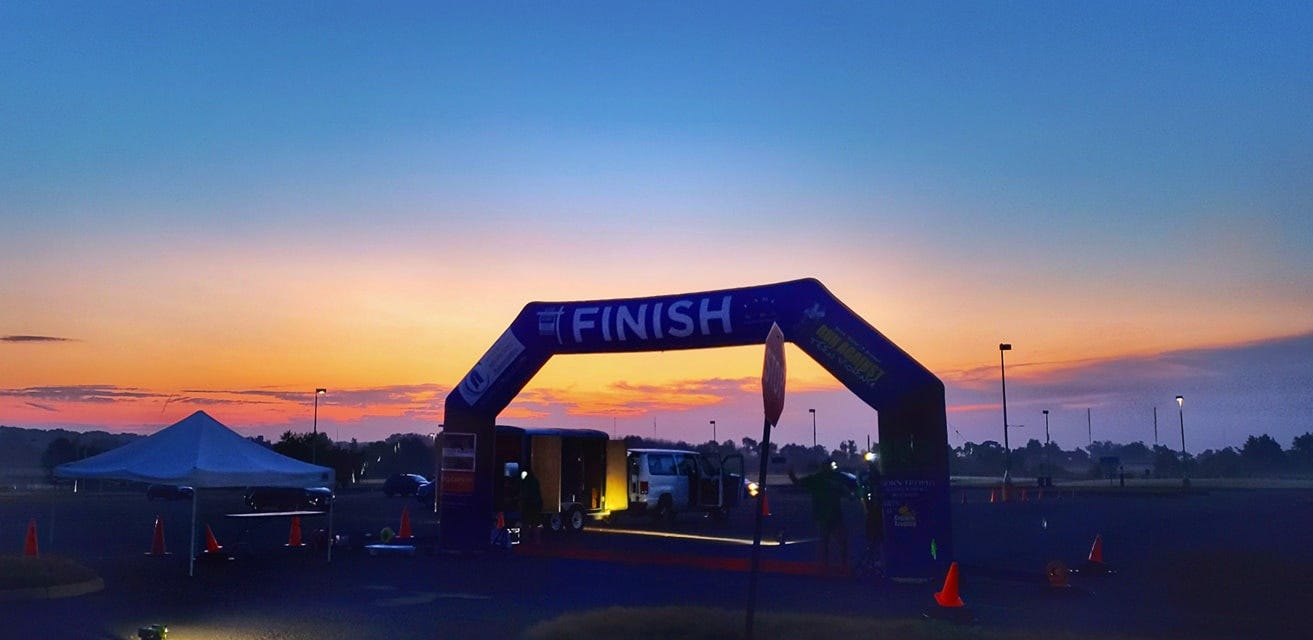 Culpeper, Va. | Sunday, Aug. 16, 2020
A looping run through the countryside of this town in northern Virginia's Piedmont River Valley, roughly halfway between Charlottesville and Washington, D.C. Organizers say this small race will allow them to follow social distancing guidelines recommended by the RRCA, and there's a virtual race option too.
$60 and up | Sign up here
---
Shickshinny, Pa. | Saturday, Aug. 22, 2020
A scenic, wooded run along the Susquehanna Warrior Trail, a running, biking and hiking trail built atop the former railroad bed of the Delaware, Lackawanna & Western Railroad that connected Buffalo, N.Y., to Hoboken, N.J., decades ago. The organizers plan to offer staggered starting times so runners can socially distance, and promise a full refund if they have to cancel due to Covid-19.
$45 and up | Sign up here
---
Salem, Va. | Saturday, Oct. 10, 2020
An out-and-back run through this city of just over 24,000 in Virginia's Shenandoah Valley, where the winding Roanoke River passes through and the woods of the George Washington and Jefferson National Forest lie just to the north. You'll run through neighborhoods and city blocks, past the Salem Golf Course and along the banks of the Roanoke River for a stretch in the second half of the course — there's also an 8K in addition to the 13.1-miler.
$50 and up | Sign up here
---
Falmouth, Mass. | Saturday, Oct. 24, 2020
Hailed by publications like Runner's World as one of the country's most scenic marathons, thanks to its course that unfolds along the shoreline of southern Cape Cod, this race is still set to run as an in-person race (organizers say they'll make a final go/no-go decision on Sept. 7). The expo and kids' fun run won't take place, and all activities will take place outdoors, with social distancing best practices.
$75 and up | Sign up here
---
Virtual | By Saturday, Dec. 5, 2020
You can run one, more or all of the four race distances — 5K, 10K, half marathon and full marathon — in this now-virtual race that runs through the home of American roots music. Whichever race distance(s) you choose, you can run one on what would have been race day or all of them in the months leading up to it, and know you're helping out a great cause: the St. Jude Children's Hospital.
$40 and up | Sign up here
---
Great running reads
What Keeps Pro Molly Huddle Running During a Pandemic. If you've been struggling with reasons to run lately, you're not alone. When you don't have an external goal like a race, pushing yourself to go run — especially when life intervenes, as it has for us all these past few months — isn't easy. Here's how one pro does.
"Every time you kept pushing and overrode the 'why am I doing this' question, or kept showing up and filling the days of your training log even when you had reasons not to, you cultivated that inner drive."
👉 Dig deeper: How to Boost Your Performance by Running Less
Mary Cain on the Future of Pedestrian Running Spaces. While this focuses on New York City, it's a really interesting conversation about the possibilities cities may embrace in the near future — opening up to runners, walkers, and cyclists the spaces that previously were reserved only for cars.
"Virtual racing has always been an opportunity for people, but now we've had time to sit still and get to the bottom of why people want to race."
🏃‍♀️ Summer tip: How Cooldown Walks Can Help You Recover
Running a Marathon Was Never Crazier or Harder Than During the 1904 St. Louis Olympics. A fascinating look at the disaster that was the first modern Olympics held in America, when the marathon distance was still 25 miles: "More than half the participants dropped out from dehydration. Several nearly died. The winner, who had to be dragged across the finishing line by his trainers, was doped up and hallucinating on rat poison," after it was discovered the first "winner" had cheated by hitching a ride for most of the race.
"A 25-mile run is asking too much of human endurance... It is indefensible on any ground, but historic."
---
A song to run to today
"Shake" from the album Let's Be Still by The Head and The Heart.
Want to hear all the songs from our newsletters? Our full playlist contains 7 hours, 26 minutes of music to run to.
---
👍 Enjoyed this post? Feel free to share it with someone you think might like it too.