Discover more from The Half Marathoner
A running newsletter that isn't (just) about running
Over 42,000 subscribers
How to create running goals to get you through the 'long now'
Four (more) things I've learned from Scott Douglas's 'Running Is My Therapy'; plus in-person races you can run in Florida, Oregon, Texas, Utah + Norway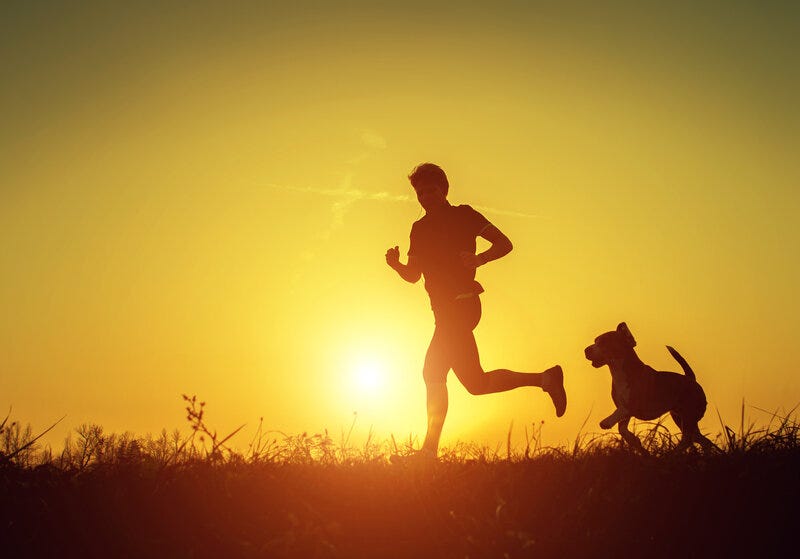 "The greatest revolution of our generation is the discovery that human beings by changing the inner attitudes of their minds, can change the outer aspects of their lives."

— William James
---
Just now, my 6-year-old son has finished school for the day. By that, I mean he bounded up the stairs from the basement in our house, where he's been taking his first-grade classes online since the school year started here a few weeks ago.
Aside from seeing his teacher a couple of times in person, that's what school has been like for him since mid-March. My commute to the office is the same, about twenty steps into a bedroom where I've set up a makeshift desk to work on.
Things have been like this for months and months now, and are likely to stay that way for... I'm not quite sure how long, to be honest.
So what that means is, every day kinda feels just like the one that came before. Like life has come to a halt and it's all just one "long now," to borrow a phrase I heard recently.
If you're a parent, especially of small children, this time has been a blessing in many ways. But there are so, so many of us for whom it has been anything but.
Right now, we can't count on as many of the usual markers of transitions in our lives — like the start of school, for example — to show up like they have in the past. Which explains why, even though time of course keeps moving forward, it can feel like we're not.
So, how do we get it back?
Running and meaningful pursuits
Lately, as I shared with you all back in June, I've been re-reading Scott Douglas's Running Is My Therapy. His book has been a huge help to me as I've tried to navigate through all we've been experiencing.
I put the book down for a while but picked it back up this past week, thumbing through some of the later chapters. That's when I stumbled across this passage:
"The sense that the unsatisfying present is your eternal fate is common during tough times. We can drown in such thoughts as, 'I have nothing to look forward to' or 'It doesn't matter what I do' or 'It's always going to be like this.' When you're struggling, you probably think like that about both life and general and your mental health, with the latter thoughts making the former ones worse."
Right on target there, Scott! There have been moments over the past few months where I've certainly felt this way. But Douglas isn't simply describing the water as we drown; he's here to signal a healthier approach.
Recalling an interview he had years ago with Bernd Heinrich, the author of the 2001 book Why We Run, Douglas notes the importance of having meaningful work to do in one's life. And if you don't, having meaningful "substitute chases" to pursue.
They're essential for our mental health, he argues, especially "for those of us with depression and anxiety, for whom the calendar can extend into infinity with nothing but dread or despondency in view."
Sound familiar? (I thought so.)
However, Douglas notes there's hope — and it's an evolutionary gift to us from our hunter-gatherer ancestors.
The idea Douglas alights on in Heinrich's Why We Run is that long-distance running was the original way early humans organized their energies in pursuit of a dream:
"Our ancient type of hunting — where we were superior relative to other predators — required us to maintain long-term vision that both rewarded us by the chase itself and that held the prize in our imagination even when it was out of sight, smell, and hearing. It was not just sweat glands that made us premier endurance predators. It was also our minds fueled by passion. Our enthusiasm for the chase had to be like the migratory birds' passion to fly off on their great journeys, propelled by dreams.

A quick pounce-and-kill requires no dream. Dreams are the beacons that carry us far ahead into the hunt, into the future, and into a marathon. We can visualize far ahead. We see our quarry even as it recedes over the hills and into the mists. It is still in our mind's eye, still a target, and imagination becomes the main motivator. It is the pull that allows us to reach into the future, whether it is to kill a mammoth or an antelope, or to write a book, or to achieve record time in a race."
The "substitute chases" Heinrich mentions are what we would call goals — and in running, these can be races or challenges you come up with all on your own.
Goals can't be arbitrary, though. A good goal has to have meaning for us to make us want to pursue it, even when we're discouraged.
Here's the four things Douglas says make up a good goal:
Good goals are trackable
You need to know when you've reached your goal — e.g., when you've run 13.1 miles, you've run a half marathon. Measuring your progress along the way is also key, so you'll know how you're doing and so you can develop confidence that you actually can achieve your goal.
Good goals have a deadline
You should have a date by which you want to accomplish your goal; running a marathon "someday" won't cut it. (Would hunting down a mammoth "someday" have fed our ancient ancestors' families?)
Deadlines force you to get specific about how you're going to achieve your goal and give a sense of urgency to your work.
Good goals require you to push yourself
It needs to be hard enough to be interesting — it's best if you're not quite sure you can do it. But not too hard that it's too daunting; you don't start running today with the goal of running an ultra-marathon next month.
"A good goal takes into account where you currently are and requires you to put in regular work to expand your capabilities," Douglas writes. "Good goals help you to change what reality is, but they can't be completely disconnected from reality."
Good goals are personally meaningful
This last point is the most important one, Douglas adds, because you want something that speaks to something deep inside yourself. "It's something you really want to do to make life more interesting, enjoyable, and/or meaningful," he says.
Don't choose the goal of running a half marathon or a full marathon because that's what "real runners" do, he adds. "Then you've let someone else set your goal."
I'm super excited about the virtual half marathon we're running this November — for me, where I am in my life, running 13.1 miles is a big goal for me to reach for. (At other times in my life, 26.2 miles has been the goal I was aiming for, the be-all, end-all of my running.)
For Douglas, running the entire length of Maryland's 184-mile-long C&O Canal Towpath in a single week — which entailed running just over a marathon a day for seven days straight — was a goal that held meaning for him.
But for you, a 10-mile race or a 10K race — or a running challenge you come up with on your own — might have a lot more meaning for you. Maybe just getting out (safely!) with a couple of friends for runs on the weekends, where you challenge each other to run up a mountain, say, is a meaningful goal.
Or, a 100-miler could be your thing, or running 1,000 miles in a year. There are as many answers as there are people who will read these words today.
So what's a goal that has meaning for you?
Your friend,
— Terrell
---
Races you might love running
Marble Falls, Texas | Sunday, Nov. 8, 2020
Run through the Texas Hill Country about 50 miles northwest of Austin, where you'll get to trek through wide-open countryside in this town that's home to about 6,000 people. Starting from Mustang Stadium at Marble Falls High School — where you'll cross the finish line on the running track inside the stadium — this race takes you along the "road less traveled," organizers say, on rural highways that run atop tree-lined ridges along paved country roads. There won't be many spectators out on the course, but you'll get to take in awe-inspiring views of this region, just a few miles north of the winding Colorado River.
$70 and up | Sign up here
---
Sisters, Ore. | Saturday, Oct. 3, 2020
Run along the trails at the edge of the Three Sisters Wilderness, where you'll get to take in stunning views of the Cascade Range all around. One of Oregon's most popular hiking and mountain climbing areas, the wilderness is named for the three mountain peaks known to early settlers as Faith, Hope and Charity (and now called the North, Middle and South Sisters, respectively). Each snow-capped peak reaches more than 10,000 feet high, and you'll get to see them as you run through Ponderosa pine forests that alternate with alpine meadows along single-track trails.
$95 and up | Sign up here
---
Ormond Beach, Fla. | Saturday, Dec. 12, 2020
You'll get to see what a small piece of "Old Florida" looked like when the Seminole Indians lived here at this trail race, among the salt marshes and oak trees of Bulow Creek State Park, where you'll run parts of the historic Bulow Woods Trail. All three races in the event — which include a 50K ultra and a 4-mile run — will start and finish in front of the 400-year-old Fairchild Oak tree, believed to be one of the oldest live oak trees anywhere in the Southeast and one of the only living things to survive when the Bulow Plantation was destroyed in 1836 during the Second Seminole War. From there, you'll run among the single- and double-track trails and old plantation roads of this 5,600-acre park, taking in views of some of the last remaining old-growth live oaks in the state.
$75 and up | Sign up here
---
Tromsø, Norway | Saturday, Jan. 9, 2021
Run inside the Arctic Circle at this daytime race that feels like nighttime — even though you'll run in the middle of the day, thanks to the time of year you'll run in darkness, as the sun never rises above the horizon here in early January. While there won't be any sunlight to light your way along the course, spectators will be out lighting the icy trails with an array of colorful torches, and you may even catch a glimpse of the aurora borealis (or "Northern Lights") in the sky overhead as you run. This year, you can run a 26.2 miles, as the race will add its first-ever full marathon.
$77 and up | Sign up here
---
Washington, Utah | Saturday, Feb. 6, 2021
A gorgeous run through southern Utah's "color country," known for its brilliant blue skies and red rock formations, as well as its mild winter climate. From the starting line along Utah's Old Highway 91, where you'll begin the race surrounded by red-colored mountains and desert cactus, the race then unfolds through a neighborhood known as Coral Canyon, a roughly 2,600-acre planned community that's home to a golf course, a number of parks and outdoor green spaces. Later, you'll run on paved trails through an area known as Hell's Canyon and a make a steep descent toward the Virgin River, where you'll run along the boardwalk for a stretch and later cross the finish line at the Staheli Family Farm.
$50 and up | Sign up here
---
Great running reads
Why Americans Really Go to the Gym. The boom in home fitness that we all witnessed (or took part in) during quarantine from Covid may be giving way. It turns out we miss the gym for a lot more than just working out.
"A lot of people who are missing the gym are not just missing exercise, but they're missing having another institution in their social life."
You Need to Run Slower. Even I still struggle with this, and I've been a runner for many years — knowing when to take it easy and when to pick up the pace. This offers some great tips on how to know when.
"The most important thing you need to learn is this: you get faster by running more, and you run more by running slower."
How to Get Back Into Running After a Long Break. As writer Kate Arends says in this valuable first-person post, running means a lot of different things to different people. Whether she knows it or not, this writer actually uses a lot of the same ideas James Clear talks about in his book Atomic Habits:
"Make it easy to show up for yourself. Make it easy to grab your clothes and shoes and get outside, no thinking required. Set your clothes next to your bed so you can put them on right after you wake up; put your running shoes right by the door."
Exercise Like a Poet: The Walt Whitman Workout. A short but beautiful piece on how the legendary Whitman worked to keep his body active and alive, even after he'd suffered a debilitating stroke:
"A solitary and pleasant sundown hour at the pond, exercising arms, chest, my whole body, by a tough oak sapling thick as my wrist, twelve feet high — pulling and pushing, inspiring the good air. After I wrestle with the tree awhile, I can feel its young sap and virtue welling up out of the ground and tingling through me from crown to toe, like health's wine."
---
A song to run to today
"Get Out the Map" from the album Shaming Of The Sun by Indigo Girls.
Want to hear all the songs we include in our newsletters? Listen to our full playlist on Spotify, with 8 hours, 24 minutes of music to run to.