How to Create a Training Plan That Works For You
Design a running plan that works with your lifestyle and schedule — not against it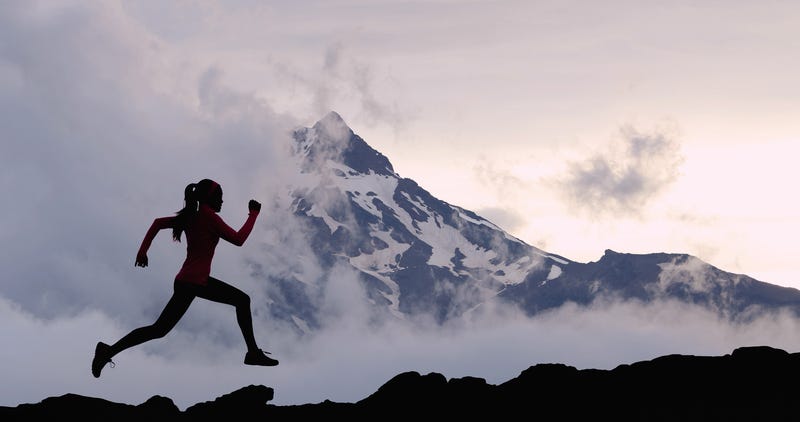 "We're getting down to the crunch," I told Eric. "We've got a lot of problems and not a lot of time."

Eric corrected me: "Flip it around," he said. "Remember what I told you with the Copper Canyon race? You don't start with today and aim toward your goal. You start with the goal, and aim back toward today. Do it like that, and you'll always find a way."

— Christopher McDougall, Running With Sherman
---
As we've been training together over the past several weeks for a virtual race this fall — November's Monterey Bay Half Marathon — I've noticed how different we all are as runners in my emails back and forth with you.
Each of us has our own strengths and limitations. We're each running at our own pace, in every way.
What's more, we all have different responsibilities and obligations to our jobs, partners, families, and friends — which can make it challenging to train together.
That doesn't have to be an obstacle, though. If you can't follow a specific plan (like the one we've been using as we train for November), you can create your own.
I've been creating my own plans for years now, and I adjust them as I need to based on the ebb and flow of other parts of my life.
(There are plenty of excellent resources you can find online to help you — just this morning, a quick Google search turned up helpful tips for me here, here, and here.)
What I try to keep in mind, when I'm creating a plan for myself, are these key things:
Different runs for different days of the week
I base mine on a simple philosophy — using mid-week runs for conditioning and feeling out my proper pace, and using my once-per-week long runs to get mentally prepared for running 13.1 miles.
Most weeks, I run my mid-week runs on Tuesdays, Wednesdays, and Thursdays — some weeks, only Tuesdays and Thursdays, especially if I'm early in a training cycle. I'll add Wednesday runs in once I'm a few weeks into the plan.
Plan your rest days
If you're a beginning runner — or even if you've been running for a while, but are training for your first half marathon — it's important to take two days off from running during the week to allow your joints and muscles adequate time to rest.
I've always taken two days off during the week, on Mondays and Fridays, to allow both for a day off after my long run as well as a day off after my three mid-week training runs.
(Consider cross-training on the days you don't run — anything from strength training to walking, which offers cardiovascular benefits without the pounding impact of running.)
Time your long runs with your race day
Are you planning on running your goal race on a Saturday or a Sunday? (Or another day?)
Strive to always run your weekly long run on that day — it'll get you in the rhythm of running long on the same day, so race day will feel like your next scheduled long run.
Don't beat yourself up when things go wrong
You're human, and I am too. You have a life. You have things you've gotta do. And, we're in the middle of a global pandemic!
So, you might as well acknowledge now that things are going go to wrong sometimes. And that's okay.
Sometimes, readers ask what to do if they miss a day, or a week, of training. What I tell them is, just pick up where you left off — you're not going to lose that much fitness by missing those days.
Above all, have fun
Earlier this week, I stumbled across this interview with Lucy Bartholomew, a 24-year-old Australian who's become a highly accomplished ultra marathoner.
She finished her first 100-kilometer ultra on her 15th birthday, and finished third in the Western States 100-miler two years ago. So, she's certainly no stranger to really challenging distances.
But what she emphasized in the interview, more than anything else, is that runners should simply have fun.
"I think about the opportunities I have on the long runs, I've always seen something or learned something, met someone or seen something new... It becomes less about the running and more about what you see and what you do."
And, especially on the runs where you want to stretch yourself, how important it is to listen to our bodies and take it easy when we need to:
"Hands down, the mistake everyone makes is they run too much. You see it in this pandemic, people are going from zero to hero. Most people think the more you run the better you'll be," Bartholomew said.

"A big thing is stress plus rest equals growth. Those rest days are really important. You have moments when you add stress to your body, but you have got to have those rest days so your body can respond."
Getting those easy runs is also harder when we don't even know what an easy run is; most of us probably think we should do all-out effort whenever we run. Not so, says Bartholomew:
"The biggest fault is that the easy run is not easy enough. Runners have an ego attached to these numbers. Easy runs are just about going through those movements, motion is lotion, shaking out their muscles. It's about getting that consistency without stress."
Amen. I'm going to do my best to listen to Lucy's wise words, and remember them as we train together. Because that's really what this is all about.
What do you think? I'd love to hear your thoughts, either in reply or in the comments. As always, my friends, keep in touch and let me know how your running/life is going. 😃
Your friend,
— Terrell
---
👉 P.S.: I wanted to share with you all a newsletter I love called Drawing Links by Edith Zimmerman, who's part of our running group here. In this issue, she shared her experience in learning to become an athlete. Check it out, I know you'll love it. 👍
---
Races you might love running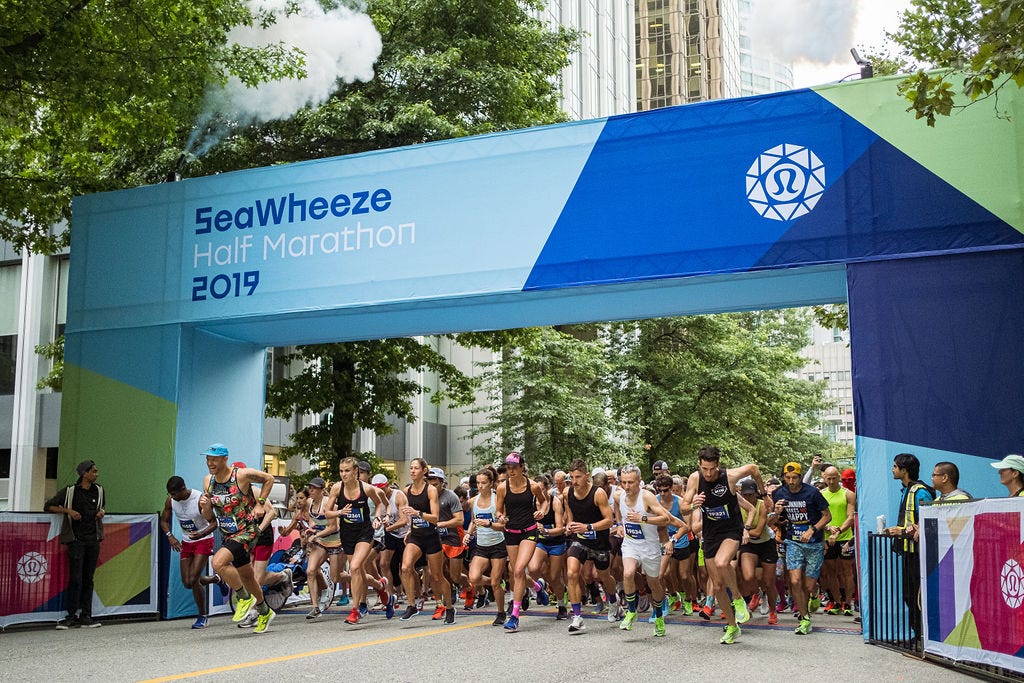 Virtual | Saturday, Aug. 15 - Sunday, Aug. 23, 2020
A virtual half that replaces the summertime race usually run this time of year in Vancouver, British Columbia, this race also offers a 10K option if you're not quite ready to run the half. You'll receive a special Strava race badge and a finisher's medal in the mail, after you record a single run of at least 13.1 miles (or 21.1 kilometers) between the 15th and the 23rd.
$28 and up | Sign up here
---
Virtual | Sunday, Sept. 20, 2020
This race — which in most years takes place in the heart of Kentucky's bluegrass country — will be virtual-only this year. There will be extra challenges this year for runners who want to take on the hills you'd normally experience along this route, which runs past thoroughbred horse farms and through rural countryside. And, there's a 12K if you don't feel up to running 13.1.
$60 and up | Sign up here
---
Dixville, N.H. | Saturday, Sept. 26, 2020
Perhaps most famous as the site of the first voting in the nation's first presidential primary election every year, Dixville plays host to this race's 44th annual running as summer is giving way to fall. You'll run from this tiny northern New Hampshire village west to nearby Colebrook, at a time that usually coincides with the peak of the fall foliage season here in what is known as the Great North Woods.
$25 and up | Sign up here
---
Eagle River, Wis. | Saturday, Oct. 10, 2020
A run along the fast (and flat) crushed limestone and dirt trails that make up the Three Eagle Trail, built on an old railway line that once stretched between the cities of Eagle River and Three Lakes. This race offers a gentle course and the gorgeous scenery of Wisconsin's fall foliage, as the leaves will be turning every shade of red, orange and gold this time of year.
$40 and up | Sign up here
---
Kirksville, Mo. | Saturday, Oct. 17, 2020
Run right in the heart of the fall season and planned as a fundraiser for the locally based Forest Lake Area Trails System — hence the nickname, the "F*L*A*T*S" Half Marathon — this race takes runners on a point-to-point run along the hilly single-track trails of Thousand Hills State Park.
$45 and up | Sign up here
---
Great running reads
Skipped Your Workout — Again? Try an Accountability Partner. If you've ever been part of a running group, you know how effective your partners can be in keeping you motivated. An accountability partner can help keep you connected — and engaged and motivated — at a time when we're isolated from one another.
"This has been a traumatic period for humans everywhere. The loneliness, isolation and lack of connection is not business as usual."
👉 Dig deeper: How to Build Your Running Endurance
Canceled Races Aren't Stopping Endurance Athletes From Setting Wild New Records. As race after race canceled this spring and summer in response to virus-related shutdowns, endurance athletes who'd spent the winter and early spring training for those races decided they didn't want to just wait around.
"It just might be the perfect coronavirus pursuit. And as it turns out, the FKT scene has exploded this year."
Is Your Blood Sugar Undermining Your Workouts? This excellent piece is heavy on the scientific explanation for why high blood sugar is bad for you, but shows how big a role the food we eat plays in how our bodies respond to exercise.
"Constantly bathing your tissues in sugar is just not a good idea and could undercut any subsequent benefits from exercise."
Why It's Good to Be Old, Even In a Pandemic. You might think it's a terrible time to be over 65 from the headlines we see every day, especially about the populations hit hardest by Covid-19. But there's a flip side to all of this too.
"If I'm having a bad day, I now understand a secret I never recognized as a young man, namely that tomorrow is all the more likely to be fine. Never have I felt so alive, nor more grateful to be."
---
A song to run to today
"Trinity Lane" from the album Trinity Lane by Lilly Hiatt.
Want to hear all the songs from our newsletters? Our full playlist contains 7 hours, 37 minutes of music to run to.