Discover more from The Half Marathoner
A running newsletter that isn't (just) about running
Over 42,000 subscribers
How I'm training for the New York City Half Marathon
Plus races in Martha's Vineyard, Bend, Colebrook, Waitsfield + Canada's Bay of Fundy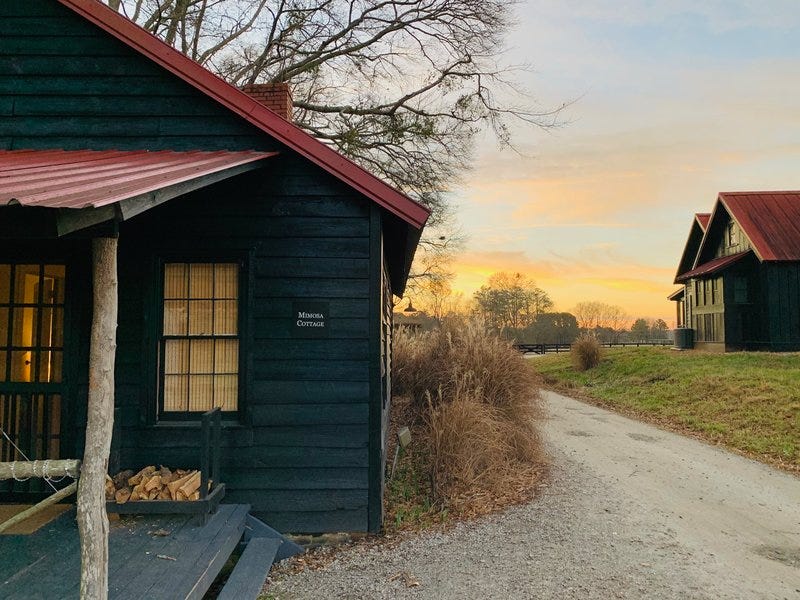 When I look at this photo, one I took of the little cabin my wife and I stayed in to celebrate our seventh wedding anniversary last month, I smile on the inside.
That's because our the few days we spent here over the holiday break was pure heaven — it was cold, we had a fire going most of the day, and we did little more than lay on the couch, read our books, catch up (a little) on CNN, and walk around through the woods when we felt like it.
The cabin is in a place called Serenbe in Georgia's Chattahoochee Hills region, about an hour or so south of Atlanta. Compared to the city, there's really almost nothing to do there; it's a place where peace and quiet is the norm, and chickens roam free.
I'm sure I don't have to tell you, but my day-to-day life is nothing like this. Once our brief trip away was over, our lives went back to normal — getting up at 5:30 a.m. to get kids dressed and lunches made for school, one on the bus before 7:00 a.m. and the other driven to school by 8:00 a.m., and ourselves to our jobs by 9:00 a.m.
And then, as a friend of mine likes to say, work gives us a few hours of downtime before we get home and jump back into being a family again — homework, making dinner, getting our youngest bathed and in bed, our dog and our fish fed, and spending time with our oldest before she goes to bed (after hours of homework).
As you're probably gathering, all of this doesn't leave a lot of time for running. 😊
So how am I able to keep up a training schedule for my upcoming race, the New York City Half Marathon on March 15? The short answer: it's not easy.
My wife and I talk often about when and how we going to get our exercise in. Sometimes we have to do a little horse trading with each other; it's awfully easy for one partner to feel like they're getting the short end of the stick, especially if the other has had work functions or other obligations outside the home that required the one still at home to pick up the load.
But as I write this, earlier this morning I completed a 5-mile run on our treadmill at home, after running 4 miles on Monday. I'll run another 4 tomorrow (depending on how things go in the morning) and hopefully get two more runs in this weekend, with a long run of 7 miles on Sunday.
One thing I've done that has worked: I've picked a window of time and stuck to it. For me, that window is between 7:00 and 8:00 a.m. That's it. If I miss that window, it closes until the next day.
Of course, getting my running at night is technically possible. But let's be honest here: after a full day of work and feeding, bathing and putting kids to bed, it's just not going to happen.
I'm more or less following this 10-week training plan I created several years ago, a variation on a plan that's worked well for me over the years. (There are no guarantees I'll be able to stick to this, though. A couple members of our family have gotten the flu over the past few weeks and while I've avoided it so far, it might be incubating inside me right now.)
Why am I sharing all this? One of the responses I received to last week's survey was to share the races I plan to run and how I'm training for them — in other words, how this is actually working for me.
I believe in that, because (as someone else who responded to the survey wrote) the images we all see of what it's like to be a runner are, shall we say, a little unrealistic. More than a little, actually.
The reality of training — unless you have gobs of free time and few responsibilities — is that, as often as not, you're going to be have to look to the cracks and corners of your life to fit this in.
Some of us have kids, some of us have ailing parents or other family members to take care of. Some of us have big jobs that suck up all of our time. Running gives us a way to steal a little of it back, right?
I'd love to know how you get your training in, especially if you have hurdles in your way — what are the adjustments you make to your life to get your running in?
Your friend,
— Terrell
P.S.: As I wrote above, I'll be in New York on the weekend of the NYC Half Marathon to run the race, and I'd love get together whether you're running it too or even if you'll just be in town — a group run or something else social. Let me know if you're interested and we'll make it happen!
---
Bend, Ore. | Sunday, April 5, 2020
Now in its fourth decade of taking runners on the trails that wind alongside Oregon's Deschutes River, a place where salmon and steelhead make their annual migration upstream, this race celebrates the "homecoming" of the hundreds of runners who take to its streets every year, overcoming obstacles of their own to run this beautiful route just east of the Cascade Mountains, surrounded by lakes and mountain peaks. Thanks to its location along the river, most of the race is pancake-flat and run on paved riverside trails, surrounded by wooden fences, trees and other greenery. (And, it's open to walkers too.)
$50 and up | Sign up here
---
Oak Bluffs, Mass. | Saturday, May 16, 2020
Remember the bridge Roy Scheider ran across in the 1975 movie "Jaws," in his frantic attempt to save Amity Island beachgoers from becoming lunch for the world's most legendary shark? You'll get to run across it too at this mid-May race, as the half marathon's final couple of miles take you along Beach Road that stretches from Edgartown to Oak Bluffs, where the race finishes with a beautiful run on the grass in Waban Park. For the rest of the route, you'll run through forests and along bike paths as you make your way through parts of the Manuel F. Correllus State Forest, also known as the "Heath Hen Reserve" (though the Health Hen is, sadly, now extinct).
$99 and up | Sign up here
---
Colebrook, N.H. | Saturday, June 20, 2020
You'll run through the lush, rural countryside of two states just a short drive from the Canadian border at this beautiful, looping summertime run, which takes you from Vermont through the Columbia Covered Bridge and into New Hampshire. The second half of the race brings a few more hills than the largely flat first half, and if you like you can run a 16.2-mile race — run the 5K first, and then follow it up with the half marathon.
$35 and up | Sign up here
---
Lubec, Maine | Sunday, June 28, 2020
You may see bald eagles flying through the sky, seals playing in the ocean, and whales at the surface of the water off in the distance awaits at this race, which takes you through both the United States and Canada (without stopping) here along the rocky Maine coastline. That means you'll need a passport so you can be cleared for travel into Canada during the race registration process — but the trouble is definitely worth it, as this is one of those bucket list races you'll never forget, as you run "from lighthouse to lighthouse through scenic fishing villages and spruce forests with bald eagles overhead."
$85 and up | Sign up here
---
Waitsfield, Vt. | Sunday, July 12, 2020
Giant red barns, tall silos, covered bridges, wide-open farm fields and quiet country roads form the backdrop you'll see along the route at this mid-summer race. If you're a skier, you'll find it familiar, as the Green Mountains of Vermont here are home to wintertime ski destinations like Mad River Glen and Sugarbush. The race has earned accolades from the likes of Runner's World in recent years thanks to its gorgeous, bucolic scenery throughout, and the quaint charm of the small town where you start and finish the race.
$85 and up | Sign up here
---
A song to run to today
"Downtown" from the album Mirror Ball by Neil Young.
Want to hear all the songs we include in our newsletter? Listen to our full playlist on Spotify here.
---
Until next time…
"Your progress as a runner is a frustratingly slow process of small gains. It's a matter of inching up your mileage and your pace. It's a matter of learning to celebrate the small gains as if they were Olympic victories. It means paying your dues on the road or the treadmill. It means searching for the limits of your body and demanding that your spirit not give up. It means making the most of what you have. It means making yourself an athlete one workout at a time." — John Bingham, "No Need for Speed"