Discover more from The Half Marathoner
A running newsletter that isn't (just) about running
Over 42,000 subscribers
How are you handling 'the new normal'?
As long as the coronavirus is a part of our lives, races won't be. But that might make running even more important.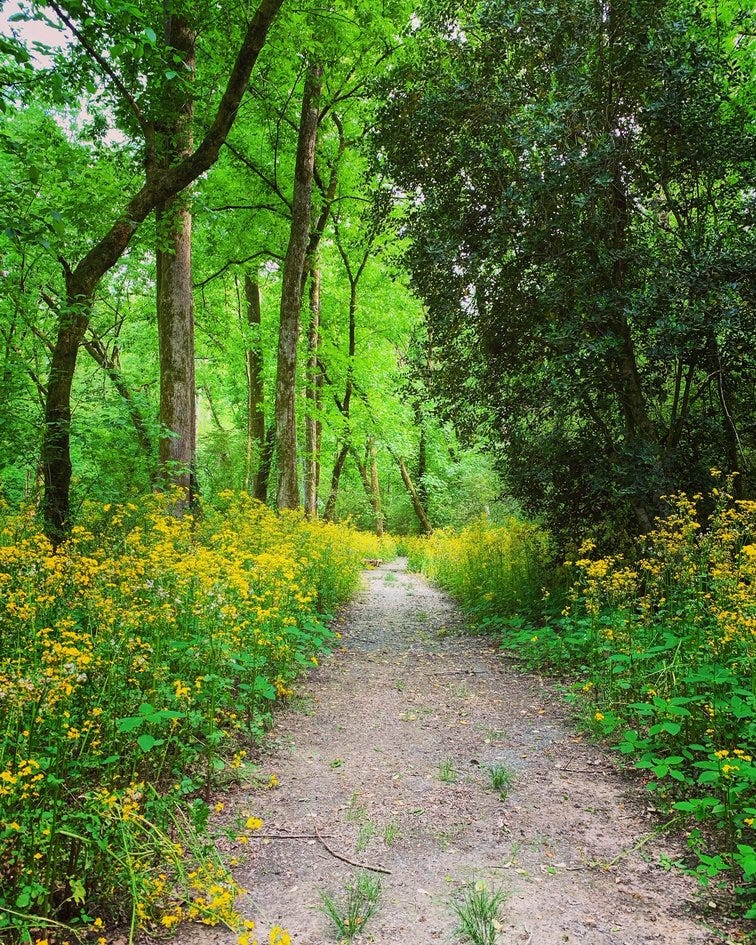 I took this photo last spring on a run along the trails that wind around the grounds of my stepdaughter's high school. I'm sharing it today because it reminds me of a time before we're experiencing what we are today, when all of life was brushing off the cobwebs and getting ready to shake its tail feather again.
While it won't be on the schedule we'd like, I know, we'll get to this place again someday. In the meantime, I asked Carissa to share with us her thoughts on what she's going through, as she had a packed race calendar penciled in for this spring.
I'd love to know, too, how you're dealing with all the shutdowns, whether it's races you had scheduled or just life in general. How are you coping, and how are you getting through it? How are you maintaining your fitness and health — both body and mind?
Share in the comments below, or simply reply back, as I would love to hear. — Terrell
(P.S.: If you're a fan, John Legend announced yesterday he's going to do a livestream concert on Instagram this afternoon at 4 p.m. ET/1 p.m. PT. Watch it on IG here.)
---
How I'm handling 'the new normal'
Everything's cancelled. For at least the next two months. In this unprecedented time, everyone is trying to figure out how to deal with the new normal, including me. 
A week ago, race cancellations seemed a possibility. Now, they are inevitable. A week ago, I posted on Instagram that I was excited to head to Boston on April 20th and now I'm looking at a really stacked fall.
We've gone from race directors trying to figure out how to make their events happen to pretty much a full shutdown across the board. There were a few holdouts this weekend, but I think everyone has gotten the memo that we aren't going anywhere anytime soon.
I'm a serial racer myself and was looking forward to a few events in April including Boston, but I found myself breathing a little sigh of relief too. I feel better knowing I won't be putting myself or anyone else in a position to make this situation worse.
---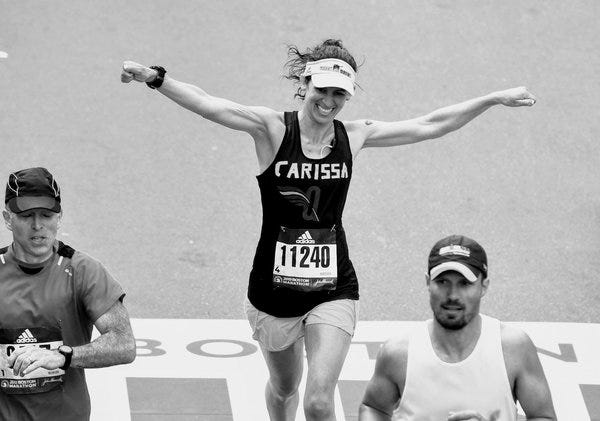 Carissa crossing the finish line at last year's Boston Marathon. Missing this year's race is a disappointment, but she finds herself 'breathing a little sigh of relief too.'
---
Missing a few months of racing is hardly a big deal in the grand scheme of things. I think most runners (not all, but most!) realize that there are far bigger problems happening right now.
The first time I was injured, I was so upset that I had to miss time away from running. Every day felt like a week while I sat on the bench.
But it was just a small blip in the many, many years of running. And truthfully, it made me appreciate the things like bad runs or terrible weather conditions because I was just so thankful to be out there.
So what does my training look like with a now-free calendar for a few months? For me, it's a time to just enjoy running.
At this point, I am able to get outside still and enjoy a bit of fresh air and endorphins. I'm still a runner without racing. And in a time that we are in a health crisis, I'm reminded of how wonderful it is to be able to run.
It's a great time to get back to the basics of why I started running in the first place. To escape from the doldrums of regular 21st century life. To sort out my thoughts. To feel my body move and sweat. To have a little alone time.
Okay, maybe I won't need that last one right now, but there is something wonderful about the time that you are running that you can ignore a full inbox or mountains of laundry for a short amount of time.
I do a lot of race specific training so I'm looking forward to a few weeks of unstructured play. I'd love to do a couple of adventure runs within driving distance, but going outside might be kind of iffy if things get any more serious. So I'm just going to stay flexible and take it a day at a time.
I'll work on my strength training a bit more. I'll focus on getting in all those drills that I've been meaning to incorporate into my routine. I'll foam roll and take a few more Epsom salt baths. I'll not worry if my scheduled 16-miler ends up being 10 miles or 22. 
As a serial racer, I also struggle with having an off-season. I love to race and this is going to force my hand (or legs?) to work on mileage without the stress of a race.
Even if I am not gunning for an "A" effort in all of my races, there is a certain amount of stress surrounding even the most casual of events. A couple of months of an off-season will hopefully leave me feeling refreshed and excited to toe the line when we are able to get back to it.
I'm thrilled to think we'll all feel a collective joy to appreciate our circumstances when things are back to normal — whenever that happens.
— Carissa
---
A song to run to today
"Into the Unknown" from the album Frozen II: Original Motion Picture Soundtrack by Panic! At the Disco.
Want to hear all the songs we include in our newsletter? Listen to our full playlist on Spotify here.