Discover more from The Half Marathoner
A newsletter about where running can take us
Over 42,000 subscribers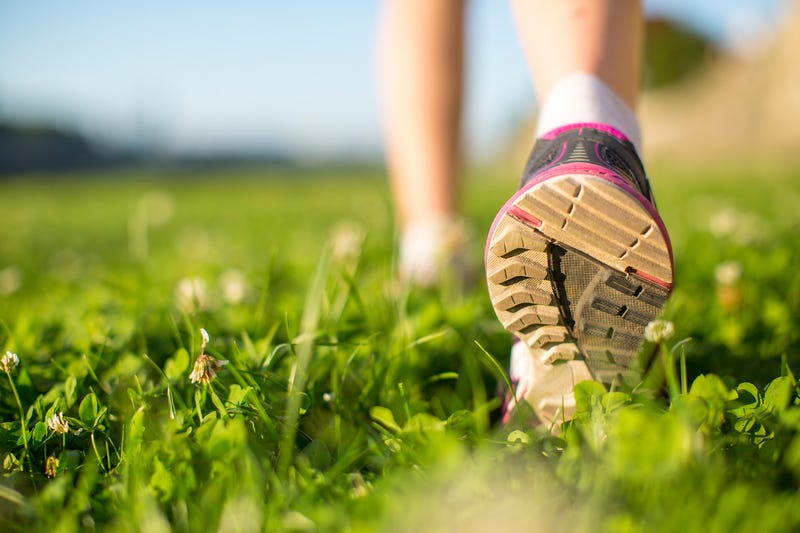 "[Walking] is the perfect way of moving if you want to see into the life of things. It is the one way of freedom. If you go to a place on anything but your own feet you are taken there too fast, and miss a thousand delicate joys that were waiting for you by the wayside." — Elizabeth von Arnim
Eighteen years ago, I ran my third 26.2-mile race at the Rock 'n' Roll Marathon in San Diego, Calif. Actually, I should put the word "ran" in quotation marks, because there was quite a bit of walking involved, including an entire mile I walked in the last few miles of the race.
Even though I crossed the finish line running, my shame burned with the fire of a thousand suns, partly because I was still only in my twenties and felt like I shouldn't be walking these things — I should be running them, and running them hard, dammit!
More recently, I ran the 21-mile race at the Big Sur Marathon but could only truly run the first 16 miles. My legs simply gave out, there was no gas left in my tank, and I ended up walking nearly all of the last five miles of the course.
Today I look back and kick myself. Why did I feel ashamed that I couldn't finish those events the way I'd intended?
I thought about that when I read all of your responses to yesterday's email, as many of you requested tips about walking, when it's "okay" to walk vs. run, and where you can find events that welcome walkers.
I've added a list of some of the biggest walker-friendly races across the country that are coming up in the next few months below; I'll be coming back to this category in future newsletters for sure, as there are many, many more than I could possibly list all here today.
It's worth noting, too, that walking hasn't always taken a back seat to running. A little over a century ago, long-distance walking was a competitive sport that saw front-page coverage in the likes of the New York Times — more so than long-distance running. Back then, the focus was on the 5K and 10K distances in track and field events.
There's a wonderful book that came out a few years ago, The Last Great Walk, whose author Wayne Curtis profiles the legacy of a man named Edward Payson Weston and a walk he took in 1909, all the way from New York City to San Francisco.
Curtis tries a century later to retrace the steps he took, somewhat in vain, as many of the places Weston traversed on foot are today crisscrossed by streets, highways and the growth of urban environments.
But throughout the book, Curtis paints a picture of a world we've lost, a world in which competitive walkers could make a living doing what they loved, going on foot for what we'd see today as absurd distances (Weston once traveled 5,000 miles on foot over about a 100-day period).
The same year Weston began his cross-country trek to San Francisco, a six-day walking competition was held starting at Madison Square Garden, in which the competitors divided up $5,000 in winnings — a sum that would amount to more than $138,000 in today's dollars.
(Who wouldn't walk for six days for a chance at that?!)
From his twenties through his forties, Weston was a professional walker who entered competitions just like that one. Even into his fifties and sixties, he continued walking as many as 10 miles a day or more.
As he told an interviewer back then:
"I feel as young as I ever did... I have always said that walking would keep a man young." On another occasion he proclaimed that "walking is the road to health. If Ponce de León had realized its value he would not have sought the fountain of perpetual youth in Florida."
Today, of course, that world is long gone. But there's no reason you and I can't enjoy walking just as much as running, both in our own training and at running events. (I had a conversation last weekend with a friend of mine who took up running ultra marathons; he shared with me that he actually walks about 60 percent of the time at his races.)
Anyway, I'd love to know your thoughts on this — how much you walk when you train, and how much walking you do at races. And please know that over the next few weeks, I'll get to all of the questions you guys sent in yesterday, as you had some great, insightful ones you wanted answered, including:
Overcoming self-doubt

Techniques for more efficient running form

Runs across the U.S. dedicated to fighting injustice

Finding the right running shoes to match your stride

... and much more
Please keep them coming, especially if you had a question yesterday but forgot/didn't get a chance to email yours in. We'll do all we can to get them all answered over the coming weeks/months.
Hope all is well in your world — have an amazing Wednesday, and hope you get some great runs (and walks!) in this week.
Your friend,
— Terrell
---
Get The Half Marathoner every day
Sign up for the full subscriber experience and get five amazing races you'll love running in your inbox every day, more on training and the mental + emotional side of running, plus access to our subscriber community.
---
Weott, Calif. | Sunday, May 5, 2019
Once described by Runner's World as a race with one of the world's most beautiful routes, this half marathon with an extra-generous time limit (6 hours, which makes it perfect for walking) unfolds among the majestic redwood forests of California's Humboldt Redwoods State Park, where old-growth trees tower 300 feet above the paved roads you'll run during the race. Note that these trees provide ample shade, which keeps temperatures cool, but might also interfere with your smartwatch GPS.
$70 - $90 | Sign up here
San Francisco, Calif. | Sunday, May 19, 2019
A race that's become almost as iconic as the city in which it's run every spring, the "Bay to Breakers" is exactly that — a run or walk from San Francisco Bay to the breaking waves on Ocean Beach. In between, you're likely to see thousands of people in costumes (or not wearing much at all) running or walking or some measure of both, and the event is even open to "centipedes," groups of 13 or more runners linked together. It's also one of the oldest footraces in the world, as it celebrates its 107th anniversary this year.
$69.99 and up | Sign up here
Missoula, Mont. | Sunday, June 30, 2019
With a 7 1/2-hour course time limit, this half marathon through Montana's beautiful Big Sky country is one of the most walker-friendly races of its kind anywhere in the U.S. You'll start separately from the full marathon but join the 26.2-milers just past their 15th mile, with stretches through the countryside and along the Bitterroot River before finishing in the city's historic downtown, right after you've crossed the bridge over the Clark Fork River.
$77 - $127 | Sign up here
New Albany, Ohio | Sunday, Sept. 15, 2019
A race just for walkers? That's what you'll find at this event, which celebrates its 15th anniversary this year with a loop route that rolls past golf courses, residential neighborhoods and farmland just outside this small city near Columbus. Though it once offered a half marathon, for the past few years the 10K has been its longest distance. If you're a competitive walker, there's a division for you, and even a division for virtual walkers.
$45 - $75 | Sign up here
Portland, Ore. | Saturday-Sunday, Aug. 23-24, 2019
Ever wanted to walk 100 miles or more? You'll get to walk 130 miles — okay, not on your own, but as part of a team — at this relay that's part of the legendary Hood to Coast Relay on the same weekend. The walking event, which marks its 28th anniversary this year, is split into 36 legs that vary in distance from about 4 miles to just over 7 miles each, and features breathtaking scenery as you make your way from downtown Portland to the Pacific Ocean, finishing near the Seaside Aquarium.
$1,339.20 per team | Sign up here
Boston, Mass. | Sunday, Sept. 22, 2019
Ever wanted to run the Boston Marathon but haven't been able to get in? You can walk the same legendary route run by the world's best each April at this fundraising event, which offers a 5K, 10K, half marathon and a full marathon, all for walkers. The 26.2-mile starts at Hopkinton while the 13.1-miler starts at Wellesley College (near the race's famed "Scream Tunnel"), and funds raised go to fight cancer at the Dana Farber Cancer Institute.
$25 (with $325 fundraising commitment) | Sign up here
Honolulu, Hawaii | Sunday, Dec. 8, 2019
With no time limit at all, this race through the heart of Hawaii's capital city features incredibly scenic stretches along the south shore of Oahu, including around the base of the volcanic Diamond Head crater, whose circular ridge line towers over the ocean below. The race starts at 5:00 a.m. and organizers pledge to wait until every participant has crossed the finish line, where they'll be waiting with an official finisher's shirt and medal.
$135 - $245 | Sign up here
---
What subscribers get
Here's what our paid subscribers have received recently:
Interested? Sign up for more here: