Discover more from The Half Marathoner
A running newsletter that isn't (just) about running
Over 42,000 subscribers
6 Scenic Trail Half Marathons With Safe, Socially-Distanced Running This Fall
Plus: The bright side of 2020 (for real!) and in-person races in California, Colorado, D.C., Ohio, South Carolina +Texas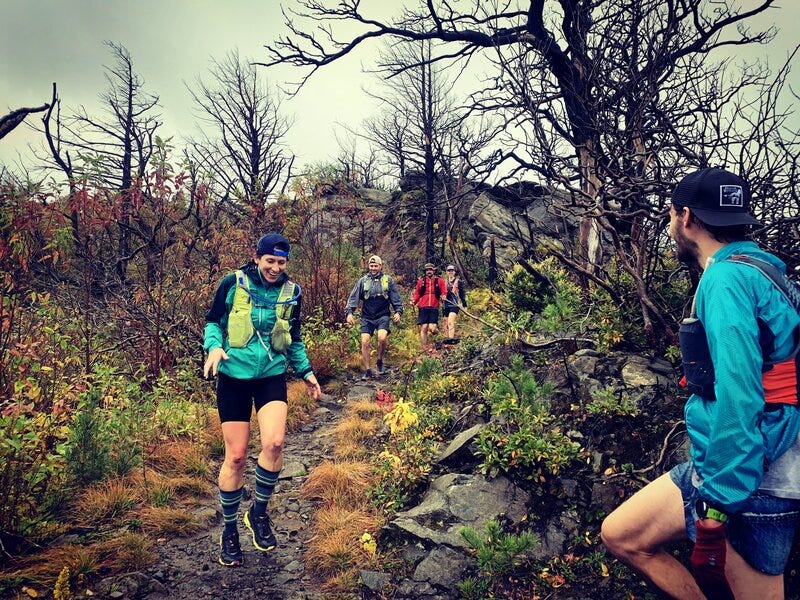 This week, Carissa Liebowitz, a longtime friend of (and writer for) The Half Marathoner who's also a highly accomplished marathoner and ultra runner, shares how she's been filling the time she used to spend training for races — by exploring entirely new worlds that were right under her nose all along. I hope you love it as much as I do 😃 — Terrell
---
Back in March, when it appeared everything in the spring was to be cancelled, I think it's a fair assumption we all thought the second half of the year would be back to normal.
My fall racing calendar was already bursting at the seams and postponements caused me to be double-booked for a few weekends. But summer and fall racing didn't happen as expected and only the small, local events survived. 
I had grandiose plans to run the Boston and Chicago Marathons as well as a couple of ultras, including the Georgia Jewel and Javelina 100.
The big city marathons didn't happen due to gathering sizes and the ultras had to make some pretty big changes to their format in order to continue. I ran Boston virtually, deferred Chicago and Javelina to 2021, and was able to participate in the Georgia Jewel, albeit with wave starts and masks. 
Like many other runners, it has been hard to not know what races will go on and what kind of changes they will make even if they do happen.
So I've been forced to adapt. And while sometimes adapting means that I'm missing out on all the big fanfare of an in person race, it can also mean doing some really great things with my running as well.
Thanks to 2020 and race cancellations, I've been able to run the same miles as my age for my birthday (38 for those of you wondering) and try a beer mile (never again, but probably again).
I've continued to train, but been much more flexible with myself and my coach about my scheduled runs. And I'm excited to try new workouts less as a barometer of fitness and more as a way to spice up my routine.
Most importantly, 2020 has given me the opportunity to do what I have dubbed "adventure runs."
These are long days (and sometimes nights) spent in beautiful places that I might have not had the time or capacity to squeeze in an already-full calendar of racing during a normal year.
There are no timing chips, no official start times, and no swag. Just a few friends (keeping the number Covid-friendly) running to explore the world and our limits.
There are so many wonderful places that are within just a couple of hours drive and with all my extended travel plans cancelled for 2020, it seems perfectly reasonable to go a little further than usual for something new.
---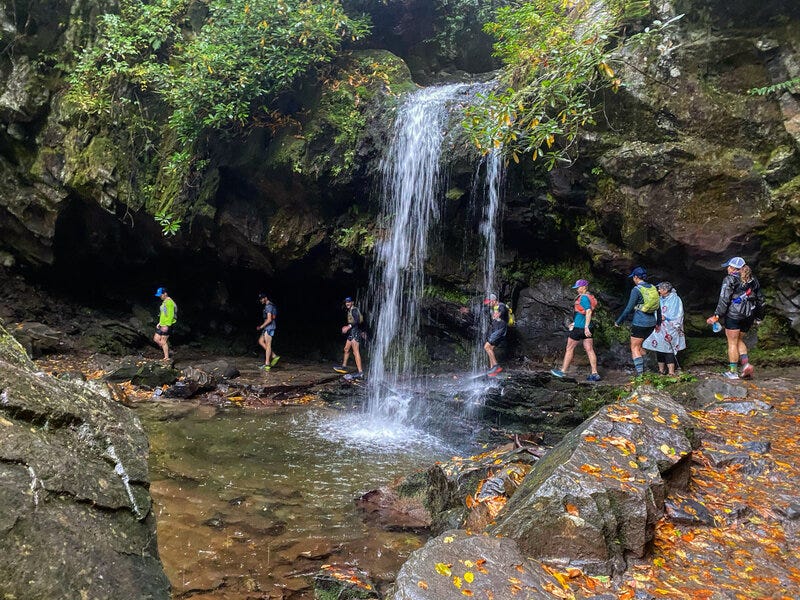 ---
We camp, bring our own meals, and enjoy far less foot traffic than the normal urban/suburban running spots we're used to. In so many ways, we are just doing the best we can with what we've got this year.
I realize not everyone is a trail or ultra runner so some of our adventures can seem a bit daunting. But the running almost seems secondary or tertiary to the mental boost I get from these journeys to fresh scenery.
Without a race clock, we are free to keep the pace easy and the conversation flowing. We delve into every topic imaginable from ghosts of our past to the perfect texture of a chocolate chip cookie. 
This past weekend would have been the Chicago Marathon weekend for me. I had already taken the Friday and Monday off of work long ago to travel and sight-see the city.
Instead, I used the time to travel to the Great Smoky Mountains and run up to the sixth highest peak east of the Mississippi. The weather was terrible and we originally planned to run further, but the beauty of an adventure run is that we could call it quits whenever we wanted. 
So yeah, I missed out on a weekend of deep dish pizza and strolling along the Navy Pier, but I was able to spend hours amongst the trees during peak leaf season and strengthen friendships. We darted behind waterfalls, stomped through huge puddles, and laughed until our sides hurt.
I might have missed the funny spectator signs along the way and a volunteer draping a medal around my neck at the end, but I got to wish each brave soul on the trail a good morning and devour a piping hot cup of noodles when we finished. 
This was certainly not how I planned on spending my second half of 2020, but in some ways, like everything else, it has allowed me to do things I never thought I had time for.
We don't know when racing will resume as normal and for now, these adventure runs have certainly kept me enthusiastic about running. 
What things have you been excited about running-wise in 2020?
— Carissa
---
Races you might love running
Highlands Ranch, Colo. | Saturday, Nov. 7, 2020
Take a run along the East/West Regional Trail just outside Denver at this early fall trail race, which follows a single-loop trail over dirt, gravel (and perhaps even mud, snow and ice). You might encounter wildlife out on the nearly 20-mile-long trail, which winds through grasslands and oak bluffs in the area known as the Highlands Ranch Back Country, including a two-mile stretch on private pasture that will only be open to runners on the day of the race.
$70 and up | Sign up here
---
Spartanburg, S.C. | Saturday, Nov. 7, 2020
A beautiful fall run among the more than 7,000 acres of lush, wooded forests that make up Croft State Park, a onetime U.S. Army base back during World War II that has since been transformed into recreational area filled with more than a dozen miles of hiking trails. It's those trails you'll cover during the race, which starts near Lake Craig in the center of the park, and then heads onto a series of narrow single-track hiking trails, dirt-and-gravel park roads and wide-open sections through meadows. You'll cross over creeks and streams, and run stretches filled with rocks, sticks and logs, so come prepared for both muddy terrain and inclement weather.
$65 and up | Sign up here
---
Walnut Creek, Calif. | Saturday, Nov. 7, 2020
You'll need to be ready to "get dirty on Diablo" when you climb the sometimes steep hills and valleys at this race up the slopes of Mount Diablo, which sits at an elevation of about 3,849 feet above sea level in the middle of California's Mount Diablo State Park. From the starting line at Castle Rock Park, the route takes runners along fire roads that lead through mountainous terrain, with plenty of water crossings and muddy and rocky areas, all the way up the slopes of Mount Diablo and back.
$87 and up | Sign up here
---
Peninsula, Ohio | Saturday, Nov. 7, 2020
"Prepare to leave dirty." That's the advice organizers have for the runners who'll head into the winding single-track trails of northeastern Ohio's Cuyahoga Valley National Park for this race, which starts and finishes at Camp Manatoc, a Boy Scouts of America camp in the heart of this 51-square-mile national park that takes its name from the river that flows through the middle of its forests and trails. From there, the course features a number of technical trails — otherwise used as mountain biking trails — and plenty of uphill climbs and downhill descents.
$75 and up | Sign up here
---
Pueblo, Colo. | Sunday, Dec. 6, 2020
You'll take in plenty of beautiful western scenery at this race, which begins in an urban park setting and follows the winding Arkansas River that cuts through the heart of the city, along a combination of paved roads, dirt roads and biking and walking trails. Most of the course is flat, race organizers say, as it winds along the river and through the parks, with the exception of a single steep hill near the end of the race — it will be limited to 500 runners this year, they add.
$50 and up | Sign up here
---
Liberty Hill, Texas | Saturday, Dec. 12, 2020
Named for the mosaic of people its organizers are encouraging to come out and run — "we're all different sizes, shapes, colors, styles, ages... but when we join together for a common goal, we create a beautiful picture together" — this race on the outskirts of Austin unfolds along the trails at Indian Mound Ranch. You'll run through open pastures and along bluffs overlooking the San Gabriel River, with plenty of twisty single-track trails through the ranch property. There will be distances for just about every runner — 1-mile, 2-mile, 5K, 10K, 15K, half marathon, full marathon and 50K.
$5 and up | Sign up here
---
Washington, D.C. | By Thursday, Dec. 31, 2020
This one isn't really a trail race; it's actually a virtual race this year, though you'll run the same course runners have run together as a group in previous years. Starting from Ben's Chili Bowl in Arlington, Va., you'll run all the way into D.C., where you'll hit the half-way turnaround point at the Ben's Chili Bowl at U Street. There, you'll dig in to a "half-smoke," which is a lot like a hot dog — though it's "usually larger, spicier, and with more coarsely-ground meat, the sausage is often half-pork and half-beef, smoked, and served with herbs, onion, and chili sauce," Wikipedia says. After you down it — with chips — you'll retrace your steps all the way back into Arlington for the race finish back at Ben's.
$55 | Sign up here
---
Great running reads
🚶‍♀️ I had no idea "high-intensity" walking was a thing. But apparently it is.
🏅 "Even if big-scale races resume next year, we might not be heading to events with 50,000-plus runners for a while."
🏃‍♂️ Speaking of high-intensity workouts, people often find the workouts more fun than they thought they would be.
🍎 The New York Road Runners has been rolling out a "Return to Racing" series with smaller events, to figure out how we can bring city races back, like in Central Park.
---
A song to run to today
"Sunflower" from the album Spider-Man: Into The Spider-Verse by Post Malone and Swae Lee
Listen to our full playlist on Spotify, with 8 hours, 50 minutes of music to run to.
---
Words to run by
"Long distance running as meditation has a particular place in our world because it provides a special opportunity to understand the action of time, our relationship in space and movement... when I put on my track shoes, I feel like I am slipping into the comfortable realness of my body... And I cease to desire to have everything be easy at every moment and I accept that this is work and effort."

— David Shainberg