4 Things New Runners Can Learn From Meb Keflezighi
Plus 5 new virtual races that offer more than a medal in the mail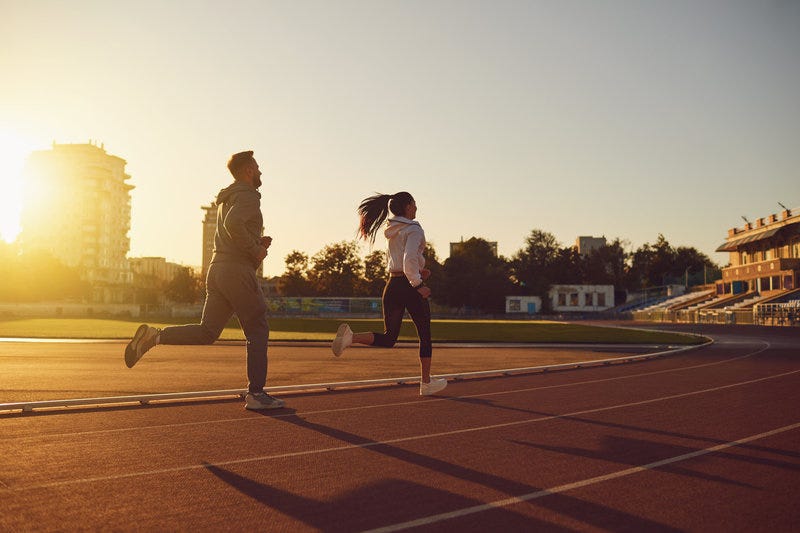 "Most of us have enough areas in our lives where we have to meet others' expectations. Let your running be about your own hopes and dreams." — Meb Keflezighi
I couldn't agree more with these words by the famed (and now retired) Eritrean-born American distance runner, Olympic medalist and winner of the 2014 Boston Marathon and the 2009 New York City Marathon.
They're the essence of what I love about running. Even though Meb has achieved things most of us can only dream about, he gets what draws us all to the sport: the magic of putting one foot in front of the other, on a path to somewhere better.
With so many new people taking up running over these past several weeks — or re-thinking how we approach it, especially if we have many races and/or years under our belts — I thought it might be helpful to go back to where we all start when we take it up.
In his 2015 book Meb For Mortals, he outlines how we should organize our efforts when we set out to become runners — starting with choosing a goal.
Of course, the next question is, how do I go about choosing one? Here's what Meb says are the four qualities of a good goal:
It has personal meaning
The most important part of choosing a goal is to pick one that's right for you, Meb says. Don't set your sights on 26.2 miles because that's what you think a runner should be able to complete; in fact, eliminate the word "should" from your vocabulary.
When I started running back in the mid-1990s here where I live in Atlanta, the Peachtree Road Race 10K was it. To my friends and I, running that race was as big as we dared dream. In later years, I'd go on to run a string of marathons and half marathons, but to me, the Peachtree in many ways is still it.
It's specific
Saying to yourself, "I want to run a half marathon someday" is a nice sentiment. But it won't motivate you like signing up for a half marathon six months from now will. Attach a number to your desire.
Here's how Meb puts it in his book: "'I want to run 30 seconds faster for a 5K' instead of 'I want to run faster,' or 'I want to run 5 days a week' instead of 'I want to run more.'"
It's challenging but realistic
Try to push yourself outside of your comfort zone, little by little. After all, as Meb writes, "if you've run a 2:05 half marathon, then making your next goal to run a 2:05 half marathon won't be all that compelling."
Pushing yourself to do something you're not sure you can do is (perhaps strangely) more motivating — it's like taking your first dive off a diving board when you're a kid. Here's how the well-known exercise scientist Steve Magness puts it:
It has a time element
If you decided today to run your first 10K this weekend after just taking up running, you're probably not going to enjoy it very much. But, if you decided you wanted to push that goal out to five years from now, it won't be motivating enough.
In my experience, "Goldilocks" goals — ones that aren't too hard and aren't too easy, and aren't too far out — help me the most. As Meb says, for most runners, three to six months is a good time range to set for achieving your goal (and allows you to set shorter goals within it).
What's so interesting about where are now — when 95 percent of races in the U.S. have been cancelled or postponed thanks to the coronavirus — is that we all get to make up our own challenges now.
There's less pressure to measure up to some imagined (or even unrealistic?) standard of mileage or time performance, and we can just create our own goals. We get to make it all up for ourselves.
But that's enough of me going on and on — what works for you? I'd love to know, either in reply back or in the comments.
As always, keep in touch my friends and let me know how your running (and life!) is going.
Your friend,
— Terrell
---
Virtual races you might love running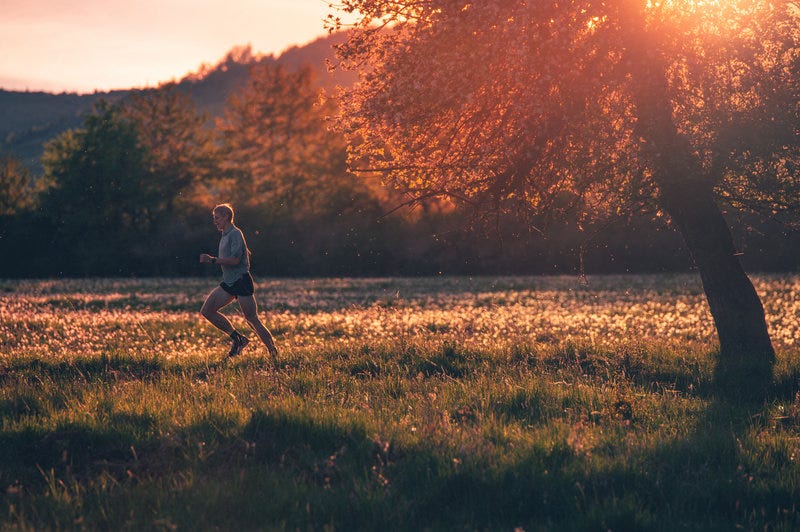 Not Your Average Virtual Race. Rather picking any route you want, for this virtual run the organizers will design a route for you: "Most virtual races tend to favor the runner with the steepest downhill slope," they explain. "Our race aims to level the playing field by providing each runner with a course of a similar difficulty level, regardless of their location."
$15 | Sign up here
San Jose Virtual Giant Race. Normally run every June along the streets of San Jose, Calif., this 5-miler and 5K will now be a virtual race and will offer some interesting goodies — including a race week podcast, course suggestions, and even a 4-week customized training plan.
$58 | Sign up here
All Community Events Virtual Races. Choose among a series of half marathons and 5Ks organized by this Wisconsin-based race company in May, June, October and November, counterparts of the in-person races they've scheduled for those months.
$32.99 - $36.99 | Sign up here
Rip City Race for the Roses Virtual Half Marathon. Your entry fee for this race helps support the Portland, Ore.-based Albertina Kerr, a nonprofit that assists children and teenagers with intellectual and developmental disabilities (and their families). Choose among four distances: half marathon, 10K, 5K and 1K.
$40 | Sign up here
Beast Pacing Virtual Run. Part of a race series planned for the remainder of the year, this "anything goes" virtual event features distances from 13.1 to 200 miles. "This can be run on road, trail, treadmill, at the track, in your backyard or even in your house," the organizers say. "The miles can be run all at once or split up between multiple days or weeks. There is NO time limit. Wherever you want, whenever you want."
$35 | Sign up here
---
Great running reads
Ahmaud Arbery and Whiteness in the Running World. A powerful essay by Alison Désir, the New York City-based founder of the Harlem Run and Run 4 All Women, about the societal wounds opened anew by the case of Arbery, the 25-year-old man who was shot and killed while out jogging in Brunswick, Ga., earlier this year.
"If you found yourself uncomfortable reading this, please know that my discomfort writing this far exceeds yours."
👉 Dig deeper: Jogging Has Always Excluded Black People
Why Running Slow Can Eventually Help You Run Faster. It's counter-intuitive, but slowing down your pace can help you become a faster runner. The reason? For any sustained movement, your body uses its aerobic energy system to burn fat, protein and glycogen. When you're running as fast as you can, your body switches over to its less-efficient anaerobic energy system.
"When you're running slowly, and your injury risk is lower, you can run more often, more miles, and build up slowly."
The Guy Who Ran a Marathon in His Driveway Is Onto Something. While I'm not sure I'd tackle the more extreme challenges in this post — like, say, the person who does 100 pullups, 200 pushups, 300 squats, and two-mile run every day! — I do find myself nodding in agreement with this: "right now, the real advantage of having a physical [daily] goal is emotional."
"Sometimes I'm like, 'Am I running away from problems?' ... I feel like there are some days where I go out with a horrible attitude, and I come back and I have a whole new mindset."
---
A song to run to today
"Spirit" from the album The Lion King: The Gift by Beyoncé.
Want to hear all the songs we include in our newsletters? Listen to the full playlist on Spotify here.