Discover more from The Half Marathoner
A newsletter about where running can take us
Over 42,000 subscribers
Zion, San Diego, Moose Pond, Jewfish Creek Bridge + Natural Bridge Caverns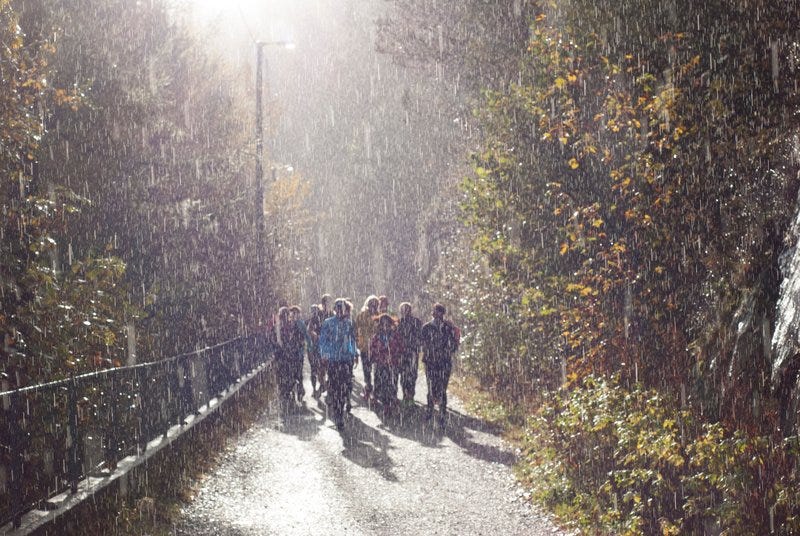 "I'm not saying don't dream or be willing to work hard. But keep things simple, effective, and within your means. Part of working hard is having the discipline to know when enough is enough. Grow your capabilities over time, not suddenly two months before a big race." — Meb Keflezighi
Friends, it's been one of those weeks.
Let me apologize first for getting this out to you a day late — I really, really hate missing a deadline, and even though I'm the one in charge of this thing and there's no editor to irritate, I'm still a little disappointed in myself.
What I wanted to share with you, however, is that because our Friday discussions have been so interesting, engaging and informative — I've learned way more from what you guys have shared than I could have predicted — I wanted to get your feedback on starting a book club for our community.
How would it work? Each month — or every other month, I'm still noodling on how frequently to do it — I could send out a few options for books, and we could choose one together.
Then, at the end of the month, we can discuss the book in a discussion thread — and, while I don't want to make any guarantees, I'll try to get the author on for an audio interview, and perhaps ask him/her questions that you guys submit.
What do you think? I'd love to know your thoughts.
Your friend,
— Terrell
Paid subscribers to The Half Marathoner make this whole thing possible. They're the reason it's ad-free for everyone — if you're a subscriber, thanks so much! If you're not, I hope you'll give us a try:
---
Bridgton, Maine | Saturday, Nov. 2, 2019
A beautifully scenic run in the shadow of Maine's Shawnee Peak ski area that features a far smaller field than big-city races — last year, just over 250 runners crossed the finish line in all three races combined (the half marathon, relay and 5K). What you'll get is plenty of fresh mountain air and fall foliage that's just past its peak for the region this time of year, but should still be gorgeous. You'll run a single loop route with just three turns all the way around Moose Pond, including a stretch along its western shore in the final few miles of the race.
$55 and up | Sign up here
---
San Diego, Calif. | Saturday, Nov. 2, 2019
Run under the sunny skies of San Diego when fall temperatures should be perfect for a race (starting in the mid-50s and rising only to about 70 degrees later in the day). You'll start this point-to-point course in nearby Kearny Mesa, at the Kaiser Permanente San Diego Medical Center, and cross the finish line looking out onto the waters of Mission Bay, after a long stretch through Mission Valley and past Sea World San Diego.
$90 and up | Sign up here
---
Key Largo, Fla. | Saturday, Nov. 9, 2019
A stunningly beautiful run across south Florida's Jewfish Creek Bridge, an 18-mile-long stretch of bridge that crosses over the area known as Florida's Gateway to the Keys. (The race actually dropped its half marathon a few years ago, but has brought it back for 2019.) You'll start and finish the race along U.S. Highway 1, which connects the Keys to the mainland, and from there you'll follow a long out-and-back that looks out onto Blackwater Sound, with the edges of Everglades National Park off in the distance.
$90 and up | Sign up here
---
San Antonio, Texas | Sunday, Feb. 2, 2020
Starting a race inside a cave? That's exactly what you'll do at this unique (to say the least!) race on the grounds of Natural Bridge Caverns, which lies next to the Natural Bridge Wildlife Ranch just outside San Antonio. The race's organizers start each runner off every 8 to 15 seconds with a run through the limestone cavern, where it's 70 degrees year-round. Then you'll head above ground for a looping trail run around the park, including a brief stretch past the drive-through wildlife park.
$90 and up | Sign up here
---
Springdale, Utah | Saturday, Feb. 29, 2020
An awe-inspiring run right up to the edge of Utah's Zion National Park, whose mesas, mountains, waterfalls, streams, canyons, caves and red rock formations of nearly every size offer some of the country's most stunning vistas and views, both from high above the rocks and down below in the canyons. You'll start this point-to-point race in nearby Virgin, a tiny town of just a few hundred residents, and from there run east toward Springdale, climbing some 400 feet along the way.
$145 and up | Sign up here
---
A song to run to today
"Key West Intermezzo (I Saw You First)" from the album Mr. Happy Go Lucky by John Mellencamp.
Want to hear all the songs we include in our newsletters? Listen to the full playlist on Spotify here.
---