Discover more from The Half Marathoner
A newsletter about where running can take us
Over 42,000 subscribers
You get out of this what you put into it
'Nothing's worse than a bitter runner. So every now and then, it's good to reconnect with what made us love running in the first place.'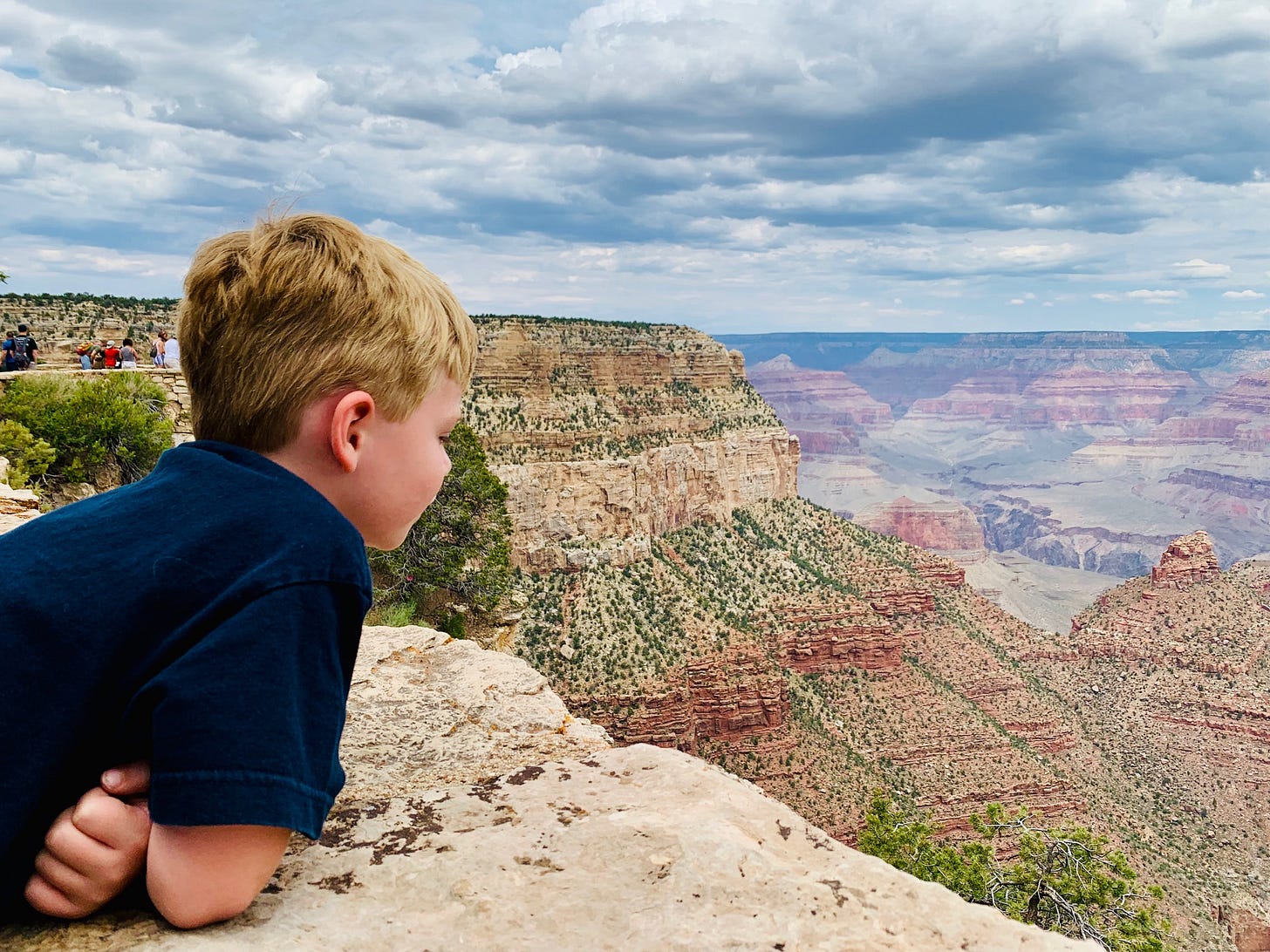 "All the wild world is beautiful, and it matters but little where we go, to highlands or lowlands, woods or plains, on the sea or land or down among the crystals of waves or high in a balloon in the sky; through all the climates, hot or cold, storms and calms, everywhere and always we are in God's eternal beauty and love. So universally true is this, the spot where we chance to be always seems the best." — John Muir
That's our little T in the photo above, peering over the edge of the South Rim of the Grand Canyon just out back of the Bright Angel Lodge, from our visit to the park last weekend. (Don't worry, he was perfectly safe there, unlike some of the other visitors we saw along the rim trail, who were apparently unafraid to walk right up to the edge and dangle their legs over a thousand feet of thin air.)
We just got back from a tour of Arizona, where my father-in-law was born and raised and where my wife lived for part of her childhood. The landscapes were absolutely stunning, the people were so warm and friendly, and it was nice to be in a place where 95 degrees feels "refreshing" (when it drops from the mid-100s).
Traveling from Tucson to the old mining town of Bisbee, which lies just a few miles from the Mexican border, to Tombstone and then all the way north to Grand Canyon National Park, I got the chance to run a few days during our trip.
Those days, I felt like I was looking at the world from a completely new perspective — partly because, being Georgia-born and bred, I'm used to the lush, green landscapes of the South, not desert sand and flat-topped mesas.
It was great to get away, both to see a place I hadn't before with my family, and to see home again in a new way once we got back.
Those things weren't necessarily in the forefront of my mind the whole time — mainly we were focused on getting from place to place, of course — but what really triggered these thoughts was reading this article yesterday by the professional runner Alexi Pappas, about a run she went on recently with inmates at a youth correctional facility.
I could go on and on about her story, but why not let Pappas speak for herself:
"For many runners, from professionals to enthusiasts, our sport becomes something to complain about. We moan about the weather, crowded trails, old shoes, aching muscles, past injuries — it's easy for us to focus on the negatives rather than relish in the positives. It's only natural. After all, running is a sport that attracts perfectionists — we are always striving to improve ourselves — and it's our instinct to focus on what we want to change and improve. It's easy to blame external circumstances for poor performances or bad workouts, but the truth is, for most of us, the only thing limiting our running is ourselves. It just sometimes takes a change in perspective to realize it.

Earlier this spring, I had the opportunity to meet a group of runners who completely refreshed my perspective. For them, running is the ultimate privilege. These runners were inmates at the MacLaren Youth Correctional Facility outside of Portland, [Ore.], a prison for boys in their teens and early 20s. For these kids, running is a privilege they earn. Not everyone is allowed to run — it must be earned through good behavior. For those few who earn the privilege, running is a small taste of freedom in an otherwise restricted existence.

Here's how it works: MacLaren offers rehabilitation programs, from barber training to mechanic classes to journalism courses, and one of those enrichment programs is the opportunity to train for a marathon. The entire marathon is run within the confines of the prison grounds with an interior circumference of a little over a mile. Most runners I know complain about running small loops — I myself have been known to get "tired" of the one-mile Amazon loop in Eugene I've come to know so well in my own training — but these young men relish the opportunity. Many of them actually know nothing about running when they sign up, but they do know it is something different and something, presumably, freeing.
One of the most striking parts of the experience, Pappas adds, was when she gathered with the young men who take part in the marathon program for a pre-race pasta dinner. She expected them to be nervous; what she found instead was boys brimming with confidence:
"For these boys, there was no question as to whether or not they would be able to complete the marathon distance. They expressed to me that compared to the experiences they'd had in their lives, a physical challenge like this — something as simple as running — seemed entirely possible."
That's what made the greatest impression on her, she writes:
"During training — whether we're building up for a 5K or a marathon or the Olympics — it's easy to fall into a trap of non-gratitude. We focus on the minutiae and obsess with how we can maximize each little bit of our training. But taken too far, this leads to resentment and bitterness. Nothing's worse than a bitter runner. So every now and then, it's good to reconnect with what made us love running in the first place. Maybe it doesn't require a visit to a prison. But seeing those young adults feel free — even as they ran in circles around the prison yard — made an impression I'll keep with me always. It reminded me to be grateful for every step."
Amen, sister. I've done my own fair share of groaning and moaning about running at different times through the years, even in this newsletter. But something about going away, and especially reading about what Pappas experienced, has jolted me into an awareness that maybe I was taking it all for granted.
Especially because, during parts of our trip to Arizona, we were only a handful of miles from our border with Mexico. We saw miles-long traffic pileups thanks to border agents searching cars; our car was stopped once at a border patrol checkpoint. We were only a short drive from the camps we've all been reading about and seeing in the news.
The people Alexi Pappas was writing about, and the people we came in contact with on our trip last week, weren't on the other side of the world. They're living and breathing right beside us.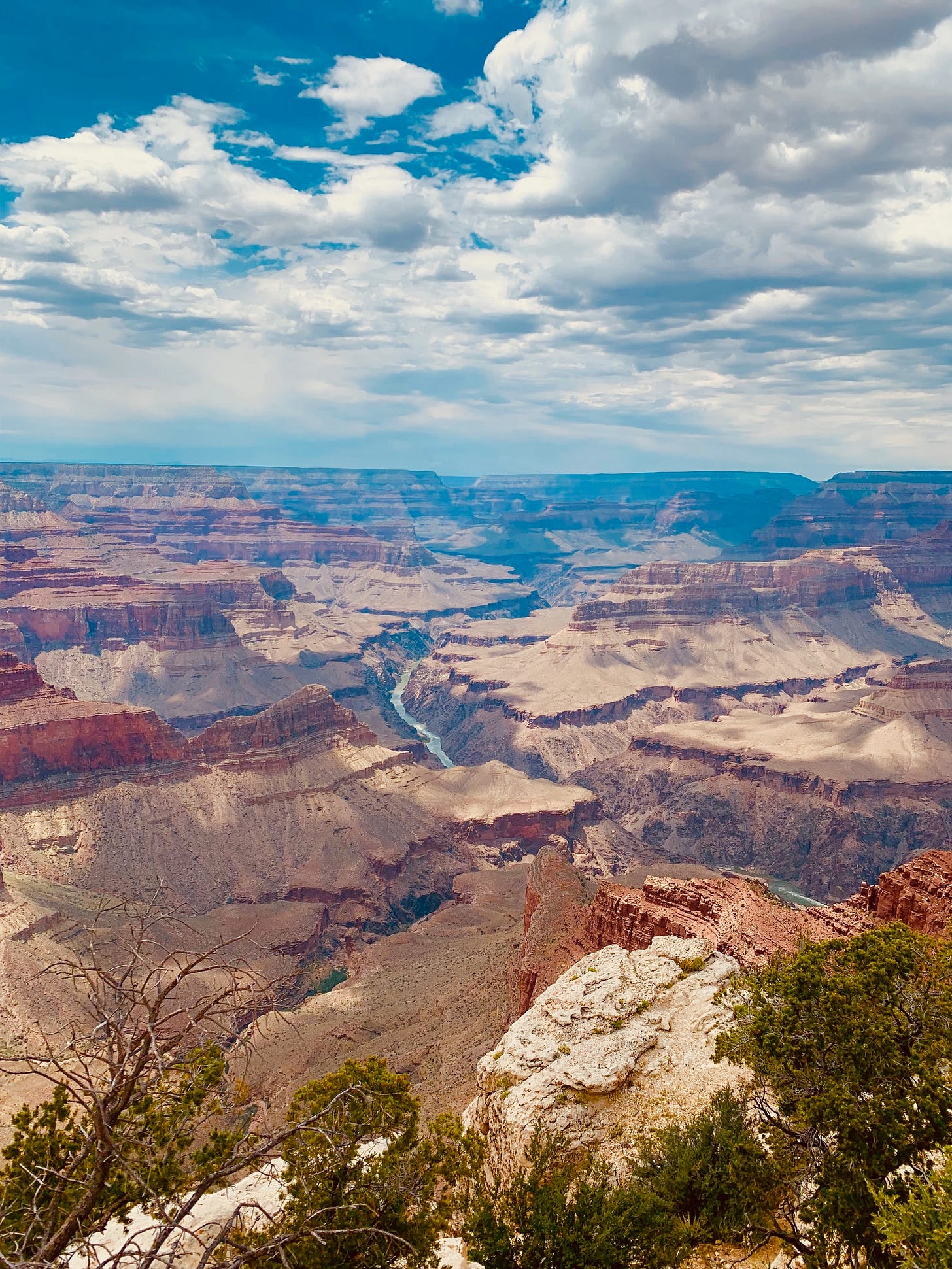 That's a photo I took of the Grand Canyon from one of the viewing spots along the South Rim. The tiny sliver of light blue you see running through the center is the Colorado River, which has been carving the canyon for roughly the last 20 million years.
There's something powerful (and humbling) about that sight. All that water has done for millions of years is just keep flowing, little by little, every day of every year of every century. It hasn't stopped for any reason. It's just kept going.
A sight like that will make you stop and think about a lot of things — especially about what Alexi Pappas had to say.
I hope each and every one of you all had a great week last week, and that you're gearing up for some well-deserved time off this week. Reach out and let me know how things are with you — some of you have been sending me some photos of your runs lately, so feel free to send more and I'll include them in next week's newsletter.
I'll be running the Peachtree Road Race here in Atlanta tomorrow (barring a thunderstorm) — hopefully I'll see you there if you're running it too!
Your friend,
— Terrell
---
Support The Half Marathoner
Thanks so much for reading this week's issue. I hope you'll consider becoming a paid subscriber. Your support helps keep this newsletter ad-free, and pays for the work that our amazing writers Carissa Liebowitz and Hollie Sick do on a regular basis. And it costs less than just about any magazine you'd buy on the newsstand!
---
Richfield, Minn. | Saturday, July 27, 2019
There's still time to sign up for this scenic race through the streets and city parks of this suburb of nearby Minneapolis, an event designed to leave as light an environmental footprint as possible — all waste generated during the event, from cups thrown on the ground by runners to food and packaging discarded at the race start and finish lines, is recycled, re-used or composted. From the start and finish in Veterans Memorial Park, you'll run a long loop through the Wood Lake Nature Center, a 150-acre nature preserve that also helps stage the race.
$70 and up | Sign up here
---
Eden, Utah | Saturday, Aug. 10, 2019
Described by its race organizers as "punishing, unforgiving," and yet "ridiculously beautiful," this race is all that and more — with some 1,900 feet of elevation climb in just the first three miles of the half marathon route, which organizers say is a half marathon "plus one," meaning it's 14.1 miles instead of 13.1. The race takes runners along what is known as the Ben Lemond and Skyline trails, which climb up the mountains here in the northernmost part of Utah through a series of switchbacks, twisting and turning along the dirt trails within the Cache National Forest, looking out onto Salt Lake City to the south and the mountains of southern Idaho to the north.
$85 and up | Sign up here
---
Dickinson, N.D. | Saturday, Sept. 14, 2019
A tiny race that winds along the Crooked Crane Trail here in this small western North Dakota city — last year's race saw 24 runners cross the finish line in the half marathon — this half marathon unfolds along a 17-mile-long trail for walkers, cyclists and runners that circles a lake known as Patterson Lake, just outside the city. About three-fourths of the race is run on mowed grass surface, and it commemorates the life of Dale F. Kilwein, a beloved hunting instructor in this community of some 23,000 souls — volunteers and runners are encouraged to wear hunting attire-colored clothes when they come out for the race.
$65 and up | Sign up here
---
Wolf, Wyo. | Saturday, Sept. 14, 2019
Mountains, forests and single-track dirt trails through the wilderness — that's what awaits at this trail run that winds among the Bighorn Mountains of northern Wyoming that surround Eatons' Ranch, the oldest operating dude ranch in the West (as well as the rest of the U.S.). From the start at about 4,500 feet above sea level, the race heads onto the dirt roads near Wolf and then into the hills and mountains, along cattle roads and dirt trails that organizers say "are a little longer than advertised." By the time you reach the mile 5 marker, you'll have climbed to just over 5,500 feet — the race's highest point.
$55 and up | Sign up here
---
Boulder, Colo. | Saturday, Sept. 28, 2019
The foothills of the Colorado Front Range Mountains are the backdrop along the course at this race, which takes runners on a mostly off-road course through the countryside just north of the city, along mostly dirt roads and quiet rural lanes. You'll take in views of farms, cottonwood groves and several ponds along the out-and-back course, which starts and finishes near Boulder Reservoir Park. From there, the race has a long, steady climb all the way to the half-way point; after that, it's mostly downhill as you head back to the reservoir for the race finish.
$90 and up | Sign up here
---
A song to run to today