Discover more from The Half Marathoner
A running newsletter that isn't (just) about running
Over 42,000 subscribers
Why this 25-year-old ran 4,000 miles between San Francisco + Boston
Plus races in Venice, Chickamauga, Napa Valley, Bell Buckle + Monument Valley
Paid subscribers to The Half Marathoner make this whole thing possible. They're the reason it's ad-free for everyone — if you're a subscriber, thanks so much! If you're not, I hope you'll give us a try: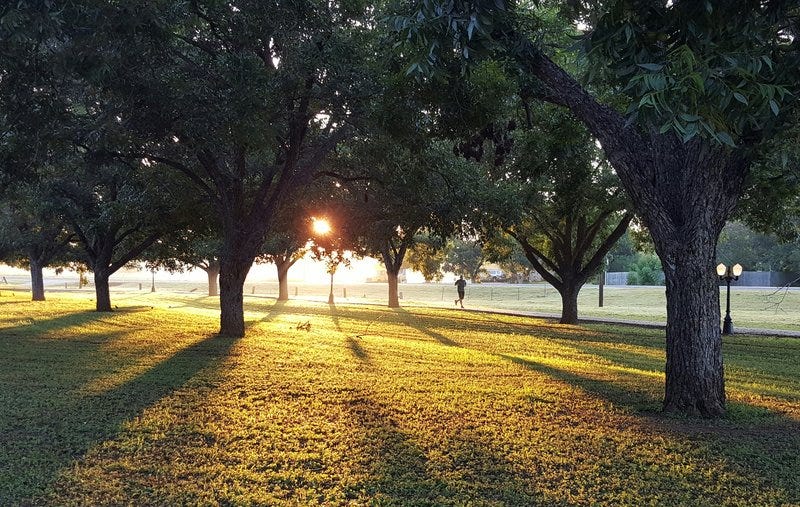 "I've always taken the philosophy that you have to dream a little in this sport. If you stay in your comfort zone, you're not going to do anything special." — Deena Kastor
There's a good chance many of you get up really early in the morning to go for a run. Now, imagine getting up at 4:30 a.m. every day to go for a run, and doing it for the next 49 days straight — all the way across the continental United States.
That's the journey 25-year-old Caroline Watson completed earlier this month, as part of a relay team that trekked some 4,000 miles between San Francisco and Boston entirely on foot, from mid-June through early August.
What possessed them to do such a thing? To pile into a few vans with more than two dozen other young adults, and to take turns running in shifts by day and sleeping on floors in churches, social service agencies and gym locker rooms by night?
For Watson, the answer came from what happened to her parents. When she was a teenager growing up in Hanover, N.H., her mother was diagnosed with breast cancer. Even though she realized how serious that was, Watson says her mother's health remained steady for years despite the cancer.
'You can have this life-shattering thing happen to you, but you can get through it.'
"I was in high school and focused on sports," she said in an interview with Runner's World. "I knew she was sick, but it didn't completely resonate with me."
But soon after Watson entered her college years, her mother's health took a turn for the worse:
At first, Watson assumed that her mother would get better, and for a while, it seemed that she was improving. But after being in remission for a short time, she was told her cancer returned when Watson was in college at the University of New Hampshire. 

Then in 2017, seven years after her mother first found out she had cancer, Watson received more devastating news: Her father was diagnosed with bladder cancer. He died on June 27, 2018. 

Following his death, Watson's mother began to quickly decline. 

"We didn't really notice it at first, because we were dealing with the grief of losing my dad," she said. 

Her mother died exactly one month after her father did.
Dealing with the suddenness of both deaths, one right after the other, got Watson thinking. And searching on Google for something, anything, that might ease the pain.
"After what happened with my parents, I had to find a way that maybe I could help someone else," she told a reporter for New Hampshire's Valley News.
That's how she found out about the Ulman Foundation and their 4K for Cancer relay — which, she found out later, didn't mean running four kilometers. It meant running 4,000 miles.
'I was never a big runner before'
Watson signed up, even though she wasn't sure she was ready for the kind of mileage the relay called for, as each runner would need to be able to finish between 10 and 16 miles per day. "I was never a big runner before," she said. "I played sports, but I never ran for school or anything like that."
Participating in the race also meant volunteering in towns and cities across the country as part of the experience, and sleeping on floors wherever the owners would agree to house 28 young adults between the ages of 19 and 28. (In Salt Lake City, they got to sleep on the locker room floor of the NBA's Utah Jazz.)
When they weren't running, they were talking to as many people who would listen about cancer that afflicts young adults and the challenges they face — more than 72,000 people between ages 15 and 39 are diagnosed with cancer every year — in hospitals and cancer centers.
All in all, Watson ran about 450 miles over the 49 days of the relay, which ended on the first weekend in August with the finish in Boston Common, after running 20 miles of the Boston Marathon route.
The loss she experienced, both parents in such a short time span at a relatively young age, is unimaginable for most of us. But Watson seems to have grown only stronger in the broken places, according to what she said here:
"I have grown into my adulthood struggling to not only understand my parents' diagnosis, but to provide care in a way most teenagers never experience. Over the past year, as I supported both my parents and eventually held their hands as they took their last breaths, it gave me a terribly unique look into the heartbreak of cancer. Despite the challenges this disease has created for me — this community, my parents, and my patients have taught me how deep my empathy and love really is, and only encouraged me to continue to stay engaged with such a resilient and inspiring group."
If you can hold back tears after reading that, you're a stronger person than me!
As always, friends, keep in touch and let me know how your running is going — as well as any questions or comments you have for us!
Your friend,
— Terrell
---
Bell Buckle, Tenn. | Saturday, Oct. 19, 2019
My guess is you'd have no problem running 4 miles. Can you do it again? And again? And again? For more than two days straight? That's what 45-year-old Johan Steene of Stockholm, Sweden, did last year to win this (insane!) race — brought to you by the man who organizes the grueling Barkley Marathons in the mountains of East Tennessee — ultimately finishing 68 loops, or slightly more than 283 miles. This race is run about an hour outside Nashville and consists of running the same 4.16667-mile loop each hour. "The apparently weird loop-distance has in fact been carefully chosen so each 24 hours equals running a perfect 100 miles," the race's 2017 winner said, adding that runners switch from trails to paved roads at night. "The road loops gives you the opportunity to get a bit more rest time in between loops, and more time to take care of yourself before starting the next one."
$125 | Sign up here
---
Venice, Italy | Sunday, Oct. 27, 2019
Run through the heart of this world-renowned city built on dozens of small islands along Italy's Adriatic Sea coastline, where you'll cross over the iconic bridges that span several of Venice's canals. You'll start the marathon — there's only a full, 26.2-mile marathon and a 10K for this event, no half — about 15 miles outside the city in a small town called Stra, where wealthy Venetians vacationed back in the 18th century. From there, the race runs through an area of the city known as the Riviera del Brenta, where you'll pass by Venetian villas built back between the 15th and 18th centuries, on your way into the city. The last few miles of the race are "simply unique and unforgettable," the race organizers say, adding that runners will "cross the Grand Canal on a bridge especially built for the race."
$66 and up | Sign up here
---
Fort Oglethorpe, Ga. | Saturday, Nov. 9, 2019
A run among the paved roads and trails that wind through Chickamauga & Chattanooga National Military Park, where the bloodiest two-day battle of the Civil War claimed the lives of 4,000 Union and Confederate soldiers in September 1863. Along with those running the full marathon and the 10K, you'll start from the 6th Cavalry Museum at the northern end of the park, and from there follow a loop route that will take you past many of the memorials, cannons and monuments found throughout the park, all of which tell the story of the battle that spelled "the death knell of the Confederacy." (Perhaps it's needless to say, but the park today is a much more peaceful place, with 5,500 acres are filled with forests, streams, wide-open grassy meadows, and horse and hiking trails.)
$80 and up | Sign up here
---
Calistoga, Calif. | Saturday, Nov. 9, 2019
Challenging, hilly and scenic, this race takes runners on a tour of the hills, babbling streams and trails of Calistoga's Bothe-Napa Valley State Park. There, you'll run the park's lush single-track trails, along dirt and sometimes rocky hiking trails, all the while surrounded by majestic redwood, oak, madrone and bay forests. Runners who make the trip to this wine country town about an hour and a half from San Francisco are encouraged to bring their own hydration with them, as much of the course is in remote mountain areas within the park (so aid stations will be limited).
$70 and up | Sign up here
---
Monument Valley, Utah | Saturday, Nov. 16, 2019
One of the most awe-inspiring (and most photographed) places in America, this desert region along the Arizona-Utah border is filled with towering sandstone buttes, some of which stand more than 1,000 feet high. You'll get to take it all in at this stunning race, which organizers say will unfold "through some dramatic, rarely seen landscapes" in the Monument Valley backcountry, along a combination of dirt Jeep roads and sandy trails. The race takes place inside the Navajo Nation's 91,000-acre Monument Valley Tribal Park, at just over 5,500 feet above sea level — so be ready for a high-elevation race.
$70 and up | Sign up here
---
A song to run to today
"I Think He Knows" from the album Lover by Taylor Swift.
Listen to our full playlist on Spotify here.
---
Get more with a full subscription
Become a paid member of The Half Marathoner and get more races, more training tips and connect with fellow members. Here's some of what you've missed over the past week:
Get 30 percent off your first year — that works out to just $2.92 per month. Click this button to sign up:
---