Why runners need to think about 'social distancing'
As COVID-19 spreads, the New York City Half is cancelled — likely the first of many race cancellations to come.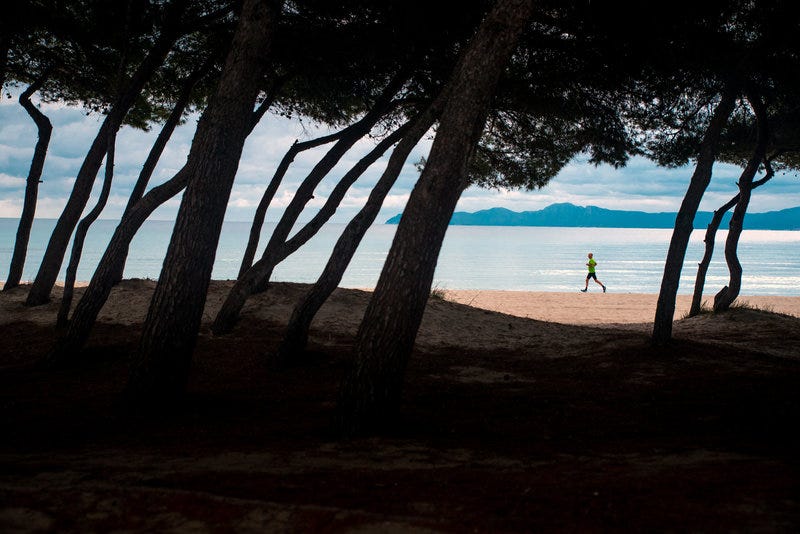 "Acceptance of what has happened is the first step to overcoming the consequences of any misfortune." — William James
"The way I see it, if you want the rainbow, you gotta put up with the rain." — Dolly Parton
---
This Sunday, I was supposed to join 25,000 other runners on the streets of New York for the NYC Half Marathon, a race I've been training for since December.
But it's been cancelled, according to an email I received yesterday from the New York Road Runners.
The same has happened with a number of other races around the country this week, and I've been fielding emails from readers left and right, asking if this or that race they've signed up with will be cancelled too.
Questions also surround whether or not the Boston Marathon will run as scheduled this April (as of this writing, race organizers and Boston's local government had yet to make a decision). But either way, it seems clear that many, many races across the country are at risk of being cancelled, at least in the first half of this year.
Why, you might ask, when the number of cases is still relatively low in the U.S., especially compared to several other countries?
In the case of the New York City Half, the sheer number of runners plus the number of volunteers and spectators out on the streets — and our close proximity to one another — makes cancelling an easy call, especially as we see the number of cases on the rise there.
At last week's Los Angeles Marathon, organizers didn't cancel the race but they did make an odd request: that runners try to maintain a distance from each other of at least six feet.
The magazine Popular Mechanics went so far as to calculate exactly how much of the streets runners would take up if they actually did keep six feet apart from one another; the implications for big-city marathons were, shall we say, daunting — especially at the starting line:
"How would this buffer work in practicality at Sunday's race? Well, in the strictest sense, there's no way it possibly can...

If everyone comfortably fit somehow, their rolling start would take hours. Runners would need to follow highway merging procedures when they bottle-necked from four lanes down to two, and even drivers can't agree about how to do that."
So much is still unknown about how the coronavirus will spread in the U.S. and what and who might be affected by it, that it's difficult to say with any precision how many running events will feel its impact.
But it seems clear that the "Amity Island" approach — remember the mayor of the fictional beach town in Jaws, who put off closing down the beaches for fear of scaring away the tourists? — isn't an option right now for anyone organizing a gathering of any size.
What do you think? I really would love to know and hear your story.
Your friend,
— Terrell
P.S. Just for the record, I completely support NYRR's decision to cancel the NYC Half. I think we've vastly underestimated the impact COVID-19 may have on our society, and it's well past time for us to take it seriously.
---
Clinton, Conn. | Sunday, Oct. 4, 2020
A run along the rolling country roads of this seaside Connecticut town, starting and finishing on the grounds of the scenic Chamard Vineyards, a 40-acre winery designed to feel like a French vineyard, where you'll receive a complimentary glass of wine after you cross the finish line. The out-and-back course will be filled with tree-lined country roads that wind alongside the Hammonasset River, especially in the middle miles of the race. You'll be running just a few minutes' drive from the Connecticut shoreline, and you can take in the wine tasting room at Chamard after the race.
$60 and up | Sign up here
---
Slatington, Pa. | Sunday, Nov. 1, 2020
If you're looking for the chance to set a PR — or just enjoy your run at a more leisurely pace — the fast and flat D&L Trail that winds along the Lehigh River, just over an hour's drive away from Philadelphia, might be perfect. The 4 1/2-hour time limit works out to about a 14-minute-per-mile pace for runners, along a meandering point-to-point course that winds between the towns of Slatington and Northampton. It's built on a historic former railroad that once was a major transportation corridor for the Lehigh Valley and now is a paved trail that will one day stretch more than 160 miles.
$65 and up | Sign up here
---
Dallas, Texas | Sunday, Nov. 8, 2020
One of the oldest and most popular half marathon events anywhere in the country, the race locals once called simply "The Half" marks its 45th running this fall with a route that unfolds around the entire circumference of 1,015-acre White Rock Lake, one of the crown jewels of Dallas's urban parks system. Thanks to its location next to the lake, most of the race is very flat — there's a climb of only about 100 feet between the start and the half-way point of the course, and its four-hour time limit means it's open to walkers as well as runners.
TBA
---
Coronado, Calif. | Sunday, Nov. 8, 2020
Fast, flat and filled with gorgeous views of the Pacific Ocean on your right and San Diego Bay on your left as you run, this half follows a point-to-point route from Coronado to the pier at Imperial Beach, not far from downtown San Diego. It's basically one long straightaway course with only a handful of turns off its main stretch, Silver Strand Boulevard; along the way, you'll pass by the U.S. Naval Amphibious base, Silver Strand State Beach and Coronado Cays Park before crossing the finish line at Imperial Beach. (If you don't want to run but still want to get in on this race, it's also open to walkers and inline skaters.)
$85 and up | Sign up here
---
Clewiston, Fla. | Saturday, Jan. 30, 2021
I'm not sure there's another race anywhere in the world quite like this one. For starters, you begin with a skydive — an actual skydive, from 13,500 feet in the air above this small Florida town near the shore of Lake Okeechobee. Once you make the dive, then you run a loop around "a comfortable dirt and grass path that meanders around the skydiving landing area and through the local farming fields," organizers say. There's no elevation change to speak of — except, of course, for the 13,500-ft. drop from the sky you'll make at the start of the race. In addition to the half marathon (which will take you two loops around the course to finish), distances for the run include a 100-miler and a 100K, a 50-miler and 50K, a full marathon and a 10K.
$79 without skydive, $278 with skydive | Sign up here
---
A song to run to today
"Every Little Thing She Does Is Magic" from the album Ghost In The Machine by The Police.
Want to hear all the songs we include in our newsletter? Listen to our full playlist on Spotify here.
---
What do you think?
Have you been affected by the coronavirus — whether you live in the U.S. or anywhere in the world? Are you a race director who's facing a decision to go forward or cancel your race?
What have you learned that your fellow runners (like us!) should know, and what do you think will/should happen with races this spring and summer?