What Running the Everest Marathon is Really Like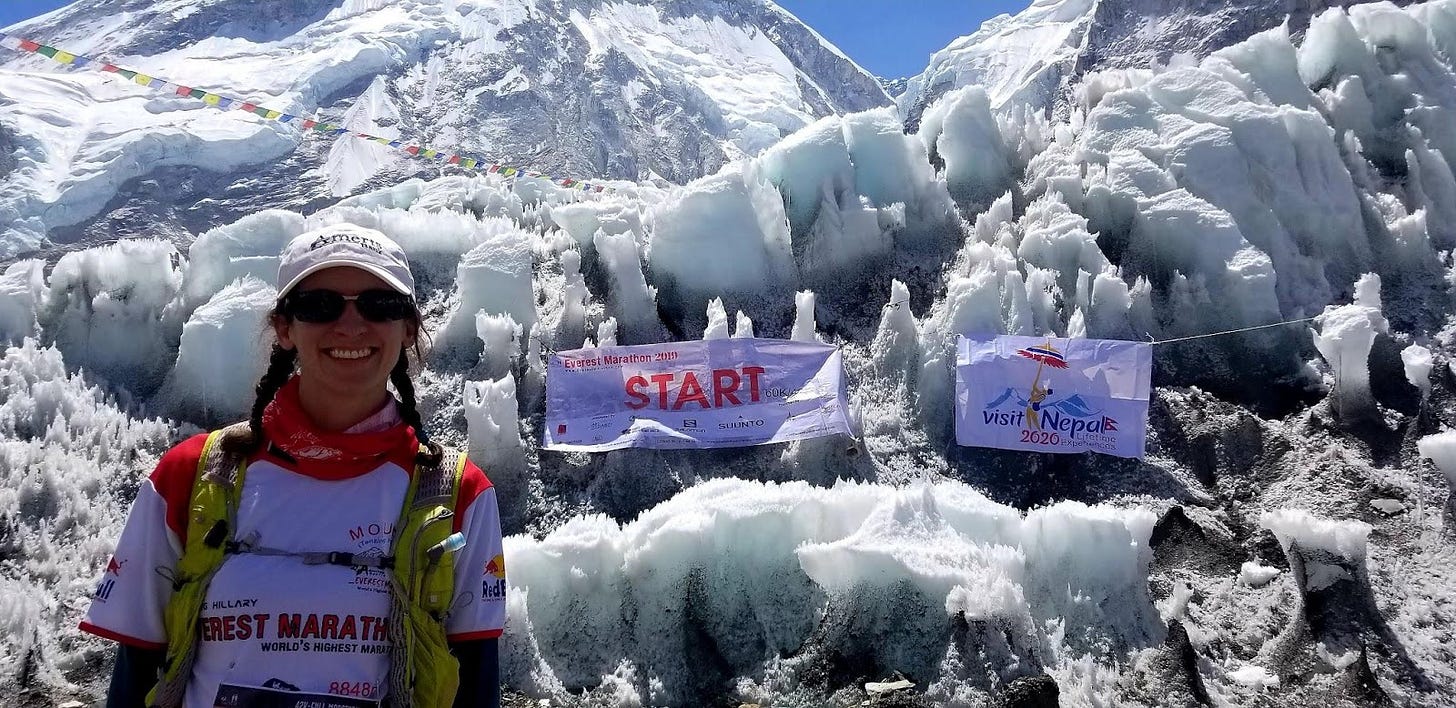 Note from Terrell: This post by our longtime writer Carissa Liebowitz may be my favorite of all the ones she's written for us. Set aside some time to settle in with this one (it's long!), because the sights and experiences she describes are unlike any other race you'll find.
You can get stories like this one (and much more) in your inbox when you sign up for a full subscription:
Last month, after years of careful financial planning, negotiating the time off work, and physical training, I had the opportunity to fulfill one of my bucket list items, running the Everest Marathon.
Known (for good reason) as the "world's highest marathon," this race begins at an elevation of 17,572 feet above sea level and follows the trekking trail down to Namche Bazaar, which lies at 11,286 feet.
While some things were the same as you'll find at traditional marathons, such as the distance of 26.2 miles or periodic hydration stops, this race is more often vastly different. There are a multitude of challenges even getting to the starting line, let alone running and finishing the race.
Think about all the things that could potentially make race week not ideal (sleep, nutrition, stress, physical activity) and you've got the perfect precursor to the preparing for this.
Before you sign up
The three big things to consider before even signing up shrinks the pool of participants to a very small number — finances, time away, and physicality. I gave myself two years to sock away money for this trip to not infringe upon the normal finances of my household.
I opted tour package through San Diego-based Kathy Loper Events that would take care of virtually all my needs from the moment I touched ground in Kathmandu for $3,100. A round-trip plane ticket from Atlanta to Kathmandu was another $1,000 and I budgeted $1,000 for required gear. After the tips, souvenirs, and other incidentals, I spent approximately $6,000.
The time away is likely the biggest hurdle for most American runners, especially if you have both work and family commitments that make traveling for pleasure for three weeks seemingly impossible. I worked with my H.R. director over a year in advance to find out what I needed to do to make it happen. Every circumstance is certainly different, but I was surprised that my employer made it easy and in fact, encouraged me to go.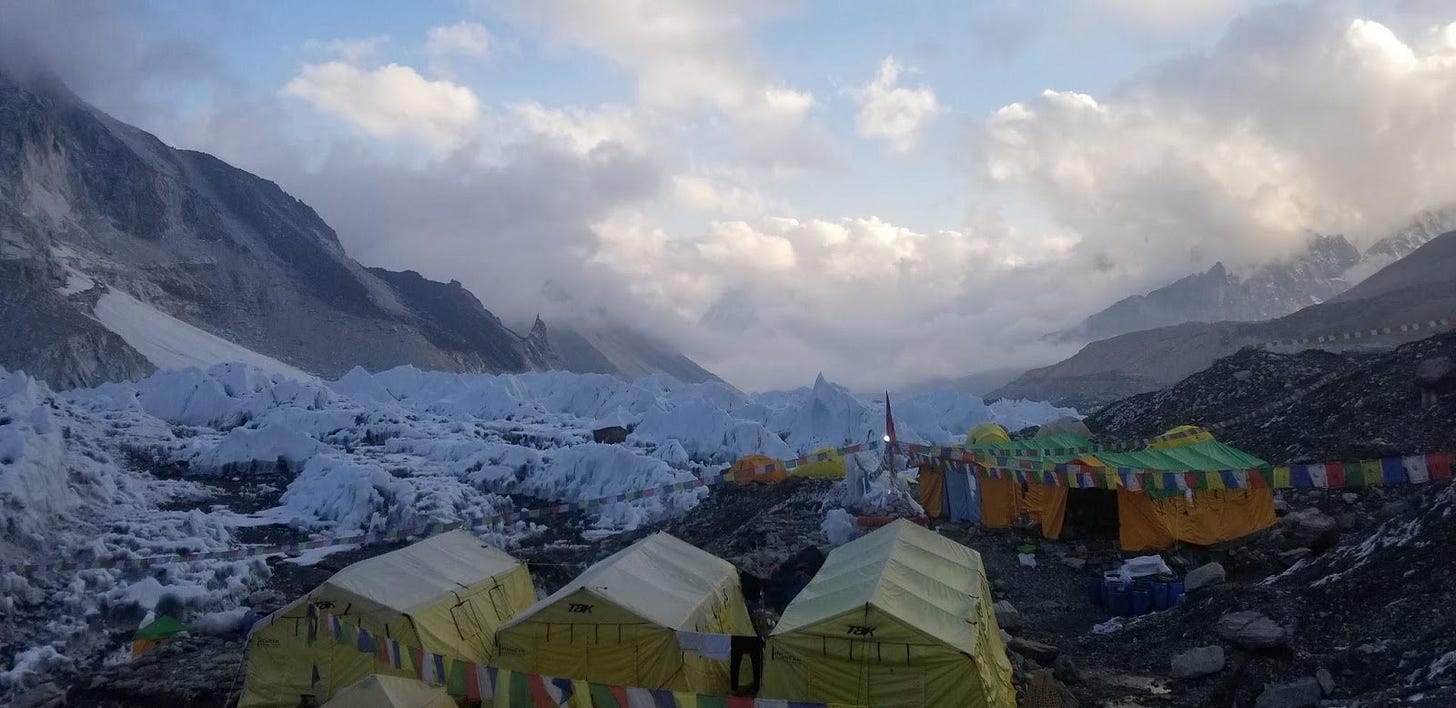 As for the physicality, I can't emphasize how important it is to be physically ready. And not just physically ready to run a marathon, but physically ready to trek at high altitude for two weeks.
After my experience, I would strongly recommend at least one higher altitude weekend of hiking before going so you know how your body reacts. Each situation will be different of course, but knowing before you go can save you a lot of heartache when you are in the midst of your long and pricey adventure.
Prepare to trek
Be prepared for the worst. It sounds ominous, but there are so many things that could go wrong during the trek or the race that it is imperative you be ready for the worse-case scenarios. In our tour group of six, two were taken via helicopter to a lower elevation because of severe altitude sickness.

Be prepared to eat the same meals day after day, with limited fruits and vegetables and increasingly less appetite.

Be prepared for long days of trekking, where four miles can take over four hours and despite the slow pace, everyone is exhausted.

Be prepared to feel ready for bed by 7:00 p.m. every night, wiped from the day's events. I thought I might be able to squeeze in a few, very short runs over the course of our trek, but I quickly found that it was best to conserve my energy for the next push.

Be prepared to pee all the time — the combination of trying to stay hydrated along with the response to hypoxia can be maddening in the middle of the night.

Be prepared to spend two weeks with minimal indoor plumbing and at least a week without a hot shower.

Be prepared to spend $3 for a roll of single-ply toilet paper and offer it to your fellow trekkers like a piece of gum at meal times.  

Be prepared to sleep in less-than-ideal conditions with paper-thin walls and no heat. Runners typically spend two nights at Everest base camp in tents, awaking to periodic avalanches in the distance.
While temperatures are actually quite pleasant during the day, most runners spent their time just existing at altitude, fighting off headaches and nausea.
Survive the race
The race starts at 7:00 a.m. next to the Khumbu Icefall at Everest Base Camp and runners follow a moderately marked path for 26.2 miles to the finish line at top of Namche Bazaar.
For safety reasons, runners who do not make it to the town of Tengboche (approximately mile 20) by 4:00 p.m. must stay overnight and can resume their race in the morning. Though it was recommended to travel with your wallet and passport, it was especially important for those runners who would be chasing the cutoff.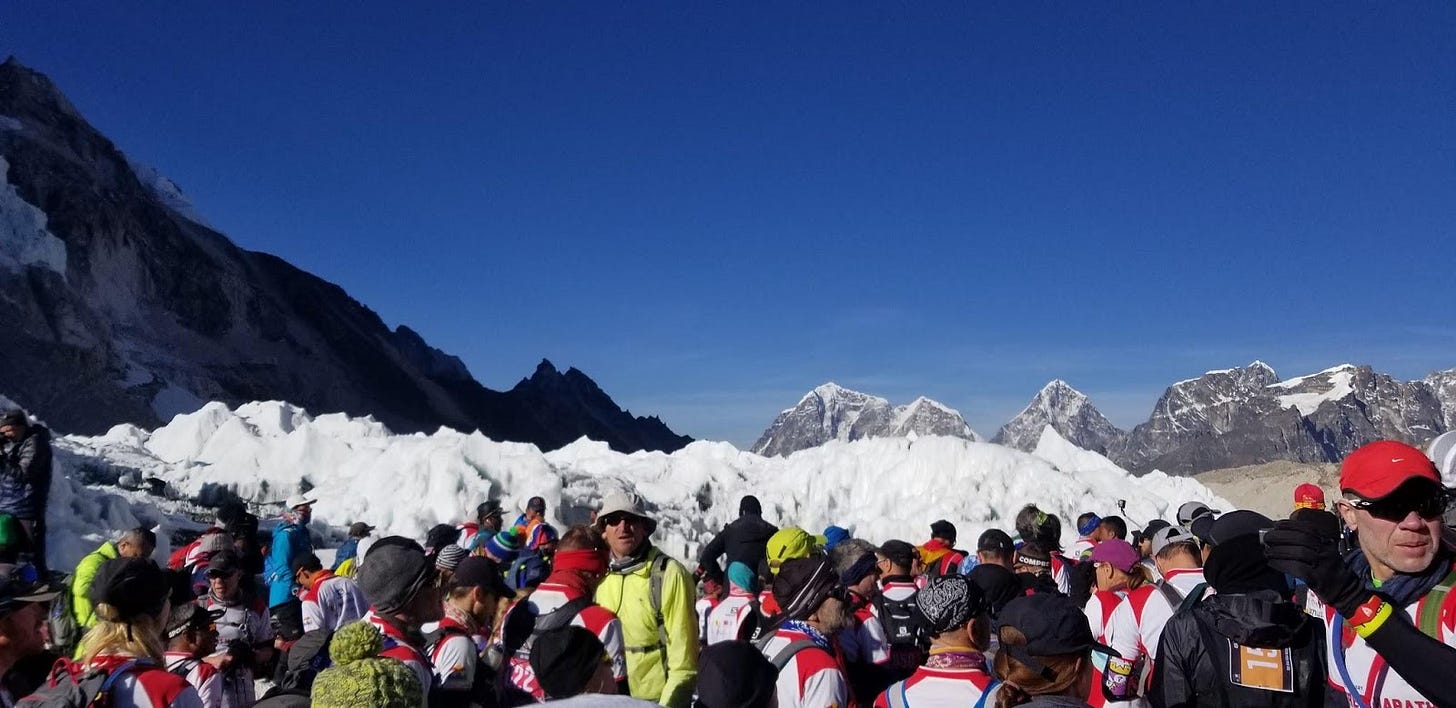 The first few miles are a complete bottleneck unless you are one of the top runners. Everyone must arrange themselves in a single file line to even get out of Base Camp, a rocky and icy traverse for nearly a mile.
After feeling like a complete wreck for three days straight, I placed myself in the mid-pack and promptly got stuck behind the long caravan to exit. A runner in front of me lost her footing approximately a half mile into the race and crashed into the rocks with her head. A group of us attended to her until she was able to stand up on her own accord and nearby race officials made their way over.
My first mile of the race was 33:57. My typical marathon pace is 7:30.
The next two miles traversing to the first checkpoint at Gorak Shep were equally challenging. Though the field opened up a teeny bit, runners still were taking their time climbing down (and sometimes up) the boulders making up the "trail" in this section.
And the herds of hybrid yaks, crosses of yaks and cattle, making their way to Base Camp caused runners to come to a standstill in sections. If there was an alternate side route, it was possible to bypass the pack, but often, their presence meant a free rest break.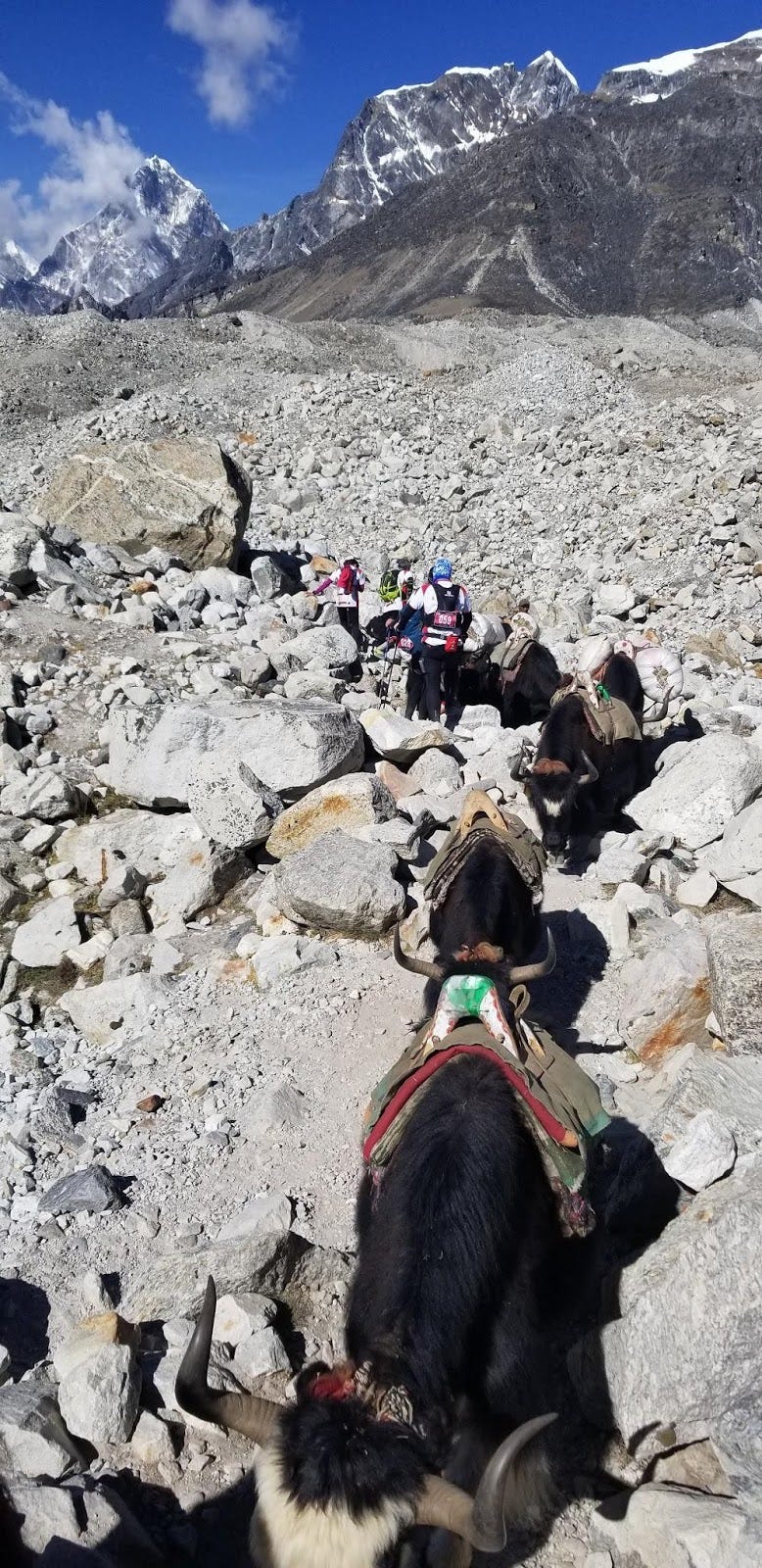 Close to mile 3 and now nearly 1 1/2 hours into the race, I finally reached the first checkpoint at Gorak Shep and tried to do a little bit of actual running. After 30 seconds, I felt it nearly impossible to breathe and staggered to a walk, humbled by altitude.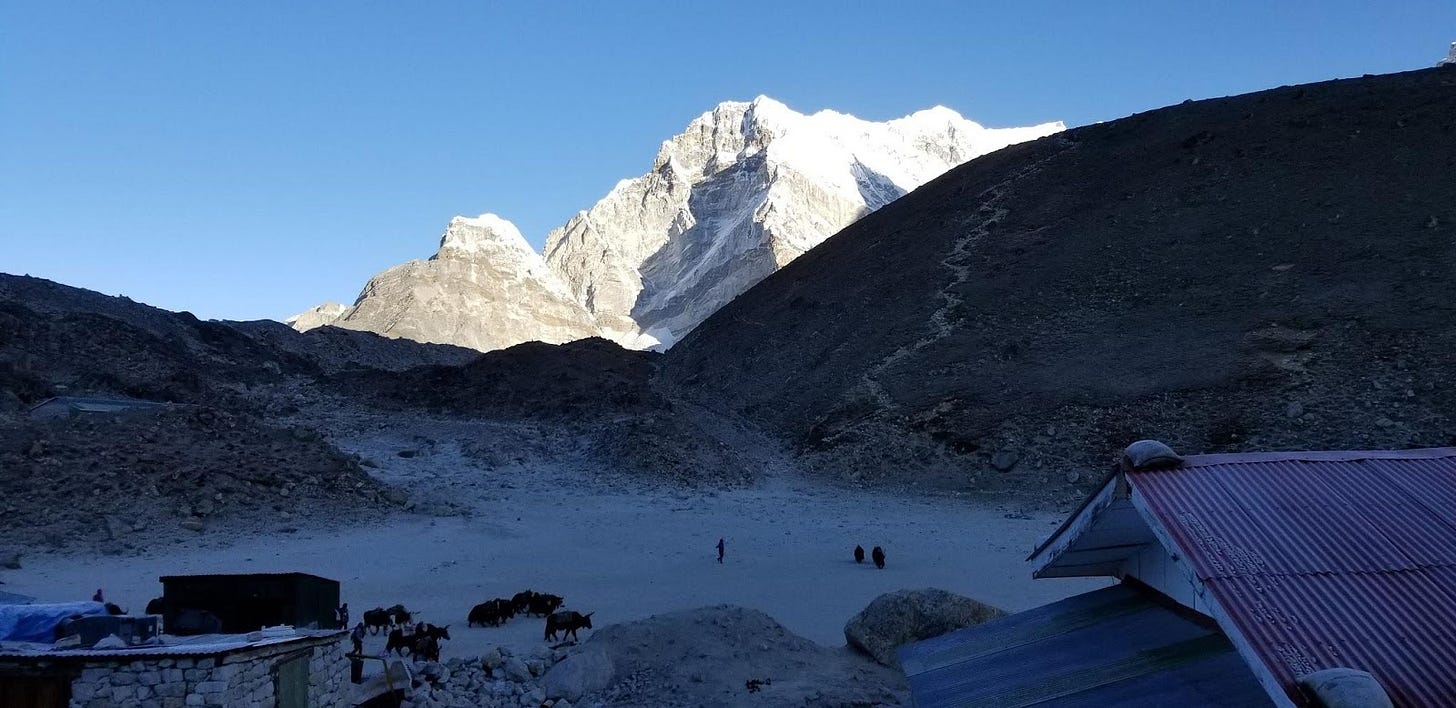 The next section to Lobuche offered a bit more runnable terrain, but it was still considerably rocky and nearly impossible to breathe. I settled into a fast hike behind a group of female runners. Though we had covered the trail just a few days before, I was grateful for the periodic trail markers and fellow runners, ensuring me that the path I was choosing was the correct one.
At Lobuche, I got my water bottles topped off and saw the hotel we stayed at just a few night's prior. It was a very interesting way to follow memories in reverse as you travel back the way you trek to the start. Lobuche to Thukla is a gentle downhill followed by a more severe downhill.
A woman had just broken her shoulder in this section and word of her injury spread through the field as we traversed the steep and rocky trail to the river. I was finally relieved to run a little without gasping for air though and I took advantage as best I could, all while soaking in the incredible scenery around me.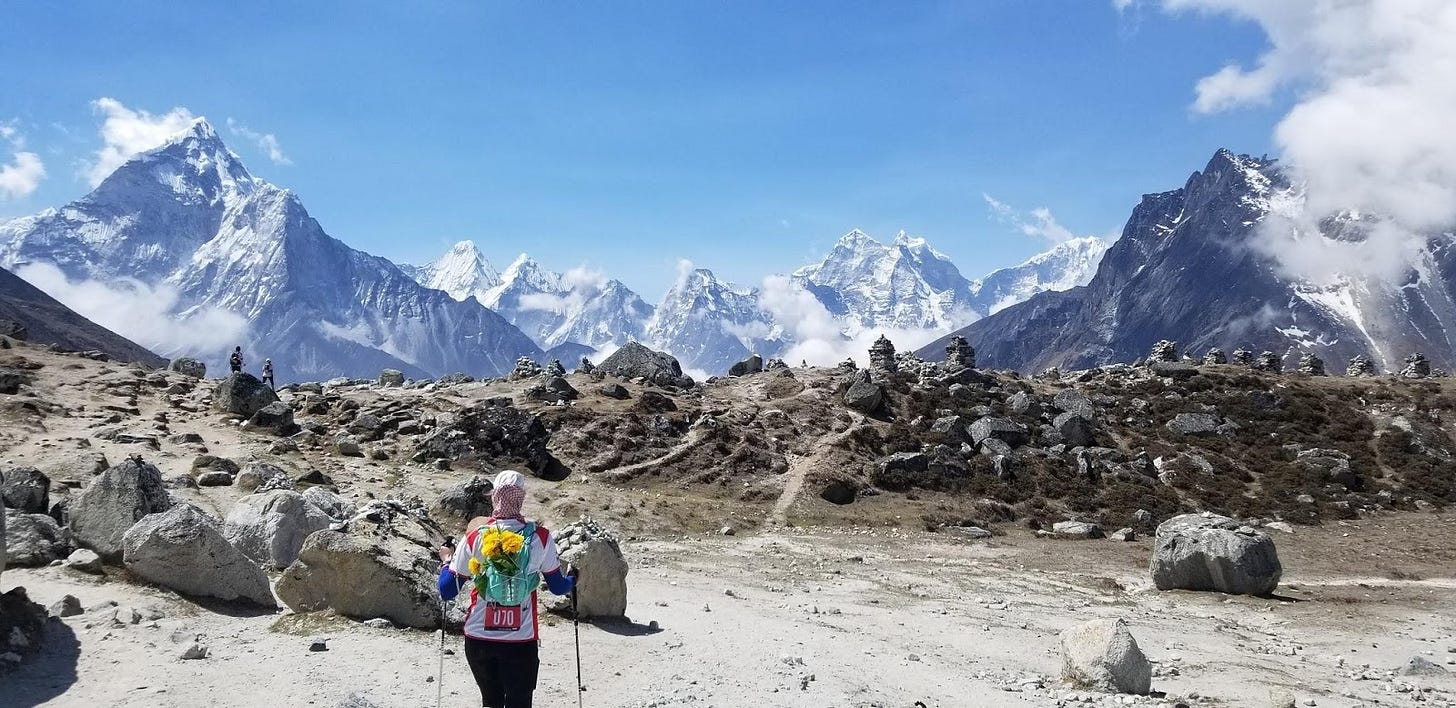 I waved myself through the Thukla checkpoint and climbed over the insanely large rocks at the river. Some of these required both the use of hands and feet, all while searching for trail markers so as not to be forced to backtrack.
Up out of the river, the trail to Dingboche is arguably one of the best sections for actually running in the race. The drop in elevation is approximately 1,000 feet and while still above the treeline, the trail is hard-packed and less rocky.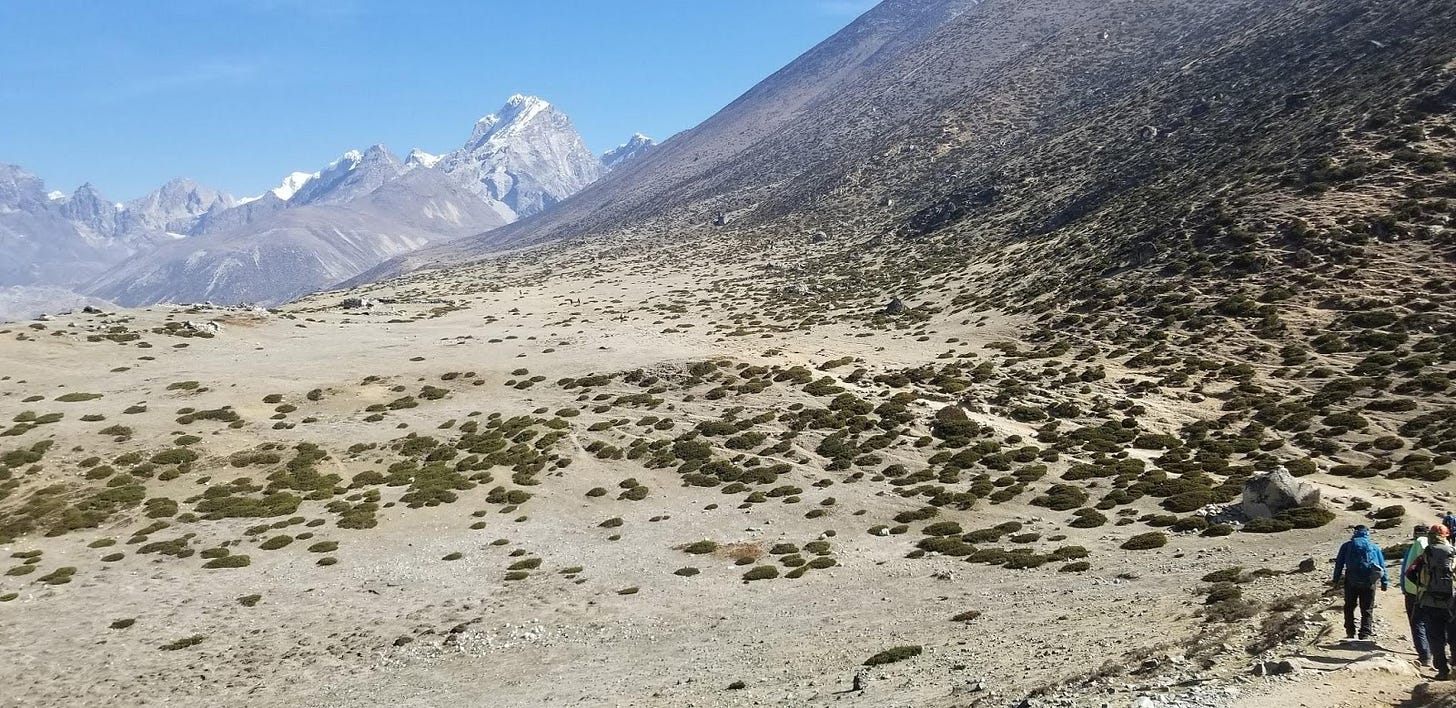 To make the course 26.2 miles, there is an out-and-back section called the Bibre Loop in Dingboche, with an aid station serving both the end and beginning. After miles of downhill, the first section of considerable uphill feels monumental.
Every runner was walking this section and being cheered on by those running back down in the opposite direction. At the turnaround, everyone received a green wristband indicating they made it to the checkpoint. The terrain is sparsely filled with vegetation and is a mixture of sand and rocks.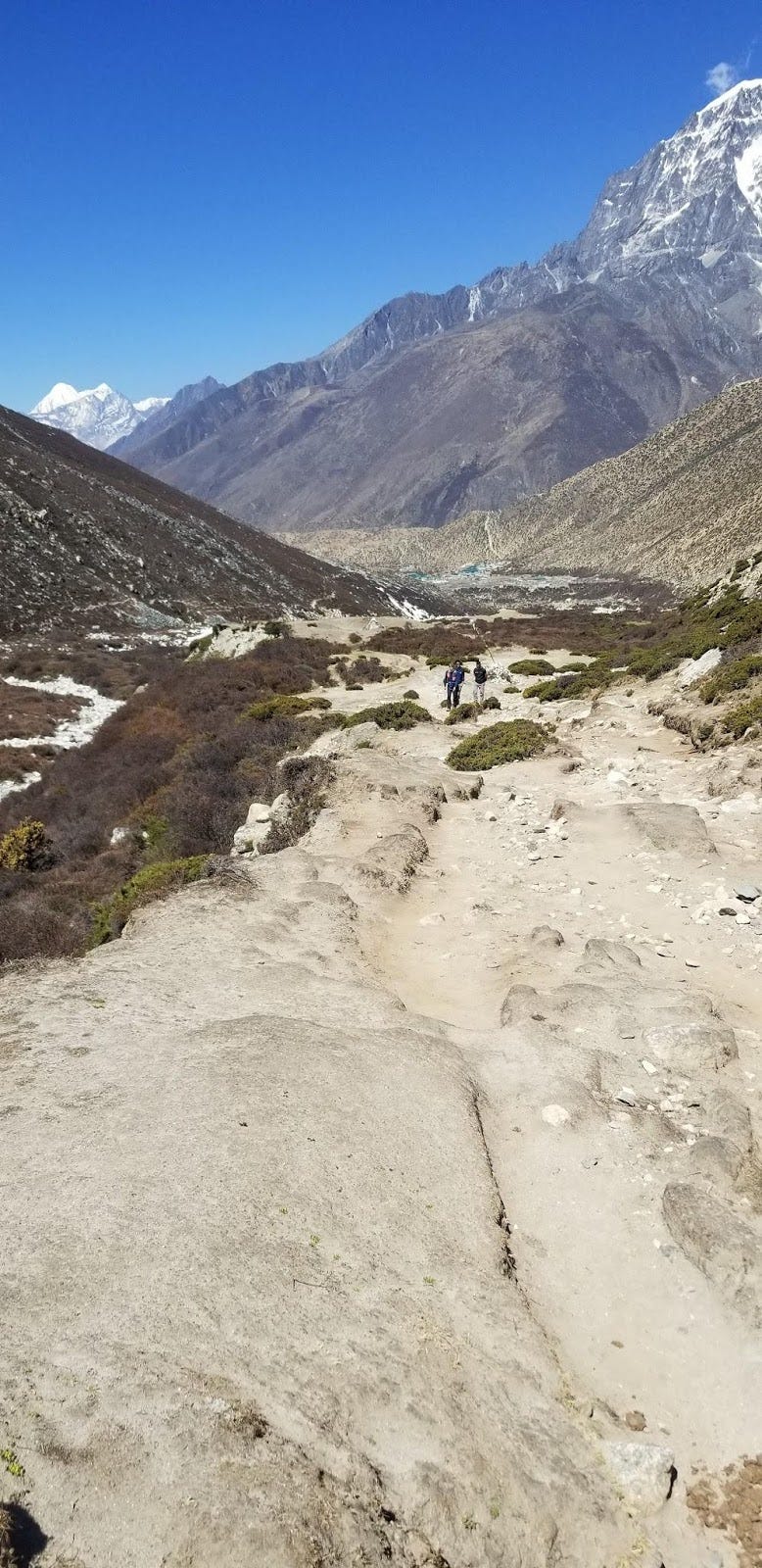 Back at the aid station at Dingboche, I down a glass of hot Tang (a regional favorite) and topped off my water once again. Dingboche is the first larger village that runners pass through and the course goes directly through the main corridor of tea houses and shops before exiting into the vast expanse that connects the towns.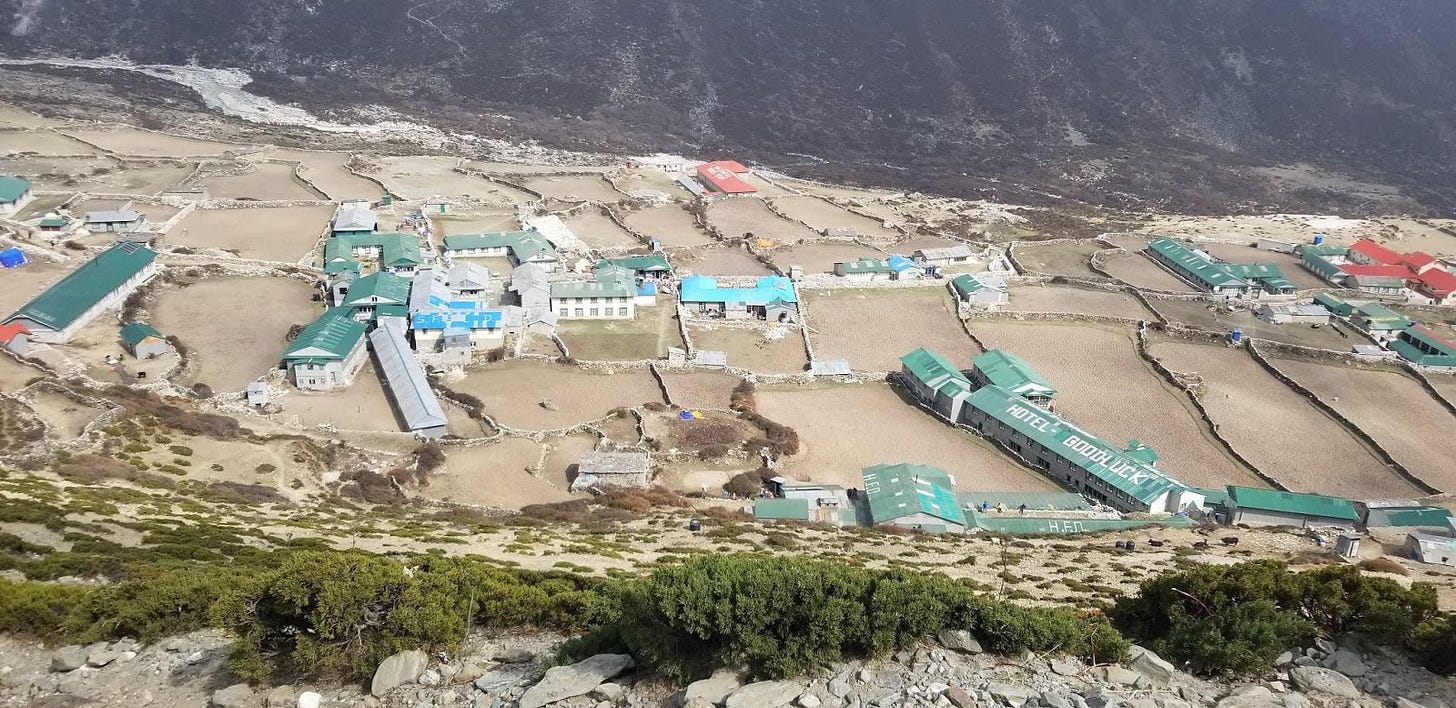 The field to Pangboche had spread out considerably at this point and I forced myself to stay on the heels of other runners. Markings were much more sporadic in this area and it was often not clear which path to take through smaller villages. Fortunately, most lead back to the same main trail, but it was often disconcerting to be hours into a race in the Himalayas and been unsure you've taken the correct path.
After Pangboche, I crossed the first of two suspension bridges in the race, slowing down to a careful walk as I navigated the stretch over the roaring river. The trail to Tengboche started with a herd of yaks that were not inclined to go any faster than a swift hike. Eventually, their human helped a group of us get by them safely and then the goal became to not get passed back.
After clearing the herd, I was then met with a steep ascent to the next checkpoint — a hands-on-your-knees, breathtaking ascent. The terrain was uneven rocky stairs with goat paths on either side and I alternated between the two, huffing and puffing the entire way.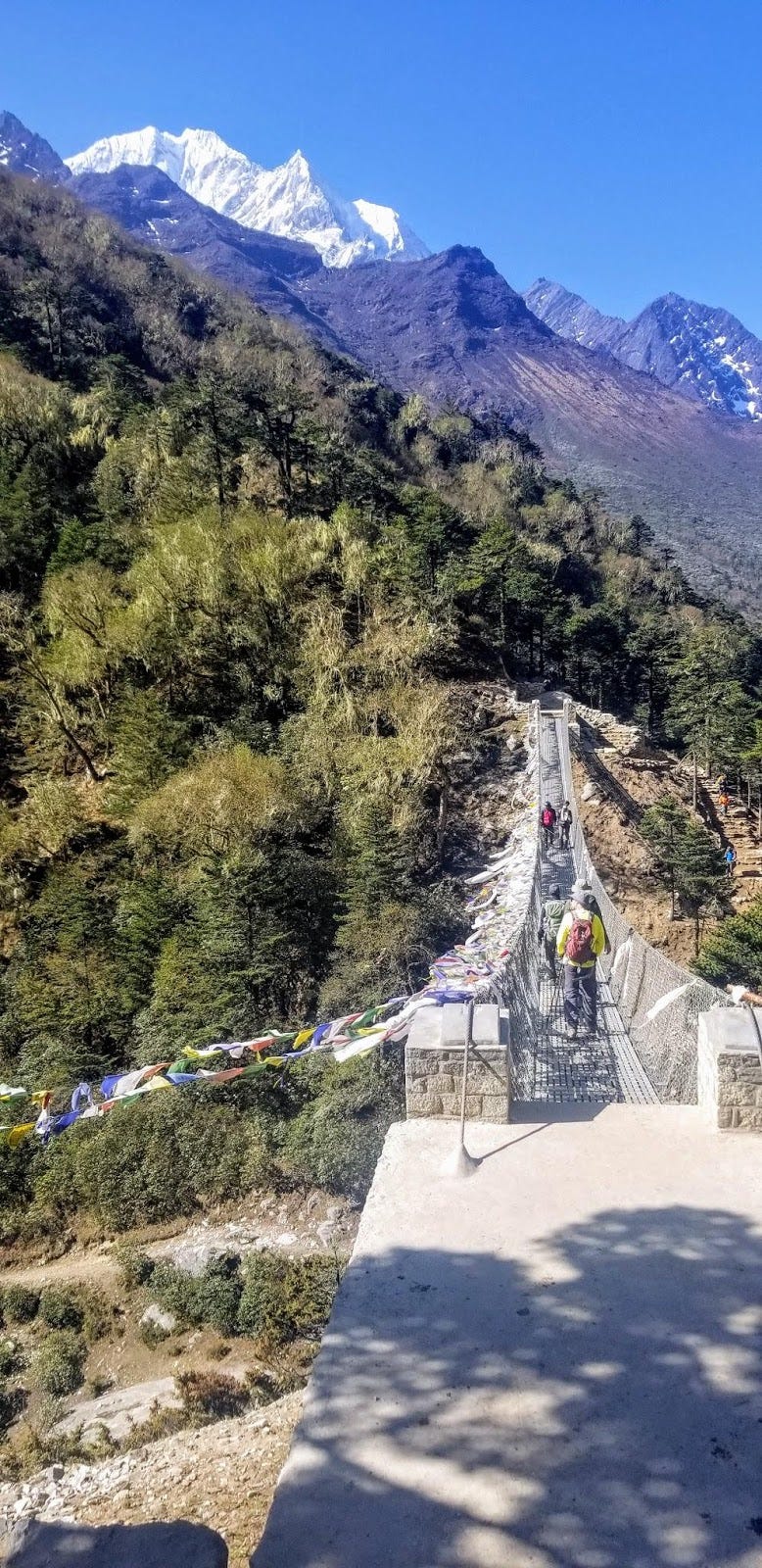 At the Tengboche checkpoint, I spotted a few candy bars on the table, the Everest Marathon version of a gel or chew. I filled up my water again and then bounded down to the river, knowing the climb that awaited the other side.
Miles 18 and 19 down are steep, at nearly 2,000 feet worth of a drop. The sandy trail follows dramatic switchbacks and signs of life become more and more apparent with hanging trees and the increase in green landscape.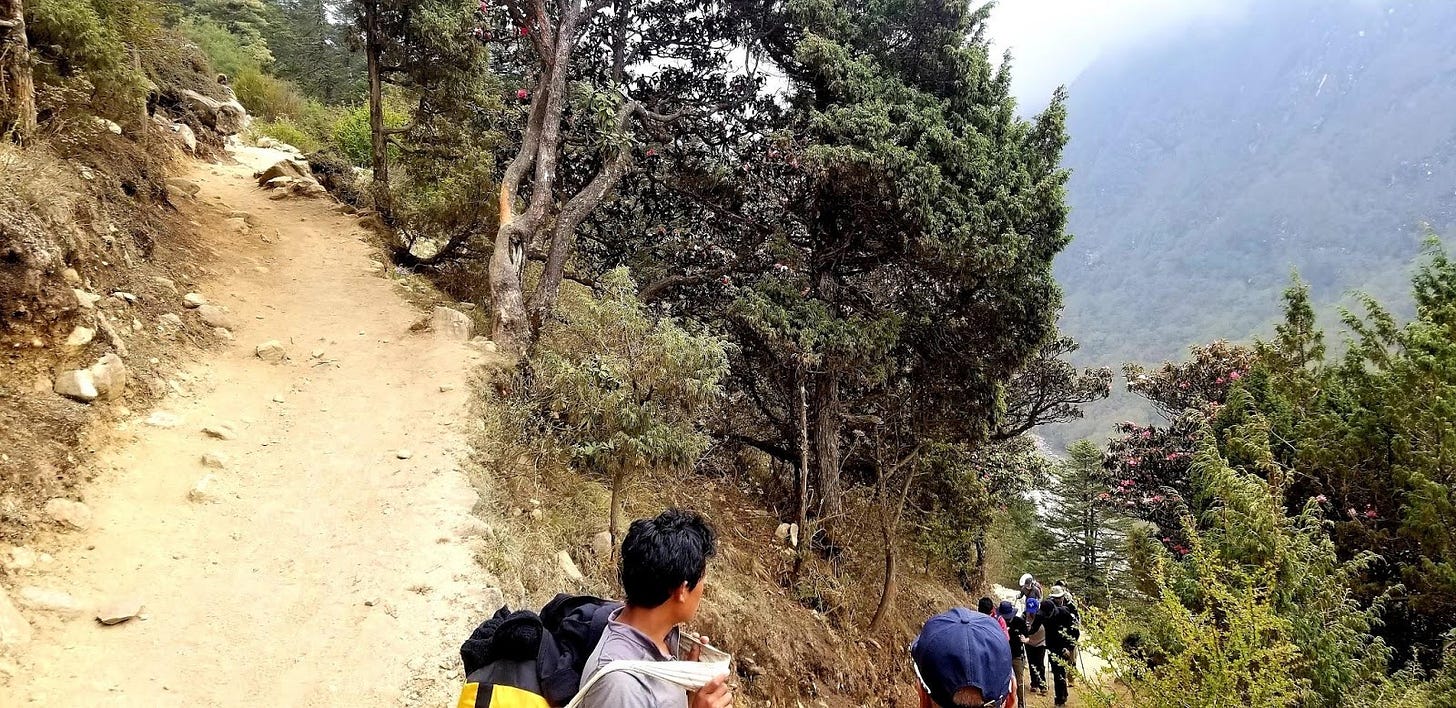 The second suspension bridge is at the Dudh Koshi river and marks arguably one of the hardest points of the race, an over 700-ft. climb at mile 23. I was over seven hours into the race at this point and it was tough to find the gear needed to keep moving with purpose.
Many runners were staggering at this point, inching forward slowly or even standing still as they conjured up the strength to go forward. Our tour company had guides awaiting runners throughout the race and as the leader in our group, I received mine last, right before the climb.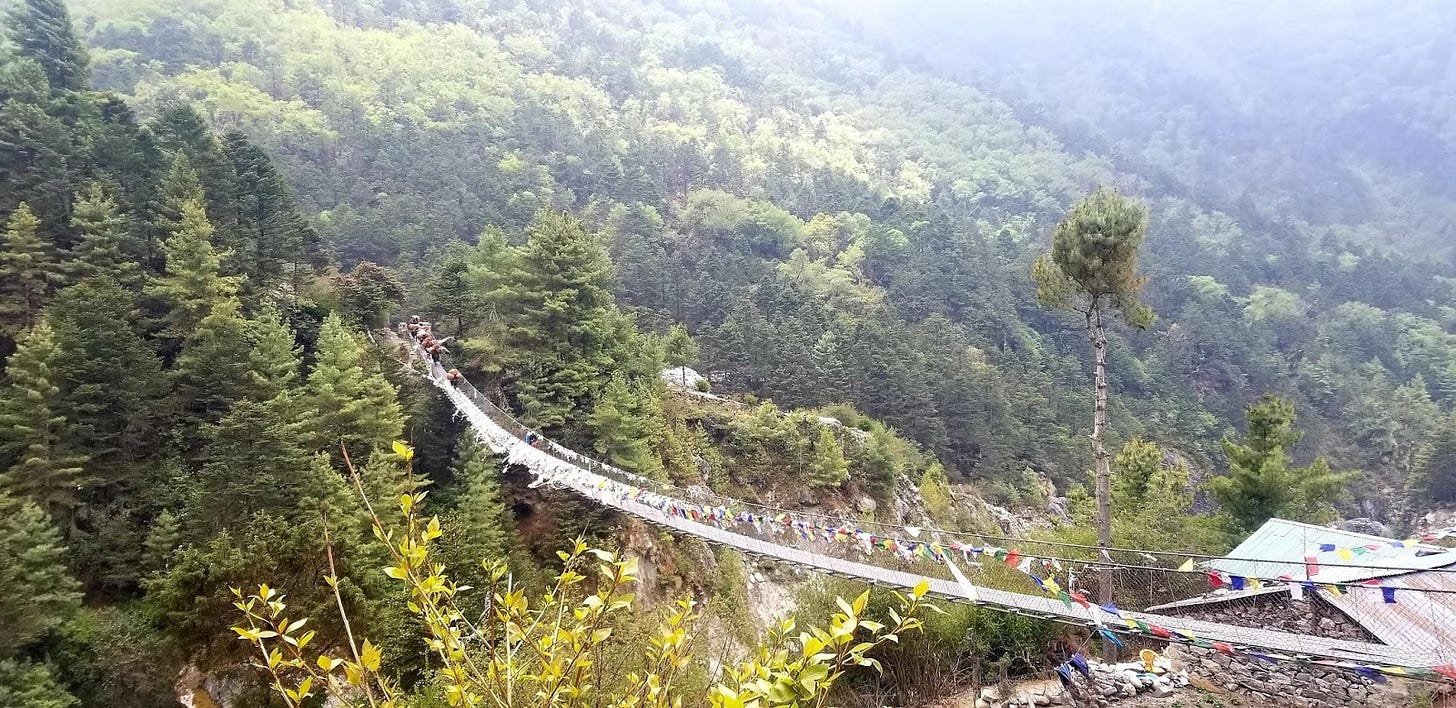 The last checkpoint was at Kyumjuma and I was handed a Mars bar while they recorded my number. My guide assisted in navigating the last of the yak herds in the final miles and often ran a few steps ahead to show me where to go so as to not disturb them.
What seemed like a flat and easy trail the week prior was actually full of ups and downs. Also, though considerably less rocky than the prior sections, it was far more treacherous with a sheer drop off on the left side the entire final 5 kilometers.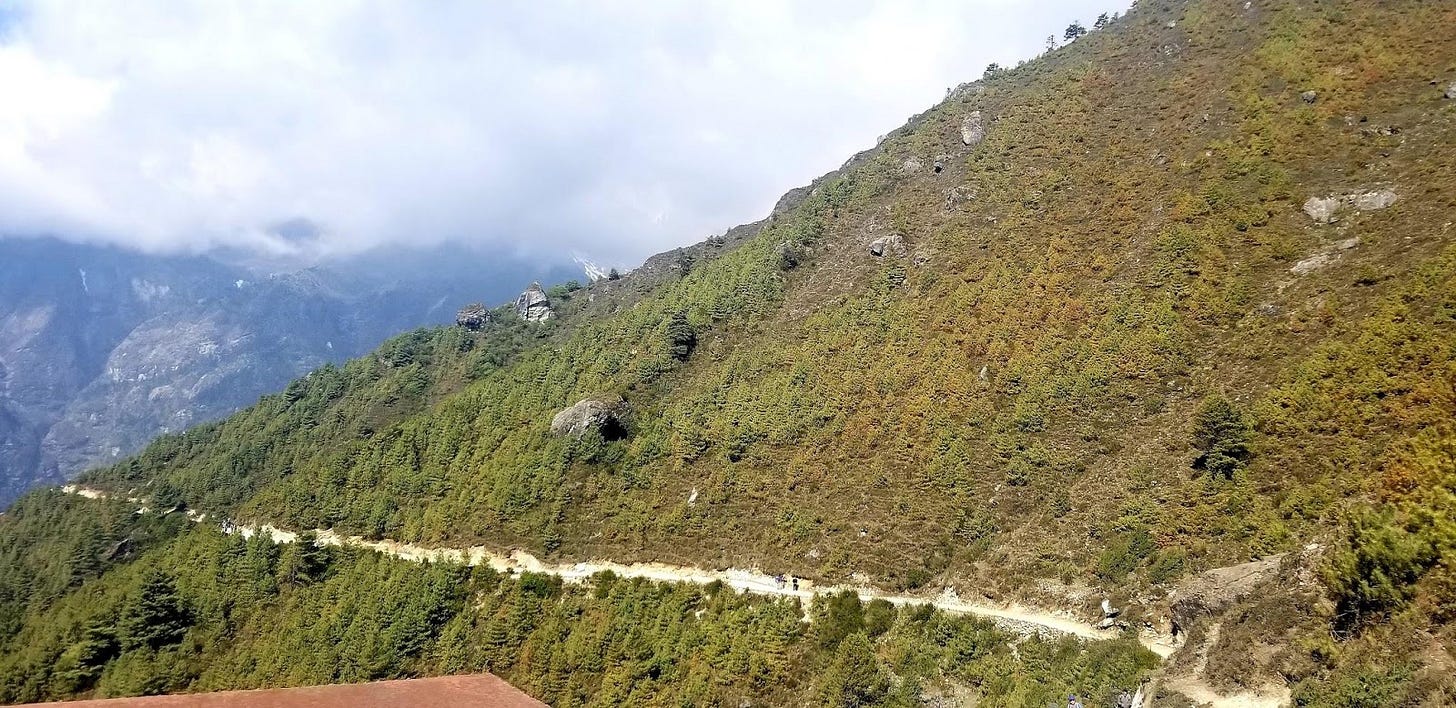 My guide navigated the final turns as we came into Namche Bazaar and day trekkers cheered me on close to the finish. Race officials held up a finish tape for each runner, regardless of placement, allowing each person the joy of breaking the tape as they completed this often years-long journey.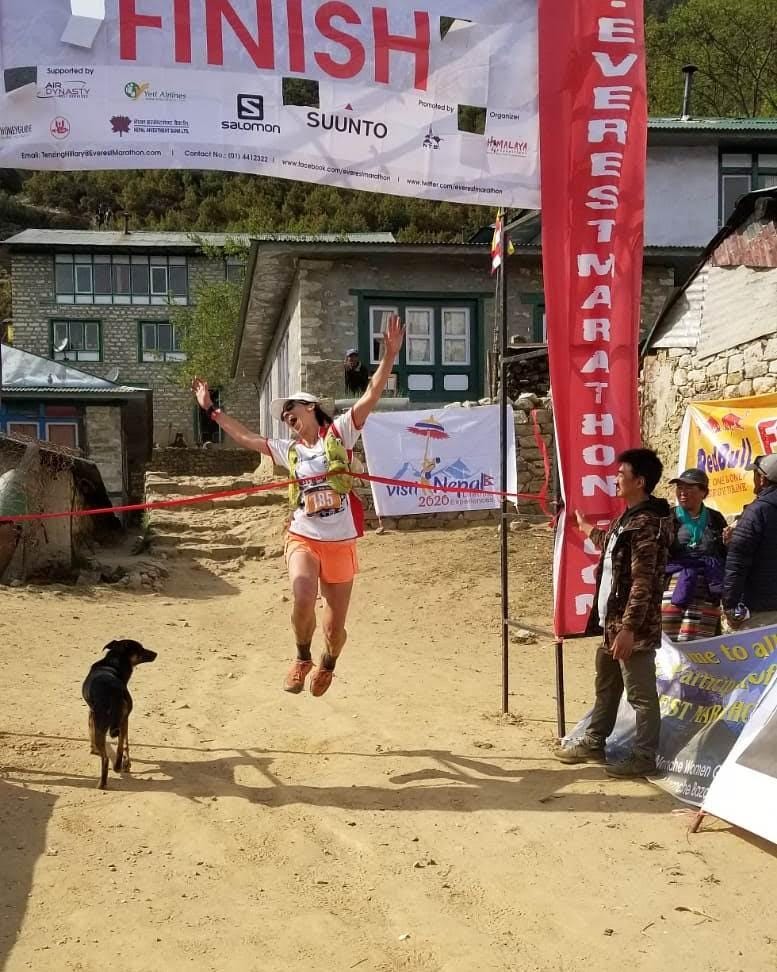 Later, after I'd completed the race, I was asked what was going through my head as I crossed the finish line with the look of absolute exhilaration.
I felt the sadness of the culmination of an adventure, the pride of accomplishment, the relief of stopping, the strength of my body and mind, and the happiness of being 100 percent in the moment I had been dreaming of for years.