Discover more from The Half Marathoner
A running newsletter that isn't (just) about running
Over 42,000 subscribers
What Mary Chapin Carpenter's 'The Hard Way' teaches me about running motivation
A song that makes running click for me.
Several years ago, when I was working for The Weather Channel's weather.com, I had a conversation with a colleague that has stuck with me ever since.
That's when Donna, who back then was a meteorologist (and still a friend today), pointed out how we throw a blizzard of information at viewers and expect them to figure it all out for themselves.
"Why are we giving them things like barometric pressure? What can they do with that?" I remember her asking. "What people really want is just the basics."
I think about that sometimes when I look at the variety of training methods for running out there — yes, information on the mechanics of running form are intriguing and helpful for some of us (perhaps even many of us).
But for most of us, finding the motivation to run consistently is the big one, the key we're all in search of.
I'd love to be able to share with you some secret mental approach that I've found that works. The truth is, sometimes I struggle with motivation too. Quite often, in fact!
Everything we got, we got 'The Hard Way'
As silly as this may sound, I turn to songs to encourage me, to help me find the strength to go do what I need to do. A song that may sound like just a pop song to someone else can be poetry to you, if you hear something in it that motivates you.
There's one song in particular that always gets me going: Mary Chapin Carpenter's "The Hard Way."
Why that song? I wish I could tell you. I really do. Honestly, I have no idea why this particular song speaks to me — just that it does.
The lyrics, I know, paint the scene of two lovers in conversation (and conflict) with one another, trying to see the good in each other after what Carpenter hints has been a long struggle.
But you can easily see it also as a conversation you have with yourself, looking in the mirror — listen to the song or read the lyrics below and imagine it that way, and tell me these don't hit you right in the solar plexus:
Show a little inspiration, show a little spark
And show that things that drew me to you and stole my heart
And tell me something I don't know instead of everything I do
And look at me as if I mean something to you
That last line — that's the one that gets me. Because there's so much in our lives that pulls us away from just taking the time to take care of ourselves, especially when she sings, "caught up in our little lives, there's not a lot left over."
But taking up running is kind of like a little rebellion against all of that, isn't it? And it's a way we can prove to ourselves that we value who we are, that we're worth the time it takes to go out there and run those miles.
Later in the song, Carpenter continues:
Show a little passion, baby, show a little style
And show the knack for knowing when and the gift for knowing how
And have a little trust in us when fear obscures the path
You know we got this far, darling, not by luck, but by never turning back
Those last two lines, those grab me too. Because you know what? If you set out to train for a big goal, or to run a big race, there's gonna be fear on that path. Sooner or later, you're going to hit a place where you're not sure if you can or want to go on.
What I love in these lyrics is that you can look at yourself, see yourself in the mirror, and urge yourself on — you can be the one who gives you a boost.
Not that Carpenter is saying this is easy. Not at all. Sometimes, it's really damn hard! I love that this song doesn't wish that away — it faces it square in the eye. But it acknowledges that we're strong too.
We've got two lives, one we're given and the other one we make
And the world won't stop, and actions speak louder
Listen to your heart, and your heart might say
Everything we got, we got the hard way
Is there any line more true than the first one above? This run — or this love, or this life — is gonna be hard. Nothing worth having comes easily. But that's okay, because "everything we got, we got the hard way."
That's as true of running as it is of anything in life, I've found. I love that this song doesn't sugarcoat the hardships we all face. In fact, it celebrates them, because they help make us who we are.
It's an amazing song, and one I love listening to when I need a pick-me-up, or some extra motivation to stop dragging my feet and get out there.
What helps motivate you?
Your friend,
— Terrell
---
Get $15 off today
We love our paid subscribers SO, SO much — you help make this newsletter possible (and keep it ad-free!).
Become a paid subscriber today to save $15 off your first year and you'll get to take part in our book club, live discussions, and get more from us in a special issue every Sunday.
---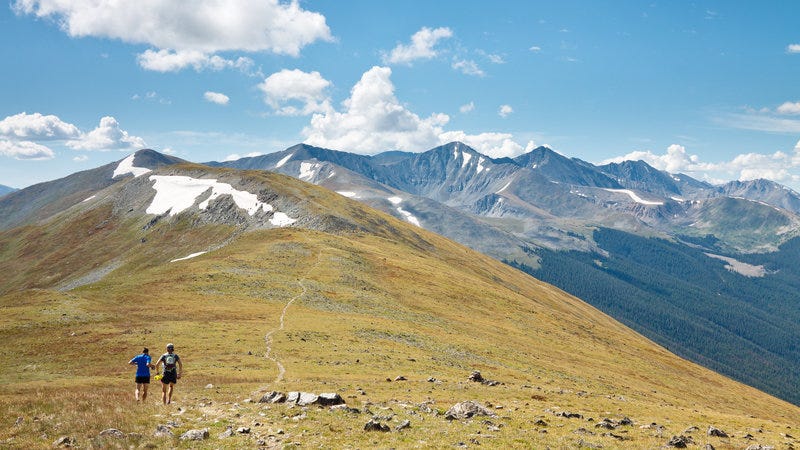 Golden, Colo. | Saturday, May 9, 2020
Its organizers say it's the most challenging half marathon you can run anywhere in Colorado's Front Range Mountains, along a beast of a route that climbs more than 2,900 feet over the course of 13.1 miles. "Enjoy the aggressive elevation gain, we promise you won't feel shafted," they explain, as you run through waist-high grassy meadows, along rocky downhill dirt trails and gravel paths that look out onto gorgeous views of the valley below. "This race will make you laugh, and possibly cry," they note, adding: "You will be left with joy, pride, and confidence in your running soul."
$90 and up | Sign up here
---
Quebec City, Quebec, Canada | Sunday, May 3, 2020
Panoramic views of the St. Lawrence River are what you'll take in all along the second half of this late spring race, which follows a mostly downhill point-to-point route starting along Guillaume-Couture Boulevard. That's followed by a few kilometers along bike paths and neighborhood streets before turning onto the Parcours des Anses, a 15-kilometer bike path that unfolds entirely along the river and is known for its spectacular views. You'll follow it for the next 11 kilometers, all the way to the finish line at the Juvénat Notre-Dame school in Saint-Romuald.
$65 and up | Sign up here
---
Oakridge, Ore. | Saturday, June 20, 2020
Run a course that some past runners have called the "most scenic in Oregon," including a long stretch along the Hills Creek Dam in the Willamette National Forest near the small town of Oakridge, which lies just over a half-hour's drive from Eugene. From the start along the banks of the Willamette River, you'll run a trail that leads across a bridge over the river and then into the surrounding forest. Later miles unfold along the dam and beside the deep blue river flowing, with pine trees towering over the highway for much of the way.
$84 and up | Sign up here
---
Waldoboro, Maine | Saturday, Sept. 26, 2020
"If you finish, you get a beer," say the organizers of this early fall race, which they claim is the toughest road half marathon in New England thanks to the more than 1,400 feet of elevation change they packed into the 13.1 miles of this race. Almost half the course is run uphill, they add, through this scenic town of just over 5,000 souls along the banks of the Medomak River near the Maine coastline. A couple of things you should know about it — there are no bands, no race expo, no volunteers out on the course, and not even any water stations; also, you'll need to qualify for it by running a half marathon in 2 hours, 15 minutes within the past two years. "We always say that if you can do well in Waldoboro, everywhere else is easy."
$20 and up | Sign up here
---
Stowe, Vt. | Saturday, Oct. 17, 2020
This one's right around the corner, I know, but it's one not to forget as it's definitely for the adventurous runner — from the starting line to the highest point in the race, you'll climb roughly 1,000 feet to the top of Round Top Mountain along the trails of Vermont's Green Mountains. The race starts and finishes at the 2,500-acre Trapp Family Lodge, and features winding trails through the mountain forests as well as along grassy paths through wide-open meadows, with views of the mountains in the distance. There are also some "some steep scrambling segments," organizers add, noting that there's about 1,900 feet of overall elevation gain throughout your 13.1 miles — which you'll run once for the half marathon and twice for the full.
$75 and up | Sign up here
---
A song to run to today
"Once in a Lifetime" from the album Remain In Light by Talking Heads.
Want to hear all the songs we include in our newsletter? Listen to our full playlist on Spotify here.