What a running routine can do + 13 Ireland half marathons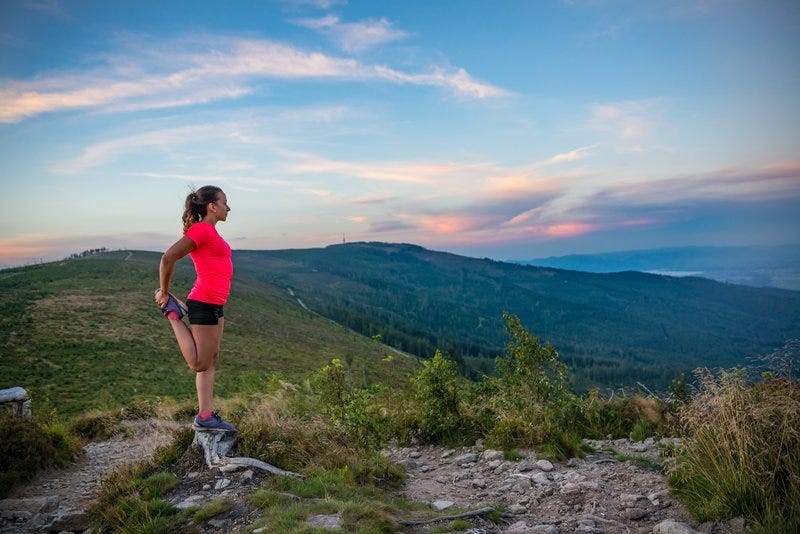 "Let us go forth, the tellers of tales, and seize whatever prey the heart long for, and have no fear. Everything exists, everything is true, and the earth is only a little dust under our feet." — William Butler Yeats
In the past, I almost always got my running in during the late afternoon. I'd get off work and go for a run, usually 3-5 miles or so, and I always found it was a great way to "wash off" the workday and leave the stress behind.
Fast-forward a few years, and I now have two children and a wife with an extremely busy career that occasionally involves travel. One of those children is just a toddler, which means some days (like this morning) he gets up after 7:00 a.m., but other days getting up at 6:00 a.m. is "sleeping in" for him.
(I used to joke around with my wife before we got married that she got up so early that it was like being Amish in the movie "Witness," when Harrison Ford has to get up at 4:30 a.m. to milk the cows. I don't joke around about that anymore — I'm living it!)
Still, the morning remains the best time for me to run, because that's the time when the world is quiet and the sun isn't blazing in the sky — which is definitely a consideration when you live where I do (Atlanta).
So how do we negotiate this? It's a delicate dance, to be sure. I try to get out and run at 5:30 a.m. when I can, knowing that some days I can do it and some days I can't, due to my wife's schedule. And I have to give and take — she needs time to exercise just like I do, and we're both balancing jobs, the kids, and trying to stay healthy. It's not easy.
It probably won't surprise you that we're not alone — a quick Google search of the phrase "balancing running with work family" yields more than 259 million results, so it's clear there's no one answer to this.
Someone who does seem to have a good handle on this is a woman named Michele Gonzalez, whom Runner's World profiled in this April 2016 article and who shares her fitness journey with more than 85,000 followers on Instagram just about every day.
The West Point graduate and Iraq War veteran, now 36, is married with two elementary school-age boys and works in finance in New York City — and by the way, her latest posts show that she's pregnant again!
How does she do it? Gonzalez shares tips on a day-by-day, post-by-post basis, and many of them reveal that she has figured out how to get the most out of every morning by planning in advance a week ahead, usually starting on Sunday.
Routine is her key to successfully getting all her runs in, it seems — establishing it and sticking to it, week after week.
(Interestingly for someone who's quite prolific on social media, she doesn't allow herself to look at her phone in the mornings between her run and the time she's at her train station for her commute to work, to avoid the time sink of getting distracted.)
Do you experience the same challenges, or struggle with getting your running in? I'd love to hear how you handle it. And I know there's 37,000 other subscribers to this newsletter who'd love to know what your secret is — including me :)
Your friend,
— Terrell
---
Thank You, Awesome Subscribers!
I want to send a huge shout-out to the paid subscribers who've signed up to ensure The Half Marathoner stays ad-free. You are the bomb.
Not signed up? You can here.
---
Run "where the streets have no name" in one of the most beautiful countries on the planet, a lush, green island where you can take in your 13.1 miles on the bustling streets of Dublin or places as rural and far away from the crowds as the southern tip of Ireland.
---
The unbelievably difficult marathon that is run here every August — which Jeff Galloway has called one of the world's toughest — got its start back in the 1950s, and it was even the first marathon to welcome women, at a time when women were shunned from races like the Boston Marathon.
You'll top out at just over 14,000 feet above sea level by the time you reach the peak, to celebrate one of the most difficult (and satisfying) accomplishments you can achieve in the world of running.
---
Billed by its organizers as America's toughest road marathon, this mid-April race unfolds on the roads that lead out from downtown Roanoke, Va., and head into the towering (and daunting) hills of the city's Mill Mountain Park.
The total elevation gain for the half marathon is some 1,900 feet and you'll have 6 hours to complete your 13.1 miles, which makes the race able to welcome both runners and walkers.
---
You'll get the chance to run what some call the "yellow brick road" of Astoria, Oregon, at this race, which unfolds along the five-mile-long Astoria Riverwalk — built on the abandoned tracks of the old Burlington Northern Railroad — here in this city located on the mouth of the Columbia River, where it empties into the Pacific Ocean.
---
Nestled in the northern part of the "land of ten thousand lakes," the small town of Bemidji, Minn., goes by many mottos — from the first city on the Mississippi to the curling capital of the U.S. — and here you'll run this mid-October race around Lake Bemidji and stretches of the Paul Bunyan Trail.
And don't worry — you'll catch a glimpse of the famed statue of Paul Bunyan and his blue ox Babe toward the south side of the lake when you're approaching the finish line.
---
In Case You Missed It
Get your chance to run through some of the most picturesque places in the northeast, the midwest and the western coast when you run these races, some of which feature several stretches through a single covered bridge or a bunch of them.
"How many runs do you ever regret going on? Nine out of 10 times, you feel better, happier, and have a clearer head for having spent a few minutes out in nature—or the urban jungle. The other half comes from a place of gratitude. Just appreciate the opportunity that you have to be out there."
— Plenty of practical, useful tips and advice from runners who've been there and done that in this piece from Runner's World, which dives into exactly why we should all get more sleep and the importance of recovery, to adding more miles to build your endurance for longer-distance races. And ways to enjoy running for its own sake, rather than for what it brings you.
As odd is it may sound, Adidas has built a pair of what it calls "Speedfactories," where it manufactures running shoes designed around the terrain of specific cities, using data collected from athletes who've run in those cities — so far, the athletic wear maker has designed shoes for London, Paris, Los Angeles, New York, and Shanghai, with shoes just for Tokyo coming soon.
"We don't know if dogs get the euphoria or the runner's high. We do know they certainly get the health benefits. I'm sure many of your readers know if you say 'leash' or 'go' out loud, dogs go crazy. They want to go."
— Just like in us humans, obesity is becoming a big problem for dogs and cats in big cities, as many get little to no exercise (but plenty of treats). As long as you monitor your dog's fatigue level and make sure it's not too hot, running with him or her is a great way to bond and to stay in shape.
If you're a smartwatch user, then you're well aware of the potential (and the frustrations) of measuring your daily exercise and fitness goals. Expected this September are some pretty important updates that expand the Apple Watch's capabilities with yoga and hiking workouts, automatic detection of the workouts you're doing, and new ways to measure your exercise cadence and running pace. The future is here.
---
Readers Say...
"I loved the wolf analogy. I started 3 years ago [at] age 52 with 5K's, then a couple of 10K's, then some halfs, then a full trail marathon but my wolf wasn't satisfied and now I do 50K's. This December at [age] 55, I'll be doing my biggest challenge yet — the Brazos Bend 50 miles. Not sure if the wolf will be satisfied or will push on to a 100-miler."
— Diane, in response to last week's email, "We all need an antelope to chase"