Wednesday is a day for running + something we need to talk about
Plus: Amazing races in Loch Ness, Athens, Tucson + the home of Runner's World
Late yesterday on our Twitter account, I retweeted a post by Dorothy Beal, a runner, blogger and 41-time marathoner who's been a big inspiration for countless runners over the past several years. She's the author of the popular Mile Posts blog, where she shares her best tips and stories about running all around the globe.
In her series of posts — you can read the whole thread here — Beal shares that she was harassed by a group of men while running with her daughter:
Obviously, this is a story that men like me know way too little about — and I'd bet the women who read this newsletter know all too well. The even sadder thing is, we all know how this story ends; each of us has either experienced it or seen it happen.
The even more heartbreaking thing about it was what Beal wrote a little further down the thread:
This one really got to me. Partly because I know she's 100% right, and partly because I would also guess that the men who do this have no idea of the impact they have. Of the force of what they're saying and how they're behaving actually comes across.
There's a part of me that might even have left this subject untouched in this newsletter — honestly, I'm not sure how to handle this subject, being a middle-aged man who has no personal experience with anything like this to draw from. But I think this is something that is too big to just turn our eyes away from.
How we behave toward one another (obviously!) matters. Even in the smallest ways. I'm not sure I got that to the degree that I do now until I saw a pair of replies to what I shared when I woke up this morning.
I can't say it any better than these women are saying it right here:
And this one:
Now, I'm not naive enough to believe that sharing this with you today is the equivalent of waving a magic wand. It won't make what has happened to these women go away. It won't stop something unwanted and uninvited from happening to someone out there right now.
But we owe it to ourselves and the people we love to take seriously what they're saying, to notice the bravery they're showing in sharing this with us and the pain they clearly have felt. It takes tremendous courage just to do what they've done.
For the men out there like me, there's probably no better advice than this blog post I found a couple of years ago, by a writer named James Fell. It's titled "Advice for Men Who Run: Don't Look Back," and it's well worth a read:
"I run in a moderately remote area. It's not uncommon to only see three or four people during a six-mile run. Often, I'll be running and see a lone woman. Sometimes she's even a really attractive woman with a physique I admire. I'm married, not dead.

There is no one else around. It's just her, the path, and me. And while what's going through my head is "hot," what's going through her head is likely something very different.

Like maybe, I hope this guy isn't a creep or a rapist or a murderer. Or a creepy raping murderer.

There are women who cannot help but view me as a threat. Think this isn't real? Think the fear is irrational? That article again.

So I give her the exact same treatment I give every other runner I see: the runner's wave. Two fingers jutted out to the side for half a second. Some return it. Some smile. Some don't notice. It doesn't matter. I wave to everyone with zero expectation of acknowledgement. If anyone, regardless of gender, age or appearance, has an especially cute dog I might say, "Nice dog," but I never break stride.

But with a woman, after we pass each other, even if she has an ass that I imagine was chiseled by Michelangelo, I Will. Not. Look. Back.

I won't look back, because she probably is. She is alone in a remote area passing a guy she doesn't know, and she's probably going to look back to make sure I didn't turn around. The only thing she wants to see is my rapidly disappearing back. She's not checking out my ass; she's trying to stay safe.

But if she turns around and sees me looking back, I might feel a little sheepish for getting busted for checking her out, but imagine what she feels.

I don't have to imagine. I talked to several women about it. It creeps the shit out of them. It goes way beyond rude. Because of the circumstances, it's often viewed as a threat. They are legitimately worried about being attacked. Seeing that I'm focused on nothing other than running further away is comforting to her.
I strongly encourage you to read the whole post, and I'd love to know what you think — I honestly and sincerely do.
Thanks so much for reading again this week, my friends. You are all seriously the best readers and subscribers in the whole wide world. (I mean it.)
As always, keep in touch and let me know how your running is going — and have a great rest of your week!
Your friend,
— Terrell
---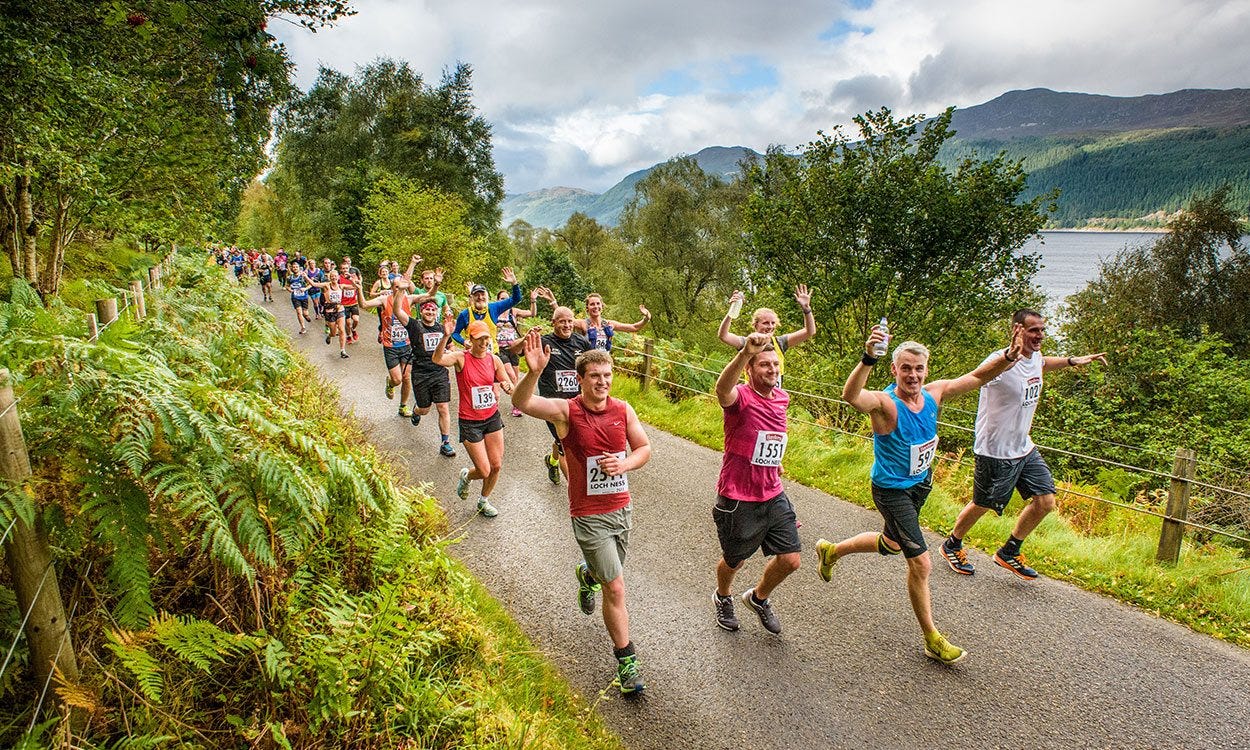 Inverness, Scotland | Sunday, Oct. 6, 2019
Will you see Nessie? "Maybe aye, maybe nae," say the race organizers, who've put together one of the world's best-loved running events. Some 8,000 runners come out each year to run this point-to-point race alongside this freshwater lake in the Scottish Highlands, perhaps to catch a glimpse of the famed Loch Ness Monster, but also to take in the route's stunning views and the friendly, warm, low-key atmosphere described in this Guardian article. It's run at a time of year when summer is giving way to fall, so the leaves are just beginning to turn but the trees are still thick with foliage, and you can see the tops of the mountains that surround the lake off in the distance. The marathon — sorry, there's no half! — follows a downhill descent over the first few miles followed by a long, flat stretch between miles 10 and 18, a few rolling hills over the last few miles and then a finishing stretch along the River Ness.
$71 and up | Sign up here
---
Athens, Greece | Sunday, Nov. 10, 2019
Run the footsteps of Pheidippides — the ancient Greek messenger whose legendary run from Marathon to Athens more than 2,500 years ago was the inspiration for the running event we know today — at this fall race where you'll cross the finish line inside the classic marble Panathenaic Stadium, which dates back to 566 B.C.E. You'll start where Pheidippides started: in the town of Marathon. From there, you'll follow a path that takes you past the tomb of Athenian soldiers who died at the Battle of Marathon in 490 B.C.E. and then through a series of towns and villages on the way to Athens, making one of the toughest marathon climbs in the world between roughly the 10K and 30K markers. The final few miles are mostly downhill as you run into the city of Athens, where you'll finish where Pheidippides did (and where the competitors in the 2004 Athens Olympic Games crossed the finish line).
$112 and up | Sign up here
---
Tucson, Ariz. | Sunday, Nov. 10, 2019
A run through one of the most beautiful desert landscapes in the American Southwest (and coincidentally, a place I just visited a couple of weeks ago). You'll start and finish this race surrounded by saguaro cacti in Tucson Mountain Park, whose 20,000 acres are filled with more than 60 miles of trails and where you'll get to see mountains off in the distance above the desert, with nothing but a ribbon of highway running through it. Get there by driving south from Tucson past Saguaro National Park and over Gates Pass; the race unfolds past the Arizona Sonoran Desert Museum and features "many hills and steady grades, but that means there are fast downhills, too," organizers say.
$72 and up | Sign up here
---
Rhinebeck, N.Y. | Sunday, Oct. 13, 2019
Timed to start just weeks before — and serve as the perfect tune-up run for — November's New York City Marathon, this race unfolds along the streets and country roads of this small village in New York's Hudson River Valley, when the leaves are turning bright gold, orange and red. The early and middle miles of the half feature some of its most scenic terrain, as they'll take you along the banks of the Hudson River (or within shouting distance of it). You'll also get to sleep in a little more than you do at most races — this one has a 10:00 a.m. start time.
$70 and up | Sign up here
---
Bethlehem, Pa. | Sunday, Oct. 20, 2019
Run in the home of the bible of running, where in past years participants have had the chance to meet and hear talks from many of the magazine's biggest names, from Amby Burfoot and Bart Yasso to Marc Parent and Ultramarathon Man author Dean Karnazes. From the starting line in downtown Bethlehem (the magazine is headquartered in nearby Easton, Pa.), the course crosses over the Lehigh River and onto the South Bethlehem Greenway biking, walking and running trail, and later through the campus of Lehigh University. If you're not up for 13.1 miles — and the folks at Runner's World say it's a challenging course — the weekend also offers a 10K, 5K and 3.8-mile trail run.
$97 and up | Sign up here
---
A song to run to today
"Powerless (Say What You Want)" from the album Folklore by Nelly Furtado.
Want to hear all the songs we include in our newsletters? Listen to the full playlist on Spotify here.
---
Words of wisdom
"As every runner knows, running is about more than just putting one foot in front of the other; it is about our lifestyle and who we are." — Joan Benoit Samuelson
---
Get what you're missing
Do this every day with us — sign up for your full subscription right here: