We have a special guest this week: Author Susan Lacke
Her stories of running unusual (to say the least!) races in Arizona, Colorado, New York City and Utah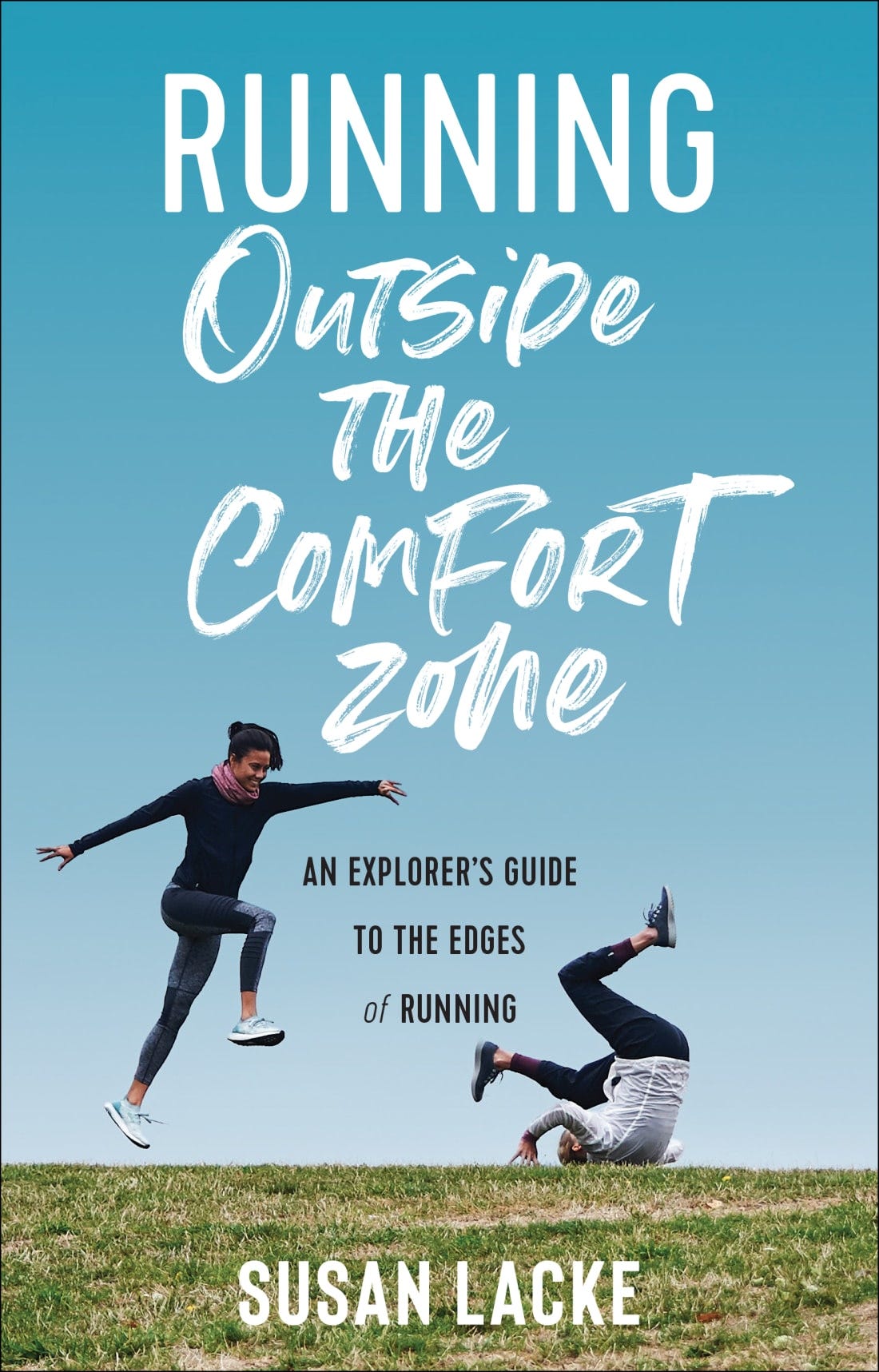 "We're not born running up mountains. Most of us don't even figure out we're capable of such a feat until later in life. Along the way, we make a lot of mistakes. Some of us even hit rock bottom. And then we pick ourselves up, dust off the dirt, and start climbing — sometimes literally. Running is a transformative experience in mind, body and spirit for so many. It helps us face inner demons and shush the naysayers — especially when those naysayers are ourselves." — Susan Lacke
Hello my brothers and sisters in running!
I hope you're all having a great Wednesday and got out to enjoy a run this morning, especially if you're experiencing some of the unusually cool July weather that a lot of the country is getting.
This week marks a bit of a departure for us in that I've invited a special guest to join us for our live discussion this week, coming up this Friday, July 26 — Susan Lacke, an endurance sports writer, runner and professor, and the author of the recently published Running Outside the Comfort Zone: An Explorer's Guide to the Edges of Running.
At the start of the book, Lacke shares what got her into running — a self-described "overweight, alcoholic chain smoker," she experienced a epiphany that led her to become a runner, triathlete and fitness journalist, but also one who has never been able to shake the feeling of not being a "real" runner or athlete.
That's because she doesn't have the body type most of us associate with someone who runs for a living — she's far from the no-body-fat size-zero model stereotype common among the runners you see scrolling by on your social media feed. So when Lacke meets fans of her work at races, she often gets quizzical looks:
"Despite being an endurance athlete, just plugging along, trying to climb the mountain as best I can, I'm not your typical endurance athlete. I don't fit the mold for what most people expect from someone who writes about running for a living. Don't get me wrong — I love every square inch of my body. But I also loved baked goods, and it shows. No matter how much I run, six-pack abs elude me, and my thighs are so curvaceous, so very sexy, they can't stop touching each other. I'm also not very fast. I've written articles about how to get faster, and yet my personal records, or PRs, are unimpressive. At best, I'm a middle-of-the-pack runner. Most days, I'm somewhere in the back."
I've been a fan of hers ever since her first book from a couple of years ago — 2017's Life's Too Short to Go So F*cking Slow, which tells the story of her unlikely friendship with her boss and mentor Carlos Nunez, whom she met on first day on the job as a college teacher.
Here's how she describes the meeting in this interview with famed running coach Mario Fraioli, who recruited her to write for Competitor Magazine:
How—and why—did you get into endurance sports?

Believe it or not, it was a Marlboro Light.

I was smoking outside my office one day when my boss sat down next to me. He asked me for a drag of my cigarette, which was completely shocking, since he had a reputation for being a health nut — the kind of guy who snuck out between classes and meetings to go swim laps in the campus pool. Still, I handed him my cigarette as I watched him take it between his fingers and stub it out in the ashtray. He was convinced I needed a better outlet for my stress than smoking, so he invited me to swim laps with him in the campus pool. I wasn't on board, mind you, but he was my boss and it was my first job. I didn't know how to say no to the guy who signed my paycheck. So…I swam with him the next day, and the next, and the next. It eventually progressed to running and triathlon.
The whole interview is worth reading, not least because you get a sense of Lacke's enthusiastic (and no-B.S.!) personality, but also because you get an insight into the impact a single person can have on each of our lives for the better:
I think that's why it worked — there was never any expectation that I was going to overhaul my life. Carlos just invited me to go for a swim. He didn't need to be overbearing or critical of my unhealthy habits — he just needed to plant the seed that maybe there was a different way.

… At some point, I took a look in the mirror, and I didn't like what I saw. I needed to change, but I wasn't sure how. I just kind of flailed around, knowing I should change but not wanting to actually do the hard work to make change happen. Carlos was full of tough love and persistent as hell, saying that training for a 5K was just the ticket to a better life. I thought he was full of shit.

Spoiler alert: Carlos was not full of shit.
Even though it's only online in our live chat, I think you'll love meeting and talking with Lacke this Friday. She's traveled the world to run in almost every kind of race you can imagine — I highlight a few of the races she ran and discusses in her new book below — so she can answer any question you have, no matter how crazy or silly you think it is.
See you this Friday, July 26 at 10:00 a.m. ET in the live chat! (As always, I'll send everyone out an email when we're ready to get started.)
In the meantime, you can buy the book on Amazon here, Barnes & Noble here, and VeloPress here.
Let me know what's up with you and how your running is going — and any ideas you have for future live discussions.
Your friend,
— Terrell
---
Park City, Utah | June
Ready for an almost completely vertical climb of more than 1,300 feet up the towering ski jump run used at the 2002 Winter Olympics? Oh, and you'll start the climb at just over 6,900 feet above sea level, sprinting up the runway where skiers zoom down in the winter (though it will be fitted with ropes for you to hold onto as you climb). At first, the "race" isn't so tough, as it's flatter at the bottom of the run; that quickly changes when you hit the steep wall and start climbing as fast as you can to the top. Surprisingly, Lacke says, you get there faster than you think you will — but organizers place oxygen tanks and barf bags out along the climb, just in case you need them.
TBA for 2020
---
Faust, Utah | Friday, Oct. 18, 2019
"VERY remote" is how the organizers of this ultra describe the route, which winds its way along 100 percent dirt roads on the historic Pony Express Trail out in Utah's Tooele County, roughly 63 miles southwest of Salt Lake City. You can choose between the 50-miler or the 100-miler — both of which they say are excellent for first-time runners of either distance — but it's a small one too, as it draws a couple dozen runners each fall. On their website, the organizers add: "Among all the 100-mile races held in 2010, this race had the highest age finishing average, so this race is also elderly friendly for those of us getting on in years who want to finish another 100-miler before the grim reaper arrives."
$100 for 50-mile, $150 for 100-mile | Sign up here
---
Glendale, Ariz. | Saturday, Dec. 28, 2019 - Tuesday, Jan. 7, 2020
Are you ready for 10 days of running? If you have the time to spare and are up for the challenge, you too can take part in this event that's achieved legendary status among Phoenix runners, where you can run as many miles as you want, at any speed you want. There's a marathon challenge — run 10 marathons in 10 days — and an ultramarathon challenge to go with it; there are also 72-hour, 48-hour, 24-hour, 12-hour and 6-hour races; and even a "Last Person Standing" event that's exactly what it sounds like. All races start from Glendale's Camelback Ranch baseball spring training facility, at a time of year when temperatures average between the upper 30s and the mid 60s.
$70.98 and up | Sign up here
---
New York, N.Y. | May
Eighty-six flights of thigh-burning, lung-busting stairs. From bottom to top, that's 1,576 individual stairs by the time you reach the observation deck on the 86th floor. But for (some) people who've run this race, the first and most famous of the world's skyscraper climb races, the exhilaration can't be matched. More than 5,000 people apply for the event's 500 spots every year, so it's definitely "a thing" that's carved out its own special place. In fact, there's even a Tower Running World Association devoted to athletes who take on challenges like Empire State's in skyscrapers around the world.
TBA for 2020
---
Nederland, Colo. | March 2020
You and five of your friends (the "pallbearers") build a coffin, put one of your friends in it, and carry it through an obstacle course that'll have plenty of mud and snow. You all have to wear helmets, but you don't need to put a top on your "coffin," organizers say: "No top is necessary or required and is in fact discouraged." You can make your coffin out of anything — wood, cardboard, metal, etc. — but the person inside the coffin must weight at least 75 pounds. Here's the kicker: it's not the only coffin race around. The Emma Crawford Memorial Coffin Races got their start in the early 1990s in Manitou Springs, Colo., when local officials decided it was time to put the "fun" back in funeral. And here we are today. :)
TBA | Sign up here
---
A song to run to today
"September" from the album September by Earth, Wind & Fire.
Want to hear all the songs we include in our newsletters? Listen to the full playlist on Spotify here.
---
Get more from your subscription
Sign up for the full subscriber experience and get more in-depth stories about races, the mental and emotional side of running, race discounts and more like these: