Tuning in (and out) to yourself on the run
How Amelia Boone uses associative — and dis-associative — running, and how you can too; In-person races you can run in Arizona, Bermuda, Mississippi, Texas + Utah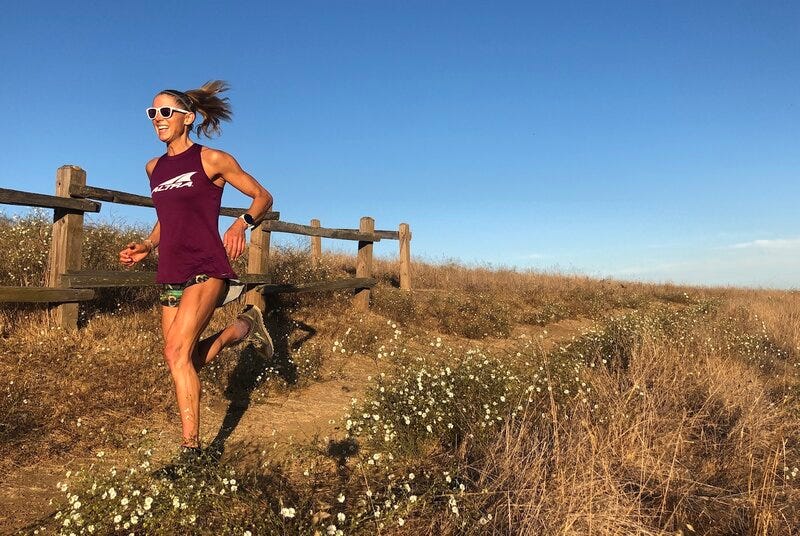 This week, Amanda Loudin, a friend of The Half Marathoner who's written widely on running, fitness and health for Runner's World, ESPN and Outside Magazine, turns her attention to the differences between associative and dis-associative running, what they are, and how we can benefit from each. I'd love to know what you think too. 👍 — Terrell
---
When world-champion obstacle racer Amelia Boone heads out for her runs these days, they look different than they did just a few years ago.
Back then, coming off a string of stress fractures, she was hyper-focused on every message her body gave her — "What did that small pain mean? Is this pace okay? Should I back off?" she asked herself as she moved along through the miles.
Today on most runs — like the one shown in the photo above — Boone makes a strong effort to look outward, to notice the scenery, high-five other runners (pre-pandemic) and let her mind wander.
The first method is a good example of associative running. The second, dis-associative. Tuning in versus tuning out. Both are valid approaches to running and both serve a purpose. Most runners use a little bit of both, but it can be worthwhile to hone each type of running and use them at the right time.
Boone is a good example of mastering both methods, as are most elites. But it takes work, as she will tell you.
"After my injuries, I became a strong associative runner because I thought it was important to focus on how I was feeling instead of just ignoring pain and finishing runs," she says. "But I became so in tune with my body that I was overthinking every step and driving myself crazy."
Tuning in vs. tuning out
Since this realization, she's made a concerted effort to learn how to dis-associate, too. "Right now, I think I've struck a good balance between the two," she says. "There's definitely a place for both."
She's right, says Adrienne Langelier, a sports psychology consultant based in Texas. "Which is best?" she asks. "It depends on the runner and depends on the situation."
Before you can begin to work on your skill set in this regard, it's important to understand what associative and dis-associative running are, exactly, and the variations of both.
"If you're internally associating, you're focused mostly on what the body is doing and feeling," explains Langelier. "So paying attention to breathing, foot strike, muscle tension, and other sensory data."
External association might be taking a look at your watch to check pace, using mile markers on a race course to calculate the job you're doing, or looking at your heart rate. These approaches are most commonly put in place by sub-elites on down, says Langelier.
Honing your skills
Dis-associative running, on the other hand, often involves distraction techniques, like looking at the scenery, listening to music or podcasts, conversations with friends and the like.
Another form is letting your mind wander or in a race, listening to the cheers of the crowd or connecting with other athletes.
With an understanding of both methods, you can use them at various points in your training, depending on your goals and the situation.
A 5K, for instance, is the perfect spot to associate and tune in because it's generally a hard effort for a shorter period of time. A long or easy run, on the other hand, can be conducive to dis-association.
Tracy Green, a 35-year old public relations professional from Louisville, KY, likes to dis-associate on easy runs. "I don't run with headphones outdoors, but this might translate to daydreaming or chatting with friends or running a familiar route so that I don't have to think about where I'm going," she says.
When it comes to racing, however, Green is skilled at tuning in. The 2:57-marathoner says that associating helps her "keep my foot on the gas." When she finds her mind wandering, she brings it back to center and reminds herself to "stay in it."
Green says that reaching the point of knowing how to associate came with practice. "I do most of my workouts solo and it's easy to check out mentally, so I work on associating," she says. "I tune into my respiration, heart rate and cadence, but do it while simultaneously picturing a race scenario."
Mixing it up
Ashley Hamer, a 35-year old managing editor from Chicago, does a bit of both types of running, and enjoys the opportunities to dis-associate. "I find that when I'm out there, I think about my day and things on my mind," she says. "I might work through a project, for instance, and before I know it, three miles have passed."
On race day, however, Hamer likes to tune in as much as she can. "Ideally I focus the whole time, but if it's a marathon, there are times where I dis-associate," she explains.
This is a valid approach, says Langelier.
"In a longer effort, you're going to want both strategies," she says. "You'll need to shift your attention in and out. For instance, if you hit a rough spot emotionally, it can be useful to tune outward and dis-associate. Then bring it back in after the moment has passed."
For most people, learning to associate is tougher than dis-associating, which comes more naturally. To sharpen your associative skills, Langelier suggests:
Check in with yourself during your runs

Be reasonable and know that it doesn't have to be 100 percent of the time

Pick one or two strategies to focus on — e.g., arm swing or cadence

Leave the distractions behind (especially your phone!) and be an observer of your body
At the end of the day, says Langelier, don't think of either strategy as superior.
"Each has its place," she says. "Know what you want to get out of the experience each time you run, and then apply that strategy."
— Amanda
---
Posts for members
The Half Marathoner exists thanks entirely to our paid members, who help support the amazing writing by Amanda, Carissa, Hollie (and sometimes me!).
We've also formed a virtual running group that "meets" three times a week to chat, cheer each other on, and follow a group training plan — tap/click this button to join us!
---
Races you might love running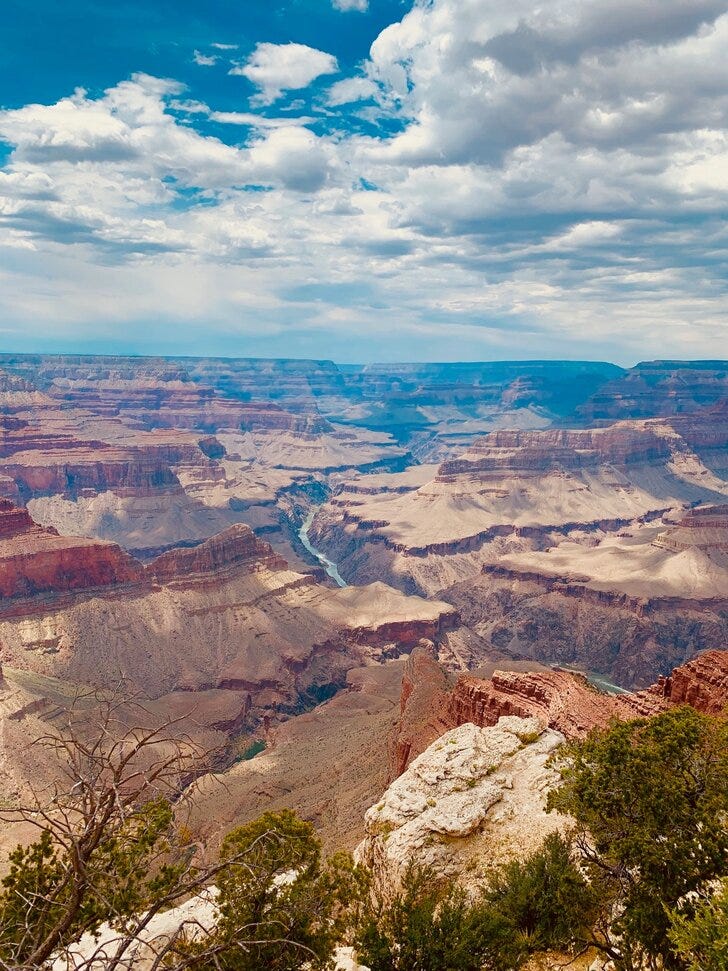 Tusayan, Ariz. | Saturday, Nov. 7, 2020
Both runners and walkers are welcome at this race, which is run in this small resort town about six miles south of the South Rim of the Grand Canyon, just outside the park's entrance. You'll run along the trails of the Kaibab National Forest, which spans some 1.6 million acres across northern Arizona and is filled with Ponderosa pine trees and hundreds of miles of trails, which you'll run through at about 6,600 feet above sea level. This fall's race will be open to just 300 entrants — so don't dilly-dally if you're interested.
$75 and up | Sign up here
👉 Save 10% off the entry fee with the discount code TJ10
---
Spicewood, Texas | Saturday, Dec. 12, 2020
Filled with scenic farmland, vineyards and rural country roads, this race offers up challenging hills and panoramic views of the farmland here in this corner of the Texas Hill Country, just a short drive from nearby Austin. From the starting line at Spicewood Vineyards, the race unfolds along the scenic farm roads of Burnet County and features "two monster hills" around the middle of the race. (And if you're not up for 13.1 miles, the race also hosts a 10K and 5K.)
$90 and up | Sign up here
---
Gulfport, Miss. | Sunday, Dec. 13, 2020
Take in the white sand beaches, salt air and the sun rising over the water (the race starts just after sunrise) as well as plentiful trees and gardens along the route, which runs into the streets of Biloxi by the time you reach the final few miles. You'll run along the shoreline of the Gulf of Mexico between Pass Christian and Biloxi, along a fast and flat route with plentiful views of the ocean throughout and gorgeous historic homes.
$95 and up | Sign up here
---
Hamilton, Bermuda | Sunday, Jan. 17, 2021
The stylish storefronts of Front Street in Bermuda's capital city start you off for this mid-winter race — at which you're likely to feel temperatures that hover around 70 degrees — but then the course quickly moves you into neighborhoods filled with lush island trees and plants, white-colored roofs that sit atop pastel-colored homes, and the warm, friendly smiles of Bermudians camped out along the route. This race was my first-ever marathon many years ago, and the course today remains the same — the half marathon follows a single loop that starts and finishes in Hamilton, and tours the southern and northern coasts of the island. 
$190 and up | Sign up here
---
Santa Clara, Utah | Saturday, Jan. 30, 2021
Perhaps best known for the dramatic natural landscapes of nearby Snow Canyon State Park — whose tall, red rock bluffs tower over the surrounding desert — this half marathon follows a mostly downhill route along Old Highway 91 that starts just south of Utah's Gunlock Reservoir and finishes in Santa Clara, a suburb of nearby St. George. You'll get to take in stunning views of southwestern Utah's canyons, red rock formations and the Santa Clara River as you run, along a course that drops about 480 feet from the starting line (about 3,388 feet) to the finish line (about 2,907 feet).
$75 and up | Sign up here
---
San Antonio, Texas | Sunday, Feb. 7, 2021
Starting a race inside a cave? That's exactly what you'll do at this unique (to say the least!) race on the grounds of Natural Bridge Caverns, which lies next to the Natural Bridge Wildlife Ranch just outside San Antonio. The race's organizers start each runner off every 8 to 15 seconds with a run through the limestone cavern, where it's 70 degrees year-round. Then you'll head above ground for a looping trail run around the park, including a brief stretch past the drive-through wildlife park.
$90 and up | Sign up here
---
Great running reads
Eliud Kipchoge Emerges As the Philosopher-King of Running. An adoring profile of how the man who has become arguably the world's greatest marathoner started from nothing, in a village of roughly 3,000 in Kenya. His exceptional mind has been the key to his success, he says, especially during his quest last fall to break the two-hour barrier in the marathon in Vienna, which drew more than 120,000 people out onto the streets.
"The reason for running 1:59 is not the performance. The reason to run 1:59 is to tell that farmer that he is not limited; that teacher that she can produce good results in school; that engineer… that he can go to another project."
To Improve Your Running, Try These 6 Hip Exercises. An excellent primer on exercises to try that will improve your hip muscle strength, with video breaking down how to do each exercise.
"You can lose a lot of power if you have weak hips."
How to Stay Sane, Positive and Healthy Amid This Uncertainty. On the importance of keeping up a running habit, especially one that gets you outside in nature regularly. And on why running to feel good should take precedence over trying to achieve a major speed or distance goal right now. Really good food for thought.
"All this ruminating is zapping our energy and enthusiasm. Speculation won't make us feel any happier; in fact it is stealing too much of our time right now. Instead let's put our energy into something that will help us feel better, something we have control over."
---
Words to run by
"Keep chasing the things in your heart, even in the midst of disappointment and uncertainty. It's worth it ❤️

"This sport has broken my heart a hundred times. This pandemic year has been hard on all of us. But if you're resilient, if you 'forget what is behind and strain towards what's ahead' — eventually, preparation will meet opportunity."

— Sara Hall