These Saudi women runners have a lot to teach us
Plus 16 scenic fall half marathons for $60 or less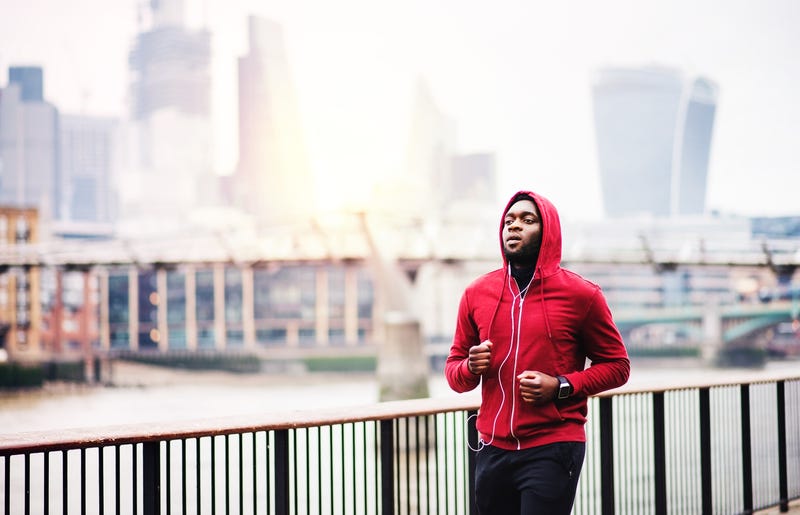 "If you are losing faith in human nature, go out and watch a marathon." — Kathrine Switzer
Sometimes there are stories from my own life that I like to share, and sometimes there are stories I come across that have nothing to do with me, but are too good not to share.
This one, by Michelle Hamilton of Runner's World, is one of those stories. "Defying a Cultural Taboo, Saudi Women Are Running — And They're Not Going to Stop" describes the world Hamilton found after spending three weeks in Saudi Arabia earlier this year.
She spent time talking with and running with Saudi women in the cities of Jeddah, Riyadh and Khobar, where the government's removal of the restriction on women driving a few years ago has ushered in less-noticed — but, for their country, just as radical — changes in what women can do and become.
The article opens with the story of Nesreen Ghonaim, a 43-year-old who heads up the Jeddah Running Collective, a running club in the Red Sea port city just for women, which got its start in 2013.
Back then, it stood alone as the only running group anywhere in the country to admit women. Now, they're popping up in cities across the Arabian peninsula.
The photo that leads the story captures so well the story of a nation in transition: Ms. Ghoniam, clad in her traditional abaya robe, while wearing a smartwatch, running tights and Nike Air Zoom Pegasus running shoes.
"The story is about more than running," Nesreen says. "When you run, you search for yourself, find yourself, improve yourself." She believes this is what's happening to the Saudi people, and by extension, their country. "Running is learning you can do more and be more," she says, "and it has no gender."
I could go on and on about this story — from the lengths that the women who join the running clubs go to in order to pursue the hobby they love, and the dedication they show both to the sport and to one another.
Just to look at the smiles in the photographs, the expression on their faces of the exhilaration they feel at being able to get out and run — and enjoy being human — is a thrill.
(At just over 5,000 words, the story is a long one, so set aside some time when you're ready to read it. But it's definitely worth it.)
Hope all is well in your world and your running is going well — as always keep in touch and let me know what's new with you and your training, and any races you' have coming up.
Your friend,
— Terrell
---
Get More
Not getting our paid newsletters? Here's what you'll get when you sign up:
Extra weekly emails on the mental and emotional side of running

Special inside looks at races across the country

Subscriber forum with discussion on running, training, races, and much more

Race discounts
Try us at $5/month, or sign up for a full year for $50.
---
Run some of the most beautiful places in America — from the mountains of Utah to downhill stretches in the Ozarks of Arkansas to the streets of New York City — at these half marathons with very reasonable entrance fees this fall.
---
Not only is it physically hard, but it also is mentally challenging too. When we stop doing anything for a while, coming back can be a challenge in itself. Here are a few ways to make coming back more enjoyable.
---
If you have been running for any length of time, chances are you've come across one — or several — of these injuries. Often times, it's how you respond to an injury in the first few days or week that matters most.
---
Running a marathon is not just an exercise of the body. It is arguably just as much exercise of the mind.
---
Though forecasts are still not 100% accurate, we at least live in an era that it is possible to be prepared for weather conditions during a training run or race. If your next run involves rain, here's how to stay comfortable.
---
In Case You Missed It
Run through some of the country's scary places as well as races where you can dress up in any costume you want — because anything goes at Halloween, right?
"Whether it is a stroll on a sunny day, walking to and from work, or walking down to the local shops, the act of putting one foot in front of the other in a rhythmic manner is as much human nature as breathing, thinking and loving."
— A really great piece by one of my favorite writers on fitness and health, Outside's Brad Stulberg, gets to the heart of why we're born to stroll, and why walking is something our species is uniquely adapted to do. Compared to many other forms of exercise, it's easier to do it consistently — which is much more important over the long term than intensity of effort.
"The key difference between running and walking is how many calories you are burning — not per mile, but per minute of exercise."
— Interesting look at the benefits of both in this Consumer Reports article, which offers another reminder to look at the time spent exercising rather than the distance we're running/walking as the right measure of the benefit we're getting, something that Runner's World magazine's Amby Burfoot emphasizes in his recent book, "Run Forever."
"It has this strange ability to really clear my head — it brings a serenity that I rarely experience having lived with mental illness for so long. My anxieties disappear and I'm not worrying about what I should be doing or thinking. It just goes blissfully quiet."
— This great first-person piece by a British nurse in the Huffington Post mirrors many of the reasons I've found running to be such a blessing in my own life, thanks to the way it can de-stress my body at the end of a workday, or just set me up for a better mental outlook when I run at the start of the day.
With 50 miles on the first day followed by a 50K the second day, the chances of me actually running this race one day are, ahem, low — both days combined feature some 8,000 feet of elevation gain! But this video of runners competing in this February's race on Outside Magazine's site is fun to watch. ;)