The secret to running isn't speed or stamina
Plus 6 scenic (and affordable) halfs this summer + fall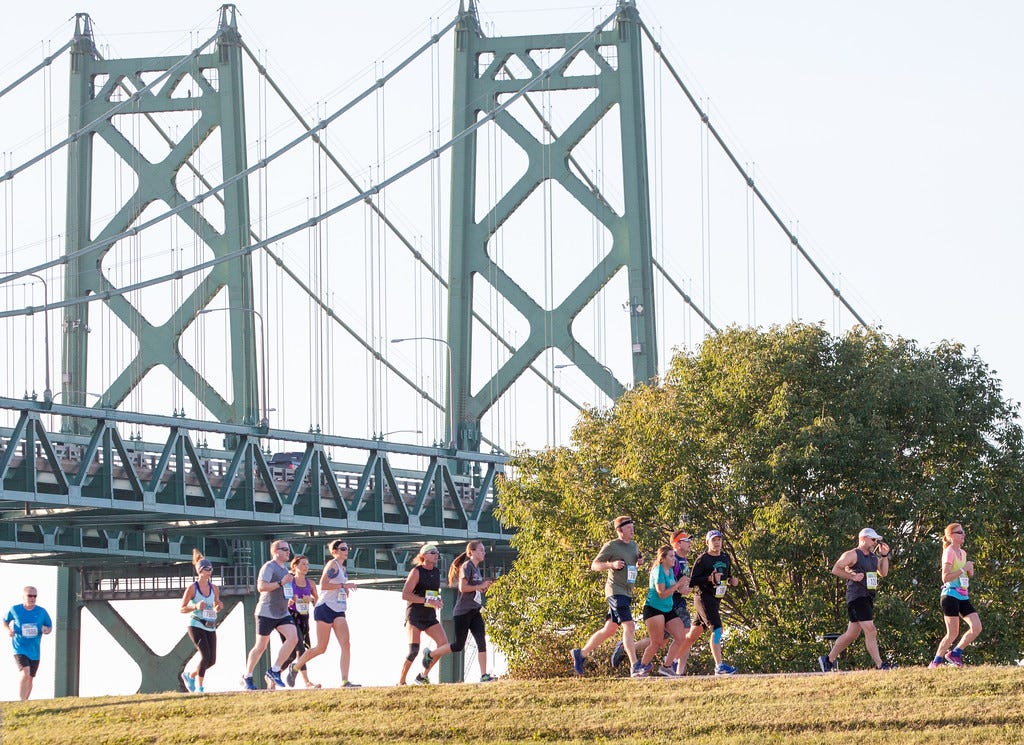 "The secret to running isn't speed or stamina. It's progression. Whether you're starting out or training for a new distance, the important matrix isn't time or pace, but improvement. Even if you're just goofing off and having fun, running for no one but yourself, even if you don't care about results, if you pay attention, if you stay devoted, you'll see improvements." — Katie Arnold
The words above, from one of the early chapters in ultra runner and author Katie Arnold's new memoir Running Home, have resonated with me in a big way as I've been reading her book these past few weeks.
They remind me that, even though we live in a world that's obsessed with competition and goals — and that seems to prod us constantly with messages to "crush my goals," if the emails I get from a certain running magazine are any indication — that doesn't mean we're obligated to follow suit.
Each of us has only the body that God and nature gave us. While I'm sure it's an amazing feeling to run at an elite level, there are so many more of us for whom simply completing a training season and getting to the starting line of a race is a huge accomplishment.
In a previous life as a freelance writer, I had the chance once to interview the PGA Tour golfer Stewart Cink. This was in the mid-2000s, when Cink was among the leaders every week on tour and his 2009 victory at the Open Championship was still ahead of him.
Already performing at a high level in his career, Cink shared with me that one of his biggest challenges was, ironically enough, keeping himself challenged. That because he'd achieved a level of success most golfers can only dream about, it would be very easy to coast along.
But he knew that if he allowed himself to do that, he'd become bored. So what kept him going was to keep trying to get "just a little bit better" all the time, to keep raising the level of his own game — and not to get sucked into trying to catch up to Tiger Woods, whose game back then far and away surpassed every other player's.
That's advice I try to keep at the front of mind with my running and with lots of other things. Because I have only my own legs and my own heart and lungs and soul and spirit. And I want to help them get just a little bit better every day too.
Lin-Manuel Miranda, the genius behind "Hamilton," said it even better:
I hope all is well with you and you're having an amazing week, as always getting some great runs in. Let me know what's new with you and your training, and any new adventures you have ahead of you!
Your friend,
— Terrell
P.S.: Pardon the plug, but if you haven't already, I hope you'll consider upgrading your subscription to the full experience — and get more from us every day, with special issues on the weekend. Thanks!
---
Wadsworth, Ohio | Friday, June 21, 2019
Run through the home of the world's largest matchstick — celebrated at this small Ohio town's annual Blue Tip Festival, which commemorates the company that was once its biggest employer and ambassador to the world. The festival starts with the Tuesday lighting of a 20-ft.-tall matchstick, which stays lit through the weekend, culminating in the Friday running events that take you on a run through Wadsworth's parks, neighborhoods and downtown. Along the way, you'll run through the property of the historic Ohio Match Company and along sections of the Wadsworth Trail.
$35 - $55 | Sign up here
---
Georgetown, Colo. | Saturday, Aug. 10, 2019
A high-altitude half that's all downhill through Colorado's Clear Creek Valley, starting up in the Rocky Mountains just west of Denver at about 8,500 feet above sea level. From there, you'll follow a point-to-point route to the tiny nearby town of Idaho Springs (population 1,782), descending about 1,000 feet by the time you reach the finish line. Along the way, you'll take in breathtaking views of the mountains, streams, forests and valleys in all directions.
$85 and up | Sign up here
---
East Providence, R.I. | Sunday, Aug. 11, 2019
A smaller, low-key race that unfolds largely along the Providence River, especially in the second half of the race. Much of the race is run largely fast and flat terrain on both roads and bike paths, with gorgeous views of Narragansett Bay and the neighborhoods of this city throughout. You'll run all the way to where the lighthouse once stood at the end of Bullock Point, and later cross the finish line inside the stadium at Pierce Field.
$45 and up | Sign up here
---
Moline, Ill. | Sunday, Sept. 22, 2019
You'll run through two states at this gorgeous race along the stretch of the Mississippi River that separates Illinois from Iowa, where you'll get to take in big, expansive views from its banks and take a run through Arsenal Island, which sits in the middle of the river. While the race starts and finishes in Moline, you'll actually spend the majority of the half marathon route in the state of Iowa, running along the riverfront between the villages of Bettendorf and Davenport. You'll also make a pair of bridge crossings over the Mississippi, including a run over the Arsenal Bridge in the second half.
$50 and up | Sign up here
---
Richfield, Utah | Saturday, Sept. 28, 2019
Ready for a run through Utah's canyon country? You'll make your way through a place called "Panoramaland" for its stunning scenery of red rock formations, canyons and mountains, and which lies within short driving distance of several national parks and monuments, including Capitol Reef National Park (just over an hour's drive away) and Canyonlands National Park three hours away. You'll need to be ready for some challenging technical trails when you sign up for this race, and the terrain itself is also challenging, ranging from packed dirt and clay to some rock obstacles that you'll have to climb and get over and around.
$60 and up | Sign up here
---
Whitefish, Mont. | Sunday, Oct. 6, 2019
Run along the rugged single-track trails that wind through the forests just west of Whitefish Lake in the Beaver Lakes Trail Area, near the Whitefish Mountain ski resort and Glacier National Park off to the east. The course runs under the cover of towering trees much of the way, and you'll need to be ready for some high elevations, as the trails for the half range from about 3,280 feet to about 3,700 feet above sea level. Expect a total elevation gain over the course of the half of about 2,250 feet, organizers say.
$55 and up | Sign up here
---
A song to run to today
"Airline to Heaven" from the album Mermaid Avenue Vol. II by Wilco & Billy Bragg.
---
What subscribers get
Here's what our full subscribers are reading:
Get these and more here: