Discover more from The Half Marathoner
A running newsletter that isn't (just) about running
Over 42,000 subscribers
The Running Group That's Trying to Make the World a Better Place
Plus 5 races and running challenges we think you'll love — virtual and in-person (yes, they're slowly coming back)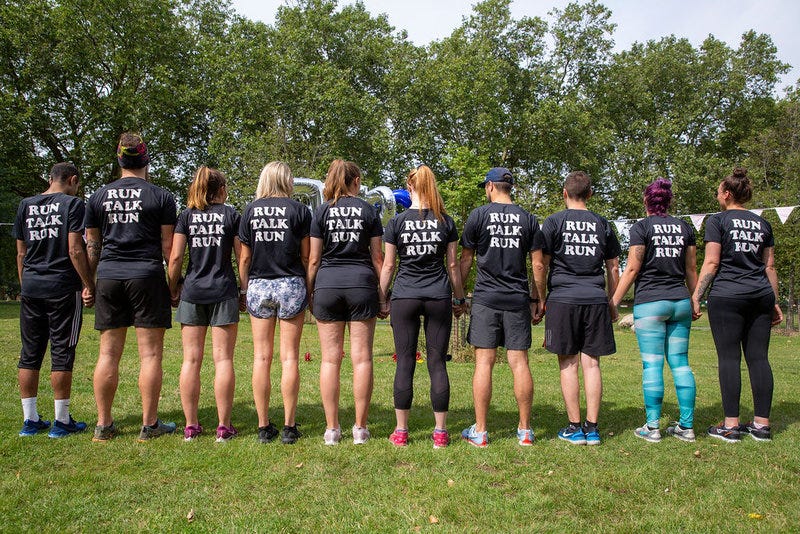 Editor's note: This week's essay is by Laura Dattaro, a longtime friend of mine who ran her first half marathon a couple years ago and has written for us previously, about Sasha Wolff's Still I Run. I'm particularly interested in all the running groups and communities I'm learning about lately, so I asked her to talk with Jessica Robson, the head of RunTalkRun, which is among the most interesting. I hope/think you'll agree! — Terrell
---
In 2017, Jessica Robson started RunTalkRun to create a space for people to support each other's struggles with mental health. Through the work of volunteers, the community hosts weekly 5K runs at a gentle pace, allowing runners to do something Robson first discovered for herself: open up to the person running next to them.
I spoke with Robson a few weeks ago about how the group formed, why running helps us get things off our minds, and what it takes to keep the community going.
How did RunTalkRun start?
I created RunTalkRun on the back of my early experience with depression. Essentially I discovered that running allowed me to open up a lot more easily than when I was sat in my therapy sessions. I was receiving formal therapy for my depression and kind of struggled to open up in that environment.
I was going home every weekend and my mom was running with me, and I found that it was a lot easier to share when I had the distraction of running and took away the eye contact and kind of made things less intimidating.
I kind of knew how beneficial it was for myself, and so I was looking at the running groups in London, to see if I could find that same space when I was at home in London, and I didn't find it.
So that's the reason why I set up RunTalkRun in the first instance. It was almost for selfish reasons. I needed that space where I could run and talk and not have the competitive element of running, just for it to be a gentle 5K.
Had you been a runner before this?
I had, yes, but rather inconsistently. I think that since RunTalkRun, my running has been a lot more consistent because not only do I have an obligation to show up for myself but I have an obligation to show up for the runners as well, which in turn helps me.
What would you say is a typical day like for you in managing this group? Is this your full-time job? What kind of things do you have to do to keep the group, well, running?
That's a very good question. It's a lot of different things. I work part-time, so I give RunTalkRuns on part-time hours. Most of what I do is liasing with all of the volunteers. We have over 80 groups now worldwide and there's a lot of volunteers offering up their time to host these runs.
---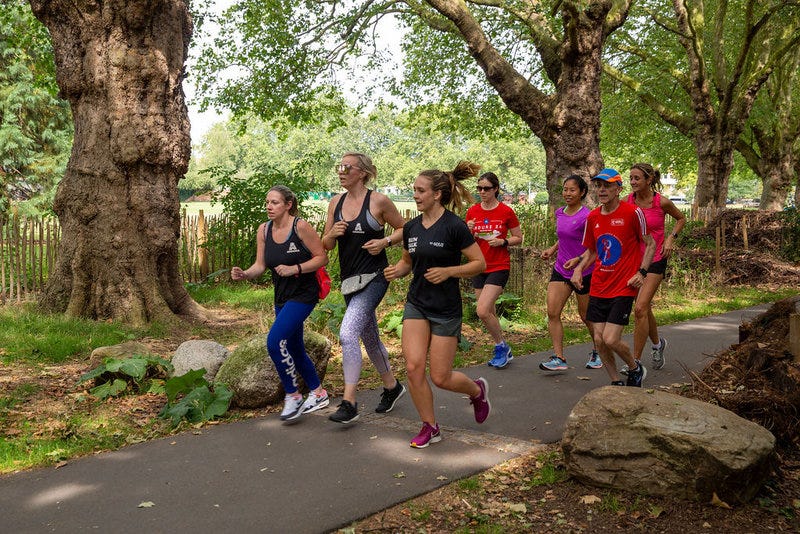 ---
So I support the leaders in setting up their runs, I support the leaders that already have their groups established that need support in the conversations that come up. There is a lot of admin involved, a lot of one-off projects as well, so fundraising, talking to external support networks as well, so other mental health charities. So many different things, I don't know where to begin really.
It sounds like a lot of work.
Yeah. It's varied, but mostly I would say it's liasing with the run leaders and the run attendees, and seeking opportunities for funding growth I suppose.
How often do you run with a RunTalkRun group?
I host a group every Monday in my hometown, which is Eastbourne, England.
What is your part-time job?
At the moment it's completely unrelated to mental health. I work in a children's nursery but I also do a lot of coaching as well, that's part of my income. I coach people who want to set up similar sort of movements, if you like.
What do you think it is about running that makes it easier to open up to other people?
So many elements. I feel like, similar to having perhaps a glass of wine, I lose my inhibitions a little bit when I'm running. I think that is because you're on the same page as the people that you're running with.
When you're side by side with someone, it's almost like you can drop all of your false pretenses. You're not facing someone head on, which means it takes away that feeling of judgment. Everyone's sort of — you take away the sort of social hierarchy in a way when everyone's in their running kit. It's like we're all equals, and that can take away an element of pressure as well.
Then there's the metaphorical benefits, that you're sharing, but you're moving forward, and I think that momentum can help us to sort of just unlock the things that are stagnant in our heads. So your thoughts that feel like they're stuck, I think the movement often helps us to bring that out.
I haven't heard it put quite that way before.
Yeah. It sounds a bit wishy washy and perhaps a little bit hippie, but I know when I'm stuck with my anxiety it can be really hard to articulate what's going on when I'm just sat still with it, but I think that movement helps. I don't exactly know what happens.
Have you heard from other people telling you why they find it beneficial?
With RunTalkRun especially, when we meet we know that we are meeting people who, they might not have had the same experience as us, but they have a level of understanding of how painful living with mental ill health can be. When you're turning up to a space where there is an understanding of that struggle, it makes it a lot easier to share, because you know that these people are going to understand. They're not going to judge you for what it is that you're experiencing. That's the resounding feedback I get from runners, it's like, Oh my gosh, these people, they get me.
I think that's what makes it easier with RunTalkRun especially. Also the consistency as well, the consistency of that support that you can rely on.
---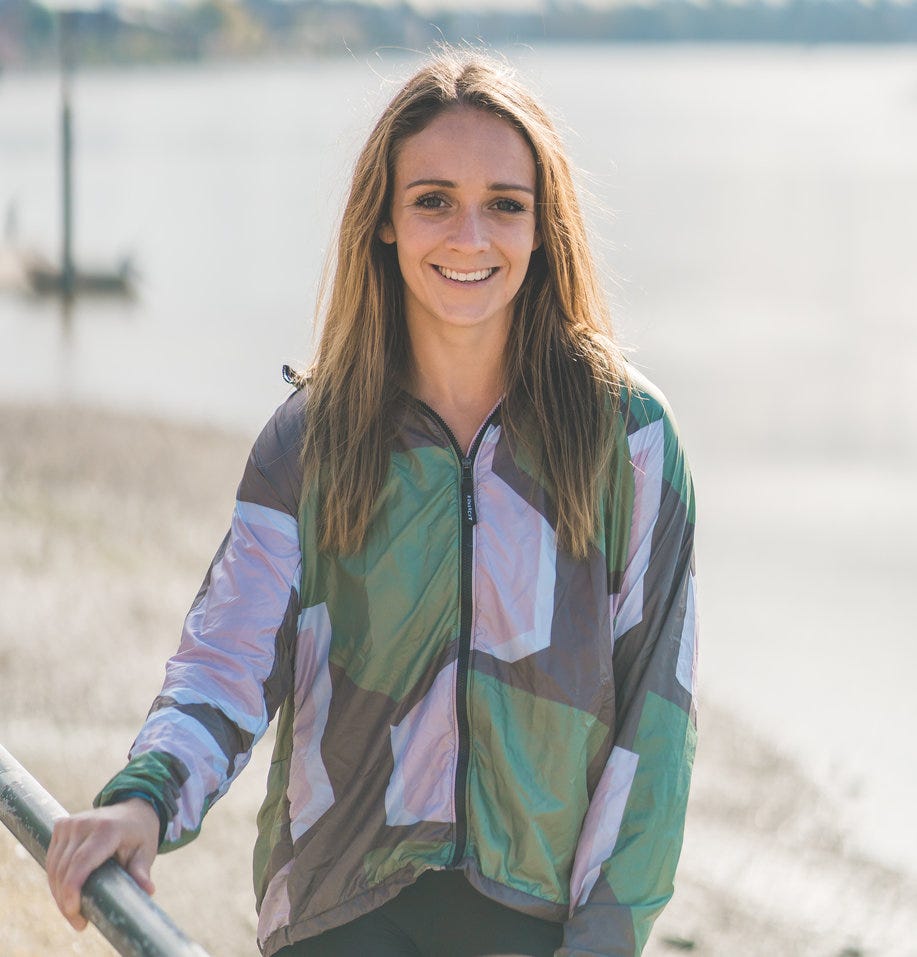 ---
Do you have a favorite piece of running gear?
This is going to sound really quite lame. It's probably my RunTalkRun top, purely because when I'm in it, I feel like I've got the community with me. Even when I'm running by myself, it's like a reminder I'm not really actually running alone, that I do have a whole army of people supporting me. It makes me feel like I'm running as part of something bigger even when I'm running alone.
What's been one of your most memorable moments with running the group so far?
For me, I think it's really hard to pick out key moments, because it's all in the little moments. It's in the times when we're together in silence. I know that sounds silly because we're all about talking. It's about the spaces that we hold for each other and those are the moments that are memorable for me. When I've brought my own struggle to the group and people have held that space for me, that actually sticks out to me more than anything.
There are obviously big moments like when someone has completed their first half-marathon, the pride that they feel in sharing that with the group. There's a lot of big moments too. But for me, it's definitely more about the small connections that are shared.
What do you hope for the group moving forward in the future?
My main goal with RunTalkRun is to make mental health support and running more accessible and less intimidating. I think we need less scary spaces where we can go to talk, so a big part of that for me is creating more RunTalkRuns in more locations so that it does become an accessible space for everyone.
A big part of that is seeking new run leaders and the second drive we're on with RunTalkRun at the moment is how we make it sustainable, so we are seeking sponsorship, seeking partners that will help us make RunTalkRun sustainable financially.
What are some of the costs you have to deal with as a group?
There are no heavy overheads. The runs themselves, they're all free to attend and the volunteers are all offering their time for free. So in terms of overhead it's not a lot.
But in terms of the time that is invested in running the community and supporting the operations of RunTalkRun, that's what the cost is. It's a full-time salary, that's what the cost is, and it's something that I've sort of sacrificed I think with RunTalkRun is not having that salary.
— Laura
What do you think? Are you a part of RunTalkRun and can share your experience, or another running group that helps you? Share your thoughts here:
---
Races you might love running — virtual (and not!)
Durango to Denver, Colo. | June 1 - Aug. 31, 2020
You can run, walk, jog or bike this 486-mile-long, three-month challenge that simulates running the Colorado Trail through the mountains of western Colorado between the cities of Durango (in the state's southwestern corner) and its capital, Denver. Run (or walk or bike) as many miles as you want each day, as long as you complete 486 miles by the time the end of August rolls around — or, combine your miles with up to 5 team members.
$70 | Sign up here
---
Farmville, Va. | Saturday, June 27, 2020
Run along a trail built on top of an old railroad corridor through Farmville's High Bridge Trail State Park at this summertime race, which will also offer a virtual option if you can't be there in-person. It's an afternoon event — the race starts at 5:30 p.m. and you'll have 4 hours to finish the half marathon (and 9 1/2 hours to finish the 50K). "Don't let the fact that this is a relatively flat rail trail fool you," the organizers say. "The weather is a major factor. It will be extremely hot and sunny."
$50 | Sign up here
---
Moab, Utah | Sunday, Oct. 11, 2020
There's a virtual option available for this famous race that runs through the stunning red rock formations of Utah's canyon country, which has been described as one of the most scenic running locations anywhere in the U.S. You can add your name to the waitlist for the in-person event, organizers point out, if Utah officials allow larger gatherings in time for race day.
$55 and up | Sign up here
---
Johns Island, S.C. | Saturday, Oct. 10, 2020
Located about a half-hour's drive from downtown Charleston, this race runs through Johns Island County Park, a 738-acre wooded oasis filled with miles of trails shaded by moss-draped trees. You'll run on dirt trails that wind throughout the park, with everything from grass to tree roots along those often uneven trails. Kids as young as 10 years old are welcome to participate, too, as long as a parent or guardian runs alongside them.
$40 and up | Sign up here
---
Auburn, Calif. | June 1 - 30, 2020
Because the famed Western States Endurance Run — the 100-mile ultramarathon that runs from Squaw Valley to Auburn, Calif., every June — won't be run this year thanks to COVID-19, these race organizers put together a virtual event open to runners of all ages and abilities to celebrate what the race means to so many. Run 100.2 miles during the month of June — that's 3.34 miles each day — and make sure to record it with a GPS watch, to upload it to the race organizers.
$45 | Sign up here
---
A song to run to today
"Where Do You Wanna Go?" by Zeper and Anna Veé
Want to hear all the songs we include in our newsletter? Listen to our full playlist on Spotify here.