Discover more from The Half Marathoner
A newsletter about where running can take us
Over 42,000 subscribers
The real reasons we run
Plus 13 bucket list half marathons in extraordinary places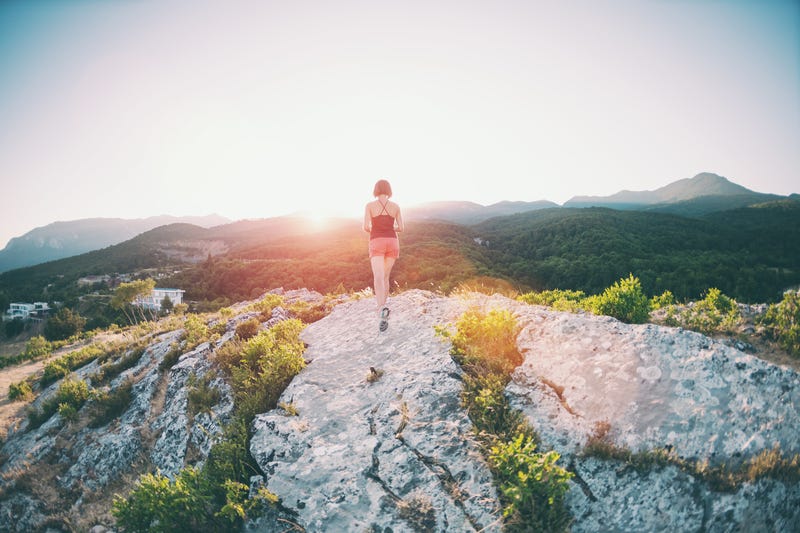 "We run, not because we think it is doing us good, but because we enjoy it and cannot help ourselves… The more restricted our society and work become, the more necessary it will be to find some outlet for this craving for freedom. No one can say, 'you must not run faster than this, or jump higher than that.' The human spirit is indomitable." — Roger Bannister
There was once a time when I ran to become a better version of the person I was.
Now, I'm not sure I ever really attained that, but I certainly imagined that would happen as I listened to songs like "Where the Streets Have No Name" through my iPhone headphones when I went out for a run here on the Atlanta streets where I live.
And don't get me wrong, I still do. But running also serves a different purpose today, as I was reminded in a beautiful essay this week in Runner's World, titled "I Don't Give a Damn About PRs and Paces — and It's the Best Part of Running."
In the essay, the writer Sara Menkedick describes the purpose running serves in her life now that she's a mother and a book author. It's a far cry from the role it played when she was in her twenties, when she logged hundred of miles training for marathons in Chicago, Columbus and Madison, Wis.
Back then, she says, she knew what lay ahead when she started training: "the process of breaking the body down and building it back up again; the sometimes-sluggish, sometimes-inspired doggedness."
It reminds me of when I was in my twenties and I imagined running would help me become a more disciplined person, better able to plan for and stick to the process of accomplishing a goal.
Today, however, she says running is more of an antidote to adult life — now, it's actually a respite from the never-ending treadmill of productivity that characterizes so much of the way we live today:
"The vast majority of my life is spent in one of these two modes: writer, or mother. My daily life has clear boundaries and goals, and my world is defined not so much by the mystery of what-next but by routine and commitment.

Running, I understood during those long Sunday mornings on the trail this spring, offers the only space where I am free of those roles. I run and I can be in the world as I was before I had a career, before I had a daughter: a body moving in the wind."
It's a fascinating way of looking at running, and I never thought I'd feel the same way as Menkedick does, but I have to say I wholeheartedly do.
This past weekend, I took my golden retriever Murphy out for a run at the Chattahoochee River near where we live. There were tons of people running there, young and old, fast and slow, fit and not-so-fit (like me!).
It reminded me of all the miles I used to log training for 26.2-milers — I ran marathons in Bermuda, San Diego and Washington, D.C. back then — and the places I was dreaming of going.
Today, though, I'm happier with the shorter distances (even though I still do dream of running an ultra someday), and happier to run with Murph, even though he slows me down quite a bit.
This doesn't mean we stop trying to get better or stop trying to reach new goals — rather that, if and when we want, running is a way to take a break from all of that too. It can be a way to just be.
What I heard from you this week
Several readers reached out in response to last week's newsletter, and I wanted to give you guys a big shout-out. It's incredibly rewarding to receive these, and I wanted you to know how much I appreciate it — and to share the responses, so you can see it's not just you who feels this way!
A reader named Emily wrote:
"I so needed this perspective, encouragement, and kindness today. Thank you!"
From Megan:
"This intro was exactly what I needed today! I'm just getting back into running after my pregnancy. I ran a half marathon right before getting pregnant with our second son, and it's a little demoralizing starting at the bottom again in terms of my running fitness. I'm telling myself to just keep at it, and I'll be back to easier and faster mileage eventually!"
From Jennifer:
"I felt compelled to drop you a note of thanks today — because I really needed those inspiring words from Amby Burfoot after beating myself up (too much!) following a few less-than-perfect runs recently. As you acknowledged, it's so easy to unfairly compare yourself to other runners and fail to focus on what's really important — just showing up. I needed to be reminded that I'm accomplishing a feat just by getting out there every day, whether it's for 1 mile, 5 miles or 13."
And from Holly:
"Your email message truly brought tears to my eyes, a warm heart accompanied with a smile of inspiration. From my heart to yours… thank you!

For many reasons my running has decreased for the past month and of course, my 'creepies,' as I call my negative thoughts, try to push their way in. Anyway, your understanding and empathetic message's timing couldn't be better and is just the inspiration I need."
I hope you all have had a great week and got some great runs in. I'm looking forward to running either a 15K or a 5K coming up the first weekend in November at a place called Serenbe (depending on which distance I can convince a few friends to run).
Have any big races coming up? Keep in touch and keep me updated on your running. As always, your friend,
— Terrell
---
Become a Paid Subscriber
Not yet signed up for our paid newsletters? We publish two additional emails each week with more in-depth stories about races, the mental and emotional side of running, race discounts and more. Learn more here.
---
Let's Go Run There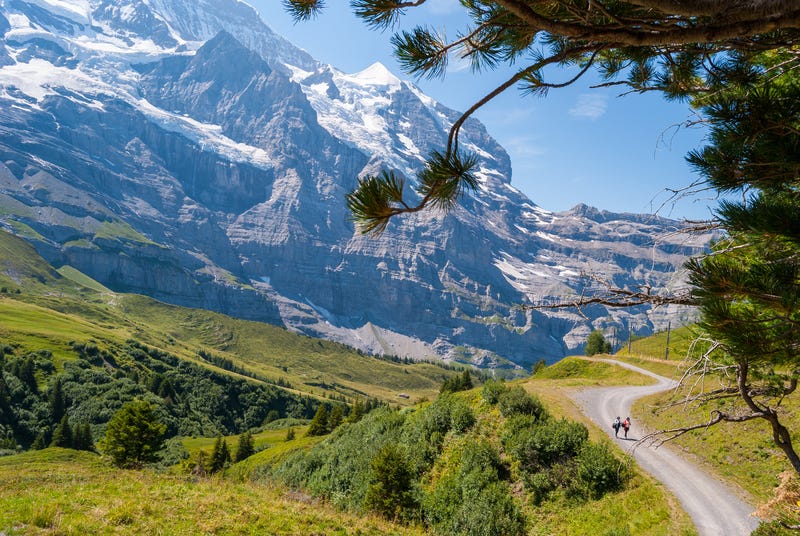 Billed by its race organizers as "the most beautiful marathon in the world," this race takes runners on a jaw-dropping, awe-inspiring tour of the mountains that lead up to one of the most stunning peaks in the Swiss Alps. From the starting line in Interlaken, a resort town that lies on a stretch of land between a pair of lakes, the route climbs nearly 5,000 feet by the time you reach the finish line, at the Kleine Scheidegg railway station — where you'll catch the train back down to Interaken.
Runs September 7, 2019 — details here.
Starting from the Piazza Castello in the heart of Italy's second-largest city, the Stramilano International Half Marathon takes runners on route that rings the center of one of the world's great (and most beautiful) cities, and has been run since 1976. Runners will get to see much of what makes Milan a mecca for tourists, from its gorgeous architecture and public spaces that'll make you feel like you're running through a work of art.
Runs March 24, 2019 — details here.
See mountains, rivers, lakes and glaciers as you run the hills and trails of Chile's Torres del Plaine National Park at this stunningly gorgeous and challenging race that runs in the early spring — which begins in September in the Southern Hemisphere. You'll run near the southern tip of South America, more than 150 miles from the nearest city, among one of the planet's most pristine environments.
Runs September 7, 2019 — details here.
You'll run in the place where dinosaur bones were once discovered, here on what's sometimes called Earth's "eighth continent," at this race that unfolds through Madagascar's Isalo National Park during its cooler, drier season. Dirt trails through wide-open grasslands — where locals may also be walking by — will be your route at this once-in-a-lifetime race.
Runs June 8, 2019 — details here.
Run where the world's great Abrahamic faiths — Christianity, Judaism and Islam — meet at this early springtime race that starts near the Israeli Knesset and unfolds through narrow alleyways and along ancient Jerusalem stone on the way from the Old City through the famed Jaffa Gate. You'll also run past the Western Wall and the archeological City of David, along with a host of historic treasures.
Runs March 15, 2019 — details here.
---
In Case You Missed It
Ready to run a half marathon in Tahiti? In Sierra Leone? How about Kauai? Here's more than a dozen races you can run in some of the world's most amazing places to visit.
"Fortunately — almost amazingly — many experts believe shoe-buying is getting simpler. You don't need a computer algorithm. You'll probably fare best by trusting your sense of feel."
— Good advice from Amby Burfoot in the Washington Post on guidelines to follow when you're at the store shopping for running shoes. (Which is exactly where you should be rather than shopping online, because the right way to buy a pair of new shoes is by trying several on and determining the best by feel — because everyone's feet are so unique, there really is no one shoe for everyone.)
"Few running partners are more eager to please than those of the four-legged variety. But running can put an entirely different set of stresses on dogs than it does on humans."
— The world of gear, gadgets and equipment for running and fitness has exploded in the past few years, but among the dizzying array of new products out there are some really good ones. Because I run with my golden retriever Murphy a lot, I get a little tired of holding his leash all the time, so these new waist running leashes in this review from Outside Magazine have really caught my eye.
"I'm exploring parts of my city that I have never gone before just to get new land. I was tired one day and thought that I would just do a short walk but then I saw a castle nearby and extended my short walk to 3 miles."
— That's a quotation from a beta tester for a brand-new iPhone and Android app called "Run an Empire," which debuted in the Apple and Google app stores yesterday. Designed to encourage people who want to run more to get out and explore their cities with a Pokemon Go-like augmented reality experience, the game allows you to capture territory while you're running or walking. (And they say they have tricks up their sleeve to prevent users from cheating by driving around to capture territory!)
"A mile and a half into Kathrine Switzer's first Boston Marathon, she was attacked by a race official. It was 1967 and women didn't run marathons. Not officially, at least."
— This wonderful recounting of the story of the legendary "K.V. Switzer" — the name she used to register for Boston back when the race didn't allow women to enter — is one of the great stories in the world of running, and when we look at how women have changed the sport in the decades since, a shining example of the impact a single person with a dream (and a strong enough desire to realize it) can have.
---
Run the Santa Hustle Race Series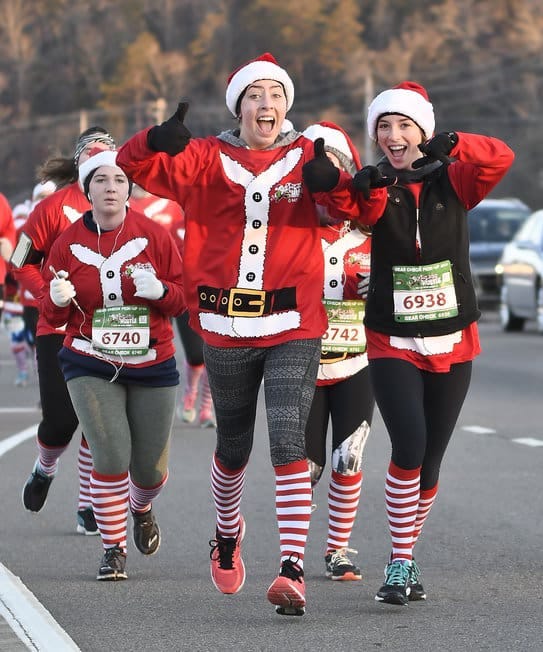 Use the discount code "HM5" to save $5 off the entrance fee for each of these:
---
Photos © Dreamstime, Santa Hustle Race Series