The challenge of running consistently when you (and your partner) work
Plus races in Belize, Nebraska, Atlantic City, Costa Rica + Iceland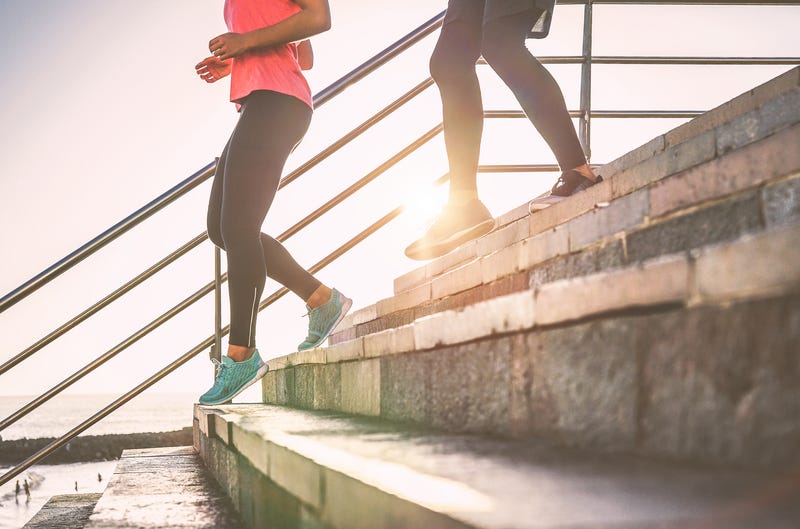 "I started running to lose a few pounds but I ended up finding myself. I set out to change my body but instead I changed my life." — Lea Genders
One of the biggest challenges my wife and I experience is how we manage when we exercise. Not because we disagree on whether it's important or that we don't support one another — we agree completely, and want nothing less than for each other to be our best. But fitting it in our schedules can sometimes border on the impossible.
I don't have to tell you that to become a better runner, you have to first become a consistent runner. Without getting out there and running on a schedule you can reliably maintain for an extended period of time, it's awfully difficult to improve your time or reach your distance goals.
Life just has a way of getting in the way. And when you both have full-time jobs and children to take care of and play with when you come home, running gets pushed to the back burner.
After all, if you didn't get to sleep until midnight because you were catching up on work, and then you have to get up again when your child wakes up in the middle of the night, it's hard to wake up at 6:00 with a spring in your step.
Here's how we've worked (some) things out to make it work for us:
A gym membership for Mommy
I don't know how things are you in your house, but my wife is "the chosen one" for our kids. Don't get me wrong — they're crazy about me, too. But Mommy occupies a Jupiter-like place in their hearts, whereas I'm more like one of Jupiter's moons.
When Mommy's around, it's like Bono or Mick Jagger has walked into the room — which is wonderful, but has the side effect of making it tough for her to get away to exercise on her own.
So for us, a gym membership is a must-have — she can be there and focus only on getting in a workout that won't be interrupted.
Make peace with the mornings
To be honest, I'd rather eat ground glass than get out of a bed a moment before I have to. But if you're going to maintain your fitness while also balancing full-time work and spending time with your family, the early morning hours are almost always the only ones you've got.
Getting up for early morning runs is toughest, I think, when you have really small kids, especially before they start kindergarten. Our son started kindergarten this week and it's opened up a lot more time, as he's riding the school bus, which picks him up early.
Sign up for a race
There's something magical about picking out a race and paying the registration fee for it. Unconsciously, it commits you to a goal in a way that is hard to match when you don't have anything to train for.
I find that it's easier for me to find the time to train when I've plunked down $50 or $75 or $100 for a race than when I haven't. The opportunities to run appear more often because it's more top-of-mind; I feel like I'm looking for them even when I'm not consciously looking for them.
That's just a few suggestions — what works for you when you're trying to train amid a hectic schedule?
Your friend,
— Terrell
Paid subscriptions keep The Half Marathoner ad-free and support the work of our amazing writers Hollie, Carissa and Laura — plus, you get more of everything we do. If you aren't already, I hope you'll consider becoming a paid subscriber today:
---
Litchfield, Neb. | Saturday, Oct. 12, 2019
On the trails of a place called Adams Farm, nestled between a pair of tiny villages in the central Nebraska countryside, runners have gathered every fall for the past nine years for this 5K and half marathon that unfolds over cow paths and pastures, and past cemeteries and windmills. "This is the wide-open prairie of the pioneers! It is a tough course with holes, ruts, stickers, cow pies, and lots and lots of hills. But if the cows can do it, so can you," the organizers say. You'll have to come this October if you want to run it, however — because this year is the last year it will be run.
$45 and up | Sign up here
---
San Jose, Costa Rica | Sunday, Dec. 1, 2019
Part of a weekend filled with running events that include a 26.2-miler, 10K and 5K in addition to the half marathon, this race is one that San Jose sports officials have high hopes will one day become a "must-run" event in the same way that the London, Chicago, Boston and Berlin marathons are today. You'll start the half marathon at Costa Rica's National Stadium on the edge of La Sabana Park, the largest public park in this small Central American country's capital city. From there, you'll run along the edges of the park and out into the city, before coming back around to the park again. You'll run the route a second time before heading back into the stadium, where the finish line lies.
$42 and up | Sign up here
---
Placencia, Belize | Sunday, Dec. 8, 2019
First held back at the end of 2012 — remember when we all thought the world might really end back then, based on the Mayan prophecy? — this race unfolds along a gorgeous out-and-back route along the peninsula village of Placencia, known for its miles of sandy beaches and the Maya Mountains that look out onto it from the mainland. You'll start the half marathon at the half-way turnaround point of the full marathon, and follow a point-to-point route filled with views of Caribbean Sea waves washing up along the shore.
$80 and up | Sign up here
---
Atlantic City, N.J. | Saturday, May 16, 2019
The first new race added to the Rock 'n' Roll Marathon series since 2015, this all-new half marathon is a "twilight run," with a starting time of 6:00 p.m. From the start at Atlantic City's Bader Field airport, runners will make their way mostly up-and-back along Albany Avenue for the first three miles, and then head out to the famed boardwalk for the second half of the race, which will unfold past the hotels, casinos, amusement park rides and a quick out-and-back on Playground Pier, before heading in to the finish where the boardwalk meets New Jersey Avenue.
$70 and up | Sign up here
---
Mývatn, Iceland | Saturday, July 25, 2020
Geysers, hot springs, lava fields and glaciers — you'll get to take all of that in and more when you run along Iceland's North Volcanic Zone at this all-new race next summer. The race will be run on dirt roads and trails that surround Lake Mývatn near Reykjahlid, a tiny town of about 300 souls in northern Iceland, where the North American and Eurasian tectonic plates scrape against one another beneath the Earth's surface, and pass by the massive Hverfjall volcanic crater around the half-way point of the marathon. The race is part of a six-day excursion that will also feature day trips to the capital city Reykjavík and a scenic drive along Iceland's west coast.
$2,200 and up | Sign up here
---
A song to run to today
"Lose Yourself" from the album 8 Mile: Soundtrack by Eminem.
Listen to our full playlist on Spotify here.
---