Why you shouldn't get hung up on how far you run
The case for running all kinds of distances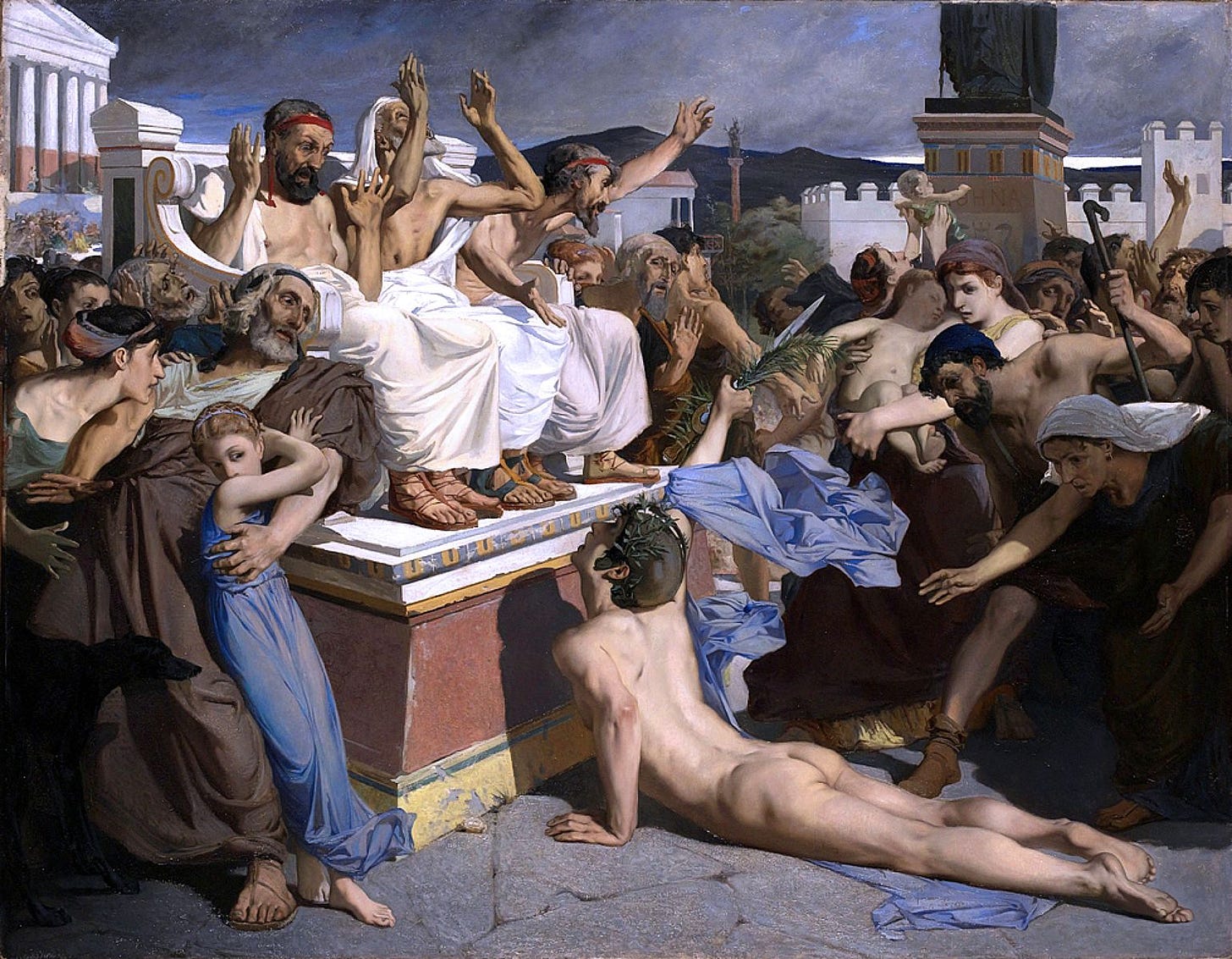 Pheidippides giving word of the Greek victory over the Persians at the Battle of Marathon to the people of Athens, before collapsing and dying. (Painting by Luc-Olivier Merson, 1869)
---
Have you ever wondered how the universally-recognized marathon distance of 26.2 miles came to be?
If you've been a runner for any length of time, there's a good chance you've heard the story of Pheidippides, the ancient Greek messenger who is said to have traveled on foot from Marathon all the way to Athens to carry the news of the Greek victory over the Persians at the Battle of Marathon in 490 B.C.E.
In the two days before his legendary run, Pheidippides is said to have run about 150 miles to Sparta and back, to request military help against the Persians. (Notice that I'm using "is said to have" a lot here; Pheidippides' story is a mixture of a great deal of fiction with a little bit of fact, historians today believe.)
Anyway, then as now, the distance between Marathon and Athens was about 40 kilometers, or 24.85 miles — more than a mile less than the distance we recognize as an official marathon today (26 miles, 385 yards — or 26.2 miles).
Though short footraces were part of the ancient Olympic games, the first records of which date back to 776 B.C.E., nothing we'd recognize as a marathon today was organized until the first modern Olympic games took place in Athens in 1896, when the marathon was included and set at 40 kilometers in memory of the legend of Pheidippides.
The distance shifted through the years — lengthening to just over 25 miles at the Paris Olympic Games in 1900, then back to 24.85 miles at St. Louis in 1904 — before settling on the distance of 26.2 miles at the London Olympics in 1908.
Why the changes for the London games? They were "completely arbitrary" according to historians who spoke with a reporter for this article from a few years ago, noting that the start of the race at Windsor Castle, the home of the British royal family, played a big role:
It was about 26 miles from Windsor Castle to the Olympic Stadium in West London at Shepherd's Bush. The original plan had the runners coming into the stadium at the royal entrance and running about 585 yards, circling the track counterclockwise and finishing in front of the royal box, Davis said. But the royal entrance was deemed unsuitable; instead the runners entered at the opposite end of the stadium and, to enhance the view for the Queen and others, ran clockwise for 385 yards to the royal box.
The result, by all accounts — including the writer we know today as Sir Arthur Conan Doyle of Sherlock Holmes fame, who was writing for the Daily Mail newspaper back then — was a thrilling race that caught the world's attention. Though there was talk after the 1908 games about lengthening the marathon distance to as long as 30 miles, the 26.2-mile distance stuck and has ever since.
You might be wondering about now, why the history lesson? Mainly because this article in Runner's World by Molly Huddle, one of the world's best professional runners, got me thinking.
In the article, she urges her fellow runners to mix it up and run lots of different race distances, especially if you're accustomed to running longer-distance races like the marathon. Doing so gets us outside our comfort zone and lets us have some fun with running something different — especially if it's a trail or mountain race, when we're used to running road races.
But it's the asides she includes in the article that got me thinking too, phrases like these:
"A 10K, 5K, or even a mile may not seem as "worth it," as you're done so quickly..."

"Shorter races may seem like less epic accomplishments relative to crossing the finish line of a marathon..."
Look, I get it. Running a marathon really is an incredible accomplishment. I know how I felt when I ran my first full marathon years ago, and was a feeling I'd never felt before.
But we should remember that all of these distances that we hang so much meaning on are, as history shows above, entirely and completely arbitrary. They're all made up. We just agree on their meaning or significance because, well, we do. (The half marathon could easily have ended up as 15 miles rather than 13.1, as we see above.)
I write all this not to tell you how to think or how to feel, but more as a reminder to myself — enjoy the miles that I'm running regardless of how many there are, and to know that I'll get there in the end.
And thus endeth the lesson. 😊
You're Brave Like Gabe Too
As you probably know, the running world lost one of its best and brightest stars last week when Gabriele Grunewald lost her battle with cancer at age 32. Tributes poured in from people around the world, and we talked about what she meant to us all in last Friday's open thread discussion.
There were a couple of comments I found incredibly moving that I wanted to make sure you didn't miss. The first, from a reader named Stephanie Johnson:
"Thanks for sharing this. I am a cancer survivor and running helped me get through. I imagined chemo like a half marathon — ticking off the miles (chemo sessions) to get to the finish line. My identity as a runner helped me fight and being able to run after my treatment was over was a gift. Gabe's life was an inspiration she showed the world how to be a person with cancer — not a victim of cancer. What really touches me is how she talks about the fear and uncertainty. That is what continues after the treatment is over. I will hold her and her family in my heart as I run on."
And this, from Georgia Baker:
"This was impacting as I started my passion for running in the face of fear of dying. I started running during cancer (Hodgkins Lymphoma). The day after treatments I'd feel so weak and frail, I'd pull myself together out of bed and put on my running shoes Before I could talk myself out of it I'd run out the door, the entire run say "THIS WILL NOT BEAT ME"! The determination to run helped me stay mentally strong. Perhaps as though a moment of victory in the face of uncertainty. It also helped me to see every treatment as the next mile and to keep my eyes on the finish line even in the midst of twists and turns along the journey. Since then I've gone on to run many full marathons and numerous half's. During one of the first half marathons while running by a cemetery on the course, I looked over at it & and caught a thought from within '"wow you're going from cancer to collecting medals. God is So Good! I am so grateful for the gift to Run and hope to inspire others to press on & Run their race."
I'm moved to tears by what you guys shared, and by what each and every one of you took the time to write. You guys all are an inspiration to me.
Thanks so much for reading this week — keep in touch and let me know how your running is going. And feel free to send me topic ideas for this Friday's open thread discussion! I'd love to know what you most want to talk about.
Your friend,
— Terrell
---
Join The Half Marathoner
If you haven't already, I hope you'll consider upgrading your subscription to the full experience — and get more from us every day, with special issues on the weekend. Thanks!
---
St. Augustine, Fla. | Sunday, Nov. 10, 2019
When you run the streets of this coastal Florida city, youll run through the oldest part of American history there is — St. Augustine was reached as early as 1513 by the Spanish explorer Ponce de Leon, and was officially founded in 1565 by Pedro Menendez de Aviles, another Spanish explorer. All of that will be on display as runners make their way through the streets of its historic downtown and across the Matanzas River (twice), including a stretch along the edges of Anastasia State Park and past the Castillo de San Marcos National Monument, a military fort that was built in the 1670s and once was part of the Spanish empire, helping to protect the treasure ships that set sail from here on their return to Spain.
$79 and up | Sign up here
---
Waterbury, Vt. | Sunday, Oct. 6, 2019
Timed to coincide with the time of year when the fall foliage viewing season is at its peak here in central Vermont, this race will take runners along the Winooski River that separates the small towns of Waterbury and Duxbury, both of which lie about a half-hour drive from Burlington. From the starting line at Waterbury's Keuring Green Mountain Complex, the race will head south through town and then onto River Road, on which you'll stay for the next few miles until you reach the turnaround, and head back to Waterbury for the race finish.
$50 and up | Sign up here
---
Bozeman, Mont. | Saturday, Aug. 10, 2019
First run in 1985, when a Montana State University professor named Ed Anacker came up with the idea for it, this nearly 20-mile race is famous for its brutal climbs and descents along the Bridger Ridge Trail, set along a narrow crest that links several peaks a few miles east of Bozeman. You might experience anything from blazing sun to fog, hail and even snowstorms out on its highly technical trails, known for their ankle-twisting uneven footing, and see everything from mountain goats up on Sacagawea Peak (elevation 9,604 feet, by the way) to thousand-foot drops along the sides of a trail that squeezes to only about a foot wide in some places.
N/A | Volunteer sign up here
---
Milton, Fla. | Saturday, Nov. 16, 2019
Blackwater River State Forest, which spans more than 200,000 acres along the Florida panhandle and is named for the golden brown river that meanders through it, is the setting for this fall trail race. You'll run along a challenging series of trails through its longleaf pine woods — which once covered more than 60 million acres across the Southeast — starting from the Krul Lake Recreation Area inside the forest, and run an out-and-back loop that circles a lake called Bear Lake deep in the forest. It's run at a time of year when temperatures should fall between the upper 40s and the upper 60s, perfect for running.
$55 and up | Sign up here
---
Boulder City, Nev. | Saturday, Dec. 14, 2019
The desert landscape of southern Nevada — combined with majestic views of one of the most awe-inspiring man-made structures anywhere in the world — are both on display at this late fall race, which unfolds along a combination of paved roads and portions of the River Mountains Loop Trail. You'll also run through a series of small tunnels along the trails, which were used in the 1930s to ferry men and materials back and forth between the Hoover Dam and nearby Boulder City. The dam's distinctive pale curved arch will be visible as you approach it from the Nevada side (you'll be looking over into Arizona once you get there), taking a series of switchback trails up to the overlook — one of the most stunning sights anywhere in the country.
$80 and up | Sign up here
---
Sometimes, I come across amazing places to run that aren't races, but still I want to share them with you all. The Routeburn Track is one of those, a 33-kilometer (about 20.5-mile) hiking trail among the mountains, valleys and lakes of New Zealand's South Island, a place that will likely feel familiar if you've seen any of the films in Peter Jackson's Lord of the Rings trilogy. Here's what it's like to run its trails, from a pair of runners who brought a camera along with them:
Have any great places to run that you'd like to share? I'd love to hear about them — share them in the comments below, or email me at terrell@halfmarathons.net. I'll send them out in next week's newsletter.
---
A song to run to today
"Finest Worksong" from the album Eponymous by R.E.M.
Want to hear all the songs we include in our newsletters? Listen to the full playlist on Spotify here.
---
What subscribers get
Here's what our full subscribers are reading:
Get these and more here:
---
Words of wisdom
"I may not be the lithest, the most talented, or have the fastest time in the field, but I have passion and courage, and sometimes that is enough to do something extraordinary." — Lauren Fleshman