The 25 Fall Half Marathons You'll Want to Run This Year
Plus race discounts for FL, LA, MO, NC & TN races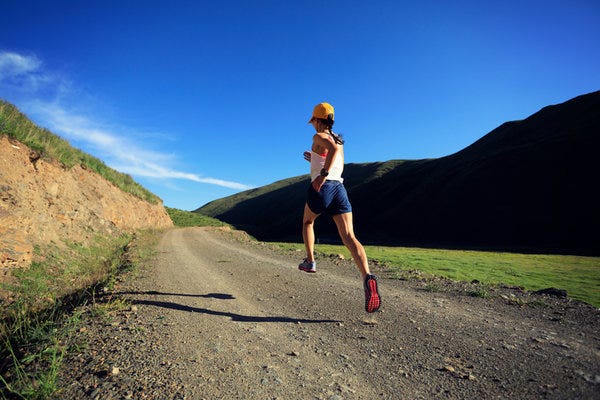 "Every mile I run is my first. Every hour on the roads a new beginning. Every day I put on my running clothes, I am born again. Seeing things as if for the first time, seeing the familiar as unfamiliar, the common as uncommon. Doing what Goethe said was the hardest thing of all, seeing with my own eyes that which is spread before me... There is no other way to run, no other way to live." — George Sheehan
I have a friend named Joe. (That's not his real name, of course, but I don't want him to feel bad if by chance he were to read this.)
We each talk a lot about how much we want to get in better shape and improve our fitness levels, but when I talk with him lately, I can hear the weariness in his voice. He's not getting out there and running or really doing anything, and he's been putting on weight.
I say this not to judge him — at various times in my life, I've been him. But I also know how much he travels for his job, that he has to go out a lot to entertain clients, and he's got a few kids to take care of when he comes home. All of which doesn't leave much time for taking care of yourself.
When he and I and a few friends got together recently, I heard stories that I know I should have expected to hear, but still were a surprise. All about the medications my buddies are taking to stave off heart disease, the statins and the Lipitor that are probably keeping them out of the hospital.
The thing I keep thinking, however, is that I'm not sure he's aware that he's choosing this path. That he's making the choice to be nowhere near as fit as he could be, that he's prioritizing these other things over his physical health.
Now he's of course got a lot of responsibility on his shoulders, there's no denying that. (Having a family as big as his is expensive!) So there's a good chance he's got to have the job he has, with the off-hours responsibilities it entails, to maintain his and his family's life.
What's been dawning on me lately, as I've been returning more consistently to running — I'm training for the Malibu Half this November, and hopefully will make it there — is that my time is limited.
A day will come when I can't do this anymore (a long, long time from now, I hope!) so I've got to make the most of it. So there are things that have to go by the wayside if I want to make this a priority.
It's so difficult to try to blend running in to a life that's busy. I know; I've got a full-time job in addition to running HalfMarathons.Net and publishing this newsletter (the latter two are the things in my working life I enjoy the most!) so it's tough for me too.
But I'm trying to be intentional about making running, fitness and health a priority in my life — and that means I need to choose it, and to the degree that I can, arrange my life around it. Or at least arrange my life so that it's possible, even if I don't get to do it as often as I'd like.
What I'm finding is that embracing it as a choice, as a priority, means that you clear the path for action in a way that's not possible when you simply wish and hope about it. To be sure, I'm far from perfect on this — but I'm getting better.
Hope you are too, and that you're able to get out and enjoy this amazing day today — because it's Global Running Day!
Even if you can only get in a quick run, today is a great day to do it. Here's where you can learn a lot more about it and events going on to promote running around the world.
It's been a couple weeks since we last chatted in our regular weekly newsletter, so I hope each and every one of you are well. There's a few small design differences, I know, between now and when we switched over to our new email publisher Substack this week, so I hope they're to your liking.
Got any big summer races coming up? Or great places you're running? Keep in touch and let me know how things are going with your running.
Your friend,
Terrell
P.S.: Want to sign up for our paid newsletters? We publish two additional emails each week with more in-depth stories/interviews about the mental and emotional side of running, plus race discounts. Learn more here.
---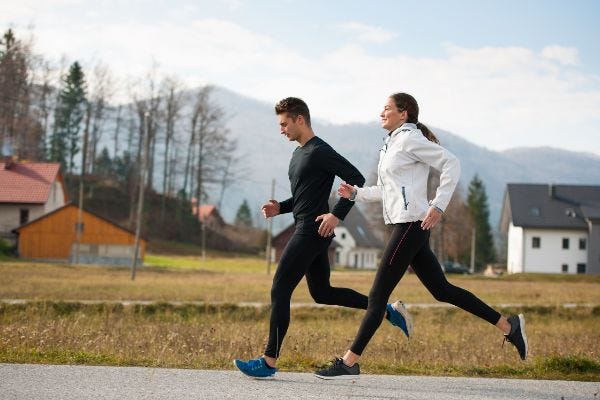 The 25 Fall Half Marathons You'll Want to Run This Year
From Hawaii to the Hoover Dam, a slate of races from September through December that offer up everything from national parks to running the shoreline of Cape Cod to running across the Golden Gate Bridge.
---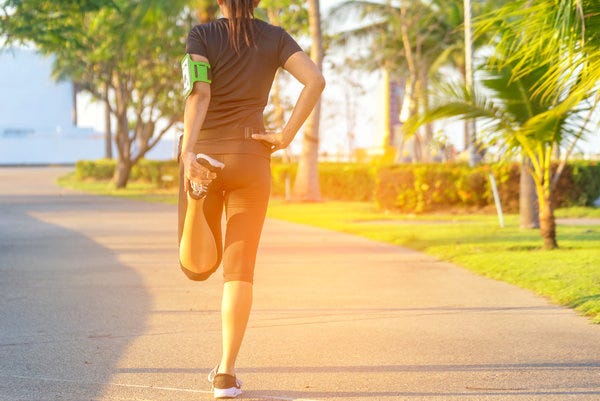 7 Safety Tips for Summer Running
Now that the season is upon us (not officially, but we're almost there), here are some essential things to keep in mind if you want to go running outside in the heat.
---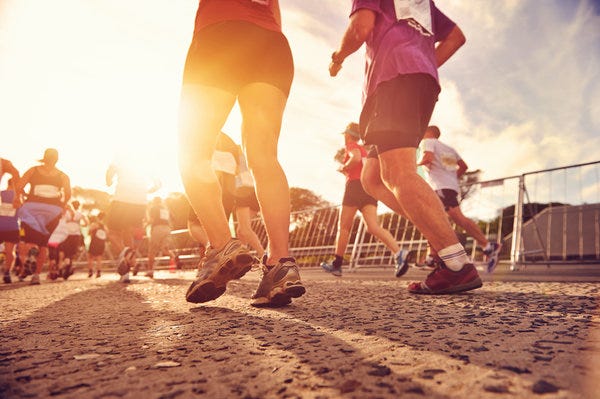 How to Use Races as Tune-Ups for Your Training
Whether it is your first 13.1 or a big goal race, running shorter tune-up races before the big day is a smart strategy. You can use the race to practice all kinds of things from gear to nutrition to pacing.
---
The things runners buy to improve their running experience is a long list. However, sometimes they can be a barrier if you start to rely on them too much.
---
In Case You Missed It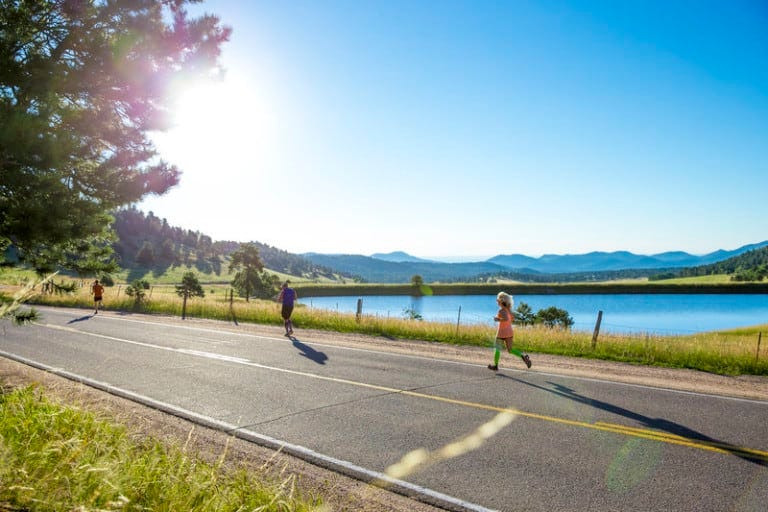 19 Unforgettable Summer Half Marathons in 2018
With the arrival of (much) warmer weather lately, summer is all but officially here. Here are some of the most scenic, challenging and fun half marathons you can run across the USA, from the mountains of North Carolina to the streets of Chicago.
Relentless Runner Completes 31 Marathons in 31 Days to Raise Mental Health Awareness
"Life on the outside was certainly better than that behind bars, but it wasn't necessarily easier, and Allen gradually slipped into destructive behaviors, namely excessive drinking. While he'd become devoted to weight training in jail and continued the pursuit as a free man, an otherwise unhealthy lifestyle edged his weight up toward 250 pounds. It was hard to be optimistic that the future held something different than the past. But then, in 2014, a seemingly inconsequential opportunity arose: Allen was recruited to run a local 5K as part of a team of Taco Bell employees. Race day arrived and none of his co-workers showed up, so Allen ran on his own—and it felt good..."
— Back when I used to be a journalist, I loved coming across stories like Harold Allen's. After spending 10 years in prison and starting with just running five kilometers, he worked his way up to running 26.2-milers, eventually bringing his time down to 3 hours, 19 minutes — seriously impressive stuff. Now he has four girls and a family of his own, but he adds, "it's still a struggle. But it's quite an accomplishment, coming from where I've been." Great, great story.
Running With Bad Knees Might Be Okay After All
"Before we get to the new stuff, let's just make sure we're on the same page with regard to the old 'running will ruin your knees' thing. It won't... [But] what if you already have knee osteoarthritis, meaning that your cartilage—the shock absorber between the bones of your upper and lower legs—has started to degenerate? After all, just because running doesn't cause osteoarthritis, that doesn't mean it makes you immune."
— I know a lot of us fear running when our knees are in pain, but this article gives reason for hope that you're not doomed as a runner just because your joints aren't in perfect working order anymore. This study followed 5,000 people over a decade, and more than 130 of them were runners with osteoarthritis in one knee. The result? Running didn't make their osteoarthritis any worse, according to the study's authors.
'It Cannot Be Ignored': Runners Spread Awareness About Eating Disorders in the Sport
"Whenever Alexis Fairbanks lost a race, she would look at the girls who finished ahead of her and think: They were smaller, thinner — they had the ideal runner's body type, of course they beat me. And each time this happened, Fairbanks went home convinced that to be successful in running — a sport defined by seconds — she needed to lose weight. She was willing to do anything to get there."
— As the stepfather of a young teenager, I've begun to get an overdue education in body image issues among young women (and men), and the power they have when they stay in the shadows. This Washington Post story shines a light on a nonprofit called Lane 9, which aims to reach out to kids and young adults of all ages with the message that "you don't have to live with this. You can love and cherish and support your body — nutritionally, physically and emotionally — and do so in a healthy way.' "
---
Special Today-Only Race Discounts
These aren't exclusive to us, but I came across them today and couldn't wait to pass them on because they expire tonight! Special Global Running Day discounts for these races near Tampa, Fla.
Save $10 off any of these races when you sign up with the discount code GLOBAL10 for:
And save 15% off any distance race when you use the code RunDay2018 for:
Last but not least, save $10 off any Race 13.1 Half Marathon when you use the code NRDR131 for any of their races in Missouri, Tennessee and North Carolina here.
All these discount codes expire tonight — so don't dilly-dally!