Discover more from The Half Marathoner
A running newsletter that isn't (just) about running
Over 42,000 subscribers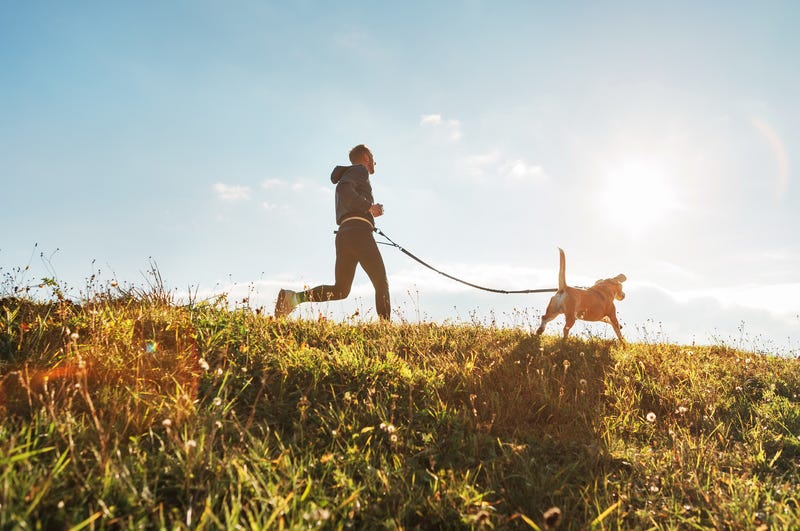 Dear Subscribers,
I had a feeling that Monday's newsletter would strike a chord, but I was completely blown away by the outpouring of support and empathy from you all. To say it touched my heart is not to do it justice; I was overwhelmed by the emotion of it all and amazed at how universal this experience really is.
From the bottom of my heart, thank you for all of the amazing, kind, thoughtful words of support and encouragement. Your replies and comments — I heard from dozens and dozens and dozens of you — meant more than you can possibly know.
Please also know that I read each and every one of them and I'm working on replying back to each one, so it will take me a little time to get to them all. If you haven't heard back from me yet, you will soon.
Some of you sent in some great ideas as a way to pay tribute to our lost furry friends — including ways you can volunteer to run with shelter dogs (like this effort in my hometown of Atlanta) to help provide them exercise and mental stimulation.
There are also more than 1,800 races across the country you can run with your dog, from free runs like the New York Road Runners' Open Runs to one-milers, half marathons and even a few ultras, all tallied up at the Dog Race Database on RunRepeat.com.
Many of you had had similarly heartbreaking endings with your own pets around the same age as Murphy, while others shared stories of their cats and dogs that lived their full lifespans, whose passing was just as devastating.
I know it's a cliche we've all heard a million times, but these animals really do weave their way into our hearts and leave an imprint that few other relationships in our lives can match.
Yesterday, I was having a conversation with an old friend of mine about Murph, and he told me he thinks that all our pets end up in heaven not as we know them at the end of their lives, but as their most vigorous, spirited, lively selves. When they were in the prime of their lives.
I told him I think that's true. Several years ago, I added, I went through a time when I had trouble believing in God, an afterlife and the idea of heaven, as it's widely conceived. I don't know why; it's just something I began to question. Many of us have a time in our lives when this happens to us, I suppose.
One day a few years ago, I began to change my mind. As I told my friend yesterday, it dawned on me that in this world we live in, with all that's wrong and tragic and horrible in it, our pets are perhaps the purest example of unconditional love. That maybe God — whomever and however you perceive him, her or it — sends us these relationships to remind us of that.
All the while I was questioning, maybe God was placing an example of that love right under my nose. As if to say, you ask whether I'm here; well, here I am right in front of you. What more could you ask for?
It's so easy not to notice that, in the busyness of the lives we lead. Murphy got me to finally notice it, and it sounds like for many, many of you, your pets did too.
As always, I hope all is well in your world and your running is going strong. Let me know how your training is going, and keep in touch.
Your friend,
— Terrell
P.S.: It's not lost on me that this week, the newsletter has strayed pretty far afield from running. Don't worry — we'll get back to it next week for sure.
---
Georgetown, Colo. | Saturday, June 22, 2019
Get your pup ready for some serious downhill action here in this high-altitude Rocky Mountain town just to the west of Denver, where the race will begin at just above 10,600 feet above sea level. From the Loveland Ski Resort, the race route gradually descends to about 8,400 feet by the time you reach the end. Dogs are welcome to join in and if they start to slow down, have peace of mind that you're free to slow down and walk whatever distance you need to the finish line.
$50 - $70 | Sign up here
---
Westminster, Colo. | Saturday, July 20, 2019
This race, which supports Colorado Canine Rescue, is perfect for bringing along your dog. The double out-and-back course is a half-and-half mixture of concrete and soft surface, and the race features free photos, gender-specific tech shirts, ice cold rally towels, and a finish line spread with breakfast burritos and chocolate milk.
$60 - $80 | Sign up here
---
Goshen, Vt. | Saturday, Aug. 3, 2019
It's known as the "heavy" half because the Moosalamoo is actually 14 miles in length. (The race also features a 36-mile run.) The course takes runners — and their dogs, if they're up for it — to the top of Moosalamoo Mountain where they can enjoy gorgeous views of Lake Dunmore below. This is a tough race filled with single-track trails, so be sure both you and your dog are ready for it — the post-race festivities feature plenty of homemade goodies.
$60 - $70 | Sign up here
---
Greenville, Calif. | Saturday, Aug. 17, 2019
Located along the edge of the Plumas National Forest in Northern California, this small town has been a mecca for outdoor enthusiasts since the mid-19th century and today plays host every summer to this dog-friendly race, where aid stations are stocked not only with the usual hydration drinks and snacks, but with dog treats too. There are also plenty of treats for the humans including goody bags stocked with locally made products and beautiful views of nearby Mount Jura.
$95 - $125 | Sign up here
---
Park City, Utah | Saturday, Sept. 21, 2019
The final event in a four-race series — all of which welcome runners with dogs — that begins with a 5K in June and ends with this half marathon in September. Each race is run on a combination of graded dirt roads and trails, with the 13.1-miler featuring single-track trails, switchbacks and a technical downhill portion.
$60 and up | Sign up here
---
Mosier, Ore. | Sunday, Oct. 20, 2019
You and your best friend will run along the stunning backdrop of the Historic Columbia River Highway State Trail at this fall race, which features its own category for dogs (called the "Dog Leg"). Both you and your dog will get your own race timing chips, starting in the last wave of the half marathon — be sure your pooch is up for running 13.1 miles; walking is highly encouraged if you decide your buddy isn't up for running all the miles.
$70 - $100 | Sign up here
---
A song to run to today
"These Are Days" from the album Our Time in Eden by 10,000 Maniacs.