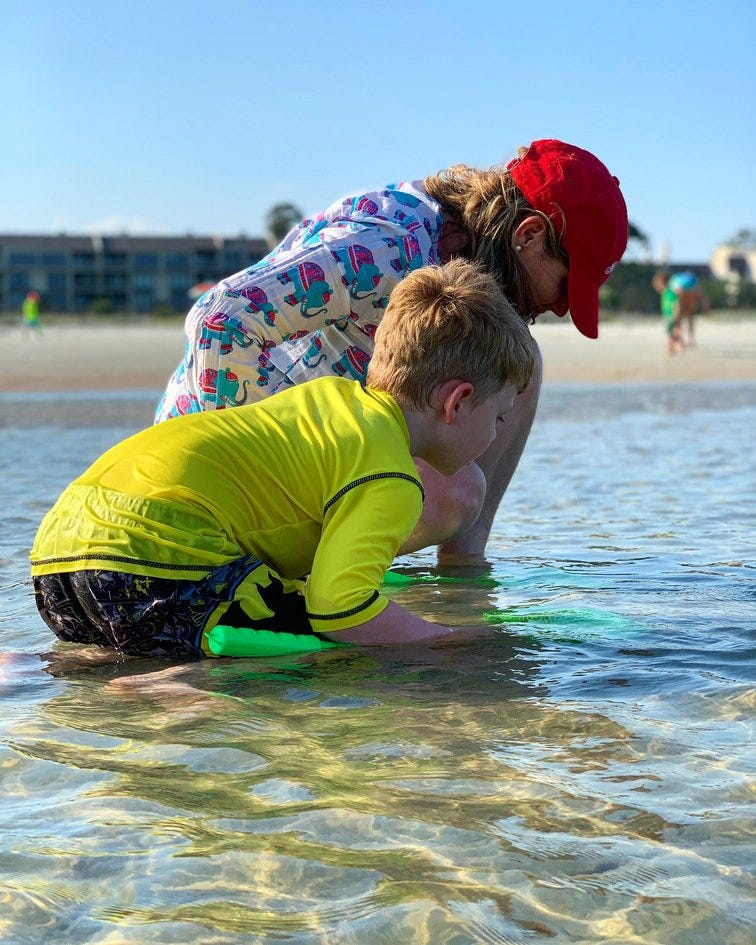 I'm letting out a laugh as I write these words because I'm imagining what you'll think when you read them: "for a running newsletter, you sure haven't written a lot about running lately!"
Partially, that's because of what's been going on in my own life. These past few days, my wife and my son and I went to South Carolina for a long beach weekend over the Memorial Day holiday. (That's the two of them in the photo above, hunting for hermit crabs in the tide pools along the beach at Hilton Head Island, on our first day there.)
I was able to get in a two-mile run on the beach on Monday morning — it was gorgeous, by the way — but that's all I was able to get in. When you have a really active five-year-old boy like we do, plus a 14-year-old who's starting to lead an increasingly active life of her own, the activity that's taking place in your family exerts a gravitational pull that you can easily forget is there.
Most days, we're all up by 6:00 a.m. at the latest, getting breakfast, getting kids (and ourselves) dressed and ready for their day, whether it's school or camp or work, in the case of my wife and me. Some days, this all goes swimmingly. Others, not so much.
When everything goes perfectly according to plan, it's possible to get some exercise in early in the morning. But circumstances and little emergencies have a way of stepping all over plans like that, and before you know it, it's been a month since the last time either of us went for a run or went to work out at the gym.
This weekend, after our son had gone to bed, both of us looked at each other and said, we have to figure out a time when each of us can get some regular exercise.
By the time we get to the end of the day, we're basically throwing ourselves on the bed; shouldn't we have more energy than this? And wouldn't the exercise we used to do give us that back? We both know it would.
Once in an interview, I heard the author Michael Crichton say something along these lines: that the challenge of doing what he does for a living (writing books and producing movies and television shows) isn't the writing or the producing. No, the real challenge is getting into the ballpark to be able to write for a living, or produce shows for a living, or anything along those lines.
For me, the challenge for my wife and I isn't necessarily finding the motivation to run or exercise; rather, it's getting to the place where we can do those things at all.
There's also something else going on, though, too. Once upon a time, I found the daunting challenge of a 26.2-mile race something that inspired me to want to dig deep and prove to myself that I could do it. I wanted badly to reach higher than I thought I could. I wanted to stretch out each run, to go a little longer and a little faster than I thought was possible for me, especially at the finish.
Here's the thing now: what I'm describing above about my family might sound like I'm saying that they're obstacles to some better level of fitness than I'm achieving right now.
But that's not what I mean at all. In fact, I love being with them all the time that I can — and maybe the (relative lack of) running that I'm able to get in now results from the fact that I'd rather be with them than spending a lot of time away from them.
Training at the level I once trained at would require pulling a lot of time away from the little things I'm able to be a part of now — not because of the training itself, but because of the logistical gymnastics I'd have to perform to get it all in.
(As the great Samuel Johnson once said of the Giant's Causeway in Northern Ireland: "Worth seeing, yes; but not worth going to see.")
So right now, I'm content with training for the 10K I have coming up this summer — Atlanta's Peachtree Road Race on the 4th of July — rather than reaching for bigger goals. Because those bigger goals would pull me away from something that's more important right now.
Let me emphasize, too, that this is the way things are for now — but not how they'll always be. Even though our kids are still very young, I can already see the stirrings of ability in them that will inevitably pull their lives in directions we can't see or control
Even though my son is only five, about to turn six, I can already see in him the stirrings of ability in the things he likes to do (like swimming) that may one day pull him in directions far away from us as he gets older.
And don't even get me started on our 14-year-old, who becomes more and more of a grown-up every day, with a level of maturity and thoughtfulness about her life and the choices she's making that few adults my own age possess.
As our children get their legs under themselves and start to dream about what's possible, what they want to reach for, it reminds me a little that I used to think that way too. And that I might like to dream about reaching for something that's not yet possible for me, too.
Today is probably not that day — I'm probably content to run what I'm running for now. But the day when it's not enough may be just over the horizon. We'll just have to wait and see, I suppose.
What do you think? I'd sincerely love to know.
Your friend,
— Terrell
P.S. On Friday, I will write for subscribers about the things I'm learning from Katie Arnold's amazing new memoir, "Running Home." If you'd like to join us, become a paid subscriber:
---
Baraboo, Wis. | Saturday, July 13, 2019
A challenging — but gorgeous — run along the 10,000 acres of hills and trails within Devil's Lake State Park and Parfrey's Glen State Natural Area, which lie within a short drive of nearby Baraboo, which was where the Ringling Brothers Barnum & Bailey Circus got its start. You'll have your choice of the 50-miler, 50K, full marathon or 10K in addition to the half, all of which organizers say offer an "insane test of human endurance," adding that you should "expect a day that leaves you knowing you are fully awake, alive and living life in full color out near the crumbling edge."
$59 and up | Sign up here
---
Sausalito, Calif. | Saturday, July 13, 2019
Mountains, beaches and a challenging hilly trail run through a vast, unspoiled wilderness that sits right across the bay from one of the country's densest urban areas. That's what awaits runners at this race through the Golden Gate National Recreation Area, where you can choose from a 50K, 30K, 5-miler and full marathon in addition to the half, all of which start at Rodeo Beach. From there, the course climbs some 800 feet in the first two miles, as it winds along the hills and trails of the Marin Headlands, including a stretch that takes you along the ridge looking over the Redwood Highway into nearby Sausalito.
$55 and up | Sign up here
---
Easton, Mass. | Sunday, July 14, 2019
From the campus of Stonehill College, you'll run through Easton's Sheep Pasture, a place filled with trails, woods, open meadows and plenty of farm animals — from sheep to chickens to cows to geese — roaming around the property. After the stretch through the pasture, the race keeps rolling along the country roads that lead to nearby Stoughton, where you'll make a loop around the shoreline of Ames Long Pond before heading back to the Stonehill campus for the race finish. While there are a few challenging climbs, organizers say, the 13.1-miler is mostly a very fast and flat race.
$75 and up | Sign up here
---
Banks, Ore. | Saturday, July 20, 2019
The third in a four-race series that features runs in four different Oregon cities (one for each season of the year), the summer half unfolds along the Banks-Vernonia State Trail, a nearly 23-mile-long that stretches between the two coastal Oregon towns for which it is named. The trail is part of an old railroad that once ferried timber from mills in the local area to Portland until the late 1950s, and today runs through gorgeous stretches of farmland and rain forest, including a couple of trestle bridges, as well as past rivers and creeks. Also, the half marathon is downhill for the first 8 miles, and then flat after that, all the way in to the finish line.
$65 and up | Sign up here
---
Volcano, Hawaii | Saturday, July 27, 2019
Set for its first-ever running this summer, this half marathon unfolds along a course in the shadow of Hawaii Volcanoes National Park, where the Kilauea volcano simmers and sometimes sends lava pouring into the fields below its summit. From the course, you'll be able to see massive peaks of Mauna Loa and Mauna Kea off in the distance, as well as plentiful 'Ohi'a trees, a flowering tree native to Hawaii that grows on lava and is usually among the first plants to grow after a lava flow.
$65 and up | Sign up here
---
Carnation, Wash. | Saturday, Aug. 3, 2019
If you're a fan of cartoonist Matthew Inman's work — and we definitely are, especially for things like "The DOs and DO NOTs of running your first marathon" and "The terrible and wonderful reasons why I run long distances" — then you know exactly what "the Blerch" is, and what this race is all about. And what is that? It's beating back "the Blerch," the little voice inside us all that begs us to stay inside, on the couch, resting and having cupcakes, when instead we know we should be outside and on our feet running. Organizers say there will be couches placed out on the course — it's run mostly along the Snoqualmie Valley Trail — if you need a nap; and the slower you are, the more celebrated you'll be.
$80 and up | Sign up here
---
A song to run to today
"Life in Technicolor ii" from the album Viva la Vida by Coldplay.