Secrets of a 102-year-old runner
Plus 17 'off-road' half marathons in 2018 & 2019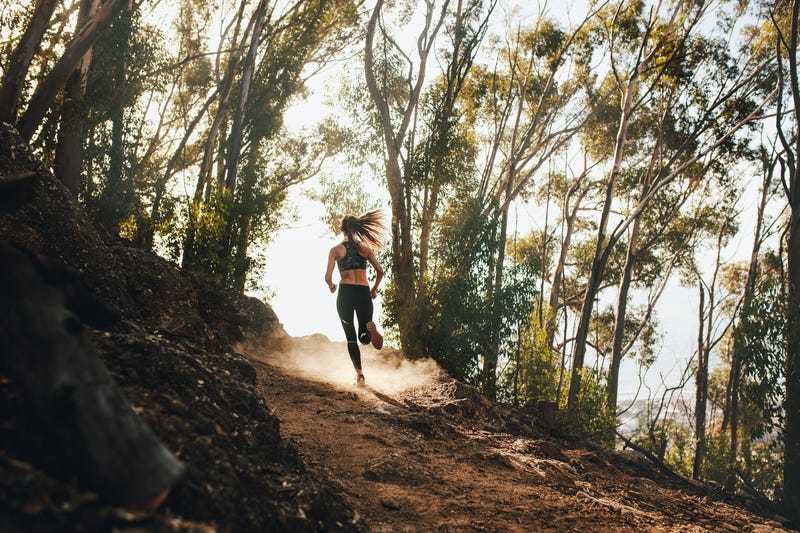 "What you ask for, you never get. It's better to accept your blessings as they come." — Man Kaur
Today is my stepdaughter's 14th birthday.
She's brilliant, so talented, and extremely funny — she gets and likes quoting "Seinfeld" almost as much as I do, and I am convinced we all will see her in the movies or on Broadway someday.
It's no exaggeration to say that every day with her — as well as her mother, our almost 5-year-old boy, and our golden retriever Murphy — is an adventure.
I wasn't a part of her life, though, until she was almost 7 years old. Which got me thinking today, where was I and what was I doing on her actual birthday 14 years ago? I had no idea that something was happening in a hospital here in Atlanta that, years down the road, would change my life more than I could possibly imagine.
No doubt I had plans I was working on, goals I was working toward. But little did I know how big a role the pinball of life would play in changing those plans (in a much, much better way than I could have known).
I was thinking about that when I stumbled across this heartwarming NPR story about the amazing Indian runner Man Kaur, a mother of three, grandmother of nine, and great-grandmother of 14 who didn't take up running until very late in life — age 93, to be exact.
Why in the world would someone take up running, of all things, at age 93? Largely because her son, who at 79 is no spring chicken himself, thought it would be a good idea.
"She was very well, with no health problems, and she moved fast," Kaur's son Gurdev Singh told NPR. "So I took her to the university track with me and asked her to run 400 meters. She did it, slowly, and I thought 'Yes, she can do it.'"
She liked enough to keep going out to the track and improving, enough that two years later, she found herself traveling with her son to participate in international running events.
Kaur hasn't slowed down since. Her daily routine — which includes rising at 4:00 a.m. to take care of household duties before she has tea and prayers — has her at the track every day for an hour of sprinting practice.
But that's not all. Three days a week, she practices throwing the shot put and javelin, to ensure she's as well-rounded an athlete as she can be. (At age 102.)
That's because she travels with her son today all over the world to compete in World Masters Athletics Championships, flying places as far-flung as Canada, Malaysia, New Zealand, Singapore and Taiwan.
Along the way, she's won 32 gold medals, as in this competition earlier this month in Malaga, Spain:
LOOK AT THAT SMILE !!! Man Kaur from India wins the 200m GOLD in the World Masters Athletics #WMAMalaga2018. Age group 100- 104 years!!
What a privilege for every person in the world to see her in action and to share her joy 😊😊#PinkathonFOREVER pic.twitter.com/hDvWc3EVVf
September 11, 2018
It's natural to ask, why didn't she take up running earlier?
The answer is that Kaur wasn't born into a life in which she'd receive the kind of encouragement she does today from her son as well as her many fans. Her mother died in childbirth when Kaur was born in 1916, after which she was sent to live with her paternal grandparents in Patiala, today a city that was once a kingdom when India was still ruled by the British.
She'd later grow up to work as a nanny and maid for one of the more than 300 queens of the maharaja of Patiala, working in the palace there until she married in 1934 and had children of her own.
All those years, she earned about 10 rupees a month — or about 15 cents, in today's U.S. dollars.
Given that, she lived a humble life. And she still is living one today. Her son Singh says they travel at their own expense to all of the competitions they take part in. "We are not greedy persons," he added in his NPR interview. "It would be nice if the government supported just our actual expenses."
In an ironic twist of fate, in January 2017 the Indian government finally agreed to give them some support for all they're doing to raise the profile of senior sports — by providing them an apartment to live in near the university athletic stadium in Patiala.
And before that, right after she won a 2016 Masters competition in Canada, she was invited to run a 5K race in Patiala. The organizers even "invited [her] to spend the night at the palace. Ironically, she was given the bedroom of the queen she'd worked for!"
Perhaps that is what gives Kaur the equanimity she's known for today. She implores young people today to take care of their fitness by avoiding junk food and staying dedicated to an exercise regimen, but also adds these words (quoted above), which come from a famous Punjab saying:
"What you ask for, you never get," Kaur says. "It's better to accept your blessings as they come."
I couldn't agree more. Kaur's amazing life has shown that, and my own (far less amazing!) life has shown me that as well.
So what are we to do with all these plans we have? Just keep showing up, I think — just keep running. And stay away from the junk food, like Kaur says.
That one's going to be a little tricky for me, I must admit. But I'm going to try. :)
Take care my friends and have a wonderful rest of your week — keep me up-to-date on your running, as always.
Your friend,
— Terrell
---
Become a Paid Subscriber
Not yet signed up for our paid newsletters? We publish two additional emails each week with more in-depth stories/interviews about races, the mental and emotional side of running, race discounts and more. Learn more here.
---
Races that take you out of the "concrete canyons" of our cities and into the woods, trails and parks of cities big and small around the country.
---
When you're preparing for a race of any distance, one of the most important and critical things you can do for your training is getting the proper nutrition.
Here's how to think about fueling throughout your training.
---
Love running but want to make sure you stay safe? You don't have to run only on a treadmill inside or run with groups all of the time.
Here's some great safety tips to keep in mind.
---
After building a base and running a 5K, the next step is a 10K. Then after a few more months of consistent running and a bigger base, you're ready to train for a half marathon. But do you just keep running longer and longer? 10K becomes 10 miles, and that becomes 12…13…14…15? No!
Here's what you need to think about.
---
In Case You Missed It
Run some of the most beautiful places in America — from the mountains of Utah to downhill stretches in the Ozarks of Arkansas to the streets of New York City — at these half marathons with very reasonable entrance fees this fall.
"As a heart doctor, my opinion is that if you think an Apple Watch is nifty, buy one. But do not buy it for your health. It will not improve your health, and it could even bring you harm."
— I love my Apple Watch, but this is a really worthwhile Medium post by John Mandrola, a cardio electrophysiologist at Baptist Health Hospital in Louisville, Ky. What he's concerned about chiefly are healthy people wearing smartwatches that mistakenly tell them they're not, especially for things like atrial fibrillation, or AF. "The vast majority of people do not have AF, but most people do have normal variation of their heart rhythm, which can mimic AF," he points out. Really, really good piece to read if you decide to buy one of the newest watches.
"If you always run on a path, at the same speed, listening to your MP3 player, at the same time of day, on the same slope, in the same shoes, for the same distance... well, you are robbing yourself of some of the benefits you could be getting."
— As you no doubt know, boredom can be a big obstacle to maintaining a consistent running routine. The catch, of course, is that it's hard to shake things up when it's just you doing the running. That's why fitness coach Brock Armstrong offers these great suggestions in a post today at Scientific American, including things like varying your terrain, running in new places, and running with a group as often as you can.
"It's … important to note that different runners use strategies differently, based on what works best for them. So what might be a motivational self-statement for one might be meaningless to another."
— An interesting piece in Runner's World this week about the cognitive strategies used by runners who've got some experience under their belt, vs. how newbies approach their first runs. It won't surprise you that pacing is a challenge for beginners, as many burst out at first, only to slow down considerably later in a run. Scott Douglas explores how mental strategies, like positive self-talk, help a runner through difficult parts of a run (like hills, or stretches when you're not feeling strong).
I can't get over the beauty of the scenery of the desert in Morocco in this 6 1/2-minute video from Outside Magazine, an introduction to the life and running career of this 30-year-old phenom. Raji, who grew up running with her brothers on the dusty trails of her hometown in Morocco's Valley of Roses, took up marathons when they began refusing to run with her (realizing, of course, how good she was). And the rest is history.
Interested in learning more about Raji? Here's a big piece about her at ESPN.