Running to save the world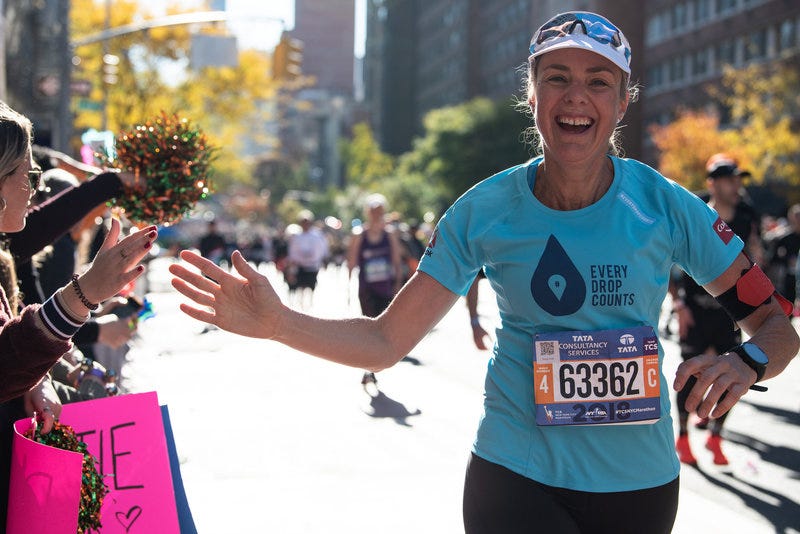 "I was never a sporty kid. I couldn't figure out how to make my body do what I wanted it to do, and I quickly withdrew to the things I knew — intellectual pursuits like schoolwork. I dreaded the selection of sports teams because for sure I would be one of the last ones to be picked." — Mina Guli
When I grow up, I want to be Mina Guli.
The 48-year-old from Australia, pictured above high-fiving the crowd when she ran the New York City Marathon earlier this month, is in the middle of an awe-inspiring running odyssey.
Starting from New York, she plans to spend the next 100 days running 100 marathons all around the world — heading first to Europe, then traveling to Uzbekistan, India and China, followed by runs in Africa, Australia, the Middle East and South America, before bringing it back to finish in NYC in mid-February of next year.
Why is she doing it?
After a career spent back and forth between London, Beijing and Washington, D.C., as a corporate lawyer and investor, Guli founded a nonprofit called Thirst in 2012, devoted to raising awareness about water conservation.
As you might expect, catching anyone's attention for a cause in the dizzying world we live in is difficult, to say the least. What better way to win media coverage than putting yourself through a grueling physical test?
There's just one problem. Guli doesn't see herself as a runner at all. Or a good one, anyway.
'I'm not an athlete'
"I'm a bad runner," she told CNBC in an interview earlier this month. She's been injured a lot over the past several years, which means she's had to spend lots of time in the gym getting stronger in preparation for this effort, which will see her run 2,620 miles over the next 3 months.
"I'm not an athlete, I came to running very late in life," she explained in an interview last year, when she ran 40 marathons across the world's deserts. "The fact that I'm here is testament to what happens when you believe in something much bigger than yourself."
When she was in college, she suffered a serious back injury when she was pushed into a swimming pool, a prank that went horribly wrong. Her doctors, she said, told her she'd never run again.
Guli said she could have "shrugged my shoulders and used this diagnosis as my excuse to sit on the sofa and eat pizza!" (Not that it would have been all bad... :)
Instead, after she recovered, she slowly began inching her way back to exercise. Starting first with swimming just a couple of laps, eventually she worked her way up to bicycling and then to running.
Fast-forward a couple of decades, and after a high-powered career at places like the World Bank and an investment firm she co-founded, work on climate-related projects got her thinking.
She was in South Africa for business when she found herself standing along the banks of the Orange River. A park ranger she talked with told her that years ago, the water in the river was as much as 6 meters (nearly 20 feet) higher than it is today.
"And all these people rely on the river for drinking water, for washing water, for their livelihoods," she said the park ranger told her. "Without this water, these people have no economy, no society, no life."
That incident sparked the idea that eventually became Thirst, and her globe-trotting running journeys to spread the word about it.
We all have to start somewhere
Two years ago, she ran 40 marathons in 40 days along six of the world's major rivers to highlight water issues in those places; and last year, she completed what she calls the "Seven Deserts Run," running 40 marathons across seven deserts on seven continents in seven weeks.
That's what I call commitment.
I know what you might be saying to yourself — Guli is extraordinary in so many ways, she has money and resources I don't have, or time that I don't have. And all of that is true — she most certainly does possess both material resources and the time and flexibility to pursue endeavors that most of us can only dream about.
But I think that's the point, too. Remember where she started: as a little girl growing up in Australia who hated sports, hated running, and always dreaded getting picked last for sports teams, because none of the other kids wanted her on their team. (Reaching back into my own memory, I remember plenty of moments like that too!)
And yet, here she is today, running 100 marathons in 100 days all over the world, just because she believes deep down in her soul that we all need to hear what she has to say.
In a couple of months, I'll be the same age as Guli, so it's safe to say I'm never going to equal her career accomplishments. (To put it mildly!)
But she started with a broken back — and now she's running marathons. If she can do that, then I can do something too. And so can all of us, right?
Keep in touch! Your friend,
— Terrell
P.S.: I hope all is well with you and you've had a great running week. I've been hearing from several of you guys about some great races you have coming up, but also about our friends in California — my heart goes out to all of you. I know that several races have been cancelled thanks to the fires, and that many of you are dealing with things we can hardly imagine. Know that you're in our thoughts and in our prayers, and reach out if I can help in any way.
P.P.S.: My friend Laura Dattaro, a science journalist and writer who lives in New York, has returned as a writer for us with a beautiful piece on running her first half marathon earlier this fall in Brooklyn. I hope you'll give it look. (I've also added some of the work she's done for us in the past below.)
---
Join The Half Marathoner Community
Not yet signed up for our paid newsletters? Get more in-depth stories about races, the mental and emotional side of running, race discounts and more, plus access to our subscriber-only Slack forum. Learn more here.
---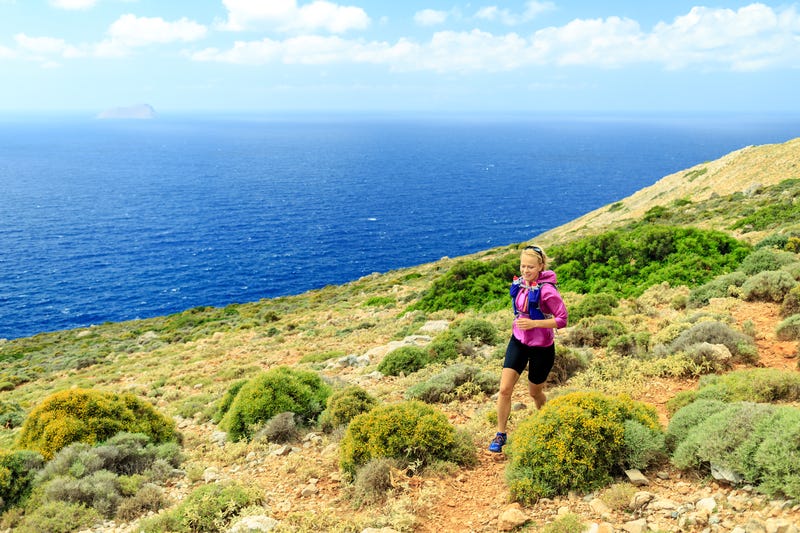 Ready for "my big fat Greek half marathon"? You just might be at one of these races in Greece in 2019, including 13.1-milers in Athens, Heraklion, Chios, Rhodes, Olympia and more.
By Carissa Liebowitz • Full list here
---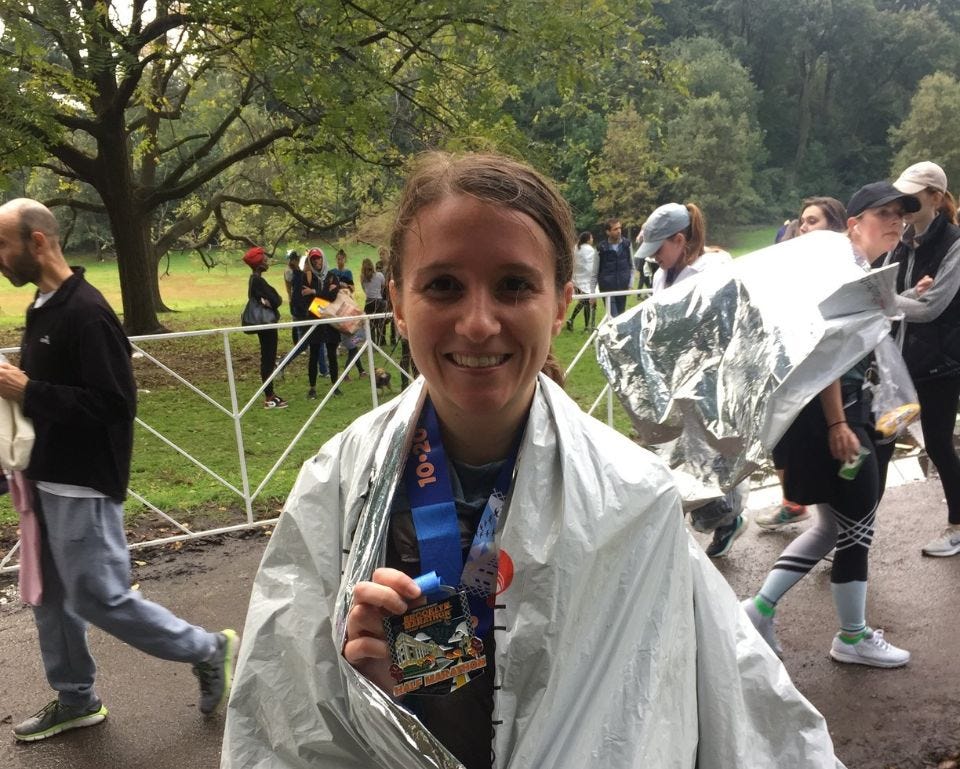 My friend Laura Dattaro contributed this wonderful post about what she went through running the Brooklyn Half Marathon this year — from catching the running bug to getting to know parts of herself she didn't know were there. "The deepest pride came from feeling that I had been open to changing the way I see myself."
By Laura Dattaro • Full story here
---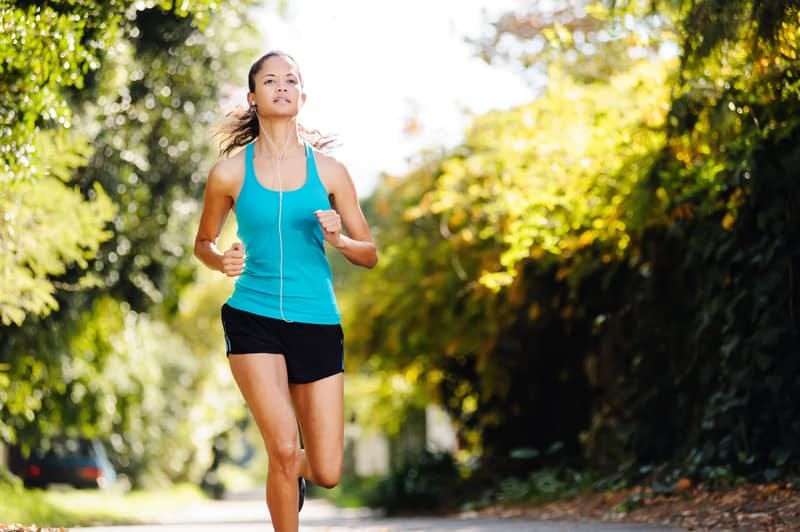 In this post Laura wrote for us, she digs into research that shows how varying our pace — rather than trying to keep it constant throughout a race — may actually be a better approach to running faster.
By Laura Dattaro • Full story here
---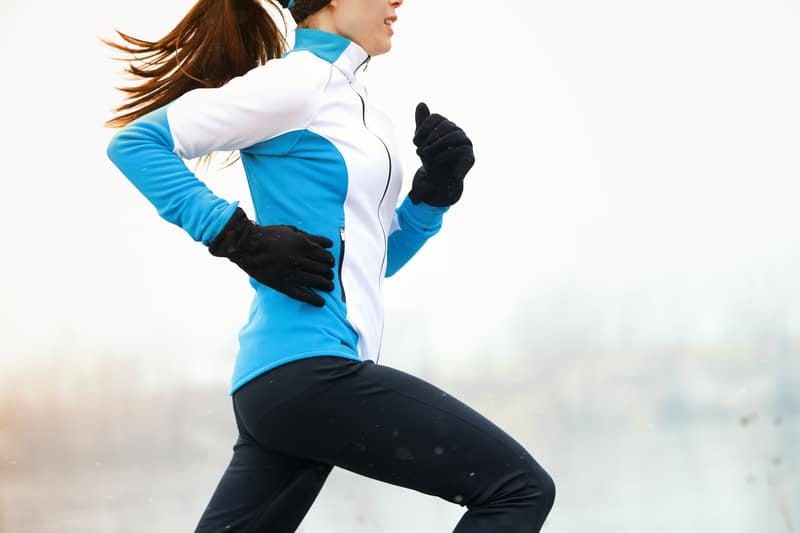 Freezing temperatures are nothing for runners (or anyone) to sneeze at. But it's not just cold temperatures that can be off-putting when you're deciding whether to go for a run outside — it's the dry air that comes along with them.
By Laura Dattaro • Full story here
---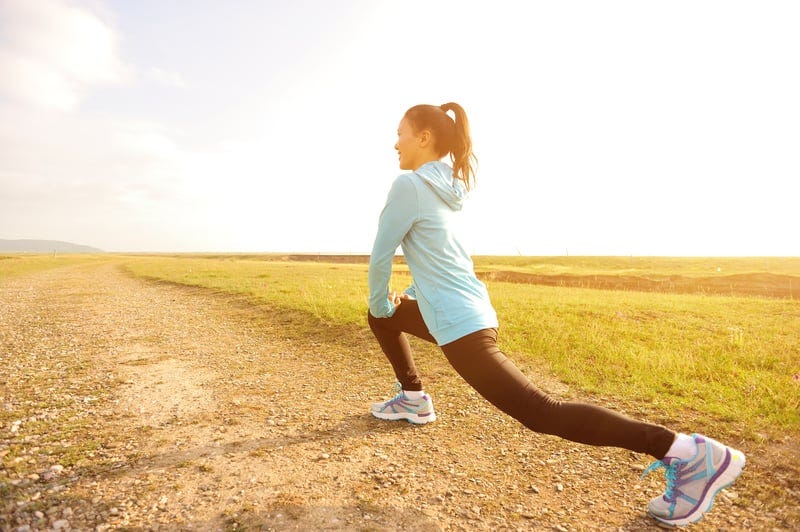 If you approach hills gingerly after injuring your Achilles tendon, you can put at least one of your worries aside: there's nothing about running up hills that poses any extra risk to the tendon that fells so many of us during our running lives.
By Laura Dattaro • Full story here
---
Let's Go Run There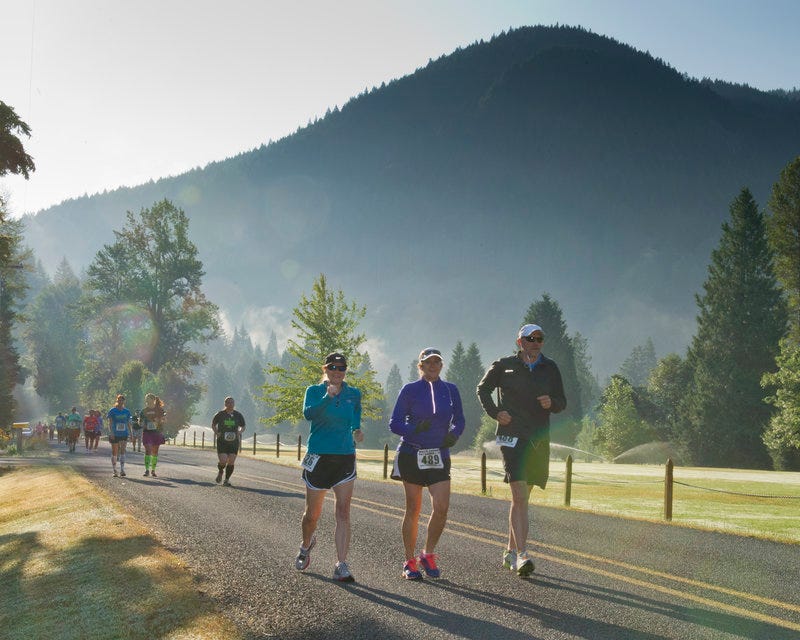 After taking 2018 off, this beautiful small-town race returns next year to its old stomping grounds in the shadow of Mount Hood, surrounded by the tree-covered slopes of the Cascade Mountains in northwest Oregon. It's the picture-perfect example of a small-town race, run among the golf courses and moss-filled trees in the forests here in an unincorporated community known as the Villages at Mount Hood.
Runs Saturday, August 17, 2019 — details here.
Run entirely along a 6.55-mile stretch of Highway 190 through the flat, desolate desert terrain of California's Death Valley National Park, this race is perhaps most famous for its one-of-a-kind location (it's the lowest point in the Western Hemisphere) and is run — thankfully — at a time of the year when Death Valley experiences relatively cooler temperatures.
Runs Saturday, February 2, 2019 — details here.
This is a race I heard about for the first time last year, but my friend who ran it said it's absolutely breathtaking. Starting from the top of Fort Mountain in northwest Georgia, at an elevation of about 3,000 feet, you'll run an out-and-back around the top of the mountain for the first half of the race, and then descend into the Cohutta Wilderness Area before crossing the finish line at scenic City Park in Chatsworth, Ga., which lies about an 80-mile drive north from Atlanta.
Runs Sunday, April 28, 2019 — details here.
Run along a route that unfolds just a short drive from Port St. Lucie, Fla., this race takes runners through this stretch of the "Treasure Coast," named for the ships carrying treasure that ran aground here in the 17th century thanks to the plentiful coral reefs just off the coast. There's both a half marathon and a full marathon, which also is a Boston qualifier.
Runs Sunday, March 3, 2019 — details here.
If you want to see what beautiful countryside looks like, you need to come to Lexington, Ky., where this race is run — all around the rolling country roads that surround Keeneland Farms. This mecca of the thoroughbred horse racing world is on the National Register of Historic Places and serves as the site for several preparation races for the springtime Kentucky Derby. If you've seen 2003's "Seabiscuit," you may recognize it — several scenes from the movie were filmed there.
Runs Saturday, March 30, 2019 — details here.
---
In the past couple of weeks, paid subscribers got the chance to learn more about how to visualize and run a great race, so check it out if you haven't yet. And this summer, I had a great conversation with the folks who run the San Francisco Marathon & Half Marathon, who gave me a behind-the-scenes look at their newly designed course.
Thanks so much for being a subscriber! If you're enjoying the newsletter, forward it to someone you think might like it too.