Discover more from The Half Marathoner
A newsletter about where running can take us
Over 42,000 subscribers
Running Boston... in Georgia
'Starting a marathon by yourself is weird... when you're ready, you just go'; plus in-person races you might love in California, Colorado, Connecticut + South Carolina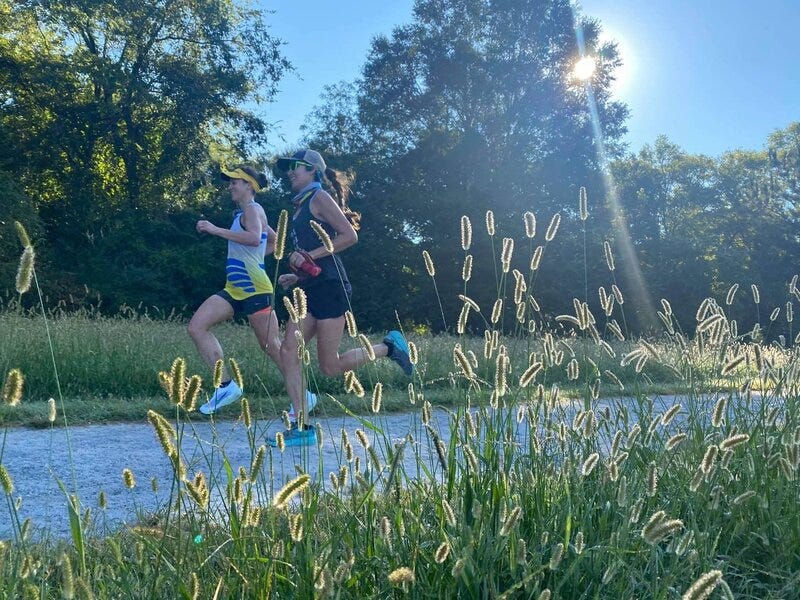 This week, I asked Carissa Liebowitz, a longtime friend of (and writer for) The Half Marathoner who's also a highly accomplished marathoner and ultra runner, to write about her experience with the virtual version of this year's Boston Marathon. She brings a thoughtful, soulful approach to running I always learn a lot from, and I think you will to. — Terrell
---
For the past five Aprils, I've had the privilege of racing the Boston Marathon. The city swells with runners, their families, volunteers, and thousands of spectators.
For our sport, this is the Super Bowl. I've run other big city marathons, but nothing compares to the prestige and tradition of Boston. Lining up at the start line in Hopkinton has felt special every time I've been lucky enough to be there.
I think we all know the story that Boston 2020 was first postponed to September and then later moved to a virtual race. There was no doubt in my mind that I would be doing the virtual race, but I wasn't really sure what to expect from both myself and the experience.
Training over the summer proved to be difficult — as expected. Living just outside of Atlanta, there is generally no reprieve from the heat and humidity.
I modified workouts as best I could and knew that a less-than-ideal situation was par for the course for 2020. Not having an end in sight weighed heavily on my mind and I struggled with the mental aspect of running more than I care to admit. 
But as August rolled around and the race window inched nearer, I tapped into my years of running experience to just be happy to be healthy and able to run. Yeah, I wasn't going to be racing with 30,000 others in hopes of a PR, but I was going to finish 26.2 miles and give it the best effort I had that day.
Runners were given a 10 day window to complete their virtual run, September 5th - 14th. Because we were allowed to choose, I sought out the best weather possible and found myself tapering early.
Labor Day Monday looked like the most ideal overnight temperatures we'd had in weeks and I decided that it would be my Marathon Monday. 
---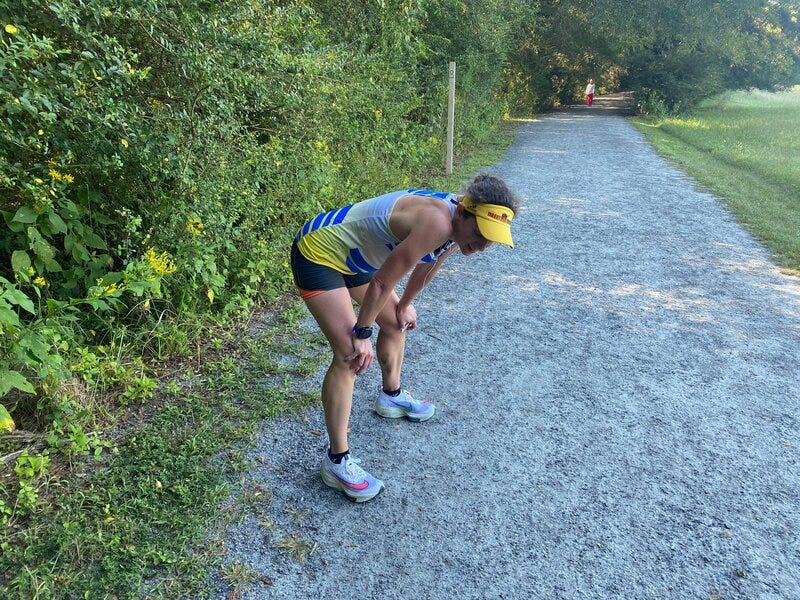 ---
So many traditions just weren't possible this year:
It seemed strange to not be picking up my number at the crowded expo

I wasn't catching a Red Sox game or eating clam chowder at my favorite Irish pub

I wasn't coordinating last minute plans to meet runner friends in the Athlete's Village

I wouldn't be climbing aboard a school bus from Boston Common, fighting race nerves with each mile closer to Hopkinton

And there would be no walk to the start on Grove Street, beside myself that I (me!) was about to race the Boston Marathon
However, I was able to honor some of my traditions and this gave me enough of the pre race jitters to give the feeling that I was actually racing.
I laid out my race outfit, pinned safety pins on my mock bib, and charged my Garmin. I made announcements on social media that I was planning to race on Labor Day Monday, now Marathon Monday, and snapped a photo before I headed out the door to race.
Lastly, I put my iconic celebration jacket in a post-race bag, ready for wearing as soon as the 26.2 miles were complete.
'Starting a marathon by yourself is weird'
Starting a marathon by yourself is weird. There is no fanfare to begin, no other runners nervously milling about, no countdown to a specific time. When you're ready, you just go. I chose to start in the dark so there wasn't even anyone else in the park yet. I was alone with my footsteps, my breaths, and my dreams.
But in a way, it wasn't that much different than any other race. I'm not competing for money or placement. I'm competing against myself and the clock. I'm racing to find out what happens when my legs get tired and my mind fills with self-doubt. 
There was no one to hand me little paper cups of water and no funny signs to briefly distract me from the task at hand. There were no mile markers, just the beep of my watch letting me know that I was that much closer to the finish.
As the park began to swell with people enjoying their Monday morning runs or walks, I thought about how different it was to share the path with people moving at various paces. One of the special things about Boston is sharing in the footsteps of runners who race at the same exact pace of your own for miles and miles. 
---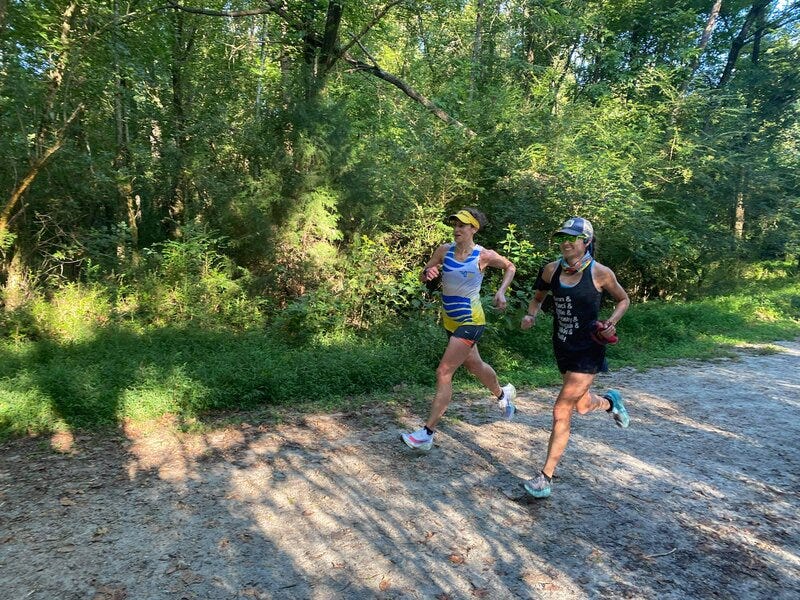 ---
As I neared the final hour of my race, I was met with a surprise of two friends who came out to pace me. If I were on the actual race course, I would have been smack dab in the middle of the Newton Hills. It seemed pretty appropriate that they were there to give me a boost in the place I often need it the most.
With pacers in tow, I pictured all the iconic spots left in the final miles of the course and ticked them off mentally with each passing mile. The crest of Heartbreak Hill, the roaring crowds of Boston College, and the first glimpse of the Citgo sign. 
It certainly was not the deafening noise of Hereford and Boylston, but we cranked up the music for the final mile and kept the pace honest.
With the imaginary finish line in sight, I pushed the pace just as hard as I would with any real race, making each second count as I gave it my all to the line.
The thrill of satisfied exhaustion after pushing myself through a marathon, virtual or otherwise, was exactly the same. Perhaps even more so because there was no crutch of my fellow competitor nor the crowds to relentlessly encourage me along. 
Of course I want to get back to "real" racing as much as the next runner. But I think that I'll appreciate the opportunity in the long run (pun intended) of racing a solo marathon. It was the ultimate test of the body, mind, and the love of running. 
— Carissa
---
Races you might love running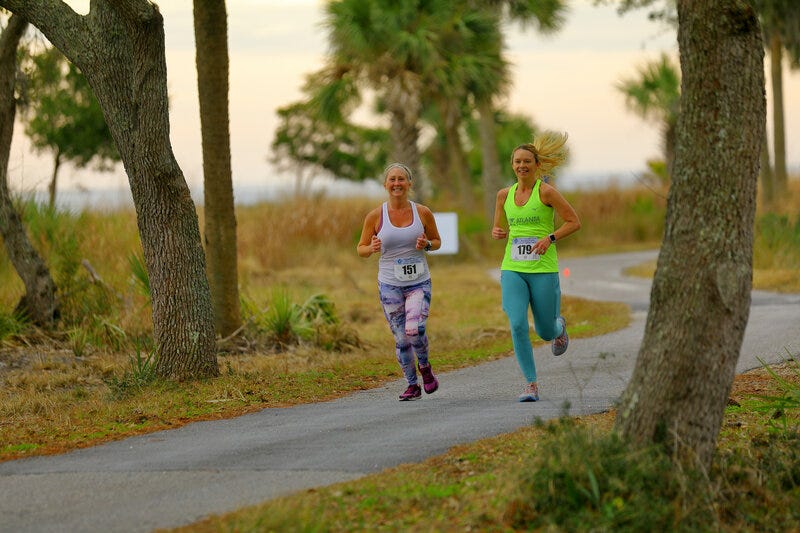 Daufuskie Island, S.C. | Saturday, Jan. 16, 2021
A magical run on the island pictured above, accessible only by ferry and whose isolation from the mainland helped preserve its Gullah culture and language for more than a century. Most of the island remains undeveloped today, and you'll get to see much of it along a combination of paved and unpaved road that snake along the coastline and into the island's interior. You'll have your choice of running 13.1, 26.2 or 39.3 miles — the half marathon runs the loop route once, the full marathon twice and the ultra three times.
$140 and up | Sign up here
---
Johns Island, S.C. | Saturday, Oct. 10, 2020
Located about a half-hour's drive from downtown Charleston, this race runs through Johns Island County Park, a 738-acre wooded oasis filled with miles of trails shaded by moss-draped trees. You'll get to run on dirt trails that wind throughout the park, with everything from grass to tree roots along those often uneven trails. Kids as young as 10 years old are welcome to participate, too, as long as they have a parent or guardian to run with them. Due to Covid-related restrictions, no spectators will be allowed on the course.
$40 and up | Sign up here
---
Salida, Colo. | Sunday, Oct. 11, 2020
A scenic, challenging run along the historic and spectacularly scenic Ute Trail in Colorado's Arkansas Valley, which can be completely dry with sunny skies — or covered in snow. You'll have six hours to complete this course, which runs on a combination of single-track trails and jeep roads, climbing some 2,000 feet between the start and the finish line, at elevations between about 7,000 and 7,800 feet above sea level. Of course, with all that climbing uphill comes some incredible rewards, including views of Salida and the valley below. This year's race will be limited to 150 starters in the half marathon + 150 starters in the full marathon.
$65 and up | Sign up here
---
Litchfield, Conn. | Saturday, Nov. 14, 2020
"This course is extremely tough," organizers say of this race they've created to honor the sacrifices made by the U.S. military, a "bare bones race for those with the determination, grit and wherewithal to get it done." For an extra $10, you'll receive a dog tag with the name of a soldier serving or who has served in a war zone, as a reminder to motivate you to get up the many hills on this course.
$50 and up | Sign up here
---
Death Valley, Calif. | Saturday, Dec. 5, 2020
Held deep within California's Death Valley National Park and limited to just 250 entrants, the Death Valley Trail Half Marathon is a race that sells out well in advance of the day of the race, and takes place in winter so that runners can expect both gorgeous views and temperatures comfortable enough for running. If you're looking for a race that's both challenging and unforgettable, this is likely it — the out-and-back course climbs nearly 2,000 feet between the starting line and the midway point, and then descends by the same amount on the way back.
$200 and up | Sign up here
---
Great running reads
6 Foolproof Tips on How to Run Faster From Experts and Athletes. If I could share just one article about how to become a better runner, this is one I'd consider — it's full of useful, actionable tips you can start implementing right away in how you train, eat, rest, and (much) more.
"We don't have the power to change an experience — an experience is what it is. But we do have the power to change how we experience that experience."
Why You Should Stretch More Often. The pandemic has meant more of us are spending a LOT more time at home, which means many of us are lot less active than we used to be. Couple this with less than ideal work spaces, and it's a recipe for stiffness and back pain.
"With Zoom meetings and phone calls, often back to back, we lose the ability to just stand up and walk around. People are staying in one position for way too long."
Running on Concrete Could Irritate Joint Issues — Here's Why Softer Surfaces Win. Softer running surfaces, like grass or a track, are easier on your feet because they're in contact with the ground for a longer period of time than on concrete surfaces.
"Because everything is connected, that stress hitting the foot as the heel strikes the concrete for a split second can cause more pressure on the ankle, knee, and hip."
The Most Likely Way You'll Get Infected With Covid-19. Not strictly running-related, but a comprehensive rundown of 6 months of science, detailing everything we know (so far) about how the virus can be transmitted. Essential reading.
"It's not that [surface spread] can't happen, it's just that the likelihood is less than if someone was actually right in front of you breathing live virus in their droplets onto you."
---
A song to run to today
"The Revolution Starts Now" from the album The Revolution Starts Now by Steve Earle.
Want to hear all the songs we include in our newsletters? Listen to our full playlist on Spotify, with 8 hours, 41 minutes of music to run to.