"Running is not just for those who are fit and healthy and strong. Running is a life-breathe for those who struggle with physical and mental illness, self-doubt, loss, anger, regret and other unspeakable pains. Why? Because running has the power to heal, to bring perspective, to instill confidence, to restore sanity and to make us believers again. This is why I run." — attributed to Susan Husband
If you've dropped out of running for any length of time, coming back to it can be a little like climbing a mountain — after you've been up the mountain once already and rolled back down to the bottom.
Staring up at something your mind knows is possible — but your feet, heart and lungs aren't quite convinced — is a tension each of us lives with to a greater or lesser degree.
This is what I've been feeling over the past few weeks, as I get back to running 3 to 4 days a week. It's been exhilarating — I get to feel again what it used to feel like to run consistently — but also I feel the same nervousness about what I can really do.
Can I run the distance called for on my training sheet? (I'm working with a running coach (Meghan Stevenson) this time around, rather than relying on my own willpower.) Am I up for the cross-training exercises she's asking me to take on twice a week? Damn these weights feel heavy...
These thoughts all were swirling in my head over the weekend as I made my way to one of my favorite running spots near where I live in Atlanta, a National Park Service-maintained set of forested trails and paths along the Chattahoochee River.
On my sheet for the day was a five-mile run, a distance I haven't covered in a long, long time. That may not sound like much, but it might as well have been 10 or 15 miles or more from the place I was starting from.
Right after I started, a voice in the back of my mind kept hinting that if I needed to, I could stop short of what I'd planned on. Who needs to be a hero, after all?
(Why, after 48 years on this planet, have I not been able to make this voice go away? I'm not sure I'll ever have an answer to that question, but I'd love to hear how you've answered it. :)
Once I got a couple miles in, though, I glanced at my watch and saw I was running just a few seconds over 9 minutes per mile. It's been longer than I can remember since I've seen a number like that; lately I've been running at a pace of just over 10 minutes per mile on a good day.
By the time I breezed across the five-mile finish line I set for myself — ending with a pace of 9:17 per mile — I was feeling strong enough that I could've tacked on another mile or two.
My body was capable of much more than I realized that day. Even though I only began training in earnest a few weeks ago, I'd already begun to reap some of the rewards that come early in the process of getting fitter.
It reminded me of what legendary running coach Joe Vigil — who has worked with the likes of stars like Deena Kastor — told Gretchen Reynolds for her book The First Twenty Minutes:
"The nice thing about being a beginning runner is that beginners see very big gains in performance. It's one of the things that inspires beginners to stay with the program, I think."
The mental boost that comes from this, I can glide on — whenever I'm feeling not quite up to the challenge of whatever is in my plan, I can remember how I felt before. It becomes the fuel to help you scale the next wall.
And more walls there will be, as I make my way into double-digit miles in the weeks ahead. Hopefully I'll be able to keep surprising myself, even when I don't think I have it in me.
What do you use to boost your own confidence, and overcome your own doubts? As always, keep in touch and let me know how things are going on the run for you.
Your friend,
— Terrell
---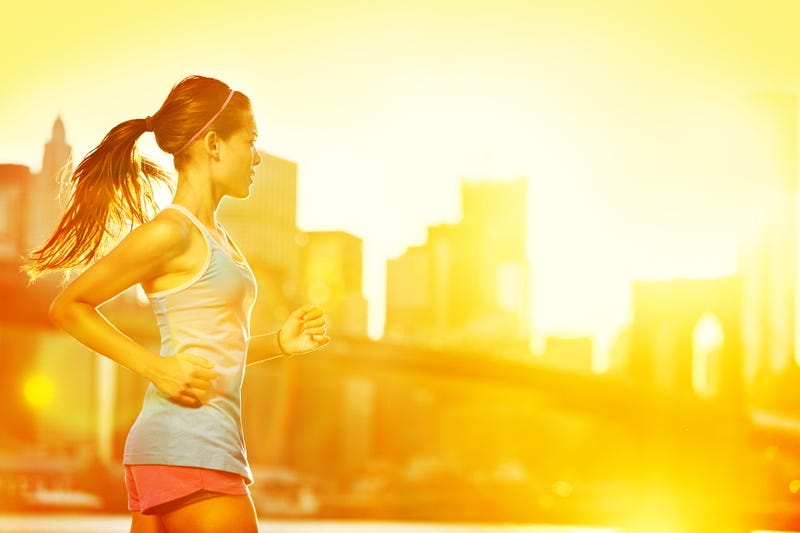 From races that draw 25,000 runners or more to races that limit their number of entrants to just 25, nearly three dozen 13.1-milers you can choose from around the Big Apple from now through the rest of the year.
---
We all have different body types, metabolism, and are training for different things. Just like running shoes or gear, what works for me, might not work for you. Finding the "perfect" diet for a runner is a highly personalized journey.
By Hollie Sick • Story here
---
Now that daylight savings time has started, reflective gear is more and more important for runners in the morning. It is the runner's duty to stay lit up when running in the dark.
By Hollie Sick • Story here
---
Become a Full Subscriber
Get more in-depth on training, races and running for a lifetime, plus access to our subscriber-only Slack and Facebook groups. Here's what our paid subscribers have received recently: