Discover more from The Half Marathoner
A running newsletter that isn't (just) about running
Over 42,000 subscribers
Muscle Shoals, Mount Hood, Peru's Inca Trail, Arizona's high desert + the Texas Hill Country
Plus a change in how we do things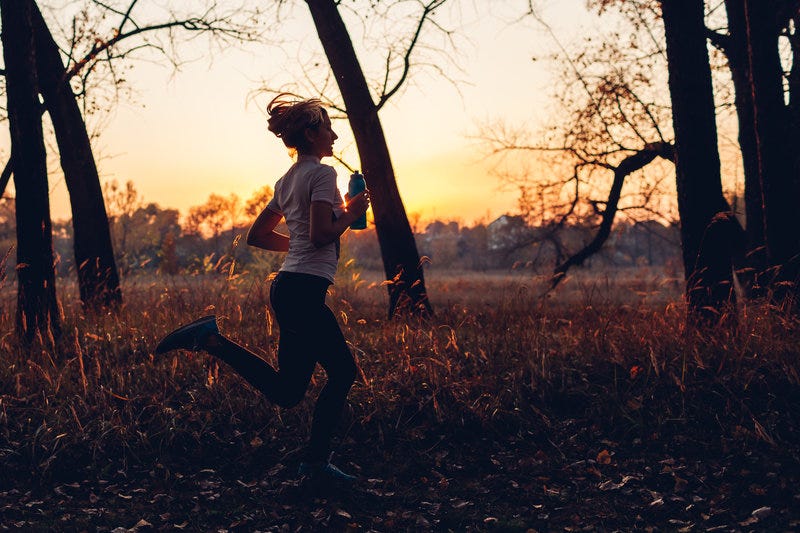 "No matter how old I get, the race remains one of life's most rewarding experiences. My times become slower and slower, but the experience of the race is unchanged: each race a drama, each race a challenge, each race stretching me in one way or another, and each race telling me more about myself and others." — George Sheehan
In case you hadn't heard, there's a big race in New York City this weekend. 😊
While many will focus on the elite runners competing to win this year's New York City Marathon, I'll be especially interested to hear how the race goes for a woman named Ginette Bedard.
Now 86 years old, she ran her first marathon at age 69 and posted finishing times under 4 hours well into her 70s, including a 3:46:18 time at the 2005 New York City Marathon.
Even though she's lived in the U.S. for decades now, Bedard still has a distinctive French accent thanks to a childhood spent growing up in Metz, a city nestled along the banks of the Moselle and Seille rivers in northeastern France.
You can hear that accent come on strong in this wonderful video about how she approaches running and life, and why she keeps a training schedule that people half her age would find challenging:
"I run every day ten miles. If I come home, I only run eight miles or nine miles, I come back and I'm depressed. I do my ten miles, I come back happy. I know how long I have to go, I know I got a finish line.

Nothing's gonna stop me. I will never quit! Never. Unless a something tragic. My body, maybe a heart attack or a stroke or whatever. I don't think I gonna have that. Not while you're running.

I'm 86. Who the hell at my age is still running at 86? I'm gonna do the marathon, and I'm gonna be the oldest, and I'm gonna love it."
Age, she says, really is just a number if you look at it that way:
"Lot of people tell me, 'But I used to be…" Ahh, yeah. But me too — I used to be, but I'm still what I used to be. There's no reason why they shouldn't be the same. Okay? You are what you do to your life... [it takes] discipline, determination, pride, a little bit of everything. Now I'm gonna go, and I'm gonna go and have a croissant and a cappuccino."
Sounds like the perfect finish to a race, doesn't it?
Your friend,
— Terrell
P.S.: You may remember a few months ago when I said we'd be making some changes to the newsletter, specifically splitting up the weekly essay and the list of races into two separate emails. I'm going to (finally!) move forward with this change starting next week, with the goal of making each more focused and valuable for you — rather than trying to stuff everything like a sausage into a single, long email. Thanks, as always, for being along for the ride here as a subscriber.
---
Become a member and save $15
To everyone who's signed up for a paid membership to The Half Marathoner so far, thank you SO much — you help make this whole thing possible. If you haven't yet, sign up today and save $15 for your first year, and get more of everything we do.
---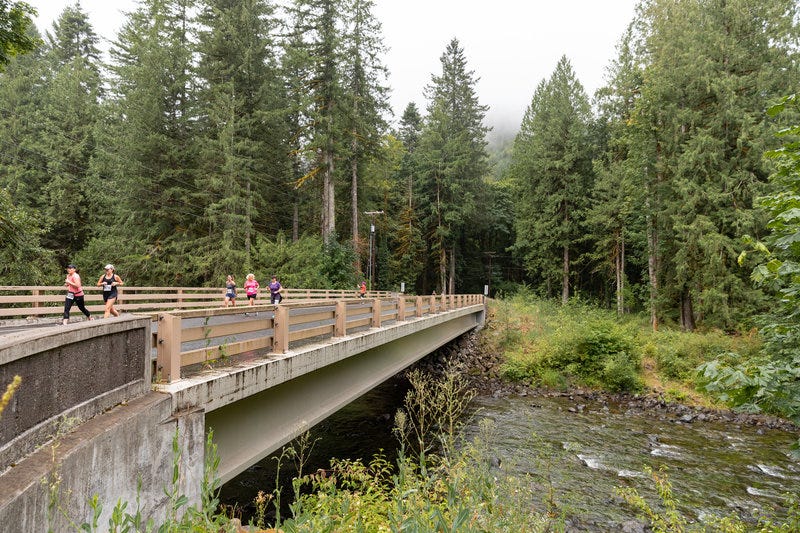 Welches, Ore. | Saturday, Aug. 15, 2020
Surrounded by the tree-covered slopes of the Cascade Mountains off in the distance, the route for this gorgeous, scenic half in northwest Oregon is the picture-perfect example of a small-town race, where you'll run among the golf courses and moss-filled trees of the Mount Hood National Forest. Long stretches of the race unfold along the Salmon River, especially in the middle miles of the race as you're running toward Green Canyon; you'll cross over the river twice before crossing the finish line. The first half features some long uphill stretches, while the second half has plentiful downhills.
$57 and up | Sign up here
---
Muscle Shoals, Ala. | Saturday, March 7, 2020
You'll run along the golf cart paths that wind among the tee boxes, fairways and greens of The Shoals, a 36-hole golf course tucked in Alabama's northwest corner. It's a rarity because it's run on asphalt but not on any roads — runners make their way almost entirely along the golf cart paths of this course just outside Muscle Shoals, Ala., a city of nearly 15,000 people that's probably most famous for its music. (Artists from Paul Simon and Rod Stewart to the Allman Brothers and even George Michael have flocked to the studios that have made the "Muscle Shoals Sound" world famous.)
$50 and up | Sign up here
---
Leakey, Texas | Saturday, April 4, 2020
The challenging and rugged terrain of this isolated ranch nestled deep in the Texas Hill Country is the setting for this trail race, which takes place on the trails of the 7,000-acre Big Springs Ranch for Children, which provides support and safe haven for abused and neglected children. The race will take you "to the top of ridges and descend to river valleys, traverse canyons, forests and meadows, ford streams and pass Big Springs at the headwaters of the Frio River," organizers say, adding that you'll even trek through a stretch where you can run in the footsteps of dinosaurs — through a pair of dry riverbed areas where dozens of dinosaur tracks have been preserved.
$35 and up | Sign up here
---
Prescott, Ariz. | Saturday, April 18, 2020
A gorgeous and challenging run along the high desert trails that surround this city in central Arizona, which was once the capital of the Arizona territory and where you'll never be far from its famed Whiskey Row downtown. The race unfolds along the Prescott Circle Trail, which makes a 54-mile-long loop around the city — you'll start the half marathon at Prescott's Watson Lake Park, and from there head out onto a mix of "fast single track, technical granite rock, and steep scrambles," organizers say. If you're up for more than 13.1 miles, the race also offers a 33K, 60K and 88K (as well as a 10K).
$68 and up | Sign up here
---
Cusco, Peru | Thursday, June 11, 2020
Billed as "the most difficult marathon in the world," next year brings the final running of this once-in-a-lifetime running adventure that will take you along the 500-year-old Inca Trail from the Sacred Valley town of Aguas Calientes just outside Cusco to the ancient lost city of Machu Picchu, a place that's been described as "the most spectacular finish line in the world." Just to give you an idea of what lies in store at this race, the starting line lies at an elevation of 8,650 feet above sea level and you'll climb through the mountains here to an elevation of over 13,000 feet, running through places with names like the "Town in the Clouds" and the "Gateway to the Sun." The race is actually one day of a 9-day journey, and you'll get to tour the ruins of Machu Picchu the day after the race.
$3,400 and up | Sign up here
---
A song to run to today
"Werewolves of London" from the album Excitable Boy by Warren Zevon.
Want to hear all the songs we include in our newsletters? Listen to the full playlist on Spotify here.
---