Learning how to 'stay on your own team' on the run
Plus races in Mackinac Island, Easter Island, California's Wine Country, 'Chocolatetown' + Laamu Atoll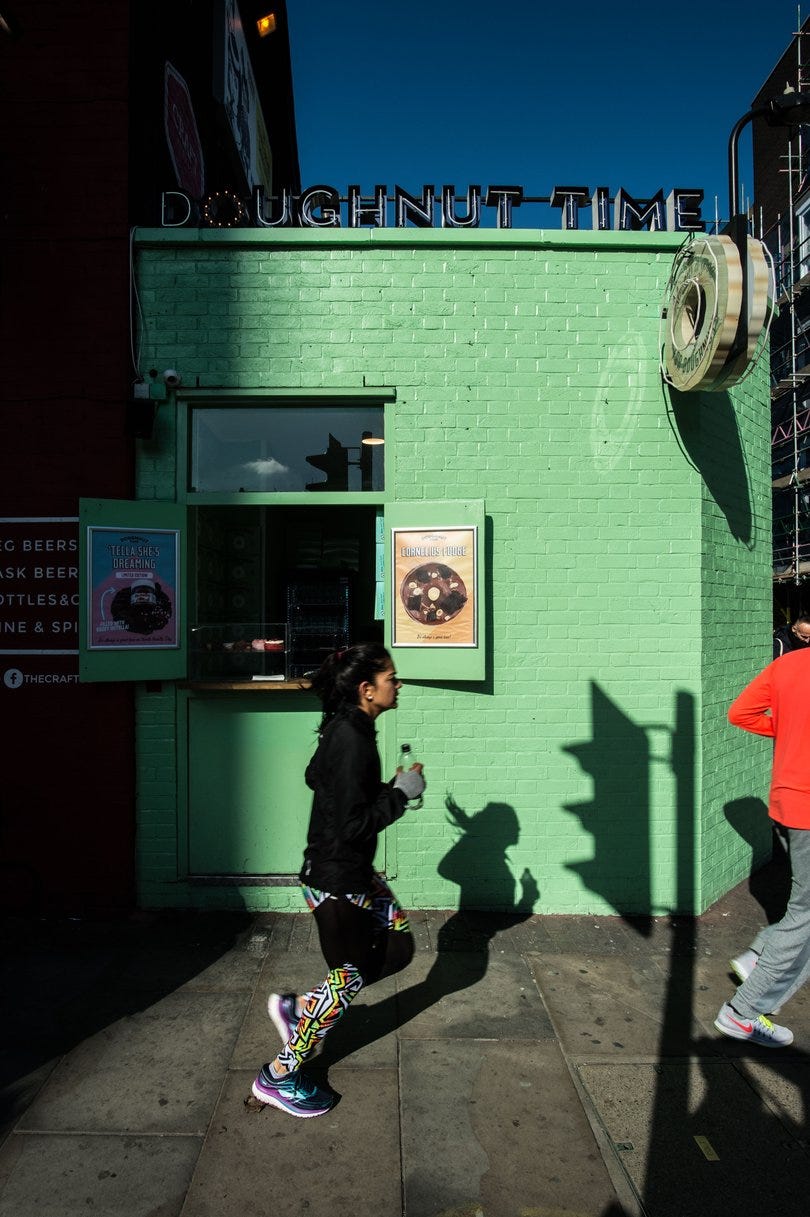 "You can't climb up to the second floor without a ladder. When you set your aim too high and don't fulfill it, then your enthusiasm turns to bitterness. Try for a goal that's reasonable, and then gradually raise it." — Emil Zatopek
One of the things I hear from readers again and again is the question of how to deal with difficult moments in a race or in a training run, whether you're talking about things like sweltering heat and humidity or simply hitting a bad point in a run, when you're just not feeling like you can go on.
Earlier this week, one of our subscribers wrote in to share what she'd been dealing with. I could feel the anguish in every word:
"I had an awful long run on Saturday, cut short at 8 miles instead of the 13 in the marathon plan because my legs were just bricks. I ran through the spray park to see if maybe I was just overheated, but the legs said, "No, it's not the heat. We quit." So I shut off the watch and walked toward home.

Immediately, the nasty, bullying voice in my head started a harangue: "You call yourself a runner? You're nothing but a jogger. And a quitter. Quitter! You'll never run a whole marathon."

The Voice wore me right into a frazzled crying fit, which my logical brain saw as obvious evidence that the problem was more about too little sleep than about too little fitness. 

[My] logical brain also knew that I just ran a half marathon a few weeks back ... So it knew that I can do 13 miles, no worries, and it was confused. "This is not logical. I trust the training," it thought. "It's been a stressful week at work, but this is just not a big deal. Why am I so upset about this?" 
I felt terrible for her, because I know what exactly that voice sounds like — I have one in my head too!
As luck would have it, later that same day an episode of one of my favorite running-related podcasts was released, an interview with Alexi Pappas, a 29-year-old elite runner who competed at the 2016 Olympic Games in Rio de Janeiro and ran the Chicago Marathon last fall — her first attempt at the 26.2-mile distance.
You might think that compared to the likes of us, running a marathon for someone like Pappas is no big deal. "It's harder than it looks," she told interviewer Ali Feller.
The whole interview is worth listening to, but what really struck me was that even professional runners aren't immune to the little doubts, nagging thoughts and disappointments that each of us face.
It was only a few miles into the course last fall that Pappas realized how her training at altitude in Mammoth Lakes, Calif., hadn't prepared her adequately for the much-lower elevation of Chicago:
"What I found [is that] I was not strong enough to handle the pace of a marathon for longer than like eight miles of the marathon. And I learned that during the marathon. The hardest part for me was that decision moment where I was like, I could no longer race the marathon, but I could still finish the marathon.

"I didn't experience an injury, it was more of like a very distinct weakness, where I wasn't strong enough fitness-wise, and maybe my hamstring was a little weak to race the whole marathon.

And I'm used to — as an elite runner and an Olympian — to racing. And so at that point, it was an emotional decision, because some runners in my position would have dropped out, [because they could] not clock a time that represents their hopes, or that represents a true race.

I had to decide to change my goal, to just keep putting one foot in front of the other. And I was so proud of finishing, and that was really different than I expected.

I expected to race, and I had to change plans in the middle and stay on my own team, which is a really big deal in running and a really important skill to learn as a marathoner."
I love that phrase: staying on your own team. It's really hard for many of us to do, myself included, especially because — and as Pappas points out later the interview — as runners, "we're really inward facing, and we can be really hard on ourselves."
Feller then asked her what that internal conversation was like. "That hey, I am not going to drop out, I am going to stay in this, this doesn't mean I'm giving up."
Here's how Pappas responded:
"I kept hearing people on the sidelines cheering, like 'Go Lexi!' and I realized that I may not be feeling fantastic and amazing, but nobody on the sidelines is judging me as harshly as I'm judging myself, and so I think what I realized is that, to run a marathon [at all] is impressive and admirable and worthy.

And so it occurred to me to really try to run with the strength and the energy of the people around me. And Chicago brings such a strong crowd, and there were people the whole route — and it was really the people and the place that made me look a little outside of myself and keep going."
Amen, a thousand times over. You'll be happy to know that later in her email, the reader who wrote me above noted that she was able to remember to take a deep breath and trust her training, and just keep putting one foot in front of the other.
That's all any of us can do, right?
I hope all is well with each of you, my friends in running. As always, keep in touch and let me know how things are going with you.
Your friend,
— Terrell
Paid subscriptions keep The Half Marathoner ad-free and support the work of our amazing writers Hollie, Carissa and Laura — plus, you get more of everything we do. If you aren't already, I hope you'll consider becoming a paid subscriber today:
---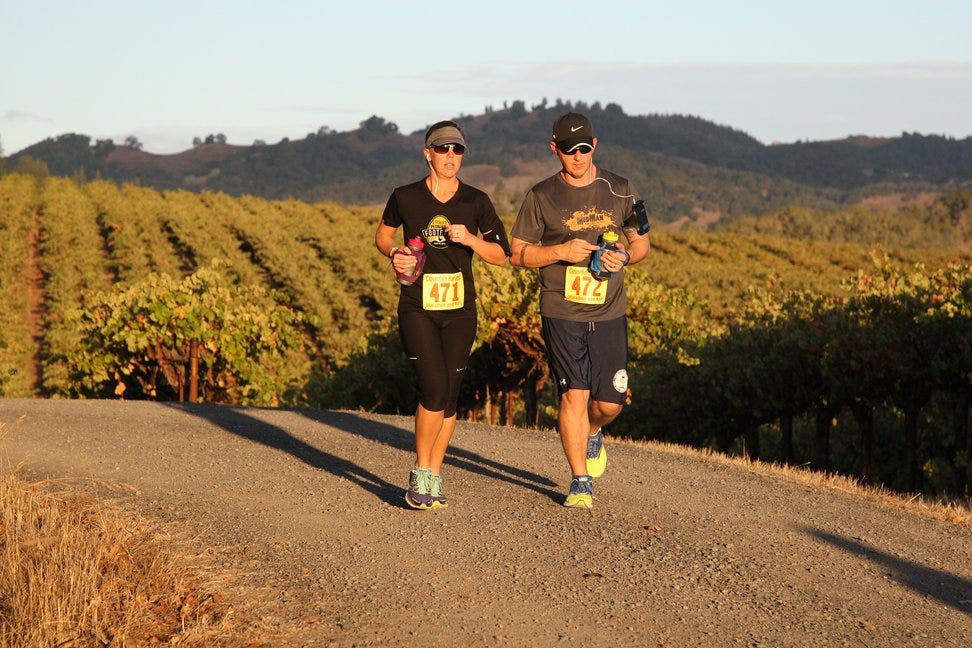 Cloverdale, Calif. | Sunday, Oct. 20, 2019
A gorgeous run along the dirt roads that wind through Sonoma County's Asti Winery, when the fall leaves are turning ablaze with color. The race takes places in a small town that lies about 90 miles from San Francisco and just outside Healdsburg, one of the most popular destination towns in the Northern California wine country. Throughout the course, you'll run on packed, groomed dirt roads past hillsides filled with row after row of wine grapes (as well as a few paved roads, as you'll be running through a working vineyard) taking in the scenery along the banks of the Russian River and the Alexander Valley all around. Expect plenty of gently rolling hills too; the race offers the 26.2-mile, 10K and 5K distances in addition to the half.
$90 and up | Sign up here
---
Hersey, Pa. | Sunday, Oct. 20, 2019
The smell of chocolate in the air is the telltale sign that you've arrived in "Chocolatetown, U.S.A.," the world-renowned home of the maker of the Hershey chocolate bar. Throughout this out-and-back run along the streets of the Hershey theme park and the surrounding town, you'll run past a number of local attractions like Hershey's Chocolate World, the Reese's Peanut Butter Cup Factory and along "Chocolate Avenue," where the streetlights are shaped like the famed Hershey's Kisses. The race also hosts a two-person relay if you're not up for running all 13.1 miles by yourself.
$95 and up | Sign up here
---
Mackinac Island, Mich. | Saturday, Oct. 26, 2019
The last open weekend of the tourist season on Mackinac Island State Park marks the 24th annual running of this beautifully scenic race, an out-and-back trail run along this 1,800-acre island just off the coast of Michigan's Lower Peninsula. You'll run a combination of paved roads and biking trails within the island's interior; the trail sections are mostly gravel with the occasional dirt surface. You'll also be running through one of America's oldest parks, as Mackinac Island was named a national park in 1875 — the country's second national park after Yellowstone — and later became Michigan's first state park. While you're there, make sure to take in Arch Rock, the postcard-ready geologic formation on the island's eastern shore.
$65 and up | Sign up here
---
Mukurimagu, Laamu Atoll, Maldives | Saturday, Jan. 25, 2020
A run truly unlike any other, one its organizers say "could be the most beautiful running experience of your life." That's thanks to the white sand beaches and crystal blue ocean water along this tiny, narrow island in the Indian Ocean, part of a string of 26 atolls in the Indian Ocean that are famous for their beach resorts (especially their villas built over the water). You'll run a fast, flat out-and-back loop that starts next to the harbor in the village of Mukurimagu, and from there make your way along the only paved highway on this low-lying island, whose highest point lies at just over 7 feet above sea level.
$20 and up | Sign up here
---
Hanga Roa, Easter Island | Sunday, June 7, 2020
Perhaps most famous for its enormous stone statues carved by the Rapa Nui people — the aboriginal Polynesian inhabitants of this remote Pacific island, about 2,300 miles off the coast of Chile — Easter Island plays host to this stunning race each winter (which begins in June in the southern hemisphere). From the start in Hanga Roa, the island's main town, you'll begin where the waves crash along the shore near sea level, and climb some 500 feet by the time you reach the half-way point, running in the shadow of the island's mountains. After you make the turnaround, you'll run the same route in reverse all the way back to Hanga Roa, enjoying the island's breathtaking scenery in to the finish line.
$400 and up | Sign up here
---
A song to run to today
"Dreams" from the album Everyone Else Is Doing It, So Why Can't We? by the Cranberries.
Listen to our full playlist on Spotify here.
---