'I thought I'd love to do that'
Plus 2020 races in Singapore, Lynchburg, Mount Hood, Chicago, Colorado + the San Joaquin River
The blurry, black-and-white images from the television broadcast of the 1952 Helsinki Olympics were no doubt primitive compared to what we see projected on our wide-screen, high-definition sets today.
But there was something magical about them for a 19-year-old Briton named Diane Leather, who watched the women's 100- and 200-meter races from her home in Staffordshire, England.
She had played lacrosse as a child growing up, but until watching the women run that day, she'd never tried running herself.
"I thought, I'd like to do that," she told an interviewer for the newspaper where she lived in Birmingham, England, a few years ago, recalling her Olympic inspiration.
Leather took up running while working as a chemist at Birmingham University, quickly becoming good enough to join a local running group known as the Birchfield Harriers, whose coach Dorothy Nelson noticed her ability.
Her training with Nelson paid off. Less than two years later — on May 29, 1954 — she raced into history, clocking the fastest time ever for a woman in the mile, which at the time was the marquee distance for competitive running.
(Leather's new world record came three days after her first attempt to break the five-minute barrier, when she came tantalizingly close with a mile time of just two-tenths of a second over five minutes.)
Here's how the New York Times recorded her accomplishment the next day:
When told of how she'd done after she crossed the finish line, Leather reportedly said "Oh good, at last!" No doubt she was tired; before her record-breaking run, she also had run a 800-meter race earlier in the day.
Leather would go on to win a number of cross country and track and field titles in the second half of the decade before competing again on the world stage in the 1960 Rome Olympics, as a runner in the 800 meter event.
Alas, her accomplishment never got the attention it deserved at the time. Roger Bannister breaking the four-minute barrier just three weeks earlier, as well as fear and prejudice on the part of track and field's ruling officials, combined to overshadow what she'd achieved.
As the Guardian noted last year:
[Leather's] husband, Peter Charles, wrote later: "It's a sad fact that while Bannister's story is known to all, Diane Leather is almost unheard of amongst the younger generations and outside of athletics circles." This was due to attitudes at the time towards women's sport. Throughout the 20th century, there was a great deal of anxiety around women competing in various events: because of unfounded medical concerns, they were banned from the Olympic marathon until 1984 and only began ski jumping at the Winter Olympics in 2014.
In interviews later in life, Leather turned the other cheek. "It's just the way it was," she told Runner's World U.K., which revisited what she'd accomplished after she passed away last September. "I did get a lot of attention from people who knew what it meant."
I wonder if there's a hint in the article above, written by the Times reporter all those decades ago, in which Leather is described as a 5-foot-10, "good-looking laboratory analyst."
Whoever wrote it likely didn't think twice about his phrasing, but it gives us insight into what would have been acceptable to write at the time.
There's a part of me that thinks, well, that was the 1950s. That's just what it was like back then. And then, I see things like this, from the Savannah, Ga., Bridge Run a couple weekends ago:
There are people who see this clip and are horrified; there are others who watch it and say, "what's the big deal?" (Just so we're crystal clear, I'm among those in the former group.)
But to those who feel like they fall in the latter group, here's what I'd ask. I don't wish to preach, just to ask a simple question. It's a question I heard Warren Buffett ask once — imagine you're going to be born tomorrow, and you get to design the world.
You can design it any way you want, but there's one catch:
"Just before you emerge you have to go through a huge bucket with 7 billion slips, one for each human. Dip your hand in and that is what you get.

You don't know whether you're going to be born black or white... You don't know whether you're going to be born infirm or able-bodied. You don't know whether you're going to be born in the United States or Afghanistan.

Not knowing which slip you are going to get, how would you design the world? Do you want men to push around females? It's a 50/50 chance you get female.

The ovarian lottery is 'the most important event in which you'll ever participate... it's going to determine way more than what school you go to, how hard you work, all kinds of things.'"
What kind of system would you want to be in place in the world you were about to be born into? If I hadn't won the ovarian lottery, as Buffett calls it, would I design the world differently, so that Diane Leather and Alex Bozarjian wouldn't have had to go through the things they have?
The answer, of course, is obvious. If you've made it all the way to the end of this, thank you. And please forgive me if I sound like I'm preaching; I know I can be a pain about these things sometimes.
But these things are important. What we all say and do matters, and how we treat one another makes the world what it is.
I truly hope you have a wonderful, wonderful holiday season — I wish all the best to each and every one of you, and as many miles of running as you can get in!
Your friend,
— Terrell
P.S.: I wouldn't have known about Leather's story if it weren't for the work of the journalist Julia Carpenter, who wrote about her in her wonderful newsletter earlier this week. Definitely check it out.
---
Become a member and save $15
If you've signed up for a paid membership to The Half Marathoner so far, thank you SO much — you help make this whole thing possible. If you haven't yet, sign up today and save $15 for your first year, and get more of everything we do.
---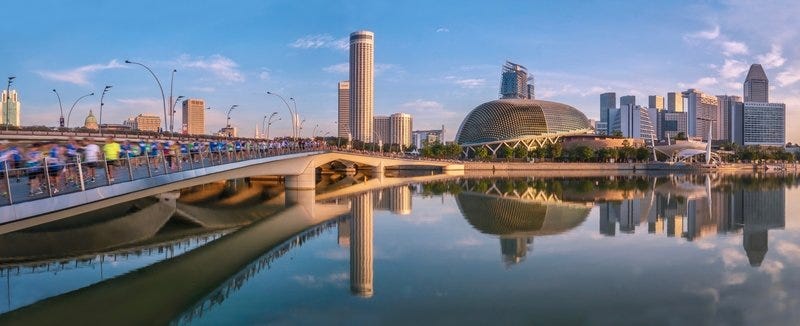 Singapore | Saturday, Feb. 15, 2020
An evening run along the banks of Singapore's Marina Bay, a man-made waterfront and downtown area built on reclaimed land in the city-state's central business district. You'll get to see the city's stunning skyline throughout the out-and-back course, as you run through Gardens by the Bay park and over the Marina Barrage, the dam that was built to create the bay just over a decade ago. The half marathon starts at 6:00 p.m., but you'll still need to be ready for warm, humid weather — temperatures in Singapore this time of year range between the mid-70s and the upper 80s.
$58 and up | Sign up here
---
Auberry, Calif. | Saturday, March 7, 2020
Stretched across nearly 7,000 acres of wilderness in central California just north of Fresno and just south of Yosemite National Park, the San Joaquin River Gorge Recreation Area boasts miles and miles of trails through the hills and mountains that overlook the river, here in a region where the Dumna and Kechayi Native Americans once lived. You'll run over steep hillside trails with plenty of challenging uphill and downhill stretches and across bridges over the San Joaquin River at this unique race, which is open to just 200 entrants.
$85 and up | Sign up here
---
Lynchburg, Tenn. | Saturday, April 4, 2020
A gorgeous run through the hills of middle Tennessee in the hometown of the Jack Daniels Distillery, where every bottle of its world-famous whiskey is made. Starting from the Lynchburg Courthouse Square, you'll run along the tree-lined rural country roads that surround the town, past green farm fields and quaint downtown storefronts. (Interestingly, the county in which Jack Daniels is made is a dry county, which means it can't be sold here by the bottle or the glass.) The race sells out fast — usually in a couple hours each year — but you can still enter via charity registration.
$125 | Sign up here
---
Fruita, Colo. | Saturday, May 9, 2020
Filled with stunningly beautiful views of the high desert country of Colorado along its famed 18 Road Trails, this 13.2-mile race features "short steep climbs and descents [with] beautiful views of the nearby buttes and mesas," organizers say. You'll definitely want to be ready for a rugged run through the backcountry at this event, so bring along your hydration pack, sunglasses and sunscreen.
$65 and up | Sign up here
---
Chicago, Ill. | Sunday, May 17, 2020
With Chicago's iconic skyline as your backdrop, you'll run almost entirely along the shoreline of Lake Michigan for this race, past the Windy City's historic museums and Soldier Field. Further south along the route, you'll run on flat, paved surfaces on the biking, running and walking trails past the Shedd Aquarium, Grant Park and the famous Buckingham Fountain, and then head back north along the Lakefront Trail toward the Chicago Marina.
$85 and up | Sign up here
---
Salem, Ore. | Sunday, May 17, 2020
A beautiful run over Salem's Willamette River and into the parks along the its banks, starting in front of the Oregon State Capitol building. From there, you'll run a stretch through downtown and then across the Union Street Pedestrian Bridge into Wallace Marine Park, where you'll get to see the river through grassy meadows and huge shade trees. Later on in the race, you'll make a big loop within Minto-Brown Island Park (which, at 1,200 acres, is bigger than New York's Central Park), running through its jogging and cycling trails before heading back across the river to finish at Salem's Riverfont Park.
$75 and up | Sign up here
---
Mount Hood, Ore. | Saturday, June 27, 2020
Starting in the shadow of nearby Mount Hood, you'll run along alongside the Sandy River for the first few miles of the race, which unfold entirely on all-downhill route within the Mount Hood National Forest. Along the way, you'll take in views of towering pine trees and occasional wildlife as you descend nearly 900 feet past farms and rural cottages to the finish line at the Rainbow Trout Farm, a famous fishing spot with 30 acres of meadows and forest and 10 ponds for fishing filled with rainbow trout.
$79.99 and up | Sign up here
---
Recommended reading and listening
"Running While Introverted," by Judy Chaves — This will speak to a lot of us, I'd imagine, who find themselves overwhelmed by the cacophony of big events. "Three minutes into my first half marathon, I thought I would lose my mind... [when] you're an introvert, the need for quiet is a powerful motivator. Until that race, I hadn't realized just how much my running — the physical act of running — depends on my being able to think, how much I rely on quiet for energy."
"First Draft: Katie Arnold" — An interview with the author of this spring's Running Home, about the experience of losing her father while also caring for her newborn daughter, and how she approached writing in the midst of simultaneous grief and joy, and how running helped see her through it all.
---
A song to run to today
"Joy" from the album Goddess in the Doorway by Mick Jagger and Bono.
Listen to our full playlist on Spotify here.
---