How to think about how you train
26 scenic Northeast half marathons + discount to RNR San Francisco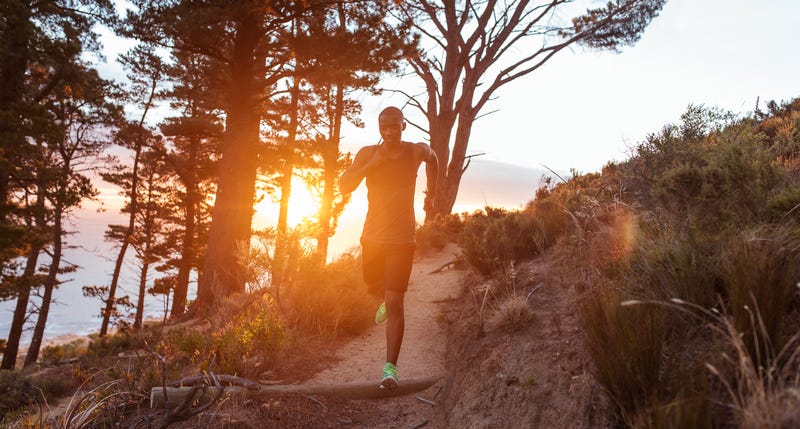 "Perhaps you would like to start running. You have never tried before, or you did and you hated it, and now you wonder how to begin moving in a way that will keep you going. Get up. Start. Go. Move. Take a rusty first step, like the Tin Man. You will squeak. Go." — Peter Sagal
One of the things that has occurred to me as I start a training cycle this week is that, when I was younger, all I needed to do to get ready for races was lace up my shoes, step outside and start running.
I'd go for runs after work most days in the late afternoon, often in the sweltering heat of an Atlanta summer, but I didn't mind that much.
I didn't really think about why I was doing it. I simply enjoyed running, even if the distances I ran were only a few miles at a time. So adding more to the distances I was already running didn't seem out of reach.
What I didn't appreciate at the time was that I had no distractions to keep me from getting my runs in. Being single with no kids to raise, I had all the time in the world to devote to running and to dream of amazing places to race.
Now, things are different. I'm twenty years older — can that be possible?! — and there are more demands on my time; what that means is that I have infinitely more reasons (excuses?) to skip a run nowadays if I want to.
That's why a book I've been reading has been resonating with me perhaps more than I guessed it would when I first picked it up.
"The Happy Runner," by David and Megan Roche, has to be one of the most unusual running books I've picked up in a long time — because I'm about 2/3 of the way finished and the authors have yet to dive in to anything physical about running form at all.
Instead, the book has spent most of the 120 pages or so that I've read so far on the mental, spiritual and emotional side of training. When asked why they don't offer any specifics on training plans, for example, Megan and David offer this in reply:
"The reason we don't summarize our approach to training in complete detail is that it'd be both mind-numbing and not totally helpful, like studying the tax code of Colorado. Yeah, it would work if you were Coloradan, but most people are not Coloradan... For most runners, what's more important than the day-to-day specifics are the general principles over time that allow them to find their potential."
I must confess, I've tended to swear by cookie-cutter training plans in the past. When I trained with groups, I ran the same mileages everyone else did, on the same days — rinse and repeat, week in and week out.
It never occurred to me back then that what works for someone else in training for a half (or a full) marathon might not work for me, and vice-versa.
What the authors of "The Happy Runner" urge us to consider, on the other hand, is that we should design our running with a purpose in mind — one we've thought through and feel deep down in our souls.
I realize how hifalutin that may sound. But, as you guys may remember, I've fallen short of commitments I've made to training in the past, perhaps because I didn't have the right ground laid before I began.
As the Roches write in the book:
"You have to think long and hard about what you are doing and why you are doing it for your running house not to blow over at the first sign of wind."
I've allowed my commitment to training to falter because I hadn't thought through why I was doing what I was doing; when it became inconvenient, it was easy to discard.
Today I'm working with a trainer — Meghan Stevenson of Your Best Run, whom we talked about in last week's essay — who has designed a training plan just for me, the constraints of my life and my goal: to complete a half marathon sometime this summer.
To that end, we're planning these things:
First, getting started and getting moving again in a mode of commitment. We're not toying around with an idea for a race; we're doing this.

Second, starting easy and understanding that gains in performance are going to take time. My body simply isn't where it was years ago, and it's going to take time to get it to a place where it can do things it used to do. (Hopefully!)

We can't rely on running alone, so we're incorporating strength training on off days.

Learning to run at a pace and effort level that will be sustainable for longer distances and over longer periods of time than I'm currently running.
I'm not going to lie, I'm a little nervous. Though I've been running about 10 or so miles a week recently, when I stepped on the scale yesterday I wasn't happy with the number. (It was 205.5, in case you're wondering.)
But my goal is to do the kinds of things the Roches describe in their book — make it challenging but also make it flexible, and shape my plan based on what my own body can do, not what a running magazine implies that I ought to be able to do.
It's been a while since I've attempted anything like this, but I'm excited for the journey — and would love to hear more about the journey you're on too.
Your friend,
— Terrell
---
Become a Full Subscriber
Sign up for the full subscriber experience and get more in-depth stories about races, the mental and emotional side of running, race discounts and more, plus access to our subscriber-only Slack and Facebook groups. Learn more here.
---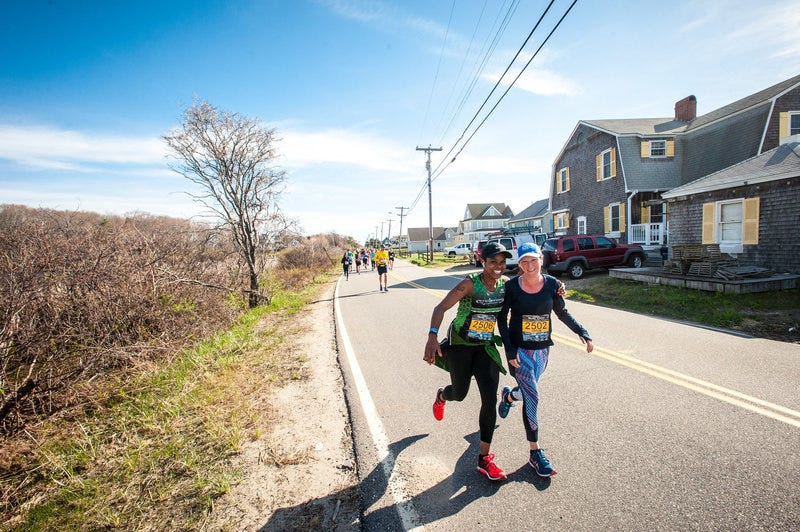 Want to run through the most picturesque places in the "New World"? Try these races from the streets of New York to the national parkland of coastal Maine.
By Terrell Johnson • Full list here
---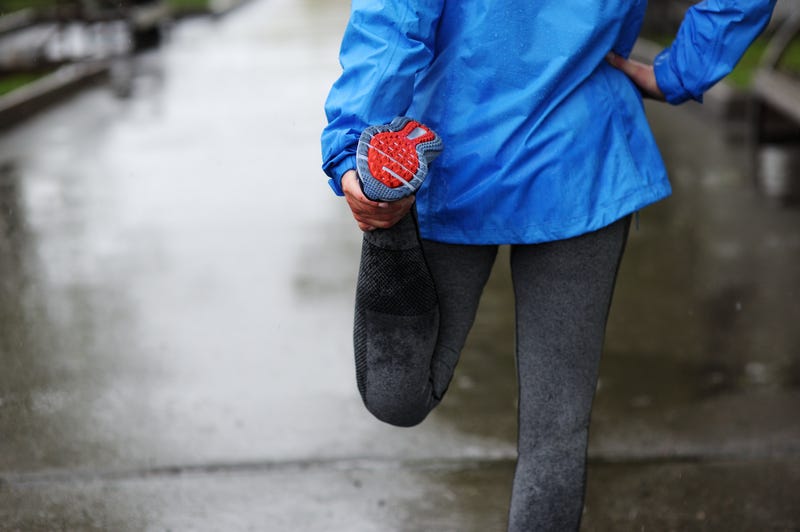 As spring races are starting soon, it's important to find good gear. Spring on the east coast could mean perfect weather, but it could also mean torrential downpours and 30 degrees. Here's some picks for high-quality jackets to keep you dry.
By Hollie Sick • Full story here
---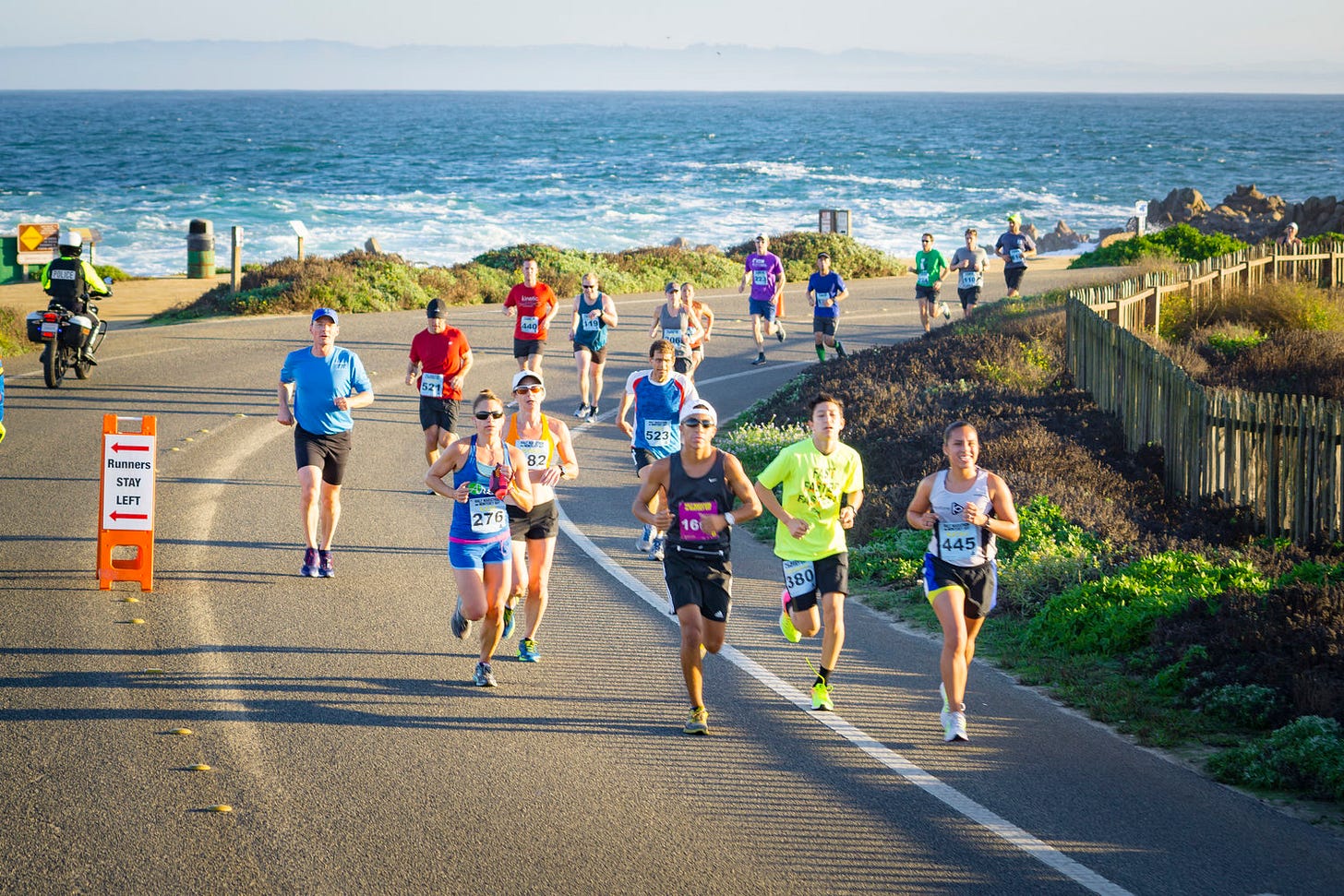 Some of the most breathtakingly beautiful half marathons in California, from the Southern California coast to the wine country of Napa Valley.
By Terrell Johnson • Full list here
---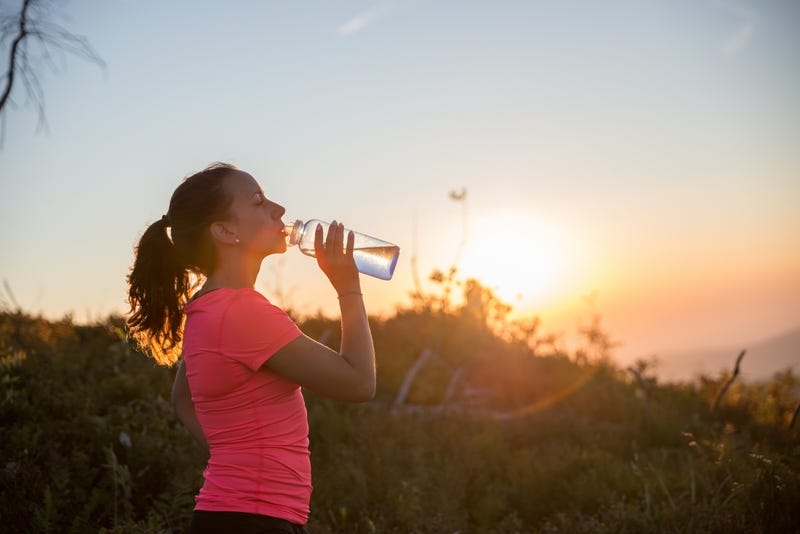 Years ago, I heard runners often say things like "if you get thirsty, it's already too late." What if that's all wrong?
By Terrell Johnson • Full story here
---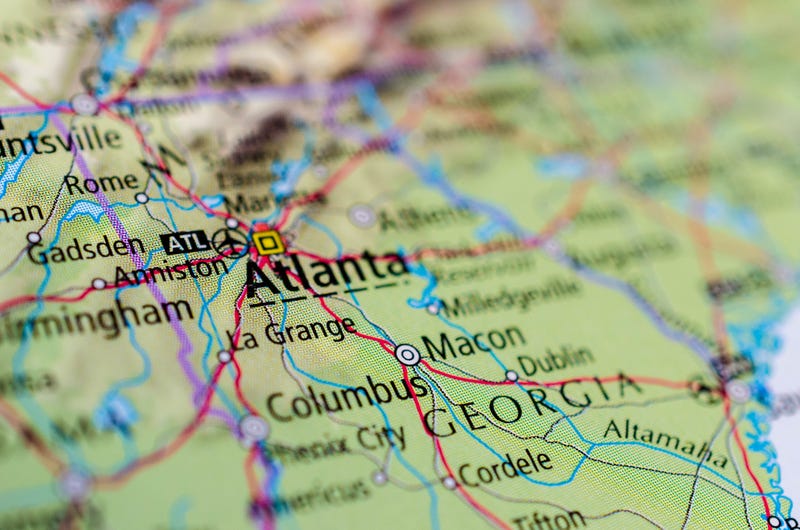 Wondering where to stay, what to do or where to eat when you're in town for this spring's Publix Atlanta Half, this summer's Hotlanta Half or the Craft Classic Half in the early fall, or any of the more than two dozen other races in the city? Here are lots of ideas.
By Terrell Johnson • Full story here
---
Special Discount for Rock 'n' Roll San Francisco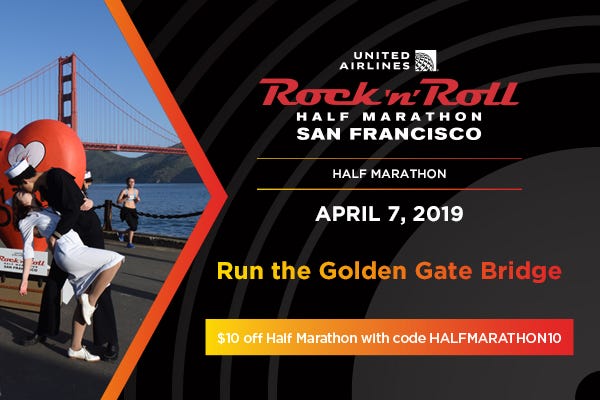 Run the Golden Gate Bridge at the 2019 United Airlines Rock 'n' Roll Half Marathon San Francisco!
This showstopping course treats you to picturesque views of the San Francisco Bay and is jam-packed with music and entertainment from start to finish.
Use code HALFMARATHON10 for $10 off. Don't wait, spots are limited and will sell out soon.
---
See all our past newsletters here.

If you received this email from a friend, sign up here.