How to mentally (and physically) prepare for a trail race
Plus 2020 races in Alaska, Colorado, Idaho, Maine + Curaçao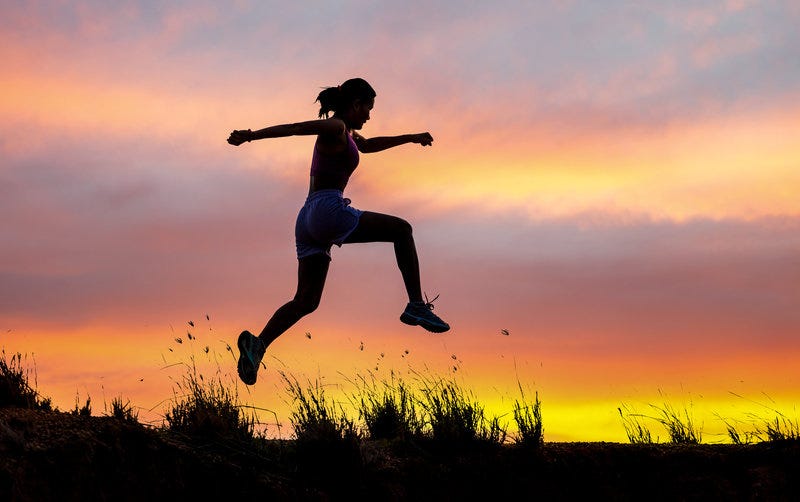 "Way before we were scratching pictures on caves or beating rhythms on hollow trees we were perfecting the art of combining our breath and mind and muscles into fluid self-propulsion over wild terrain." — Christopher McDougall
Road races are by far the most common kind of running races in the U.S., with some 18.1 million people toeing the line as recently as 2018. Many runners kick start their training by entering a local 5K, usually held on a road. It makes sense that for most American runners, the road is the most common surface to both train and race.
Most of us can access roads right outside our doors or at the very least, a short drive away. They require little planning in advance and except for cases of inclement weather, are clear enough to run on most days of the year.
And unless you live in an extreme geographical area (high elevation or relentless hills), a road run can be measured the same across the country.
Well-trained road runners know exactly what paces they will need to hit during a 10K to reach their goal.
Though it might be a hilly course, unusually warm or cold, experienced runners can probably guess their finish time within a few minutes for a road race. The scenery might be a little different, but a road 10K is the same in New York as it is in Chicago or Seattle.
'The same cannot be said for a trail 10K'
But the same cannot be said for a trail 10K. Courses vary so widely that a 10K might take twice as long as your typical road race. Even the most well-groomed trails are usually slower than the road because the ground is softer than pavement.
If you throw in rocks, roots, water crossings, mud, and elevation changes, finishing times begin to plummet.
After many years of road marathons, my first trail marathon was a beautiful disaster. I expected a time near my road marathon time (ha!), wore road shoes (thankfully these trails were not technical), and attempted to run every climb (now I know that unless it's a really short distance, hills are free walk breaks).
But I immediately fell in love with the varied terrain, the incredible trail community, and the challenge each trail race brings.
So if you are a road racer looking to try a trail race, how do you prepare yourself for the mental and physical differences?
Course-specific training: If the race happens to be local, try to get out on the trails you'll be racing on as much as possible. It helps to have a hometown advantage if you know what to expect on race day. However, if you aren't near the race destination, try to find trails near you that you can mimic the course. If it's known for extreme elevation and you live in a flat place, hop on an incline treadmill or stair climber. If it's known for lots of technical terrain, find the gnarliest trail in your area and visit often.

Time-based training: Training for a road race is easy in terms of figuring out mileage to be prepared. However, because 5 miles on the trails can take twice as long as 5 miles on the road, you might consider time-based training, especially for long runs. You want to be ready to cover the race distance, but your weekly mileage might be reduced in comparison to training for a road race. Rather than aiming for an 8 mile trail run, you might just run for 90 minutes.

Know your gear: Many trail races are cupless events and require runners to carry a bottle or hydration pack depending on the distance. Be sure to practice what you intend on using so there are no nasty (or painful) surprises on race day. Depending on the terrain, trail shoes may be preferred as extra protection from rocks and slips.

Know the trails: Most road races are fairly well-marked and/or have volunteers at larger intersections to ensure runners stay on course. Trail races run the gamut though and it can be easy to miss ribbons and signs if you are constantly trying to not trip over the terrain. Study the course map ahead of time to be aware of turns and any potential confusing areas.

Don't compare: If you run a 50-minute 10K on the road, it's probably unlikely you'll run that time on the trails. And each trail course can be vastly different. It's good to have a game plan going into the race for logistics purposes, but keep it conservative if this is new terrain for you. If you still have gas towards the end of the race, you can let it rip then!
I still love the challenge of a road race because it gives me an honest look at where my fitness lies. Road races are so abundant that most loyal trail runners still do them on occasion because of convenience or tradition.
But trails provide a different challenge in both training and racing — and challenging ourselves is what it's all about, right?
— Carissa
---
Become a member and save 30% today
We love our paid subscribers SO, SO much — they help make The Half Marathoner possible (and keep it ad-free!).
Sign up today to save $15 off our normal rate and you'll get to take part in our Friday live discussions and receive another full issue every Sunday with lots more from us on running and training.
---
Millinocket, Maine | Saturday, Dec. 5, 2020
When the Great Northern Paper Mill closed here near the end of 2014, it left behind a town of some 4,500 people that prides itself as being "Maine's Biggest Small Town," grasping for answers on what to do next. The next year, a group of volunteers decided to do what only runners can do — raise the flag about what was happening the town by putting on a marathon and half, and attract as many as possible by making registration completely free. The only catch? That all runners who take part need to spend money in or contribute in some way to the Katahdin Region, a beautifully scenic area in central Maine.
Free | Sign up here
---
Seward, Alaska | Saturday, July 4, 2020
It's "the toughest 5K on the planet," according to Outside Magazine, which tells the story of one of their journalists who went to run it and report on it being shown a video that told of "countless opportunities for injury." In fact, the man showing prospective entrants the video took a moment to pause and emphasize, "this isn't any old 5K." What it is is a brutally tough climb up the rocky slopes of the mountain for which it's named, starting at sea level and reaching 2,974 feet by the time you're at the half-way point at the top of the mountain. And then it's time to run back down.
Opens March 1 | Sign up here
---
Cape Elizabeth, Maine | Saturday, Aug. 1, 2020
Founded in the late 1990s by Cape Elizabeth native Joan Benoit Samuelson, the first-ever winner of the women's Olympic marathon at the 1984 Summer Games in Los Angeles, this race follows a beautifully scenic point-to-point route along the coastline of Casco Bay. Starting from Crescent Beach State Park, the race heads north along Route 77 and the Shore Road, which brings runners up along the Atlantic Ocean coastline, past spots like Smugglers Cove and Pond Cove, before heading north to Fort Williams, where you'll finish the race near the Portland Head Lighthouse, one of the most-photographed lighthouses in the world.
$55 and up | Sign up here
---
Fraser, Colo. | Saturday, Aug. 1, 2020
While its hills are "fairly mellow" for a mountain race, organizers say, you need to be ready for a high-elevation run — the half marathon starts at about 8,700 feet above sea level and climbs to a high of about 9,500 feet. Throughout, you'll take in views of the Rocky Mountains that surround this small town in the Fraser River valley, which lies about a half-hour from the entrance to Rocky Mountain National Park and roughly 60 miles from downtown Denver. The out-and-back loop race unfolds almost entirely on dirt roads and trails (like the ones shown in the photo above).
$60 and up | Sign up here
---
Sandpoint, Idaho | Sunday, Sept. 20, 2020
Run across a two-mile-long bridge that spans the mouth of the Pend Oreille River, a place that's known for gorgeous views of the lake and the mountains that surround it. The bridge itself has a history that dates back to the turn of the 20th century, and you'll get to run twice across it on this out-and-back route that starts at Sandpoint's City Beach Park and unfolds along stretches of Lake Pend Oreille, whose glacier-carved shoreline wraps for more than 100 miles along the Kaniksu National Forest here in northern Idaho, just 60 miles from the Canadian border.
$65 and up | Sign up here
---
Willemstad, Curaçao | Sunday, Nov. 29, 2020
You're likely to be accompanied by the sounds of roosters crowing, the wagging tails of stray dogs, and people greeting you in languages you won't recognize at this late fall race along the streets of Curaçao's capital city, at a time of the year when it's still likely to be pretty hot and humid. So while it's not the greatest race to get a PR, it offers up spectacular scenery from the island's brightly colored homes and tree-filled neighborhoods to the crystal blue waters of the Caribbean, here on this former Dutch colony that lies about 40 miles off the coast of Venezuela.
$50 and up | Sign up here
---
A song to run to today
"Let Him Fly" from the album Living With Ghosts by Patty Griffin.
Listen to our full playlist on Spotify here.
---