Discover more from The Half Marathoner
A newsletter about where running can take us
Over 42,000 subscribers
How running helps us be who we really are (even if only for a little while)
Plus races in Lisbon, American Fork, Atlanta, Saratoga + Snohomish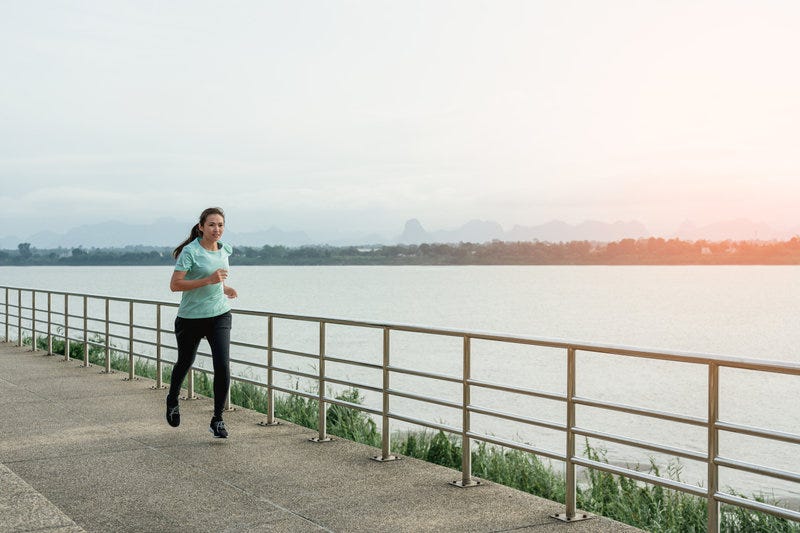 "We're all so busy chasing the extraordinary that we forget to stop and be grateful for the ordinary." — Brené Brown
My son has been playing baseball this fall. It's his first time ever playing the sport, and it's been a wonderful thing to watch as he learns how to throw, run the bases, and especially how to hit a ball pitched towards him — and while he's only six years old, he's already a better player than I ever was!
Last weekend, his team played a game against another team with a head coach who was, we'll just say… really into it. Throughout the game, he barked at several of his players — all five- and six-year-olds in kindergarten and first grade — to pay better attention, not to lollygag, to run faster to the bases, etc.
Probably all of us have experienced a coach like this at one time or another in our lives, either as a player or as a parent watching our child on the field.
And if you have, you know it's not just the player being called out who suddenly feels "on alert"; once it starts, pretty much everyone in the immediate vicinity catches it like a cold. Everyone feels a little more on edge.
So, when my son's coach — who is great with him and his whole team, let me add — put him in the infield late in the game, I was a little nervous about how he might do.
That's because my little man, while he's of course a mixture of both me and his mom, shares a little of my, let's say, less-advantageous traits for a situation like a ballgame. As in, a tendency to daydream, to focus on somewhere else than where you are physically at the present moment.
When I played sports as a kid, I was always the kind who'd rather be playing in the dandelions than playing in the game. (Probably explains why they put me in right field a lot.)
Anyway, I felt for him as I watched a batter come up to bat, and hit the ball right at him… and he watched it go right on by. And then another batter came up, the same thing happened — he watched it go right on by. And then again. And again.
None of this bothered him at all. He had fun at the game, like he always does. But I could see in those moments, there was a gap between where he wanted to be and where everyone else wanted him to be. I could feel that tug, that pull of everyone else's expectations on him — and I knew if he had a less-forgiving coach (like the one on the opposing team), he might have been on the receiving end of some pretty unpleasant stuff.
I feel it so much for him because I know that pull will only get stronger as he grows up — and because I feel it myself, every day. And that for me, sometimes the hour I go for a run is the one hour I get to be in my own head, in my own dreams, and it's all okay with the world.
Last week I got to talk with Atlanta-based health and wellness coach Jeanne Torre (you can listen to our full interview here) about all things running, and one thing she said really stood out for me:
"I feel like myself when I'm running. I think that's what I love about [it] is that I feel most like myself when I'm out there running."
For me, that's a huge part of why it can be so fulfilling and renewing. Last night, with my wife I jokingly called it "the golden hour," the only truly free hour of the day I have (about 7 to 8 a.m.) to run without any guilt that I'm shortchanging other obligations.
That's the time it's okay to daydream, it's okay to let my thoughts drift to wherever they want to go — there's no one shouting from the sidelines to pay attention, to run faster, to do better. It's a time to just be.
And that may be what I love about it most.
I'd love to hear your thoughts, either in reply or in the comments below — and as always, let me know how your running is going and what you have coming up this fall. Keep in touch!
Your friend,
— Terrell
P.S.: Next week, I'll be out of town next week with my amazing wife, who's bringing me as her plus-one on a work trip to France. That means we won't be in your inboxes then — but we will be back on Wednesday, Oct. 16. See you in two weeks!
---
Become a member + save $15
To everyone who's signed up for a paid membership to The Half Marathoner so far, thank you SO much — you help make this whole thing possible. If you haven't yet, sign up today and save $15 for your first year, and get more of everything we do.
---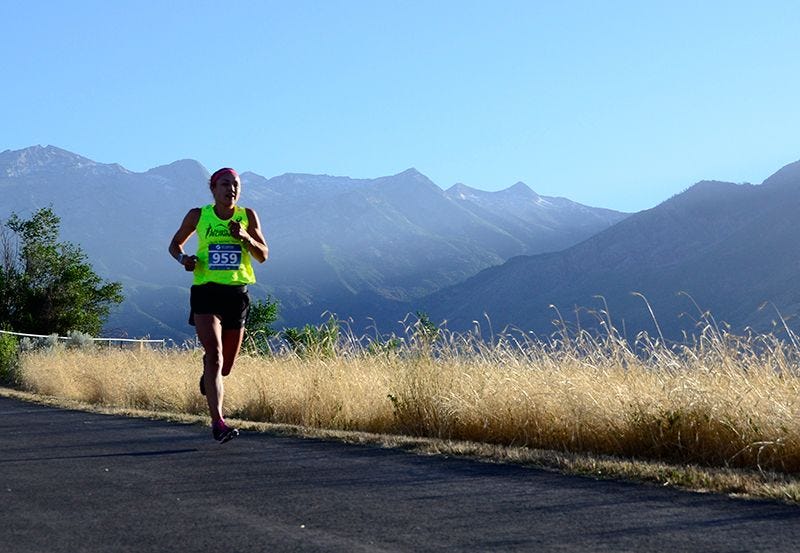 American Fork, Utah | June 2020
A gorgeous and mostly downhill half marathon through Utah's American Fork Canyon, where you'll run your first seven miles along the Alpine Loop Scenic Highway, one of the Beehive State's most beautiful roads. Starting from just below 7,000 feet above sea level at the Tibble Fork Reservoir up in the Wasatch Mountains, you'll run in the shadow of the majestic Mount Timpanogos down the Alpine Loop toward the city, where you'll then run through neighborhoods and along the edges of a golf course, before turning onto American Fork's trail system for the final mile. Proceeds from the race go toward helping cancer patients in the local area with treatments and related expenses. As one reader wrote to us, "I do it every year. It means so much to me that I can run in honor of family members who have had cancer."
Registration TBD
---
Snohomish, Wash. | Sunday, June 14, 2020
You'll get a trucker's hat to go with your finisher's medal at this downhill half just north of Seattle, where you'll run most of the race along the Centennial Trail, a hugely popular recreational trail for runners, walkers, bikers and horseback riders built on an old Burlington & Northern railroad. The point-to-point course keeps you on the trail — and away from cars — for your entire 13.1 miles to the finish line at Averill Park, where there will be a piece of strawberry shortcake waiting for every runner.
$55 and up | Sign up here
---
Saratoga, Calif. | Saturday, Dec. 14, 2019
The lush, wooded hills and slopes of Northern California's Santa Cruz Mountains offer plenty of challenging climbs and descents along the trails at this race, where you'll run through 3,600-acre Sanborn County Park, a place filled with redwoods, oak trees and mountain trails. The course unfolds along densely wooded single-track trails that organizers add can be quite challenging, with steep uphills and downhill stretches — expect to walk in several stretches to conserve your energy for the downhills and flatter areas along the trail.
$69 and up | Sign up here
---
Lisbon, Portugal | Sunday, Dec. 8, 2019
Take a beautiful run along the shoreline of Portugal's capital city at this race, which takes its name from the Padrão dos Descobrimentos (or "Monument to the Discoveries"), where ships set sail from Lisbon to explore Asia during the 15th and 16th centuries, referred to in Portugese history as the "Age of Discovery." The fast, flat course for the race unfolds mostly along the roads that look out onto the Tagus River from downtown Lisbon, and features views of some of its most historic monuments, museums and city parks.
$35 and up | Sign up here
---
Atlanta, Ga. | Thursday, Nov. 28, 2019
Cross the starting line under the iconic Olympic rings that hang above Hank Aaron Drive — a reminder of the Centennial Olympic Games that took place here back in 1996 — at this longstanding tradition on Atlanta's running calendar. The course retraces many of the same stretches that runners in the Olympic marathon took more than two decades ago, including runs through Piedmont Park and past the Georgia State Capitol building, the Margaret Mitchell House and the famed Oakland Cemetery, before bringing you back to the baseball stadium downtown for the finish.
$85 and up | Sign up here
---
A song to run to today
"Footloose" from the album Footloose Original Soundtrack by Kenny Loggins.
Want to hear all the songs we include in our newsletters? Listen to the full playlist on Spotify here.
---