'We are all apprentices in a craft where no one ever becomes a master'
Plus 2020 races in Santa Cruz, Acadia National Park, Seattle's Snoqualmie River, Utah's Cedar Canyon + New York's Dutchess Rail Trail
"We are all apprentices in a craft where no one ever becomes a master." — Ernest Hemingway
You've heard me talk about him before here, but lately, as I've been training for the New York City Half in March, I've been coming back to the work of a writer named James Clear and his 2018 book Atomic Habits.
Some of you, no doubt, are already be familiar with him — he appears regularly on television and writes often for magazines ranging from Time to Entrepreneur to Forbes.
To be honest, I'd never heard of him before the past year. But once I took a deep dive into his work, what Clear had to say intrigued me — especially about the possibilities for getting better as a runner.
A few weekends ago, I went for a 8-mile run at one of my favorite places in Atlanta to go running, the trail system that runs alongside the Chattanooga River, the long, loping, shallow river that runs through the heart of my city.
I felt really strong, thanks in part to some fresh legs — I hadn't run since the previous weekend — and 50-degree temperatures outside. But when I was done, I started thinking to myself that I'd love to feel as strong at the end of 13.1 miles (or longer) as I did that day.
(That's largely because — and I'm sure you know what this is like — I'm often dragging myself across the finish line, especially at longer races.)
1 percent better
After some noodling on exactly what changes to my running I need to make — should I add another day of training/running? Or, should I add an additional mile onto each day I run? — I stumbled across what Clear had to say.
Essentially, it was this: in our minds, we think it's the big decision or the big change in direction that makes the difference. That an abrupt and sudden shift, like taking up running after a sedentary life or going vegan, cold turkey, after years of eating red meat, are what's called for.
Clear says the opposite — that strategies like those prime us for failure, and that instead we should look to get one percent better every day:
"Whether it is losing weight, building a business, writing a book, winning a championship or achieving any other goal, we put pressure on ourselves to make some earth-shattering improvement that everyone will talk about.

"Meanwhile, improving by 1 percent isn't particularly more meaningful, especially in the long run. The difference a tiny improvement can make over time is astounding."
Strive to get just one percent better every day for a single year, he adds, and you'll end up 37 times better than when you started.
It also works in the opposite direction, Clear writes: "If you get one percent worse each day for a year, you'll decline nearly down to zero. What starts as a small win or a minor setback accumulates into something much more."
So, how can we apply this to our running, especially if what we want is to achieve a faster time, or simply just feel better and stronger when we're running?
I'm not sure there's an exact overlap between the basic thrust of Clear's argument and how we might train for a half marathon or a full marathon, for example.
But I do believe there is much runners like us can learn from what Clear has to say.
Systems, not goals
One of the clarion calls that Clear asks us to heed is to put in place systems that help us achieve our goals, rather than focusing on the goals themselves.
This might be hard for many runners to accept, because so often we talk about things like goal times or goal mileages, and our conversation around these things shapes how we think about them.
What, after all, are PRs? They're goals.
Clear says to put those thoughts out of our mind and instead focus on how those goals are to be achieved.
What that means for us, I think, is putting in place a system in your life in which you don't have to make Herculean efforts to run — that running becomes part of the context of your life, rather than a special thing you have to strive to get done every day or every week, that's way outside your current habits of life.
Taking the focus off the goal — and putting it on improving every day, little by little — also takes the pressure off when we don't achieve our goal. They create an "either/or" conflict, Clear says, "either you achieve your goal and you're successful or you fail and you are a disappointment."
"You mentally box yourself into a narrow version of happiness. This is misguided. It is unlikely that your actual path through life will match the exact journey you had in mind when you set out."
There's a great deal of wisdom in what Clear writes, and in all honesty I'm really only scratching the surface here.
The things he's talking about our things I want to try to put into place in my own running life — starting right away!
(Maybe declarations like this, to ourselves or to the world, are a little silly. But if nothing else, they give us a place to begin. And new beginnings are always a chance to dream up the world again, even if it's just our own little world.)
What are your thoughts? I'd love to hear them.
Your friend,
— Terrell
---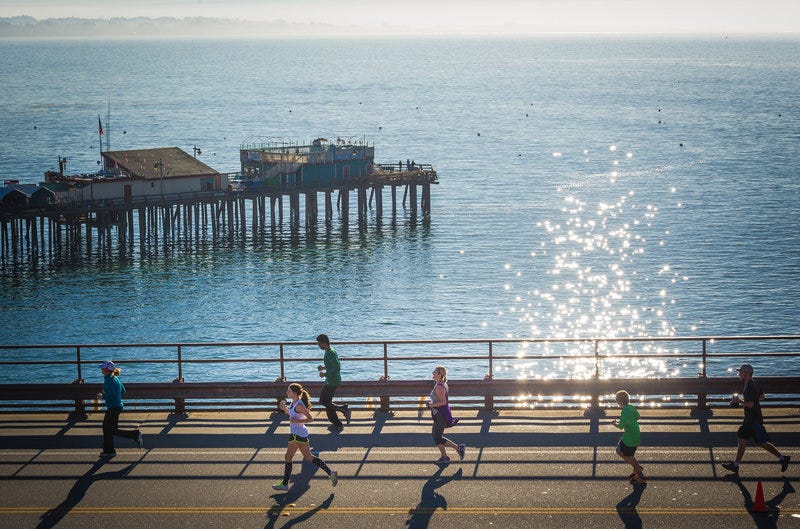 Santa Cruz, Calif. | Sunday, May 17, 2020
Beaches, palm trees, and homes painted in nearly every color of the rainbow are the sights you'll see at this out-and-back half marathon in the birthplace of surfing, which starts and finishes at the Santa Cruz Beach Boardwalk and heads from there to Capitola village and back. Along the way, you'll run on cliffside roads that look out onto the sparkling waters of Monterey Bay, and also run past Moran Lake and Pleasure Point on your way to the finish line at Cowell Beach, where you can walk out onto the pier at Santa Cruz Wharf.
$100 and up | Sign up here
---
Bar Harbor, Maine | Sunday, June 7, 2020
A simply stunningly beautiful run along the loop road inside Acadia National Park, one of two half marathons that run inside the park each year on this 108-square-mile island that lies just off the coast of Maine. (The other takes place in the fall, and you can learn more about it here.) You'll get to take in views of the rocky Maine coastline for most of the first half of the race, which looks out onto the waters of the Mount Desert Narrows. Be sure to sign up early — thanks to National Park Service restrictions, the race is capped at 300 runners.
$135 and up | Sign up here
---
North Bend, Wash. | Sunday, Aug. 30, 2020
For those of us ready for a lighter challenge, this almost all-downhill run unfolds on a pair of trails alongside the Snoqualmie River near Seattle. You'll run on an old railbed that once ferried passengers on the Chicago, Milwaukee, St. Paul, and Pacific Railroad from the early 1900s to the early 1980s, and today is a more than 200-mile-long trail for hikers, runners and cyclists. Stretches through forests, old railroad tunnels and over train trestles are part of the route inside Iron Horse State Park, after which you'll turn onto the Snoqualmie Valley Trail, which you'll follow to the finish line in North Bend.
$80 and up | Sign up here
---
Cedar City, Utah | Saturday, Sept. 12, 2020
Its organizers say it's one of the nation's fastest half marathons, thanks largely to the big elevation drop you'll experience between the starting line (at 8,408 feet above sea level) to the finish line (at 5,600 feet) here among the canyons of the Markagunt Plateau in Utah's southwestern corner. From the start on Cedar Canyon Road inside Cedar Breaks National Monument, the race descends along paved roads and trails, past white sandstone cliffs and canyon walls, with waterfalls and red rock formations towering above you as you run down, down, down to the finish line in Cedar City's Main Street Park.
$50 and up | Sign up here
---
LaGrangeville, N.Y. | Sunday, Sept. 13, 2020
Just over one-and-a-quarter miles across the Hudson River between the towns of Poughkeepsie and Highland, N.Y., the footbridge known as the "Walkway Over the Hudson" will be part of this fast, flat course you'll get to run under miles and miles of dense tree cover in New York's Hudson Valley region. The shade comes from the trees along the Dutchess Rail Trail, on whose tracks the old Central New England Railway rambled and clattered along starting back in 1892. The out-and-back race is run mostly on asphalt-surface trails, with some hard-packed sand, and is mostly flat throughout.
$55 and up | Sign up TBA
---
A song to run to today
"When I See You" from the album The Trouble With Being Myself by Macy Gray.
Want to hear all the songs we include in our newsletter? Listen to our full playlist on Spotify here.
---
We are:
Carissa Liebowitz, Contributing Writer
Hollie Sick, Contributing Writer
Sujin Headrick, Website Editor
Terrell Johnson, Founder & Editor (terrell@halfmarathons.net)