For some runners, a race is a deeply personal thing
In Monday's and Tuesday's subscriber-only issues, we talked about races from the Colorado Rockies to the Dead Sea. If you'd like to receive more like these, consider becoming a paid subscriber: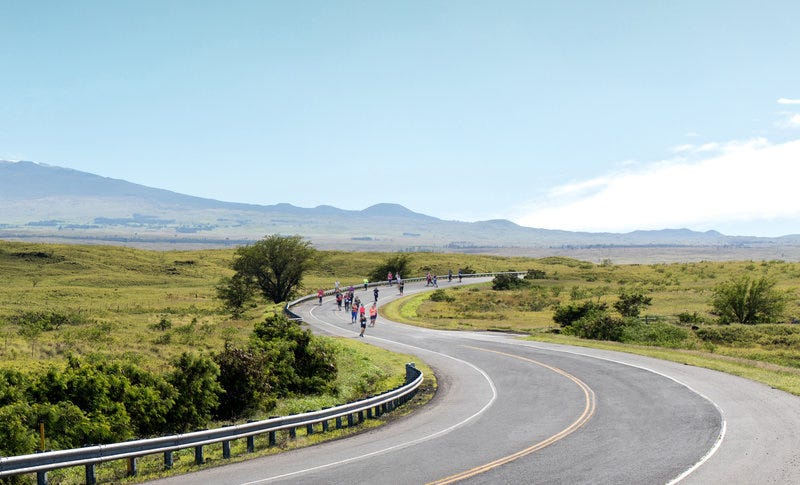 "A marathon is not about running, it is about salvation. We spend so much of our lives doubting ourselves, thinking we're not good enough, not strong enough, not made of the right stuff. The marathon is an opportunity for redemption. 'Opportunity,' because the outcome is uncertain. 'Opportunity,' because it is up to you, and only you, to make it happen; only you can turn your farfetched dream into a reality." — Dean Karnazes
You've probably heard the famous words from this quotation: "Be kind, for everyone you meet is fighting a great battle."
I kept thinking of them as I read this story about Isabella de la Houssaye, a mother of five who for decades has been an avid outdoors enthusiast, competing alongside her children in marathons, triathlons and ultras in places as far-flung as Libya, Alaska, Kazakhstan and Argentina.
Last January, she learned she has stage 4 lung cancer, a disease with a five-year survival rate of just over 4 percent. While a lucky few live for a decade or more, about half of those diagnosed at this stage die within about five months.
Isabella, it's important to note, is fortunate to enjoy some of the best medical care available. She worked for years as an attorney with Lehman Brothers before leaving that job to take care of her children full-time, while her husband works in finance. Destitute they certainly are not.
So she's taking advantage of whatever time she has left to keep going on adventures with her kids. The story profiles her and her 22-year-old daughter Bella's journey earlier this year to climb Aconcagua, a 22,840-ft.-high peak in the Andes mountains of Argentina.
While the ascent up to the summit of Aconcagua doesn't require the kinds of climbing skills that, say, Mount Everest does — no special ropes, harnesses or ice axes are needed — it's still an amazing feat for anyone in the prime of their health, let alone someone battling decreased lung function due to cancer.
The journey, let's be honest, is one mainly for those of more means than most of us have. I can only imagine the cost of traveling to Argentina, hiring the guides and purchasing the equipment needed to get up the mountain.
But to me, that's not what's so memorable about it. Instead, it's that Isabella endured it as a way to spend the kind of time with her daughter that she couldn't replicate in normal, everyday life — time Bella will remember for the rest of hers:
"Isabella, significantly weakened by chemotherapy and weighing less than 100 pounds, knew this mountain was going to inflict its pain and push her and her daughter to the edge.

That was the point. This trek was an attempt to deliver a few essential lessons to her daughter while she still could, including the acceptance not only of life's triumphs, but its woes — "joy and suffering alike," she said.
The end of the story brings the reason for the journey into even better focus:
"It was so important to me that Bella and I have this experience together," she said. "I really wanted her to see that when things get hard, you can find a place inside yourself to keep going."
These two are were in an extreme situation in an extreme place, dealing with frigid temperatures and gale-force winds in some moments, and blazing sun in others.
Most of the time, we don't find ourselves in situations like this. But the races we run serve exactly the same purpose, I've found, at least for myself. And when we can share them with those we love, they mean even more.
As always, let me know how your running/training is going, and keep in touch.
Your friend,
— Terrell
---
Athens, Ga. | Sunday, Oct. 27, 2019
Take a run through one of the most iconic college towns in America, where you'll finish inside Sanford Stadium, the home of the University of Georgia Bulldogs football team. You're gonna need to be ready for some hills on this course, as Athens is filled with them (a point you'll appreciate if you've ever walked across the campus on game day). But the beauty of the architecture, the long stretches along streets lined with gorgeous antebellum-style homes, and the enthusiasm of the spectators enjoying Sunday morning at the coffee shops and brunch spots in Five Points will make it all worthwhile.
$60 - $90 | Sign up here
---
Pisa, Italy | Sunday, Dec. 15, 2019
Nestled along the banks of the River Arno in Italy's Tuscany region, this ancient city — archaeological digs have found evidence of people living in a city here as far back as the 5th century B.C. — plays host to a gorgeous run that finishes in front of its iconic leaning tower, built between the 1100s and the late 1300s. From the starting line in the city, the course runs past majestic cathedrals and crosses over the Arno, taking those running the full marathon out for a stretch along the shoreline of the Ligurian Sea. The half marathon unfolds along the riverbanks in the second half, all the way back into the city for the finish in front of the tower.
$55 and up | Sign up here
---
Waikoloa, Hawaii | Saturday, Jan. 18, 2020
Sweeping, panoramic views of the western slope of Mauna Kea, the majestic volcanic mountain on Hawaii's Big Island, await runners at this all-downhill race (shown in the photo above). While full marathoners start at just above 5,600 feet above sea level — in the shadow of the mountain's summit, which stands at over 13,000 feet — the half marathon will begin at the half-way point of the full, and descend some 2,500 feet along the Mamalahoa Highway by the time you reach the finish line just above the Queen Ka'ahumanu Highway. All along the way, you'll take in views of the meadows along the mountainsides, as well as the lava fields just off the highway.
$124 - $169 | Sign up here
---
Clinton, N.J. | Sunday, Oct. 13, 2019
"There was a time when road races were intimate...  although there have always been plenty of characters, it was never about the costume." So begins the introduction for this two-race series (the other is set to run in Mocksville, N.C., this November) designed as a throwback to a simpler time, before running events became the juggernaut they are in many big cities today. This race starts near Clinton's historic Red Mill, which began operations back in 1810, and runs through Hunterdon County and along an old railroad trail into Franklin Township before heading along the banks of the Raritan River, all the way south to the finish line in nearby Flemington.
$75 and up | Sign up here
---
Sandy, Utah | Saturday, Aug. 17, 2019
Like its name says, you'll run "elevated" at this 13.1-miler, which starts at Utah's Alta Ski Resort and descends some 3,800 feet by the time you reach the finish line in Sandy at the base of the Wasatch Mountains, just south of Salt Lake City. In between, you'll run through the steep walls of Little Cottonwood Canyon, where the earliest Mormon settlers mined granite rock to build the Salt Lake Temple, passing by the Snowbird Ski Resort along the way. Even though it's summer, it'll be fairly cold at the start — probably between 45 and 50 degrees according to historical averages. But the scenery will be breathtaking, as you'll start at sunrise and descend through the canyon as morning arrives.
$55 - $75 | Sign up here
---
A song to run to today
"Show You Off" from the album Where It All Began by Dan + Shay.