Bay Bridge, Antelope Canyon, Newport, Concord + West Virginia's Babcock State Park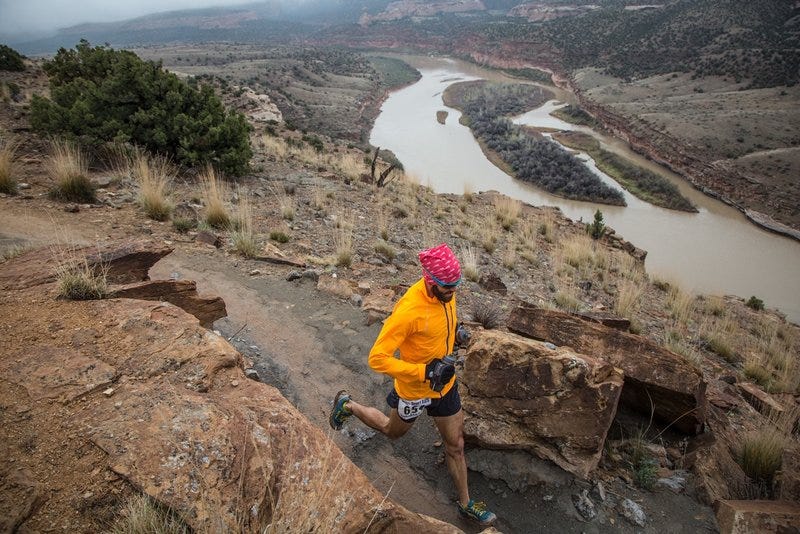 "I trained for less than three-quarters of an hour, maybe five days a week — I didn't have time to do more. But it was all about quality, not quantity — so I didn't waste time jogging, ever." — Roger Bannister
There's a lot of wisdom in those words from Bannister, the Oxford-educated British neurologist who became the first person to run a mile in under four minutes, clocking a 3:59.4 mile on Oxford's Iffley Road track after eating lunch with a couple of old friends on a gray, windswept afternoon on May 6, 1954.
What is perhaps even more remarkable is that Bannister trained for and broke the record as an amateur runner — the day he broke the record, he worked his usual early shift at London's St. Mary's Hospital and took the train to Oxford, where he was a medical student at the university there.
Running, even for someone at his level, was a part of his life but not all of his life — and yet he found the time somehow to become one of the best in the world at it, even if only for a brief moment.
This tells me that sometimes the reasons we tell ourselves for not being able to achieve all that we'd like to achieve might simply be stories we tell ourselves. For myself, I know that scheduling my running is probably my biggest roadblock to success, but for others it is something completely different.
I'd love to know what yours are and offer a possible solution — send in any question you have about running, training, or anything related, and we'll answer it in next week's newsletter (and the newsletters after that).
Have a question? Simply click or tap the button below to send it my way:
Your friend,
— Terrell
---
Become a member and save $15
To everyone who's signed up for a paid membership to The Half Marathoner so far, thank you SO much — you help make this whole thing possible. If you haven't yet, sign up today and save $15 for your first year, and get more of everything we do.
---
Newport, Ore. | Saturday, Jan. 4, 2020
Ready for a plunge in the Pacific Ocean? You can take a dip in the (cold!) water after you cross the finish line at this race on the first Saturday of the new year, which runs through Newport's South Beach area and features stretches through the campus of Oregon Coast Community College and past the Oregon Coast Aquarium. You'll start this out-and-back race inside South Beach State Park and begin with a run along the jetty looking out into Yaquina Bay; about half of the race is run on paved roads, with the other half on single-track trails and some stretches of gravel road.
$65 and up | Sign up here
---
Concord Township, Ohio | Saturday, Feb. 22, 2020
There might still be snow and ice on the ground as you run the trails of Ohio's 188-acre Lake Metroparks Environmental Learning Center, which lies just over a half-hour drive from nearby Cleveland, at this half marathon that will feature stretches over several wooden bridges through forests, a suspension bridge, and plentiful hills. The park's tall trees tower over the trails as you run past ponds and streams — and you can choose from a full marathon and 50K in addition to the half marathon.
$60 and up | Sign up here
---
Page, Ariz. | Saturday, March 14, 2020
Part of a weekend of races that also feature a 50K, 50-miler and even a 100-miler — the latter two of which take runners into the slot canyons for which this area has become famous, as well as a run along the famed bend in the Colorado River known as Horseshoe Bend — this trail half marathon runs along the Page Rim Trail, a 10-mile-long running and hiking trail that circles the city of Page, Ariz. You'll run first around a slickrock formation after the start and then head onto the trail, where you'll get to see Lake Powell and Glen Canyon Dam off in the distance from the route.
$125 and up | Sign up here
---
Clifftop, W.V. | Saturday, April 18, 2020
Run on trails nestled among the mountainous terrain of Babcock State Park in southern West Virginia, this race more than lives up to its name with a rugged route along single- and double-track trails in the heart of the state's whitewater rafting country. Along the route, you'll wind through Babcock's hills, valleys and mountain ridges, takes steep climbs up to the area known as the "Skyline" along the cliffs, and then evens out on the rolling terrain up along the cliffs. The course also features rocky and muddy ground (depending on the weather) and plenty of spectacular overlook views as you run through the mountains, as well as lush green vegetation and waterfalls along the way.
$45 and up | Sign up here
---
Oakland, Calif. | Sunday, May 3, 2020
Set for just its second-ever running next year and the only half marathon to take runners on a round trip across the San Francisco-to-Oakland Bay Bridge, this race features views of the San Francisco Bay for nearly the entire route. From the starting line in West Oakland, the race runs along Maritime Street for the first three miles and then heads onto the bridge, where you'll get to take in panoramic views of the city skyline, the Golden Gate Bridge and Alcatraz out in the bay. The race runs all the way across the bridge to Yerba Buena Island, whose tunnel connects the western and eastern spans of the bridge, and then back to Oakland for the finish.
$129 and up | Sign up here
---
A video + a podcast
A visually stunning look at the running life of Courtney Dauwalter, a 34-year-old ultramarathoner profiled in this article from last year. She's become one of the world's best ultra-ultra-marathoners in "ridiculously long races" as the New York Times calls them, distances of 200 miles or more.
"Emily Abbate," from the Runners of NYC podcast. An interview with the host of the Hurdle podcast and frequent marathoner, who ran this year's Chicago Marathon and achieved a personal record time of 3:28. Abbate's journey has been a long one, as she took up running after stepping on the scale in college and seeing the number 204. Things have been different ever since.
---
A song to run to today
"MMMBop" from the album Middle of Nowhere by Hanson. (Hear all the songs we include in our newsletters at our full playlist on Spotify.)
---