Australia's Great Ocean Road, Michigan's Wine Country, Kimanjo, Falmouth + Peso de Régua
Plus: Why we're all ready for a little Madness in the Spring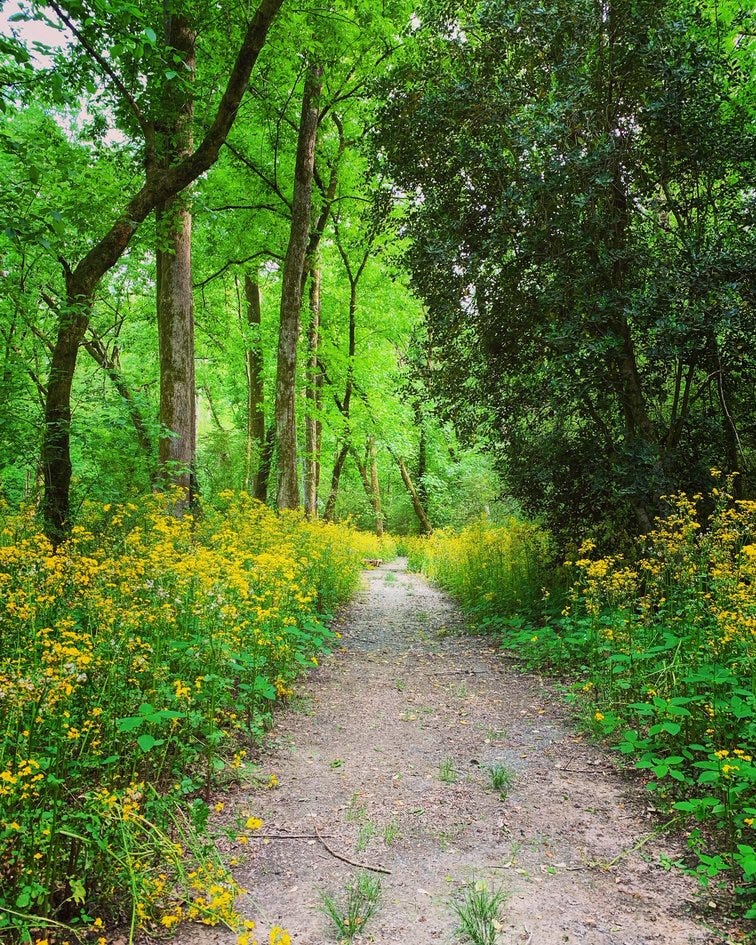 This is exactly where I'd like to be right now.
It's a stretch of the trail that winds around the grounds and through the woods of my stepdaughter's school, a place I love to go running and walking.
There are a couple of tiny obstacles in my way, though: it's not spring yet, and I'm stuck in a sealed-up office building working in a cubicle under an array of fluorescent lights. (Sounds exciting, right? 😀)
But still I can dream.
As I write this to you, the sky over Atlanta is completely socked in with cloud cover, leaving a dreary, gray blanket of air hanging over us.
Over my shoulder in my office building, I can see a flickering TV screen with The Weather Channel on, showing scenes of snow coming down in Oklahoma.
As I've been training for next month's New York City Half Marathon since the first of the year, I've been running on a treadmill in our basement early in the morning, as the darkness, cold and rain has kept me indoors most days.
It's what I have to do right now in order to get my runs in, because I want to be ready for New York — I don't want to experience what I did several years ago at the Big Sur 21-Miler, which I ran even though I wasn't ready, and ended up walking the last few miles.
But I'm still dreaming about spring.
Not long ago, I stumbled across this essay on how long walks can change your life. The author marvels at what they give us: "Usually, I walk without a plan. I have nothing to achieve; the beauty is in the walking, in the journey itself."
Describing what nearly all of us experience here in the 21st-century working (or classroom) world, he continues:
"Indeed, like everyone else, I have days that require I sit inside the office or the library all day and work until the end. And on these days I always feel as if there is a small stove slowly burning in my stomach, a hollow pain, which grows fierier the longer I stifle my vitality. If evening comes and I have not walked far at all, then this fire cannot be contained and it becomes impossible to remain sitting still. I get so anxious that I cannot concentrate on even the simplest of tasks. My mind is exhausted but my body's energy is idle and unsatisfied."
I've long been a fan of the treadmill (a strange thing for most runners, I know!) but lately I've begun to change my mind. It's a useful and necessary tool, but ultimately we need to be outside.
Whether it's on a walk or a run, we need to experience this:
"... if you walk far enough you eventually achieve a state of joy — a quiet, inner happiness — and you are relieved, as you have escaped the walls, the squares, the eternity of sitting, of stagnation; now you are moving over the landscape, over the hills and far away, fighting against gravity, breathing fresh air, with a pulsing heart and an appetite for flowers and sunlight. You are free in search of the springs of life."
The poet Emily Dickinson put it perhaps even better, and in just two lines:
A little Madness in the Spring
    Is wholesome even for the King
Who can argue with that?
I hope you're having a wonderful week, and enjoying the runs you're getting in. As always, let me know how your training is going and what's new with you.
Your friend,
— Terrell
---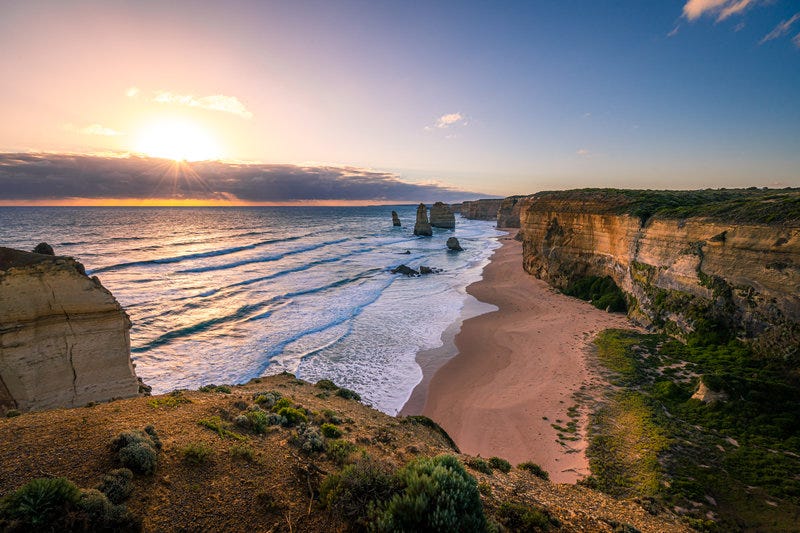 Kennett River, Victoria, Australia | Sunday, May 17, 2020
One of the world's most iconic marathons, complete with jaw-dropping views of the Australian coastline along the Southern Ocean from the legendary cliffside highway for which it's named. The half marathon — the race also features a 60K, 14K, 6K and 1.5K in addition to the full marathon — follows a stunning point-to-point route from the small town of Kennett River and passes by scenes like the one in the photo above from Wongarra, a little coastal village along the 155-mile-long highway. All races finish at Apollo Bay, a small beachside tourist destination that's also a well-known place for whale-watching between May and September.
$77 and up | Sign up here
---
Peso de Régua, Portugal | Sunday, May 24, 2020
Billed by its organizers as "the most beautiful race in the world," this half marathon runs largely along the banks of the Douro River in Portugal's Duoro Valley, a place where wine has been grown for some 2,000 years. Along the out-and-back route for the race, you'll see vineyards on the hills overlooking the river as you run over bridges and along tree-lined roads, at a place that's so special it's been recognized as a UNESCO World Heritage site.
TBA | Sign up here
---
Kimanjo, Kenya | Saturday, Aug. 8, 2020
A once-in-a-lifetime race among the trails of this remote village where the Maasai people live on the Maasai Mara National Reserve in Kenya, and an event designed to raise money to help educate girls growing up there. It takes three hours across bumpy dirt roads to get to the race location from where you'll stay, but for the adventurous the trip is more than worth it — it takes place during the time of year known as the Great Migration, when herds of zebras, wildebeests and gazelles are moving back and forth between the Serengeti and the Maasai Mara. And don't be surprised if Maasai children join up to run the race alongside you when you're out on the course.
$150 race entry | Sign up here
---
Falmouth, Mass. | Sunday, Aug. 16, 2020
A seven-mile run almost entirely along oceanfront roads in this coastal town on Cape Cod. You'll start the race in the village of Woods Hole — perhaps most famous as the home of the Woods Hole Oceanographic Institution — and from there run along tree-shaded roads for the first few miles. These early miles take you past the iconic Nobska Point Lighthouse and then onto the roads that parallel the Shining Sea Bikeway trail, followed by the last few miles that run into Falmouth, where there's a final steep hill before the last half-mile downhill into the finish line at Falmouth Heights Beach.
Registration opens May 1 | Sign up here
---
Baroda, Mich. | Sunday, Aug. 16, 2020
The name really says it all for this race, doesn't it? You'll run along the rolling country roads of this tiny town, which lies "nestled in the center of Berrien County in southwest Michigan, amidst rolling hills, flowing vineyards, wineries, orchards filled with blossoms and acres of golden grain." Just over an hour and a half's drive from Chicago, the town feels like it's a million miles away from the hustle and bustle of the Windy City, and you'll run among vineyards throughout your 13.1 miles — passing by famous spots like the Round Barn Winery along the way, and even finish alongside the grapes.
$70 and up | Sign up here
---
A song to run to today
"People Have the Power" from the album Dream of Life by Patti Smith.
Want to hear all the songs we include in our newsletter? Listen to our full playlist on Spotify here.
---
Until next time...
"Coach said the qualities that build the person build the athlete. I saw now that the details of developing myself as a runner — the work, the discipline, the quality of thought — were also building my character. The practice of those traits though went toward the singular goal of building an athlete. It made me wonder, who was I besides a runner trying to get faster?
Similar to piecing together running traits, I sought to piece together the rest of me in a way that felt authentic and whole. I explored what I admired in others to gain a greater understanding of myself and my values." — Deena Kastor, Let Your Mind Run