Discover more from The Half Marathoner
A running newsletter that isn't (just) about running
Over 42,000 subscribers
Am I giving this all I've got?
Plus 2020 races in Sleepy Hollow, Yakima River Canyon, Moab, Yosemite + Mount Hood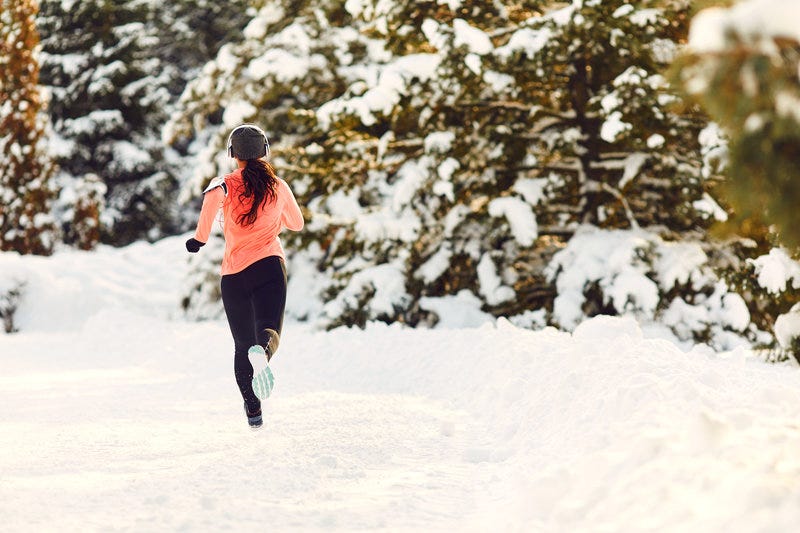 "The first half hour of my run is for my body. The last half hour, for my soul. In the beginning the road is a miracle of solitude and escape. In the end it is a miracle of discovery and joy. Throughout, it brings an understanding of what Blake meant when he said, 'Energy is eternal delight.'" — George Sheehan
Most weeks in this space, I write about what's on my mind when it comes to running, training and everything in between. But sometimes, it's best to turn the microphone over to you guys.
That's definitely the case with an email I received in response to last week's newsletter, from a reader who I'll refrain from identifying to protect their privacy, but who shared something that really took my breath away when I read it.
Here's their email in full:
Hi Terrell,

You asked what are we writing on the New Year?

I'm "writing" my New Year on the trail. December was going to be my graduation from running halfs to running my first full marathon. The training was going amazing. During the training my husband and I were celebrating our 30th anniversary so we did two back-to-back cruises, seeing 17 cities in 30 days.

Each new port we docked in I would go run the city. I had some epic runs I'll never forget, like running in the old hunting grounds of the royalty in Denmark. It was a park full of deer, even white deer, so tame they wouldn't even run off as I ran past them. I'll never forget running in Venice before the city woke up. I had Venice all to myself!

Then the unimaginable happened. We where in Corfu sitting in front of the ocean and our waiter had just served us our food when we got the call. It was my sons best friend dad telling us both our boys had been victims of a shooting and they had been shot in the head. It took all the strength out of me and I couldn't even walk. After a very hard recovery my son survived but his best friend since kindergarten didn't.

There are no words to explain our grief. Because I put all my time into my son's recuperation, I wasn't able to continue training and run what was going to be my first marathon. I didn't allow myself to grieve either because I felt I needed to stay strong for my son.

Now that Jacob is better my grieving process has started. We are grateful that we have our son with us but when we lost Junior, we lost half of Jacob because they where inseparable. I decided to enroll in another marathon, [the] Grandmas Marathon, to run it in honor of Junior's life.

Running has become my therapy. It's been the best "medicine" for depression.  It gets me out of the bed each morning. I've had MANY days when I REALLY don't want to get out of bed but I've never once regretted it after I got back. The more I pound the trail and let the miles pass, it's as if my anger and grief pour out of me  my soul is being washed and I come back a better me.

So Terrell, I will "write" my New Year running. Running to heal and running to celebrate Junior's short but beautiful life.
To say I was moved by this reader's heartbreaking, yet also uplifting, story is an understatement.
Experiencing such joy and fulfillment in one moment, only to have it give way to the tragedy described above in the next, is almost too much to bear.
As I read the story, I kept thinking of something else I'd read recently, a story titled "Am I bringing my best self everywhere I go?" — which, in a nutshell, is about a man whose life is turned upside down after reading an obituary about a woman killed by falling debris in New York City.
That's because the comfortable life he'd been living was interrupted in a big way by a cancer diagnosis. Routines that had long worn a deep groove in his life get swept away, to make room for treatments and doctor visits:
"None of this was on my personal road map. I suddenly understood that it was all random, and none of it was within my control." 
The thing that impresses me most is the same thing the author (Steven Petrow) says stays with him:
All of this came flooding back to me when I read about Tishman's "unimaginable" and tragic death. Her story reminded me, again, that people live only while blind chance spares them, and die at haphazard when it doesn't. I was lucky — twice. She was not.

Of the many tributes written about Tishman, this one from a colleague of hers stays with me: "To every opportunity, meeting, or event, she always brought her full self."

By now I've learned I can't control what's random or what the fates have in store. As for the "unimaginable," well, there's no such thing. All I can do is ask myself, "Am I bringing my full self everywhere I go?"

I am trying.
Same here.
I'm no stranger to loss, as many of you guys know from the past year. In addition to losing our family dog last spring, a friend of mine from college died early in the summer at age 50, while a couple of other people I knew growing up (but had long since lost touch with) have passed away in recent months.
Those things make me ask myself the same question — about running and about life. Some days I feel like I have the answer, though most I don't. But I keep trying.
I hope all is well in your world, my friends — as always, keep in touch and let me know how your training is going!
Your friend,
— Terrell
---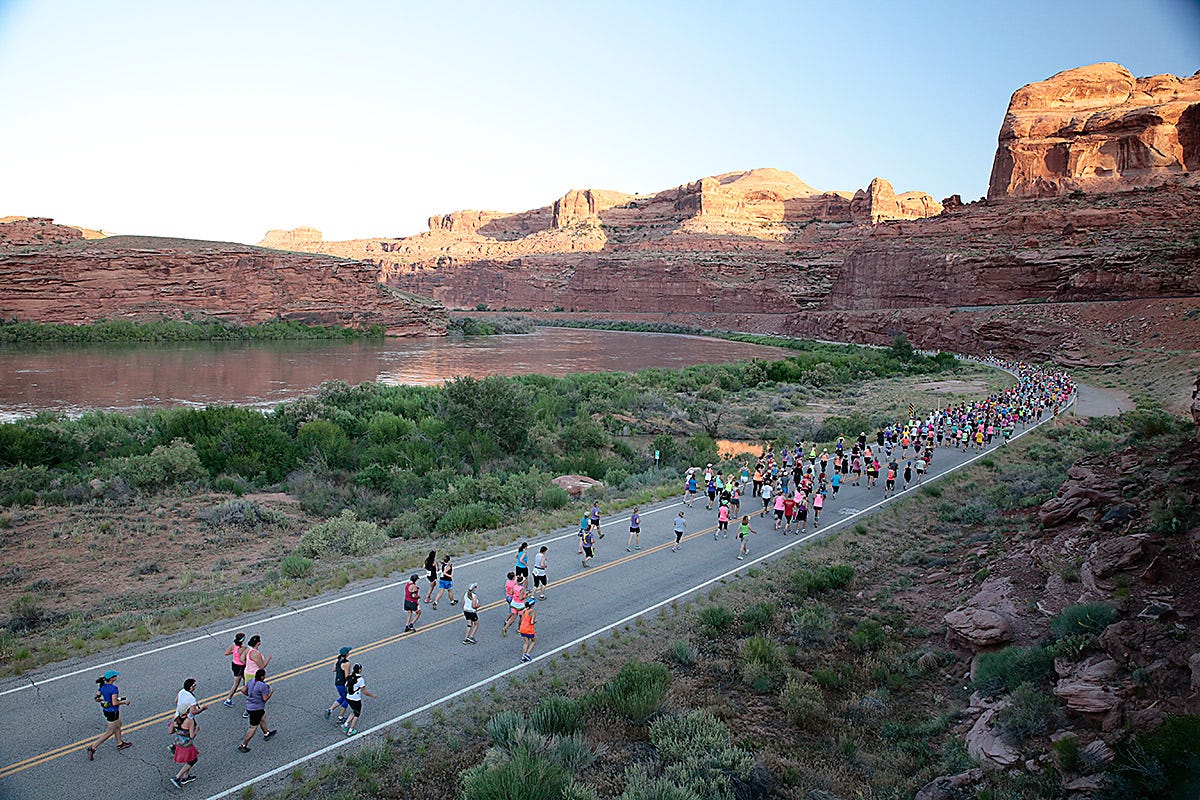 Moab, Utah | Saturday, June 6, 2020
Simply stunning views of the towering red rock walls that line the banks of the Colorado River in this outdoor adventure playground in southeastern Utah, at a women's-only race that celebrates the 1991 Susan Sarandon-Geena Davis movie. From the starting line along Highway 279, you'll follow the river as it winds its way west and south between Arches and Canyonlands National Parks, toward Dead Horse State Park. The out-and-back race turns around at a bend in the river, and then gives you a second view of the route you've just run on the way back.
$100 and up | Sign up here
---
Sleepy Hollow, N.Y. | Saturday, March 28, 2020
Fans of Ichabod Crane and the Headless Horsemen from the famed Legend of Sleepy Hollow will love this race, which features stretches along the Hudson River as well as through the quaint residential neighborhoods of this historic village. Nearly half the race unfolds along the carriage roads and groomed trails of upstate New York's Rockefeller State Park Preserve, a 1,700-acre state park nestled along the banks of the river, as well as along stretches of the Old Croton Aqueduct Trail.
$60 and up | Sign up here
---
Selah, Wash. | Saturday, April 4, 2020
"Exceptionally scenic" is how organizers describe this run through Washington state's Yakima River Canyon, a 15-mile-long canyon whose basalt cliffs rise as high as 2,000 feet above the river that carved them eons ago. Runners in the half marathon will ride the shuttle bus to the half-way point of the full marathon, which follows a point-to-point route that hugs the Yakima River all the way to the finish line in rural Selah, and you'll experience a net elevation drop of a few hundred feet by the time you get there.
$80 and up | Sign up here
---
Bass Lake, Calif. | Saturday, May 9, 2020
Run just south of Yosemite National Park in the woods of the Sierra National Forest, this late spring race features an overall downhill point-to-point route through the trees to the shore of Bass Lake, which lies about a half-hour's drive from the park's south entrance. The first five miles feature trails with "rough terrain," organizers say, but the second half of the course offer a fast downhill descent on paved roads, which you'll have four hours to complete — making it an excellent course for walkers as well as runners.
$145 and up | Sign up here
---
Mt. Hood, Ore. | Sunday, July 26, 2020
Described by its organizers as "wildly scenic and challenging," this trail race is a one-of-a-kind event that unfolds along the slopes of Mount Hood, the famed, (and always snowy) 11,250-ft. peak in the Cascades of northern Oregon. You'll run on trails that criss-cross the slopes of Wy'east (the name native tribes gave to the mountain) and nearby ridgelines, as well as across meadows and over bridges, past waterfalls and along dirt trails — all while taking in breathtaking views of the mountain and the surrounding forests.
$75 and up | Sign up here
---
A song to run to today
"Summertime" from the album The Road and The Radio by Kenny Chesney.
Want to hear all the songs we include in our newsletter? Listen to our full playlist on Spotify here.
---
Take our 2020 survey
This newsletter recently turned 5 years old, which I can hardly believe. While I feel like I know many, many of you from the emails you've sent me over the years, new people are constantly coming into the fold and so I'd love to get to know you better.
If you have 2 minutes to spare, click this button to take our 2020 survey:
Thanks so much in advance for taking the time to fill it out — your feedback helps me understand the challenges you face and what you want to learn, and ultimately helps me make The Half Marathoner more valuable to you.
I really appreciate it! — Terrell
---